This is the meal I look forward to all year. Fresh Florida stone crab claws are the sweetest, most succulent delicacy in the ocean. They're my family's obsession. My grandma asks us to bring her "just one claw" and even though we give her more, that's testament to just how good they are. One single claw is enough to swoon over.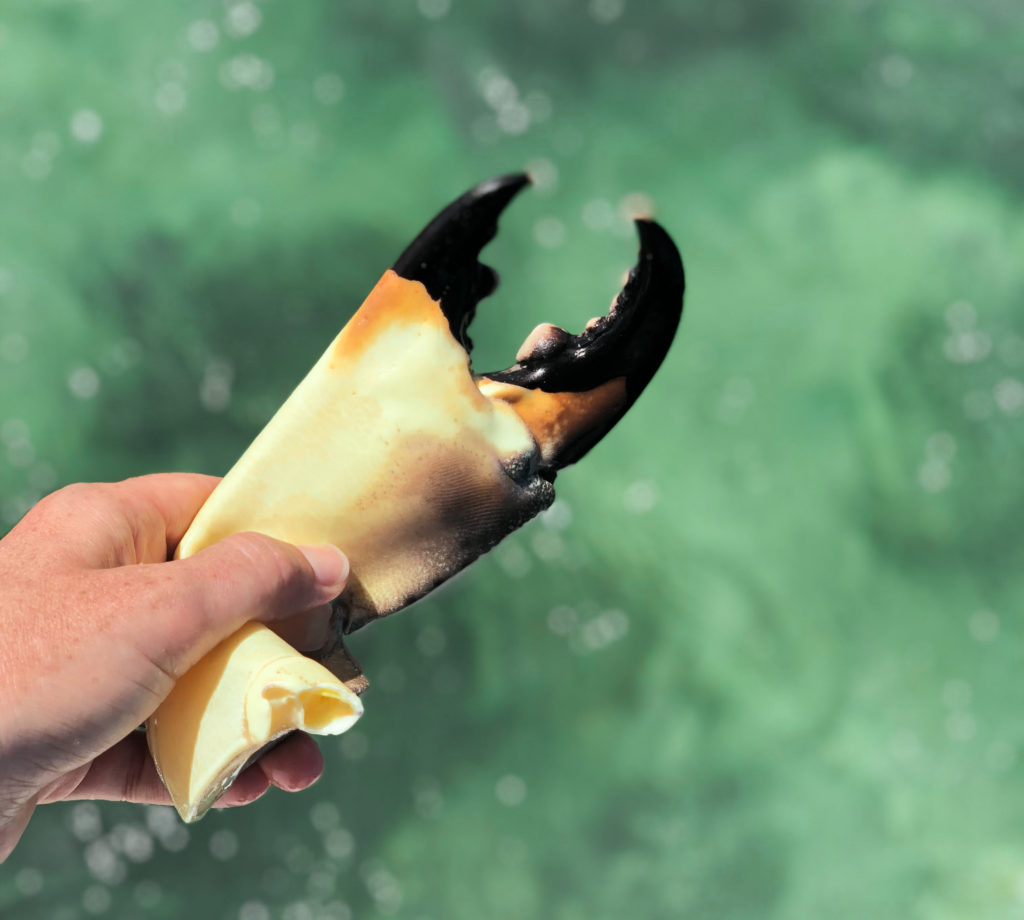 Our tradition, at least our goal, is a stone crab feast. We refer to the entire event as Stonecrabaganza. It begins on October 15, opening day of stone crab season. We immediately dive into all things stone crab, from setting traps to snorkeling and finding them. The majority of our claws are hand-caught by the guys. I snorkel and search, then holler and point when I see a stone crab burrow. No way I'm reaching in that hole. Not a chance. A stone crab would surely crack my finger. But it's thrilling to watch them caught when it's done right. A few years ago I made this little video.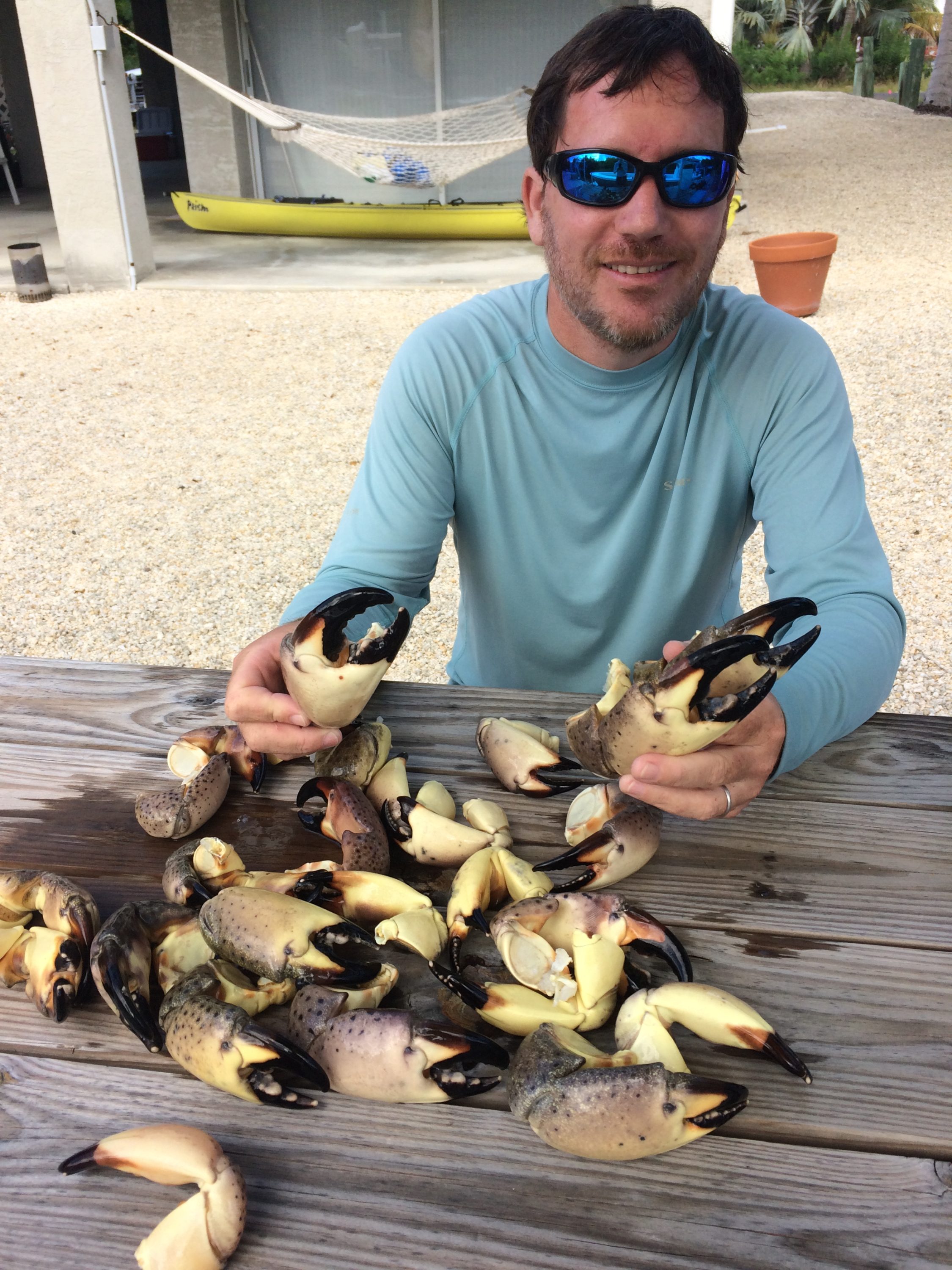 It's illegal to keep a whole stone crab, and it's illegal to take claws from an egg-bearing female crab, easily identified by an orange or brown sponge on her under side. You can only keep claws at least 2 3/4 inches long from the tip of the claw to the first joint. After grabbing the crab, if you carefully bounce them around, they open up their claws wide. With a firm grip and gentle pressure applied in just the right spot, they will release a claw. It's a defense mechanism. It takes about a year for the crab to regenerate a claw. This is what makes stone crab claws a uniquely sustainable seafood. Although it is legal to keep both claws, it's rare that both are legal size. The crab has a much better chance of survival with one claw. Out of respect for this awesome resource, we keep one.
The daily limit is one gallon per person or two gallons per vessel, whichever is less. Here's more on stone crab regulations at FWC.
It takes a few days to get enough claws for Stonecrabaganza, and that's half the fun. Here are a few tips to make your own stone crab feast.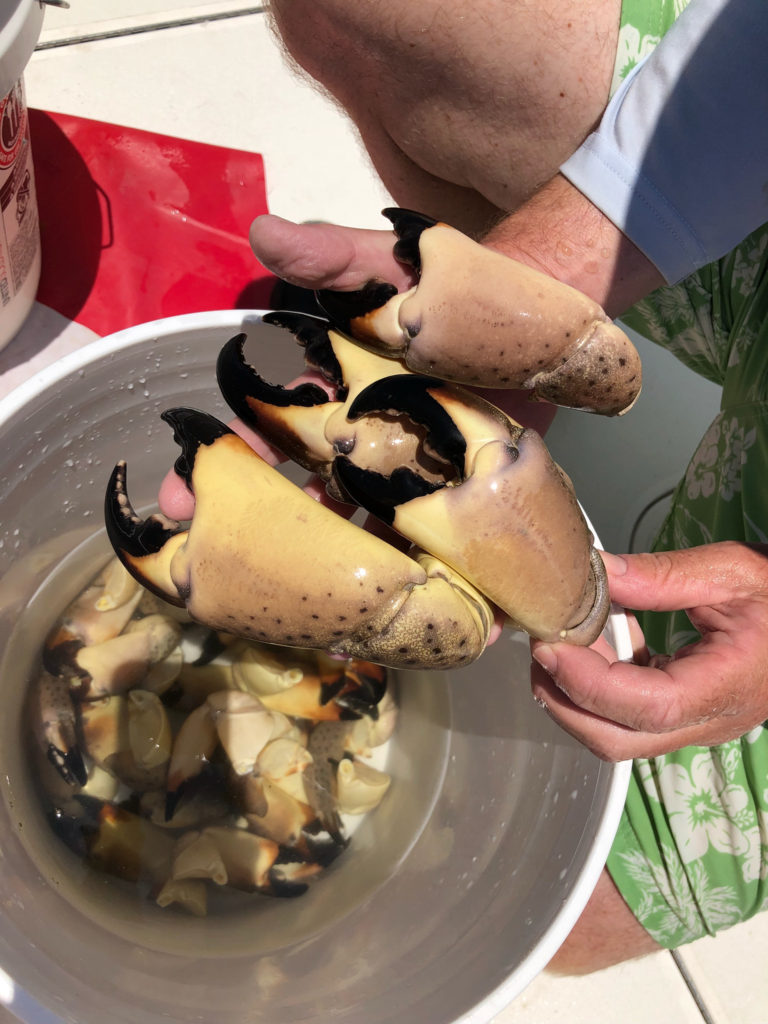 Cookin' Claws
If you buy claws from a seafood market, they're already cooked. Stone crabs must be cooked the same day they're caught. It's important when buying to make sure they're fresh from Florida (there are other species of crab from other parts of the world marketed as "stone crab" and while they look the same, they're not as delicious, they can be stringy, and it doesn't support our local fisheries).
Also, if they've been frozen after cooking, the quality goes down significantly. The texture is grainy.
To cook your own claws, bring a large pot of water to a boil. Add the claws and cook for 8 to 12 minutes, depending on the size of the claws. For the rare colossal claw, cook them 14 minutes. If you've got different sizes, set a timer and take the small ones out before the big ones. There's no way to test if they're done. It's all about timing and practice.
Once the claws are cooked, immediately plunge them in ice. Allow them to sit in the ice for about 10 minutes, then remove from the ice water and transfer to a bowl in the refrigerator until you're ready to crack them.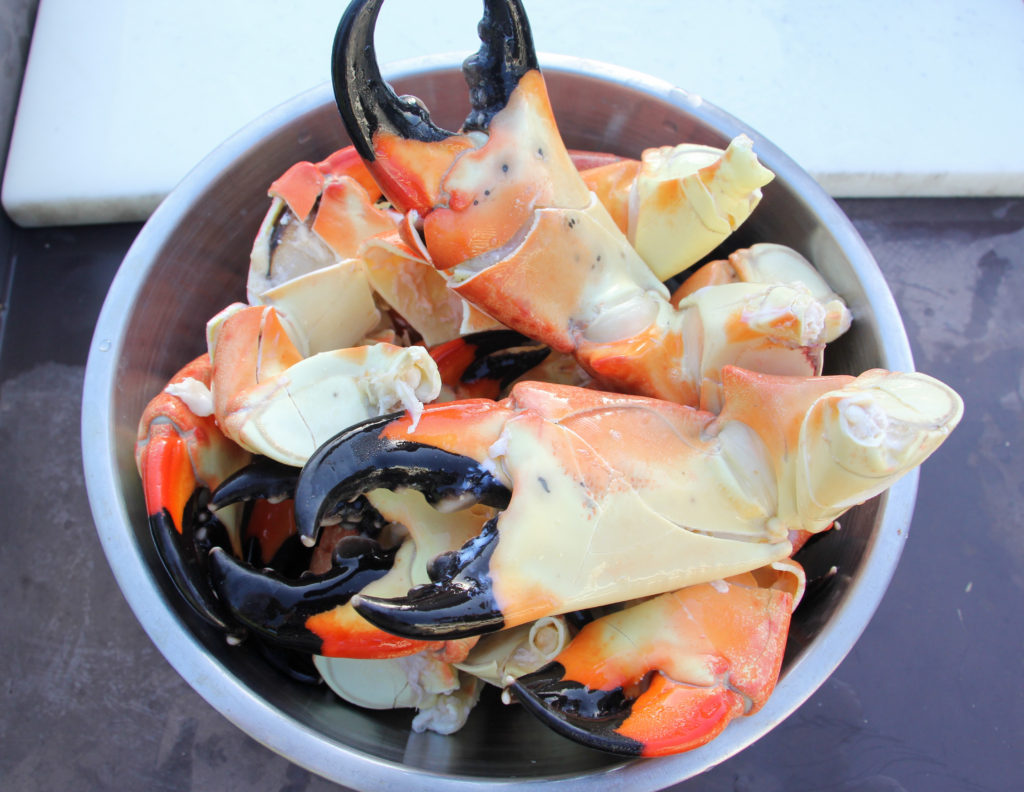 Get Crackin'
For Stonecrabaganza, claws need to be cracked before the feast. Putting nut crackers and mallets on the table for the ultimate stone crab dinner is unacceptable! Listening to people hammering and shell fragments flying all over is not cool.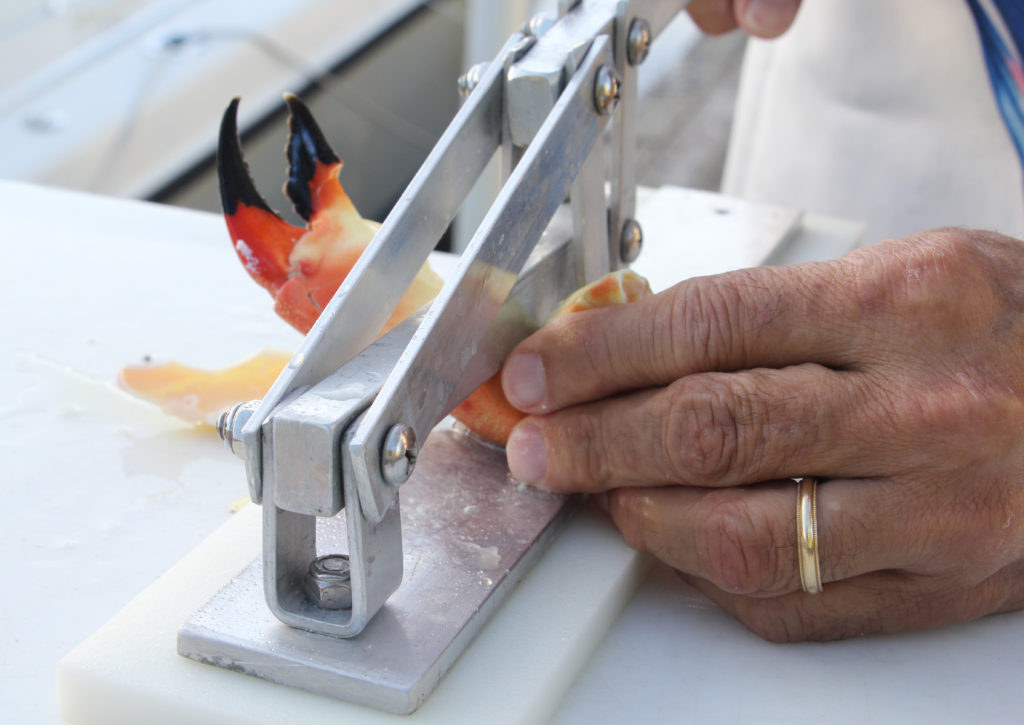 Here is our preferred cracking device. If you don't have one and decide to crack with something else, wrap the claw in a towel first. Each section of the claw should get one firm but gentle crack, being extra careful to only crack through the shell. One, two, three. Do not crush the shell into the meat! This is so critical. It absolutely ruins the experience when you've got shards of tooth-cracking shell in your crab.
Seafood picks are helpful for getting the meat out of the knuckles.
It's also nice to have a "trasher" bowl for shells on the table, and if you want to make this a more civilized affair, give each person a damp towel to clean their hands.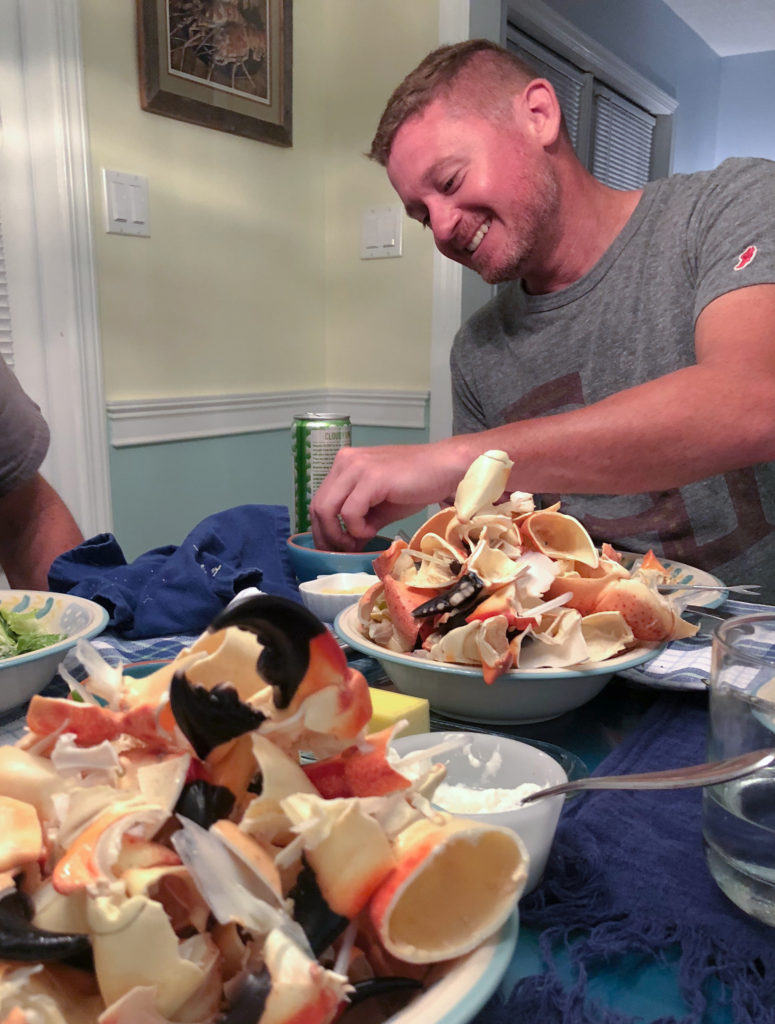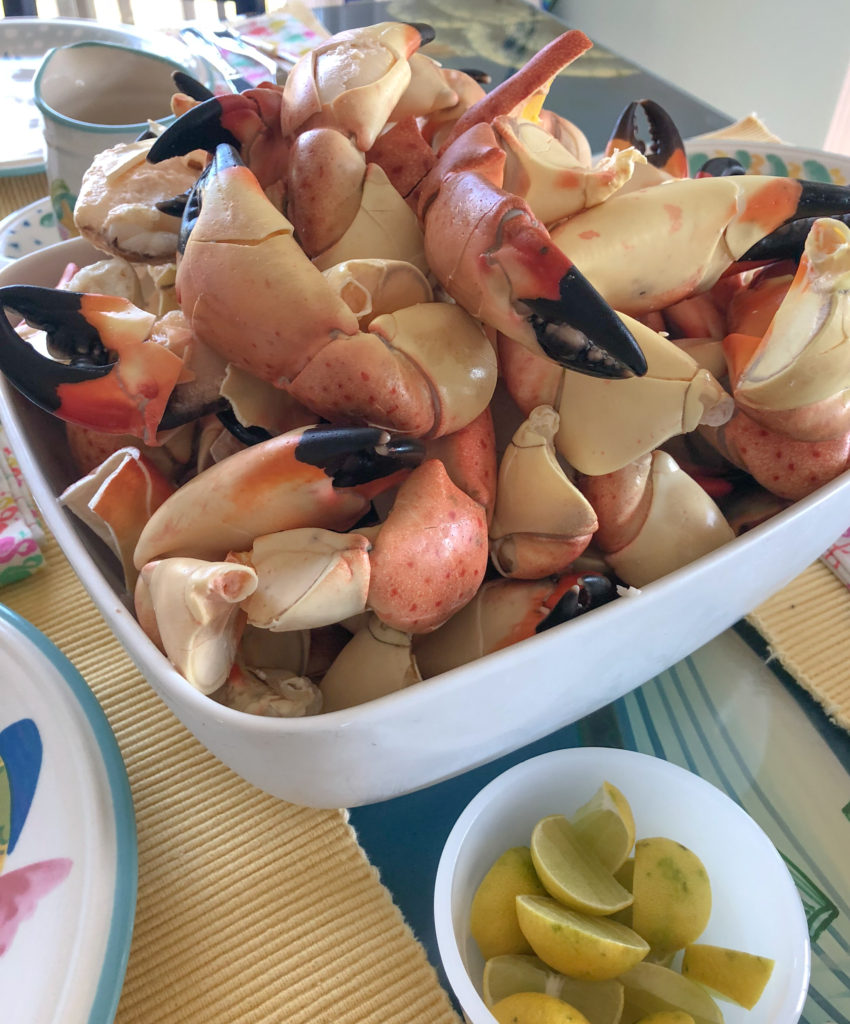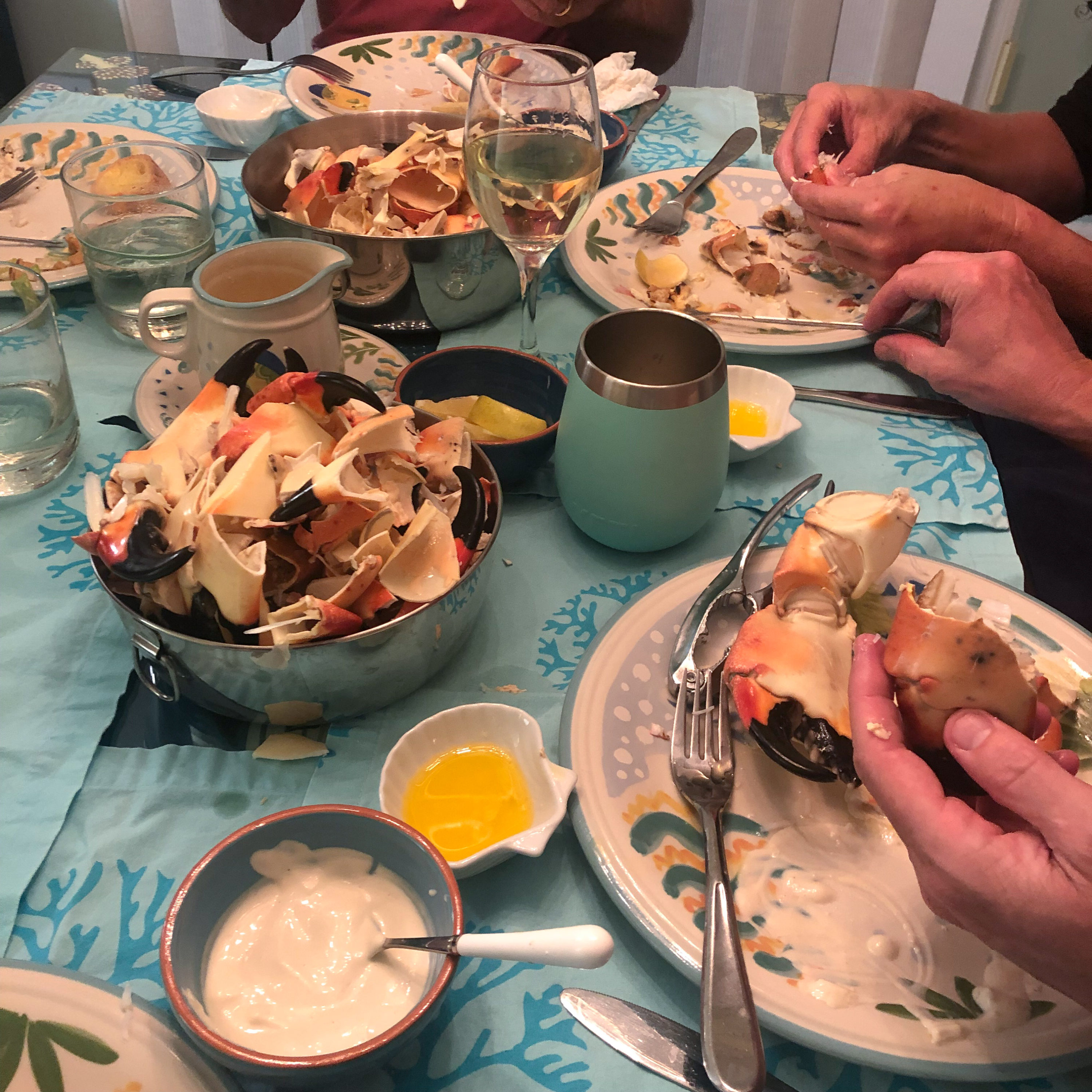 Dips and Sides
Here's my stoney sauce recipe. We also dunk a few in drawn butter. A squeeze of key lime can be nice. Open a cold bottle of fumé blanc or rosé and I'm in heaven. If you require sides, a simple salad, maybe some garlic bread or potatoes.
But if you think that's all way too fancy, just take your pile of claws outside to a picnic table. Pop open a can of beer and crack and eat to your heart's content.