Holiday time is always feast or famine around here. I can't tell you how many times I've found myself in the throes of Thanksgiving prep, mixing pie dough, simmering cranberry sauce, and baking cornbread for dressing, only to realize there's nothing to actually eat around here. All the food is earmarked for our feast. It doesn't make any sense to be surrounded by this much food and be so hungry.
Will anyone notice if a slice of pie is missing?
But this year I'm making the components of these healthy harvest bowls so I can throw them together in minutes even when my kitchen is a wreck.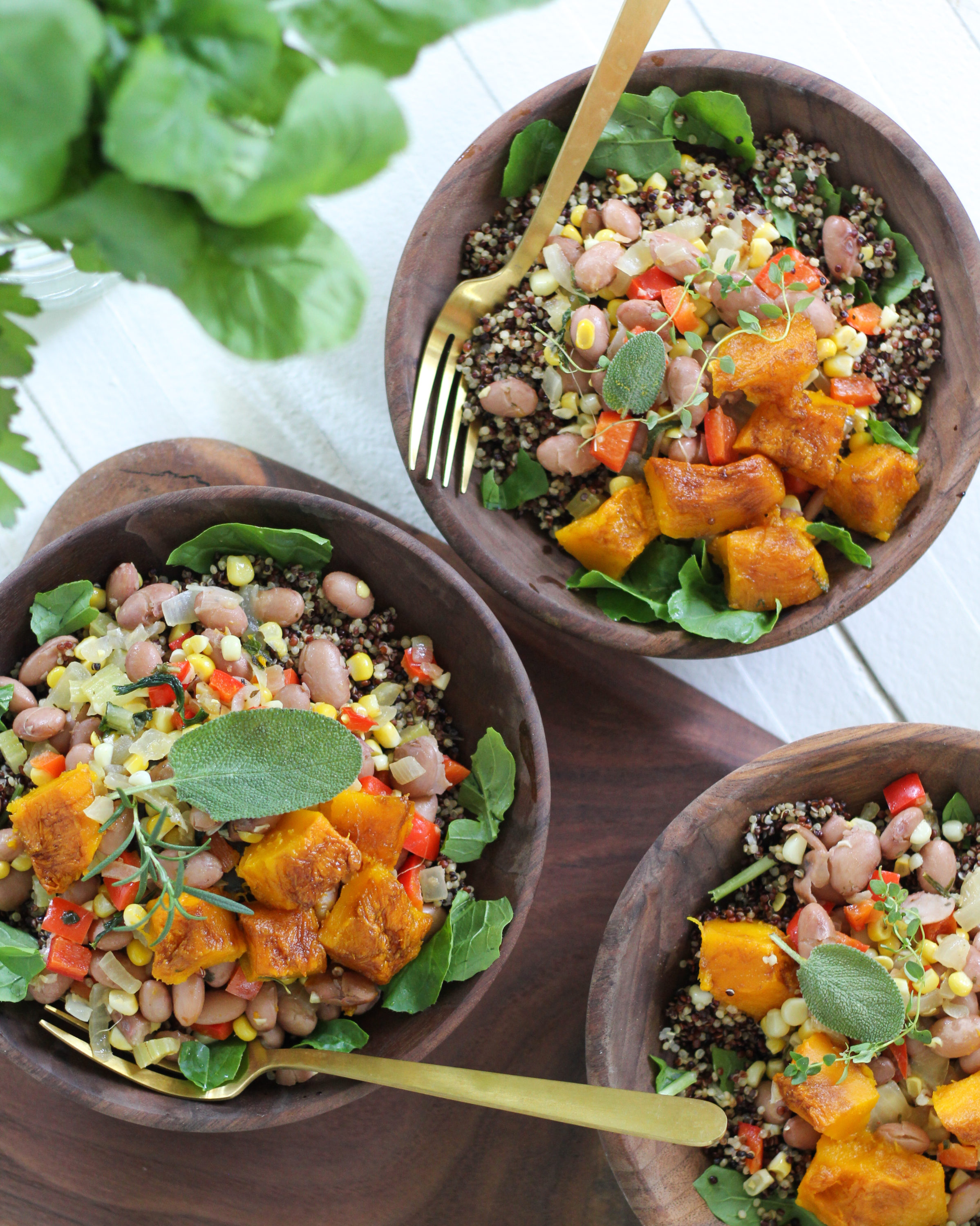 They're inspired by a Native American farming technique called "3 sisters" that's still practiced today. Corn, beans, and squash are planted in the same bed. The corn provides a trellis for the beans, the beans add nitrogen to the soil, and the squash shades out the weeds. This companion planting allows all three plants to thrive.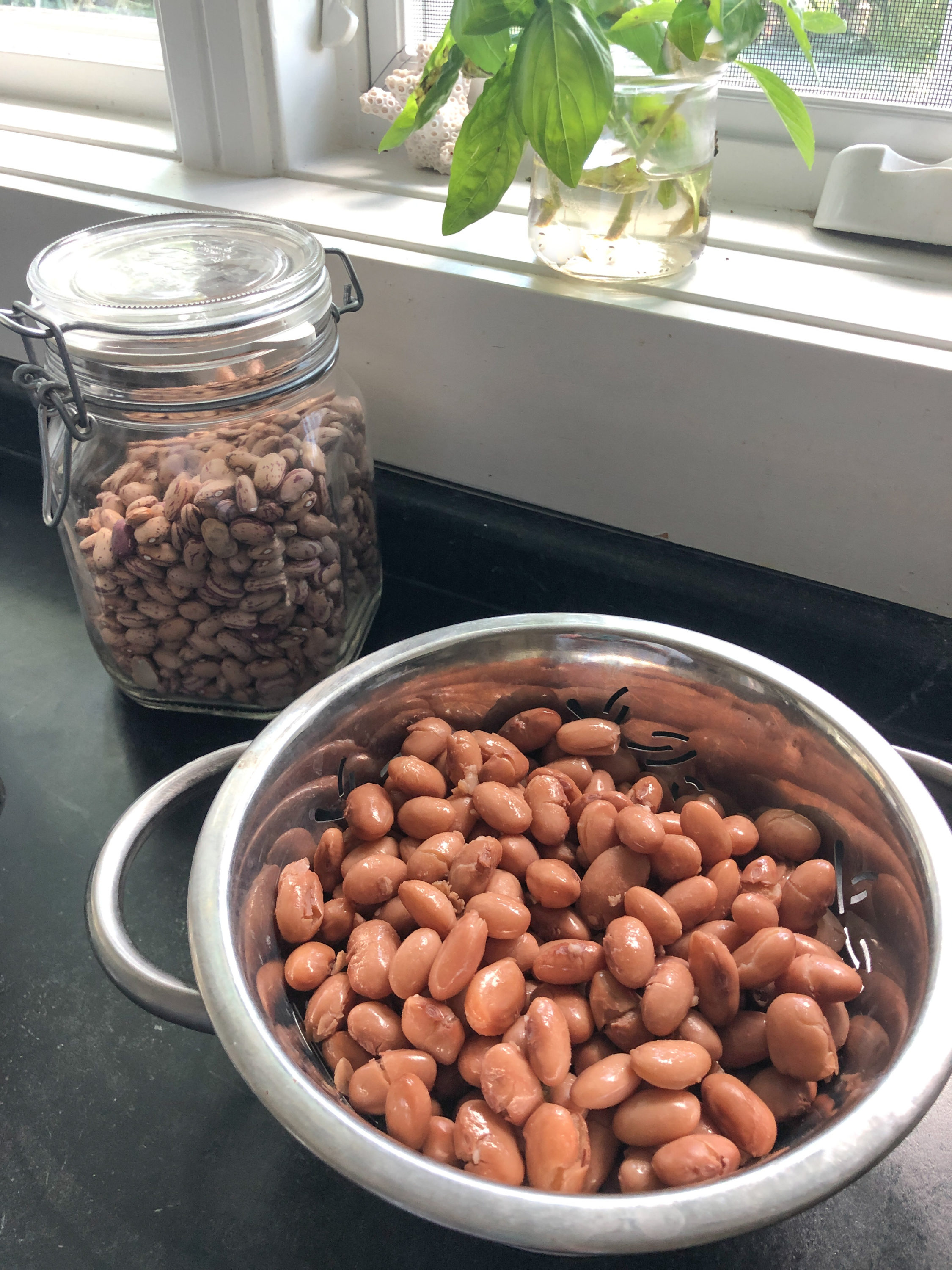 They taste good together, too. Three sisters harvest bowls combine all three with savory herbs, along with caramelized onions, celery, and peppers for loads of flavor. I used cranberry beans, but use any type of beans you like, even canned. The squash is roasted in the oven while the vegetables and beans cook on the stovetop.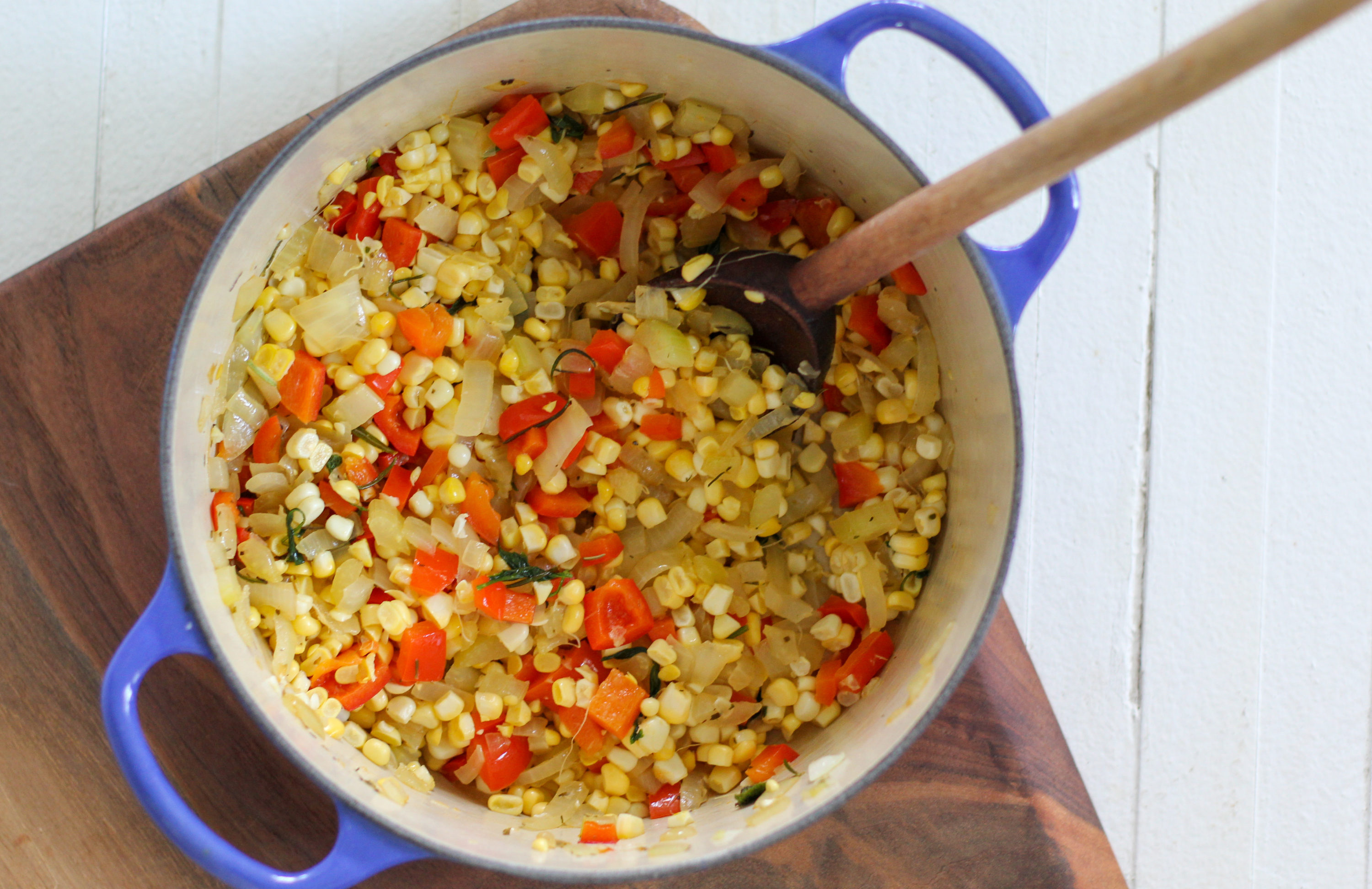 This is going front and center in my fridge the week of Thanksgiving. There will be no question of what to eat. I love it hot, over wild rice or quinoa, or straight-up cold on arugula or kale for a satisfying salad.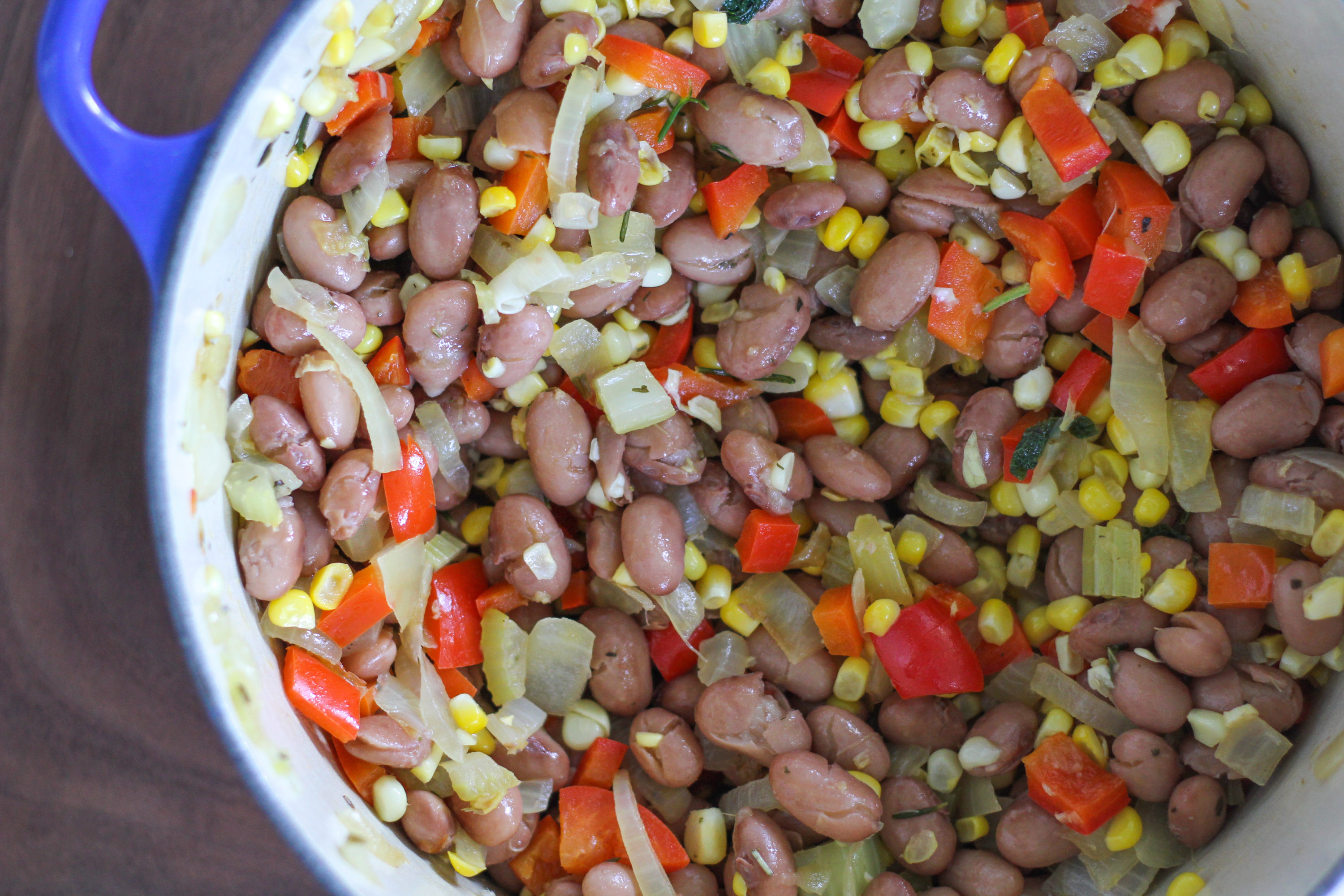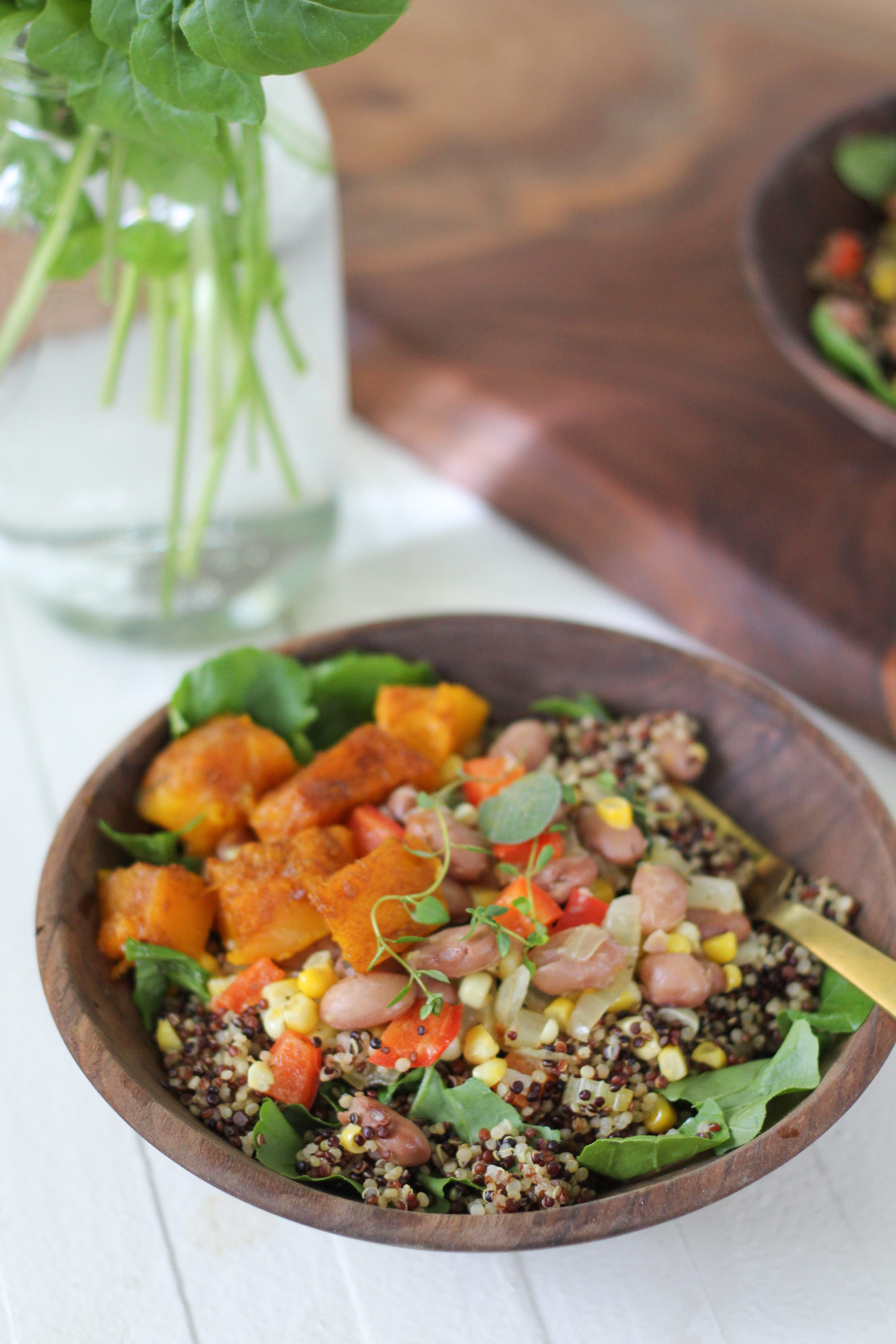 And I will try my best not to slice into the pie.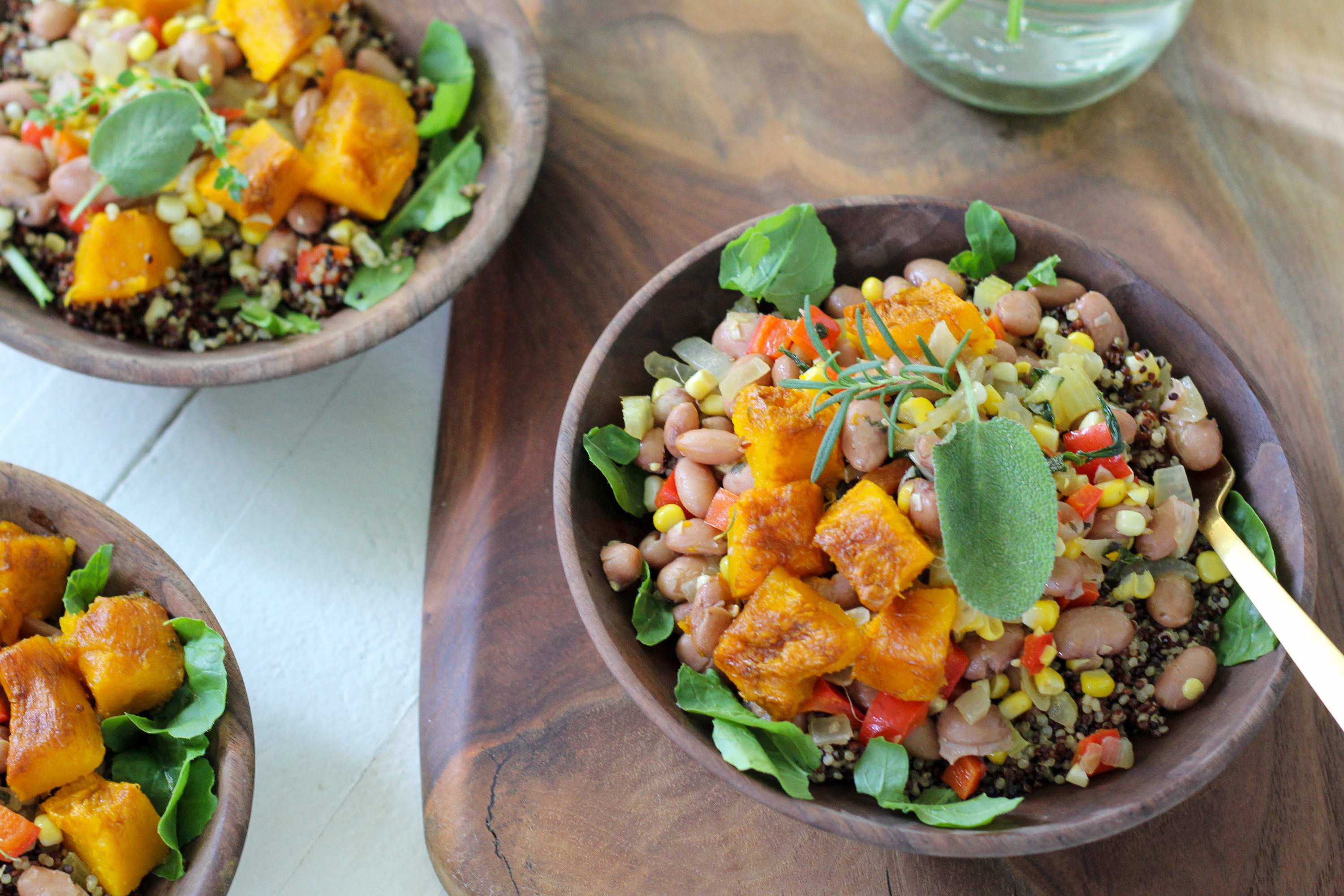 3 Sisters Harvest Bowls
2019-11-16 13:21:02
For the squash
2 cups Seminole pumpkin or kabocha squash, peeled and cubed
pinch of salt
1 tablespoon balsamic vinegar
1 tablespoon olive oil
For the beans and corn
1-2 tablespoons olive oil
1 Vidalia onion, diced
1-2 stalks celery, diced
1 red pepper, diced
2 tablespoons chopped parsley
1 tablespoon chopped sage
1 teaspoon minced rosemary leaves
1 teaspoon thyme leaves
2 ears corn
1 1/2 cups pre-cooked or canned beans
salt and pepper, to taste
Serve with: wild rice, quinoa, arugula, or kale
Instructions
Preheat the oven to 425.
Toss the squash cubes with salt, vinegar, and olive oil. Spread on a baking sheet. Roast for 20-30 minutes, stirring every 10 minutes or so, until tender all the way through when you poke them with a fork.
Meanwhile, sauté the onion in a large Dutch oven for a few minutes, stirring. Add the celery. Cook until both are soft and translucent. Stir in the red pepper and herbs.
Slice the corn off the cobs and add it to the pot. Give it a good stir. Gently fold in the beans. Simmer, and add salt and pepper to taste.
Build your bowl with wild rice, quinoa, kale, and/or arugula. Top with the corn and beans mixture and roasted squash. Garnish with some fresh herbs if you're feeling it.
Suwannee Rose https://suwanneerose.com/