We spend the last half of summer in two places where lobster defines communities. First, we visit Toby's family on Lanes Cove, where we watch the lobstermen at work from my in-laws' deck, the same place we cook and eat their catch in the evenings. We boil them in a giant pot on a propane burner, alongside another pot filled with sweet corn. I swoon over that briny, juicy, sweet claw meat, and all the little bits of meat you can find in the body, all the parts of New England lobsters I don't get from the ones back home. I'm content to pick and eat lobster meat on that deck for hours.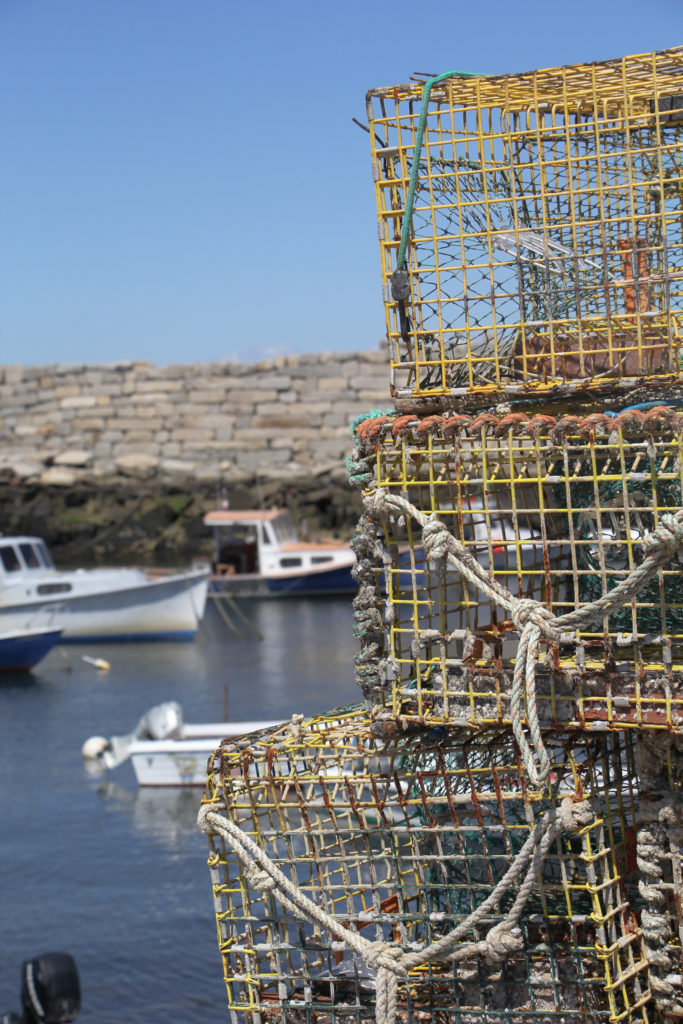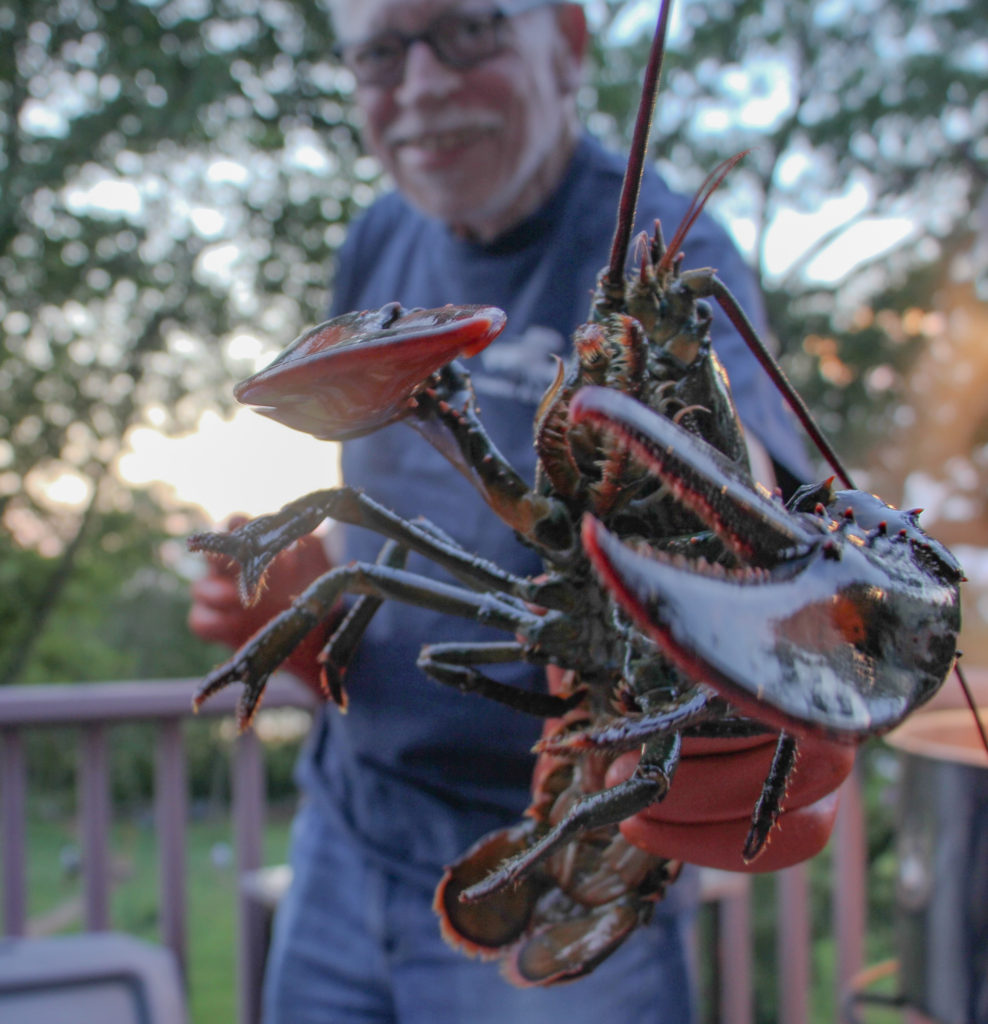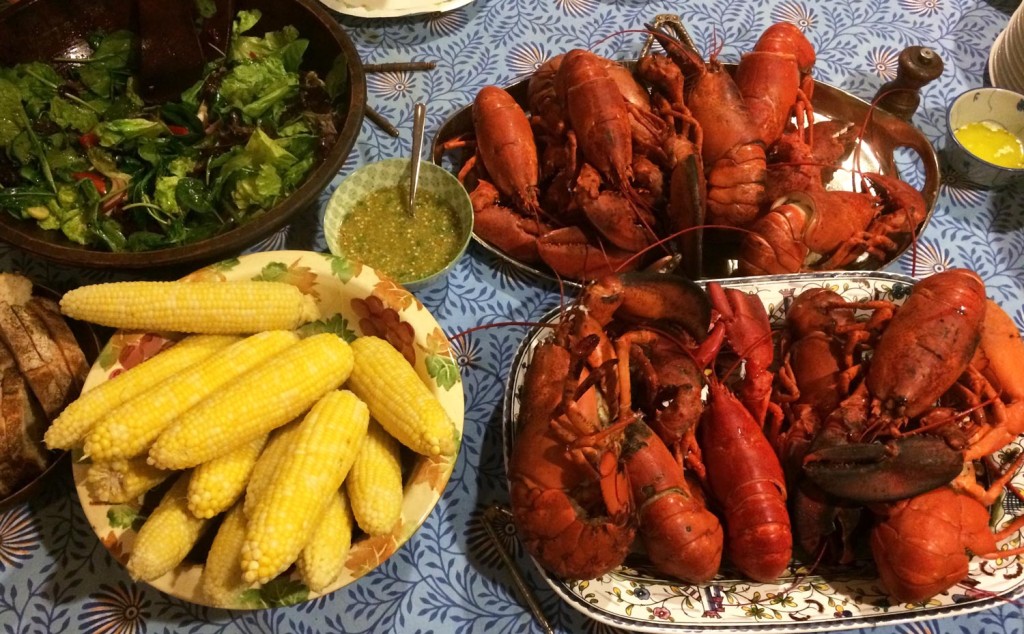 The other thing these two trips have in common is lots of swimming. We don't dive for lobsters around Gloucester (although I have seen people do that in scuba gear). We just swim for fun every day in quarries, in the cove, and at our favorite beaches. The water is in the 60s. I never thought I could handle such cold water, but the kids act like it's no big deal and they've inspired me to toughen up. Now I love it, and I think it's the most invigorating way to start the day.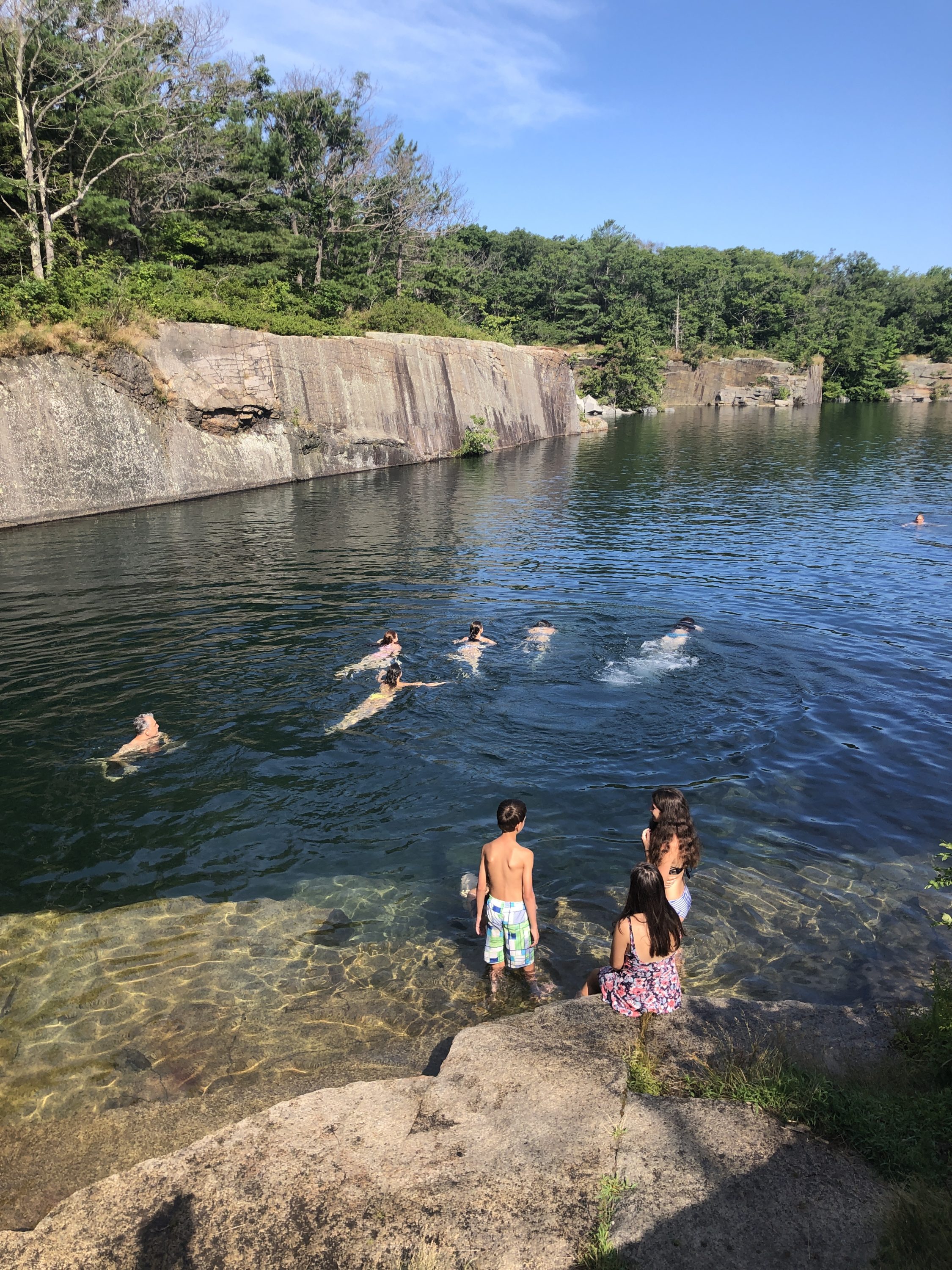 Once we're back in Florida, the frenzy of mini-season is over and regular lobster season is in full swing. We hook up the boat and drive straight to the Keys.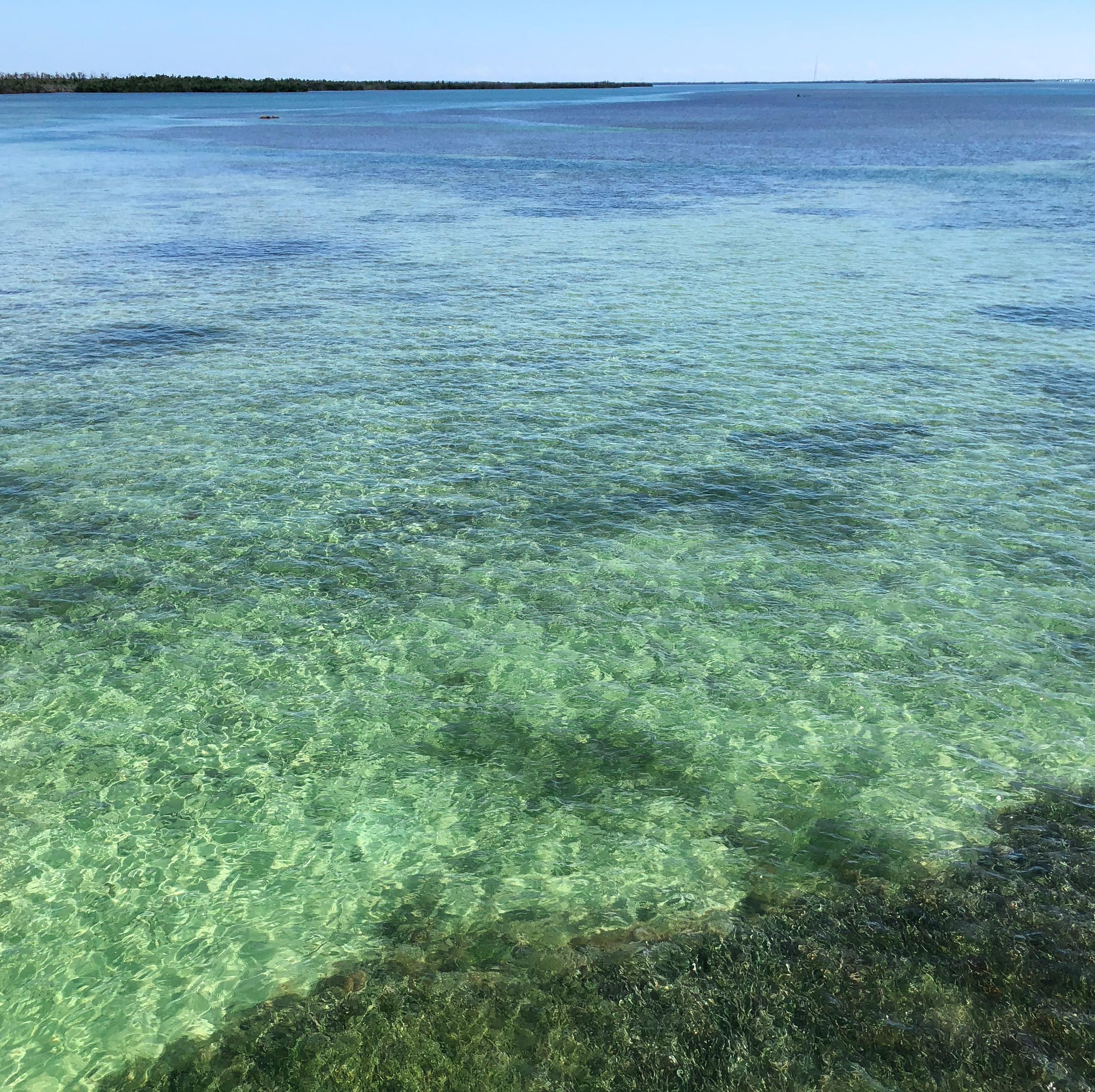 The water is the opposite on Big Pine Key, a cozy 87-degree bath. There's no jolt; no shivering after. Sometimes it makes me want a nap. It's such a funny contrast doing these trips back to back.
Now it's time to catch our own. I talked about diving for Florida's spiny lobsters on WUSF recently (you can find a recording of it on The Zest podcast). I went over all the rules, how we snorkel for them, and the gear we use. Here are the gardening gloves I mentioned, called MadGrip, along with the ones Toby uses. Both protect well against spines.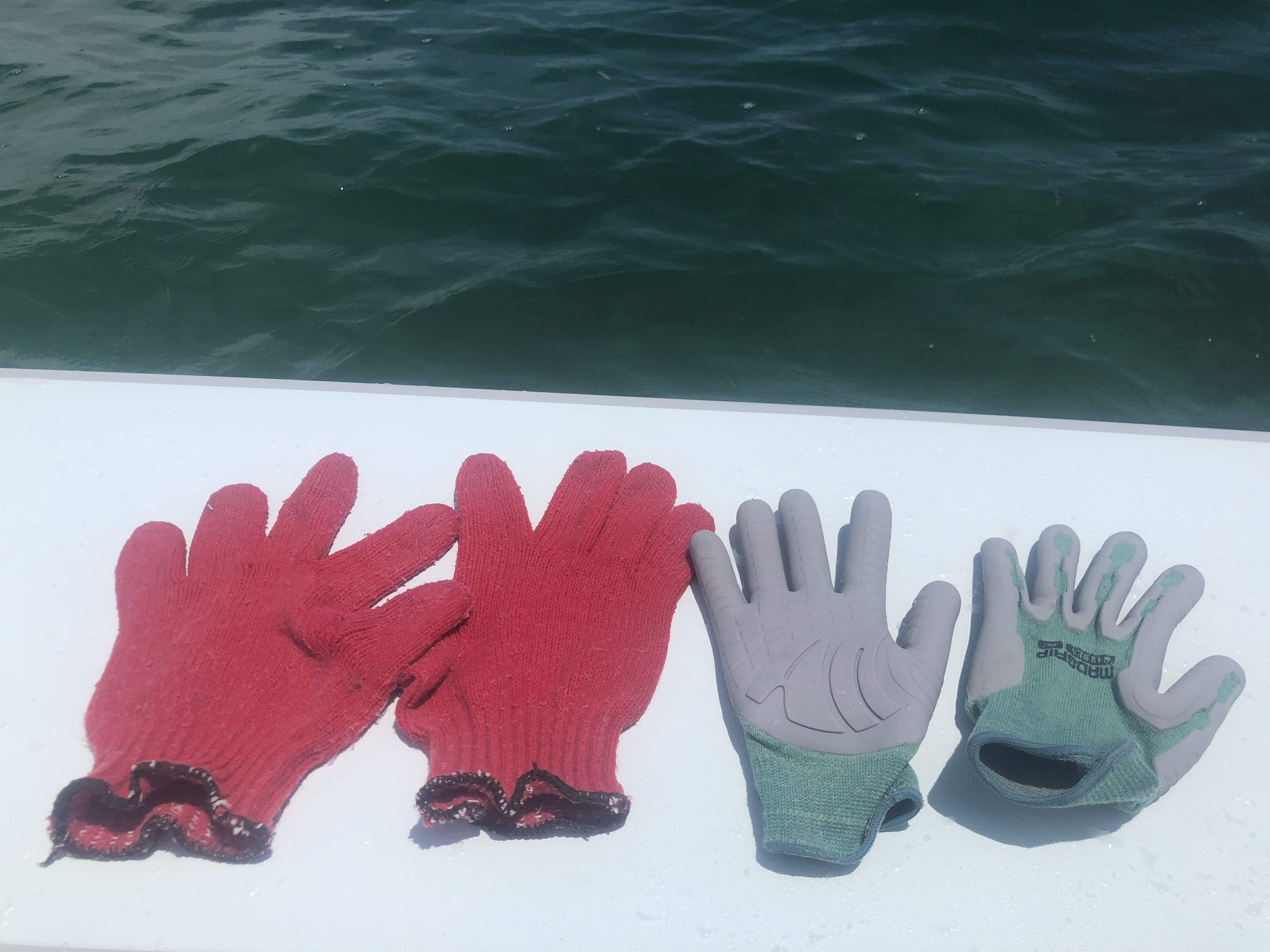 Keys water is so clear and there's so much to see out there: coral heads, forests of sea fans, schools of tropical fish. I swam along with some angelfish the other day. They swam just beneath me, angling their flat bodies so their eyes looked to mine. Bright green moray eels poked out of a few holes, one right between a lobster's antennae. That lobster was safe from my net.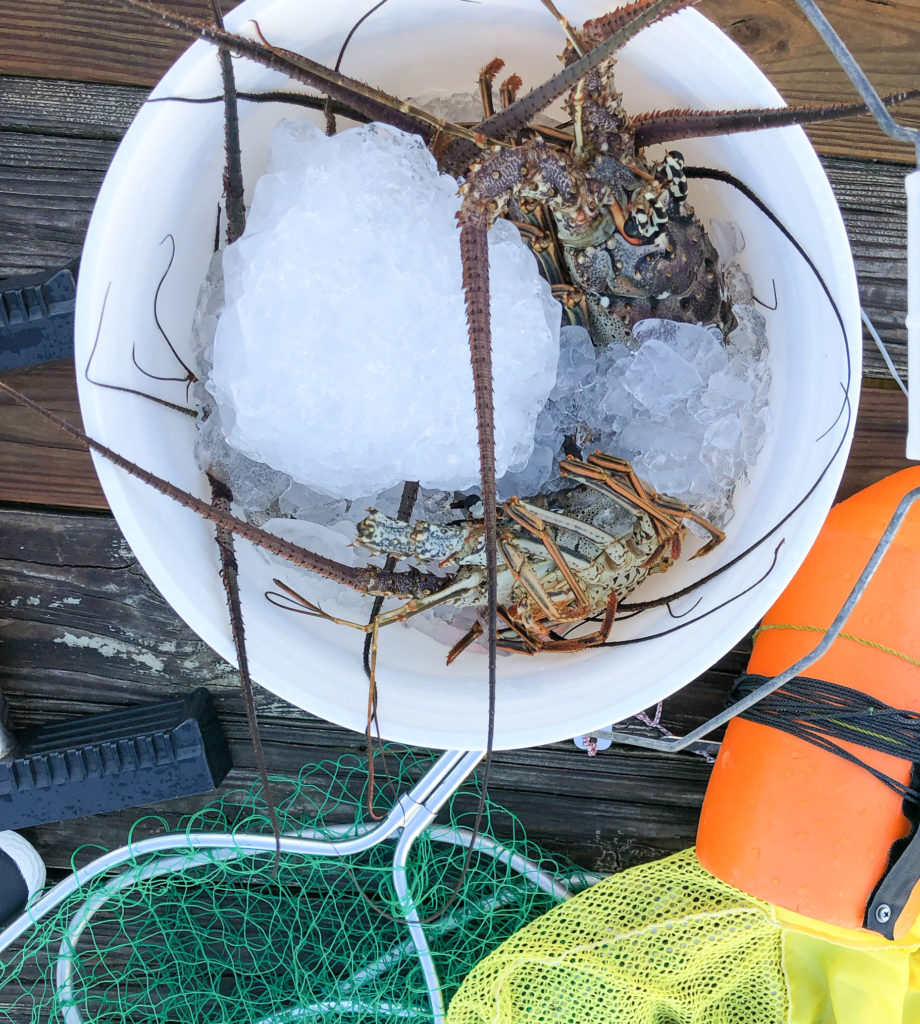 The producer of The Zest asked me why I drive all the way to Big Pine Key to get lobsters when they're available at markets here in Tampa. My simple answer:"It's all about being with my family honestly. I absolutely love our days on the boat, and swimming, and coming back to the dock and making this beautiful dinner together, there's nothing better." I guess that was a good way to sum it up, but afterward I wished I'd elaborated. Catching them is thrilling! And while I look for them I'm exploring more than I would if I was only snorkeling casually. I see changes in places I've been before, and it gives me a deeper appreciation for this precious resource. And there's also a feeling of connection with my family, obviously the ones swimming around me, but also my grandparents, who spent many summer days doing this exact same thing. Then there are the evenings we spend cooking, eating, and talking about all we saw that day, and feeling grateful for the complete experience, including the feast.
When asked about my favorite lobster recipes, I mentioned this grilled lobster salad and Florida lobster rolls, but now I'm adding this easy pasta to the list.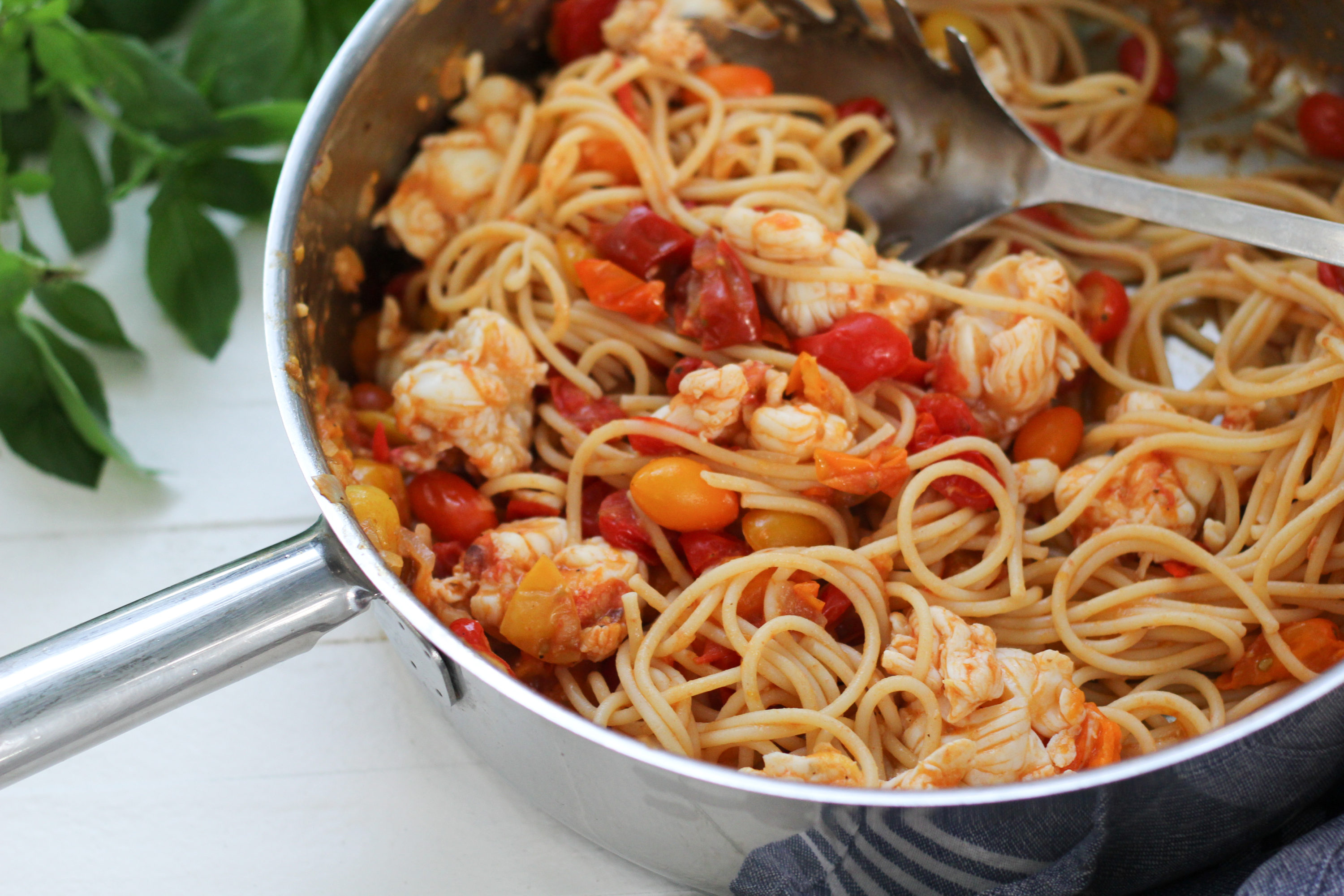 It's a short list of ingredients and only a couple easy steps, but once you twist up a pile of this on a plate it kinda feels fancy. It's the kind of meal you need after a long day on the boat, and trust me, it's more delicious than anything from No Name Pub (but sometimes you have to go there).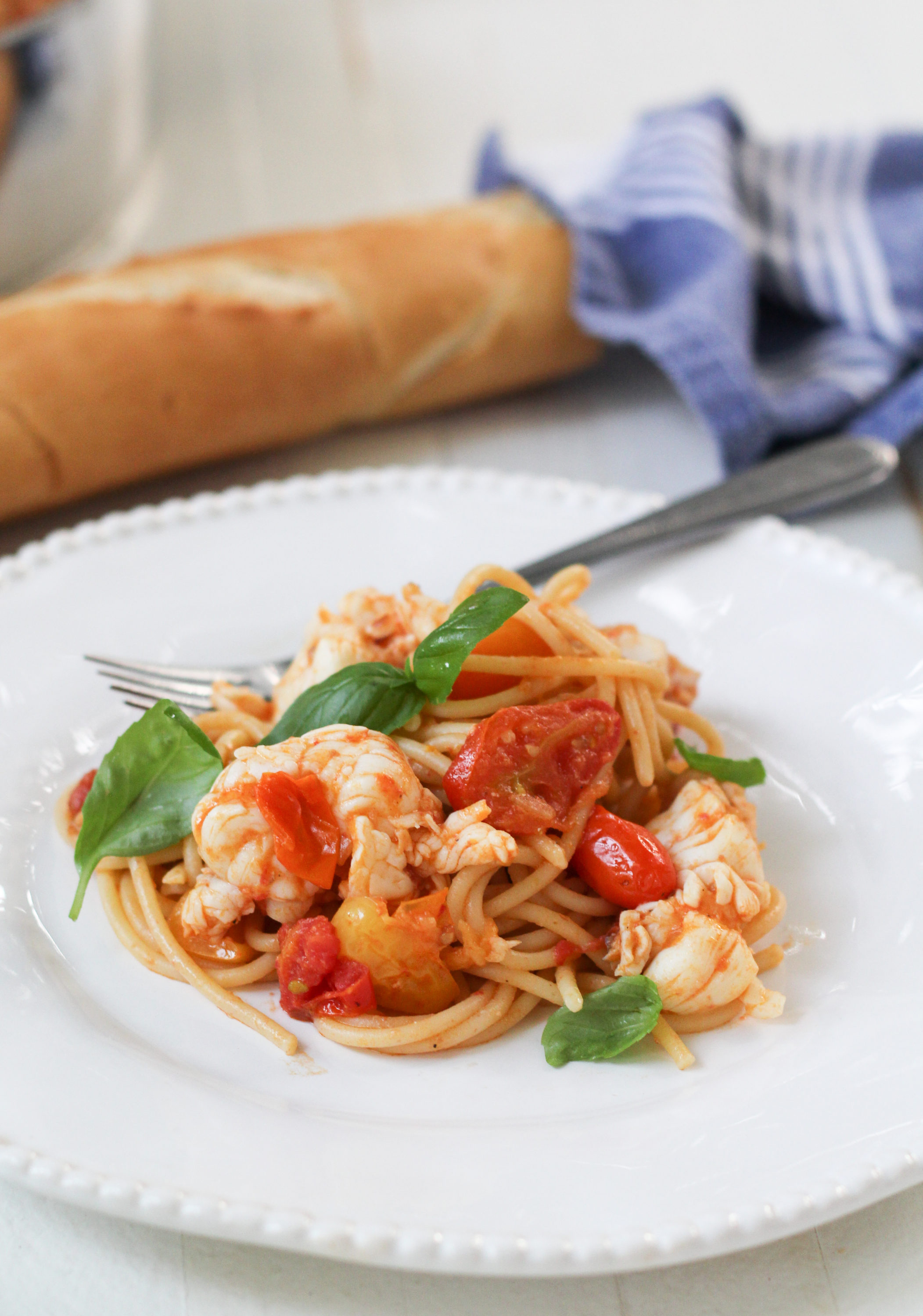 Enjoy those summer lobsters, however and wherever you get them.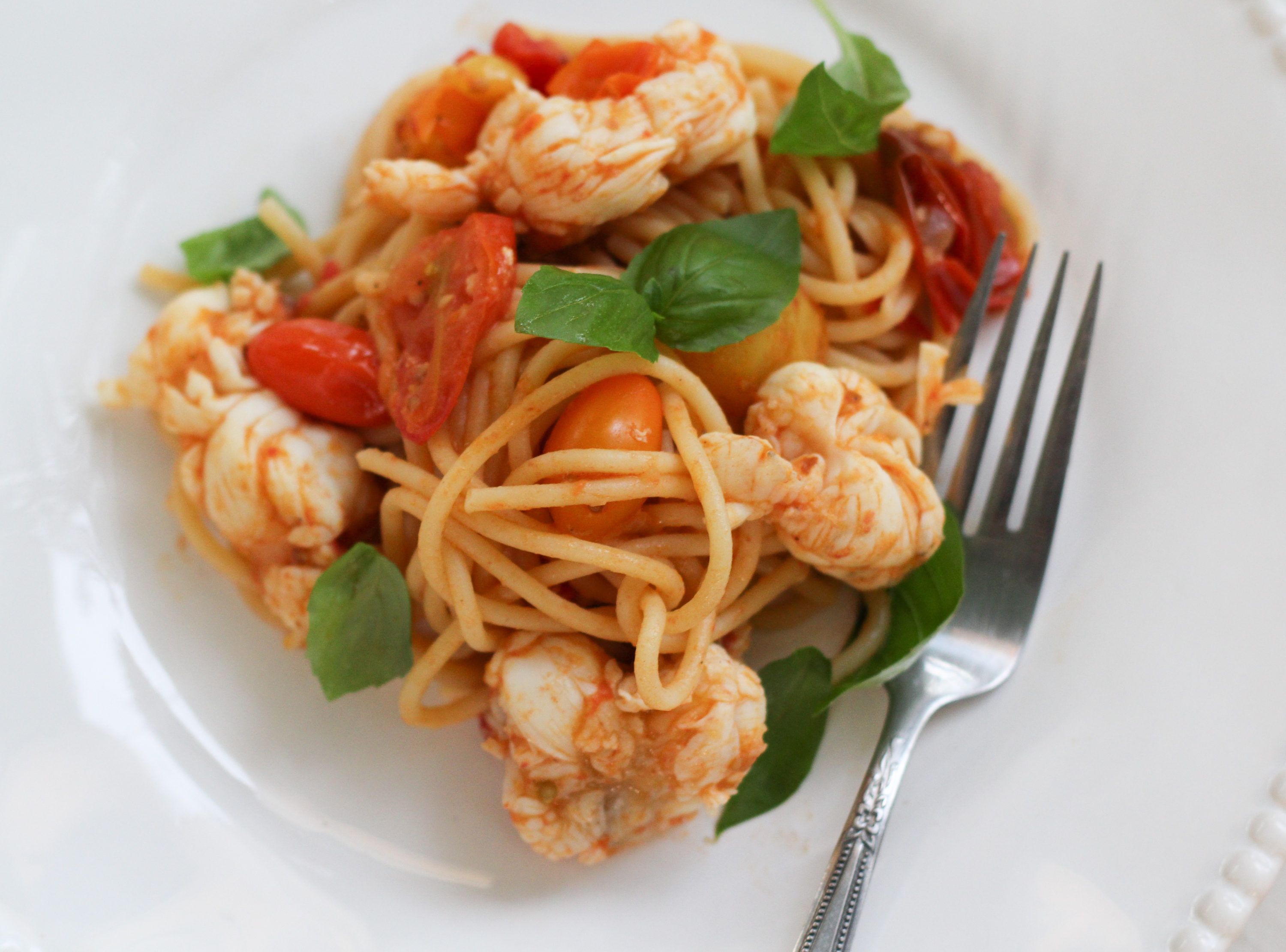 Florida Lobster Pomodoro
2019-08-20 13:55:54
Ingredients
1 pound spaghetti or other long, thin pasta (gf is fine)
4-5 lobster tails
4 tablespoons olive oil
1 shallot, sliced
3 garlic cloves, minced
1/4-1 tsp red pepper flakes, to taste
2 1/2 cups sliced cherry tomatoes
2 handfuls basil
Instructions
Cook the pasta al dente in salted water, referring to times on the package. Reserve a half-cup of pasta water for the sauce.
Using kitchen shears, slice the tails open and pull the meat from the shell. Slice the meat into bite-sized pieces.
Add the olive oil to a large skillet over medium-high. Cook the shallots for a couple minutes, stirring often. Add the garlic and red pepper flakes, and cook another minute. Add the tomatoes. Season with salt and pepper. Stir in the lobster meat. Once it's opaque, add in the pasta water, stir, and then toss in the pasta.
Serve immediately, topped with freshly torn basil.
Suwannee Rose https://suwanneerose.com/