Resolutions never last long. Cutting things out feels like punishment. I prefer to flip it around. I vow to eat more of what's good.
For me, it's the same three foods: fish, beans, and greens. I've found so many ways to combine these three foods I could write a whole cookbook on it. I swear it could be the next fad diet, but I'm not into that sort of thing. Instead, I'm going to share more recipes like this throughout the year, with an emphasis on making them as easy as possible so we can eat them more often.
Here we go with my latest favorite combination of fish, beans, and greens: cumin-spiked fish baked over black lentils, served over a bed of baby greens. I've pared down the steps and the amount of dirty dishes to make this weeknight friendly, and because it's oven-baked, there's no oil splatter and less fishy smell in the kitchen.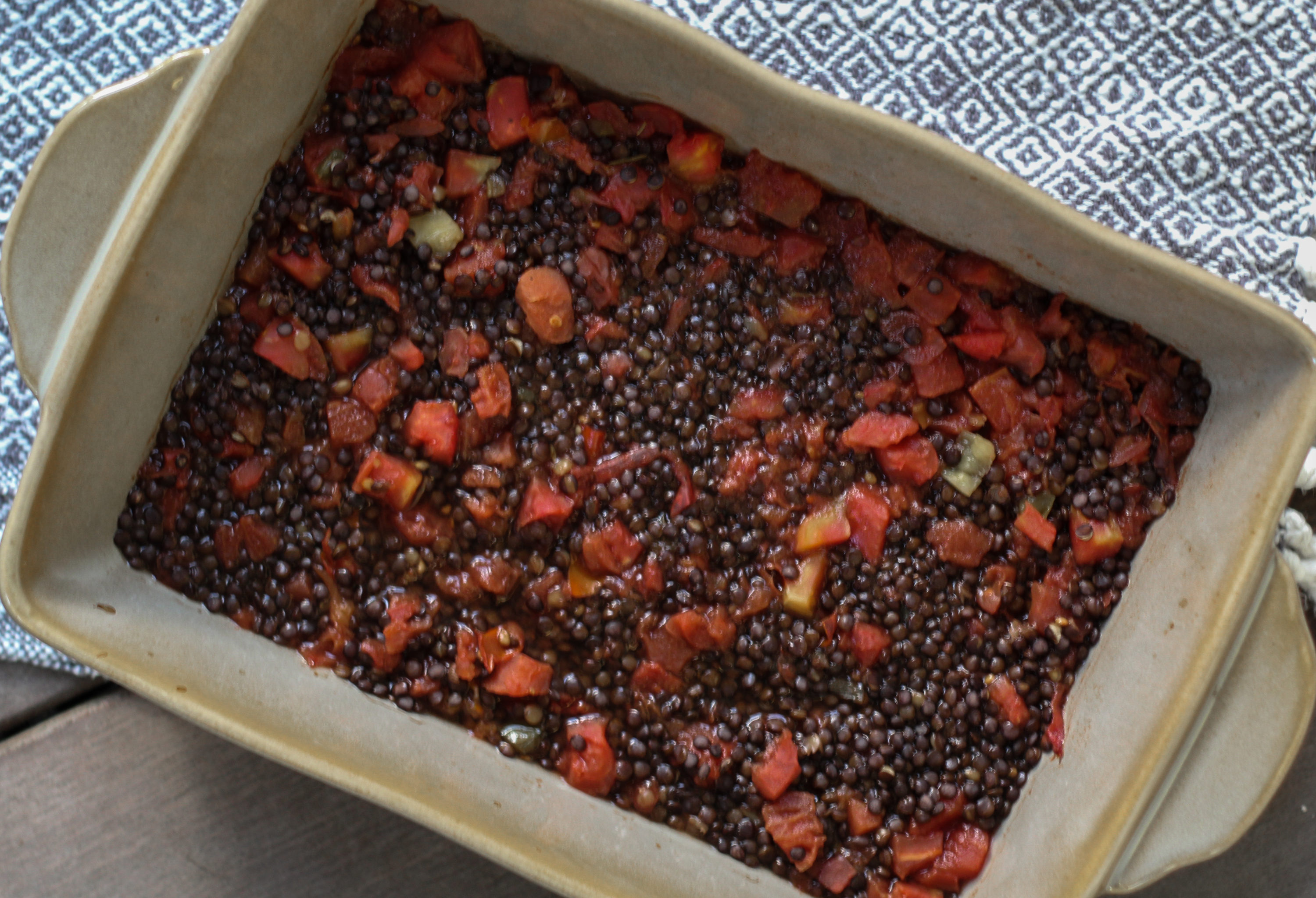 It starts with black lentils. Sometimes they're called beluga lentils because they resemble caviar. They stay firm after cooking and retain their shape better than green or French lentils. Lentils don't need soaking, so there's less planning ahead than dried beans. I normally simmer them on the stovetop, but in this recipe, I'm using a hands-off technique that's even easier. The lentils are smothered with tomatoes and onions, covered with broth or water, and baked in a hot oven. In about 30 minutes, they're perfectly tender and ready to be topped with whatever fish you've got, then it's back in the oven while you work on one last little step.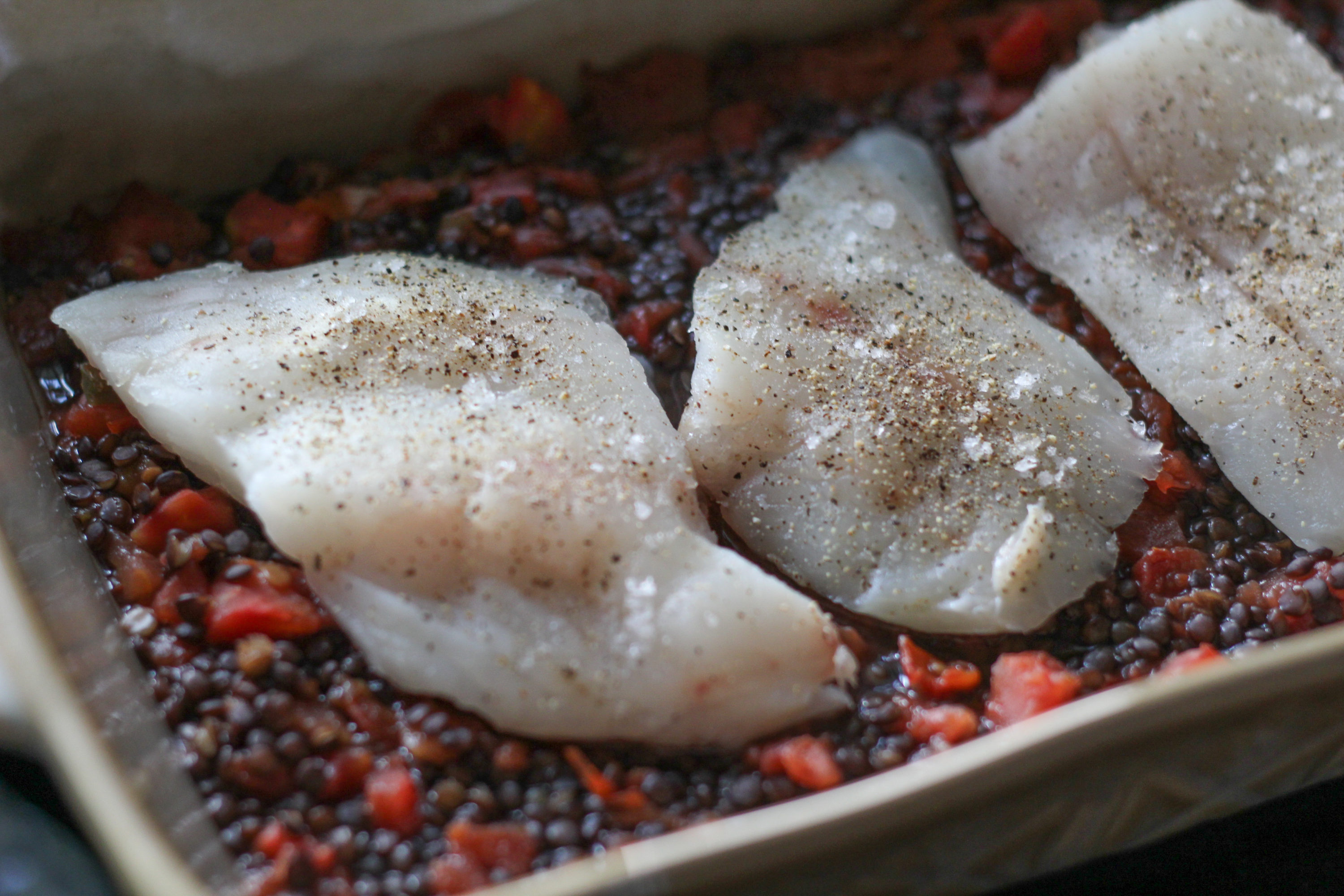 It's super easy, and it's going to knock this out of the park. It's called chhonk, tadka, and many other names. I learned it from a cookbook I love called Indian-ish by Priya Krishna. It's a technique of toasting spices in oil or ghee until they're intoxicatingly fragrant, and then pouring the whole shebang on top of the finished dish. It makes everything wonderful. I'm sticking with a very basic version here, just cumin seeds, plus a bit of red pepper flakes for kick if you wish. It's such a simple thing, but it transforms the dish exponentially.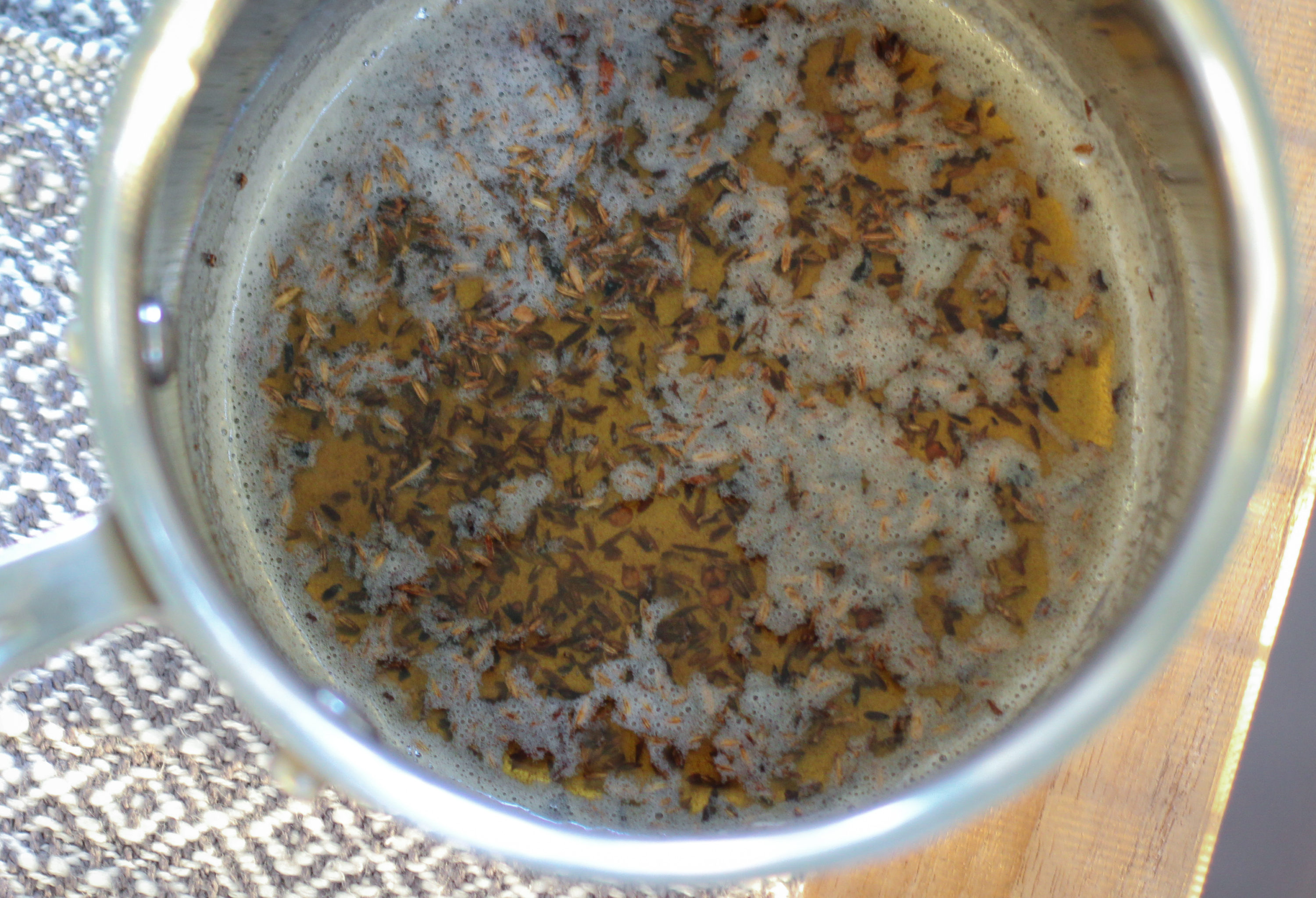 It seeps into the fish and lentils, flavoring every single bite with rich, toasty flavor.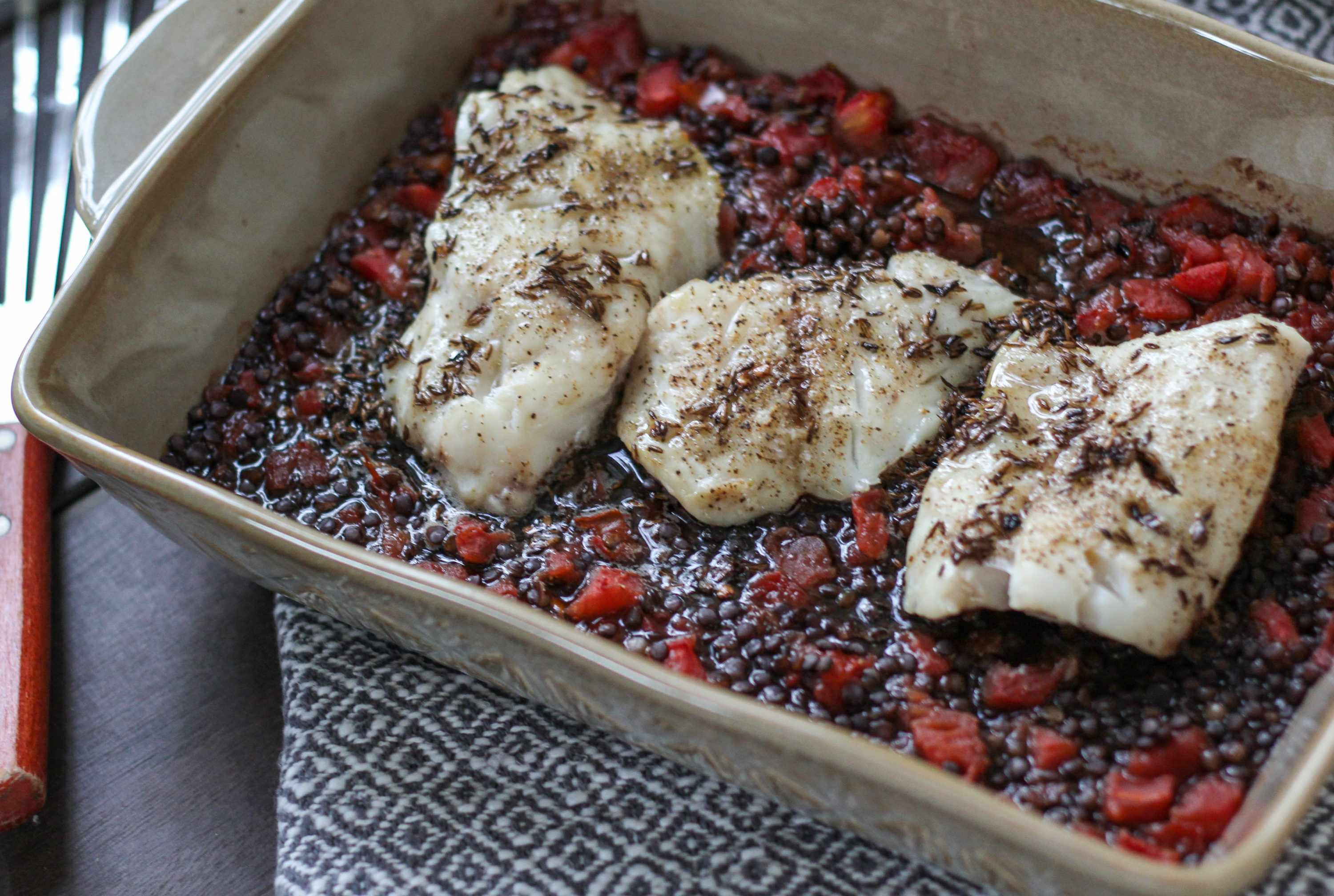 Good luck with all your resolutions. If I stick with mine, I'll have more recipes like this to share throughout 2020.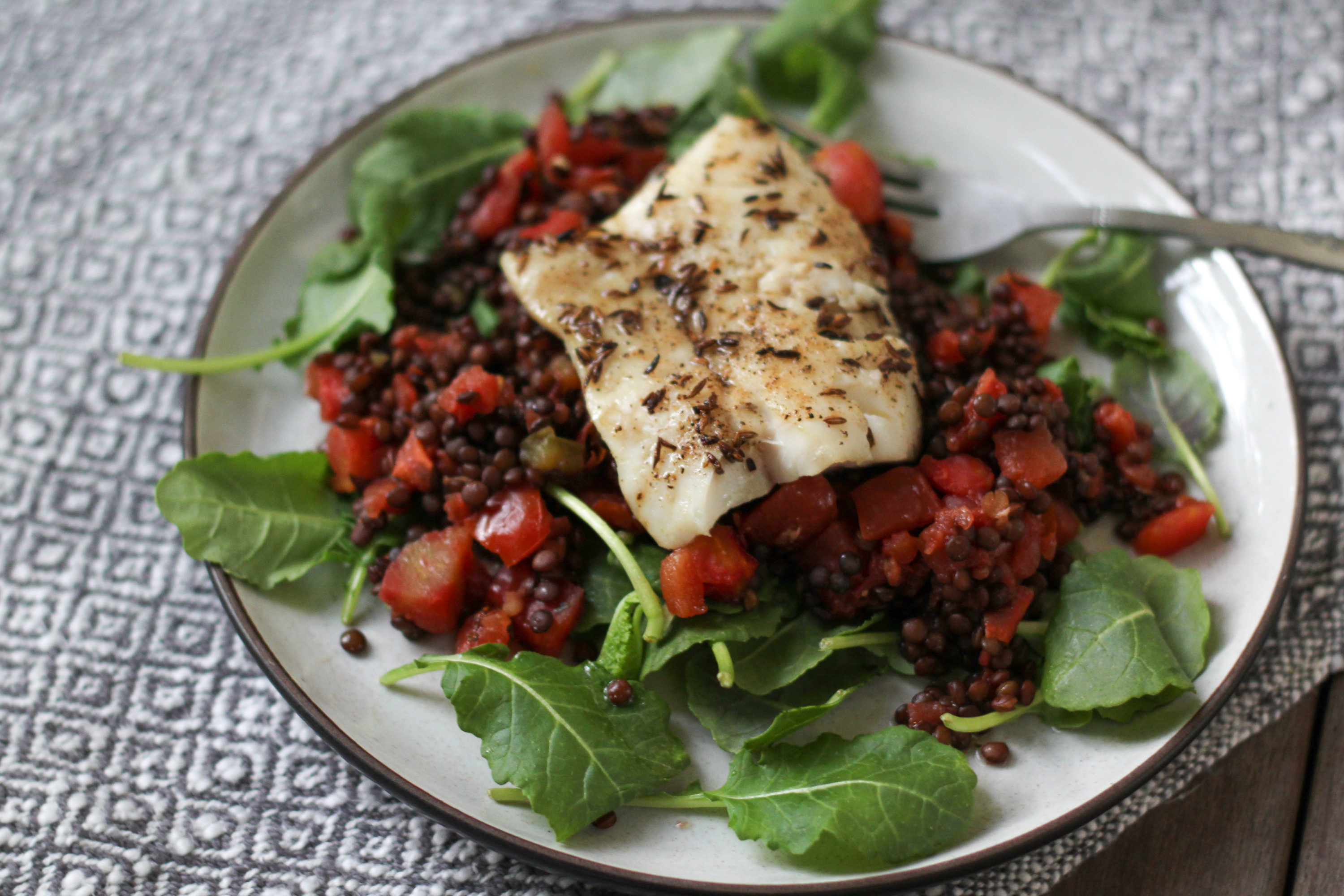 Cumin-Spiked Fish & Black Lentils
2020-01-10 11:13:05
For the Fish and Lentils
1/2 cup black lentils
2 cups diced tomatoes
1/2 cup minced Vidalia onion
1 1/2 cups n(+/-) broth or water
3/4 to 1 pound firm, white fish filets
salt and pepper
For the Hot Cumin Oil (Chhonk)
2 tablespoons ghee (clarified butter) or oil
2 teaspoons cumin seeds
1/4 teaspoon red pepper flakes
Serve over: arugula, spinach, baby kale or collards
Instructions
Heat the oven to 400.
Combine the lentils, tomatoes, onion, and broth or water in a baking dish. Stir and make sure the lentils are submerged in liquid, adding more if necessary.
Bake for 30 minutes. Take out a forkful of lentils. Cool and taste, check they're tender but slightly on the al dente side. You'll have to use your own judgment here. They'll continue to cook with the fish, but if you like them very soft, bake 5-10 minutes longer. Otherwise, proceed with the fish.
Pat the fish dry and sprinkle both sides generously with salt and pepper.
Arrange the fish over the lentils and return to the oven. Bake 8 to 12 minutes, depending on the thickness of the filets. Fish is done when a skewer or cake tester inserted into the thickest part slips through easily.
Make the Hot Cumin Oil (Chhonk)
Heat 2 tablespoons ghee or oil in a small saucepan over medium heat. Once the oil is hot, add the cumin seeds, lower the heat, and stir until they're golden and smell very toasty and fragrant. Remove from the heat and stir in the red pepper flakes.
Pour the hot cumin oil over the dish of fish and lentils.
Serve over your choice of greens.
Suwannee Rose https://suwanneerose.com/