My Aunt Bernie had a carambola tree by her front door and it was always loaded with fruit. She'd slice up the pretty stars on a glass plate for all of us kids. I loved how they looked, but I'd only eat a slice or two. I didn't mind the texture, which is crunchy and juicy like a grape with a thin, waxy skin. But the taste is so unusual, like a green apple with strange grassy notes. I've grown to like them more, maybe because they take me back to Aunt Bernie's house.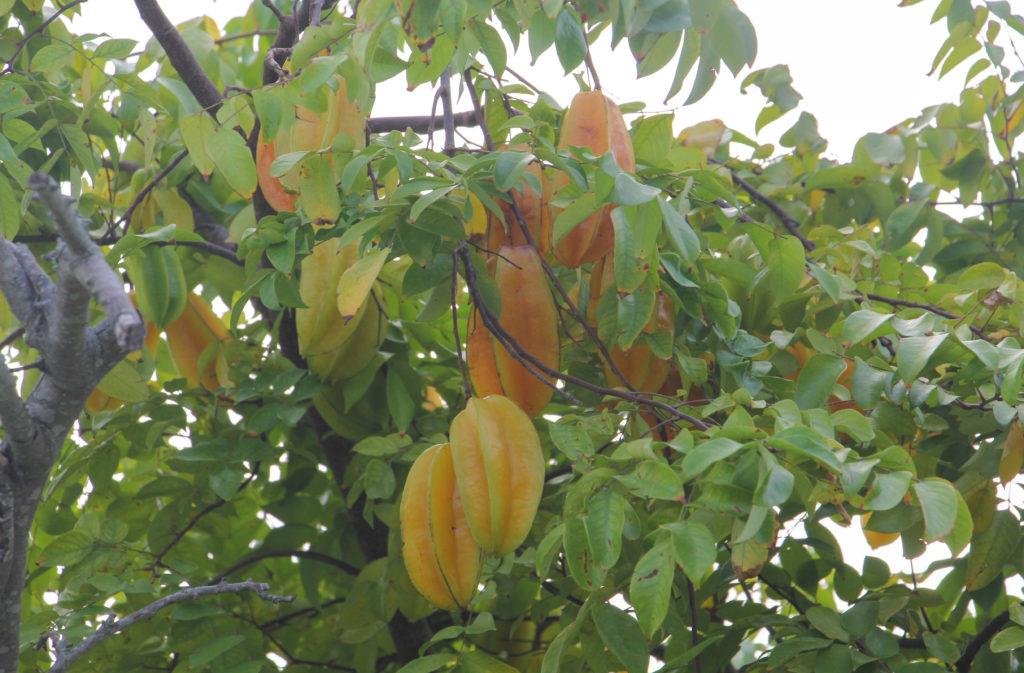 Carambola, or star fruit, is a popular tree in Florida yards. They're easy to grow and they'll give you a boatload of fruit. It's overwhelming, especially for a fruit that's better in small doses. Case in point: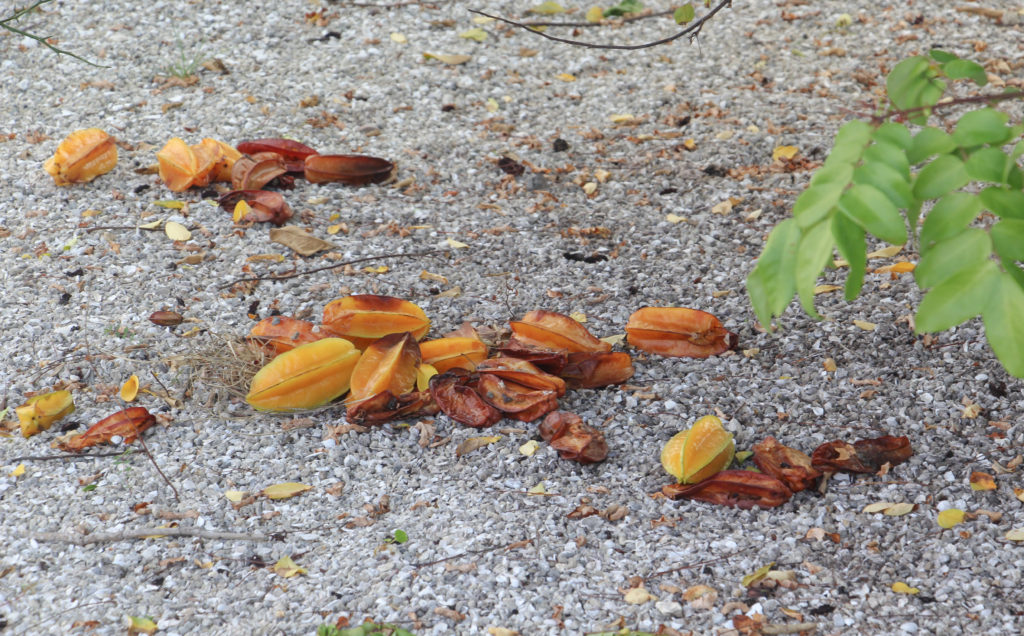 Many go to waste, but sometimes you'll find bins of free fruit at the end of a driveway.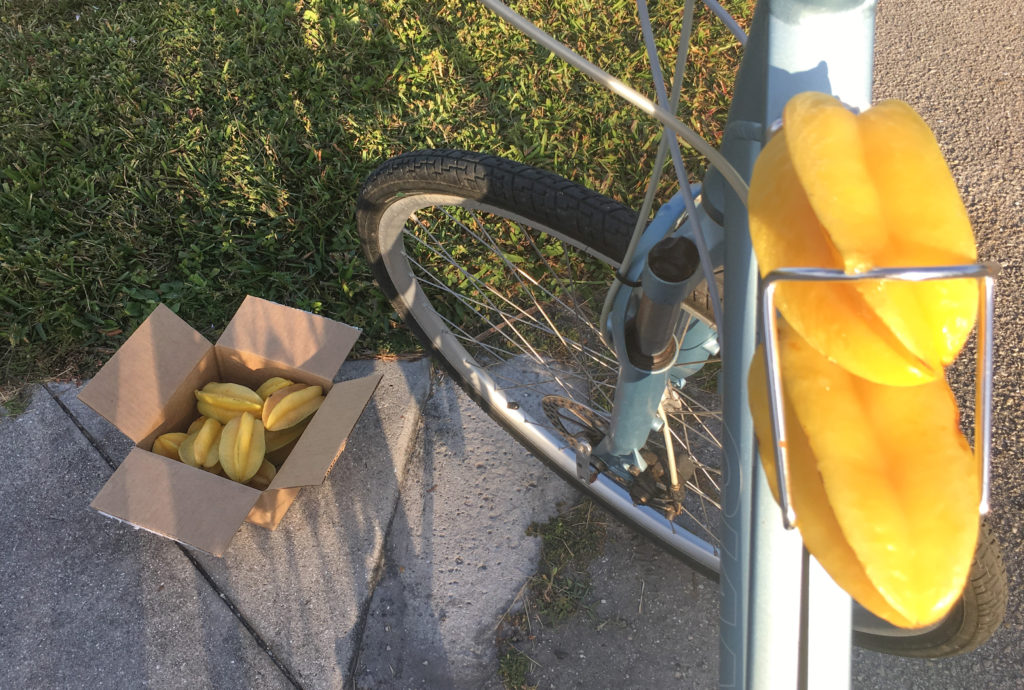 I really should get a basket for the front of my bike, but I make do.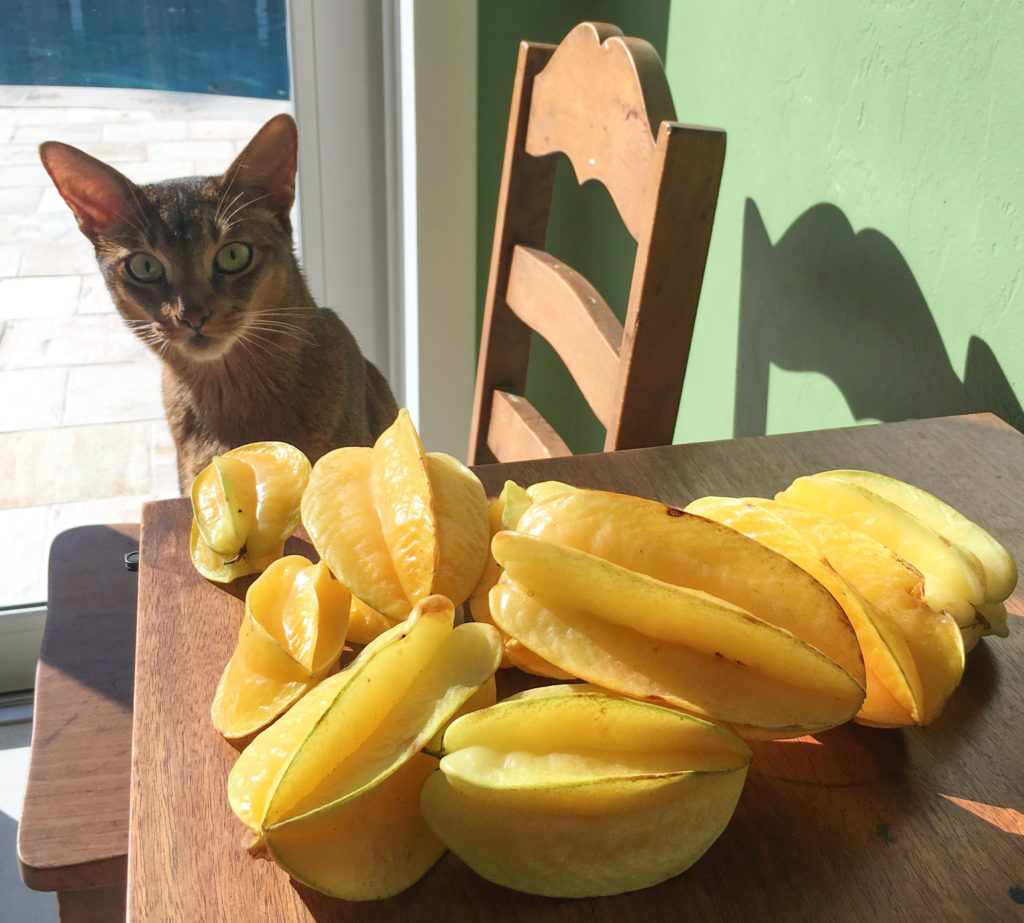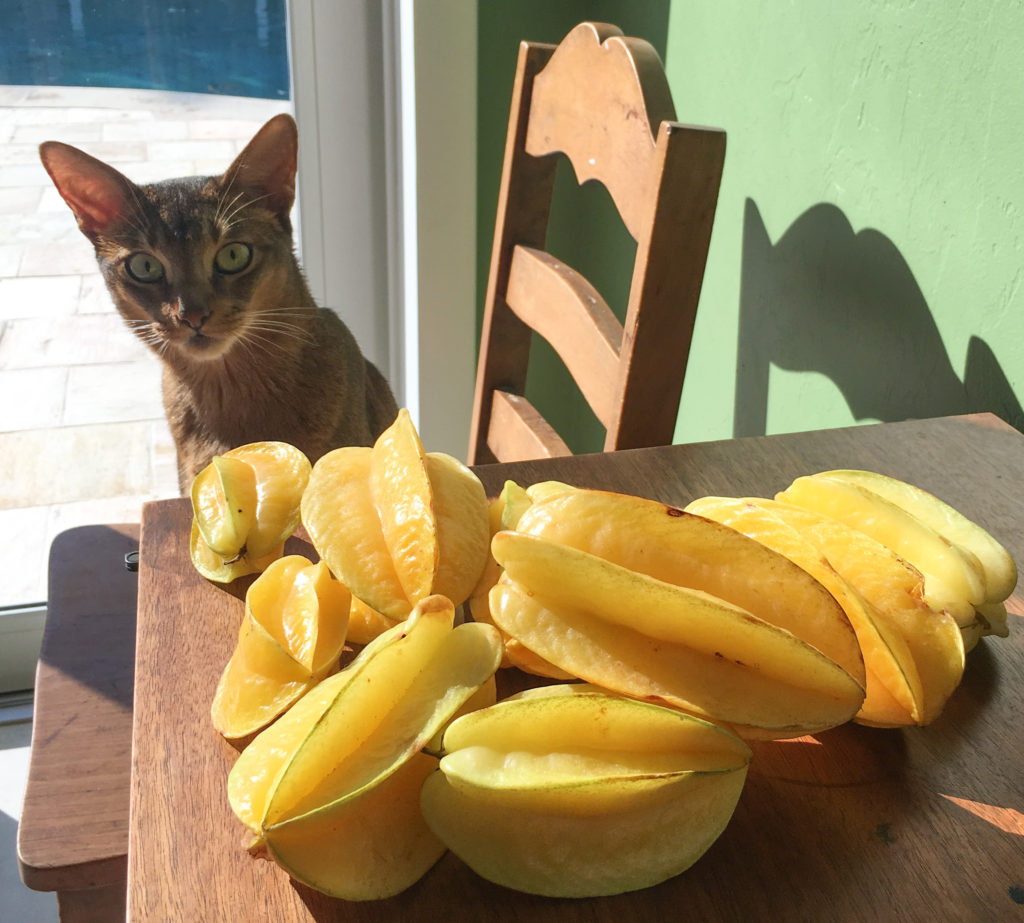 I hate to see good fruit go to waste. I've had friends ask me for more recipes, and I know I can always find fruit, so I started experimenting.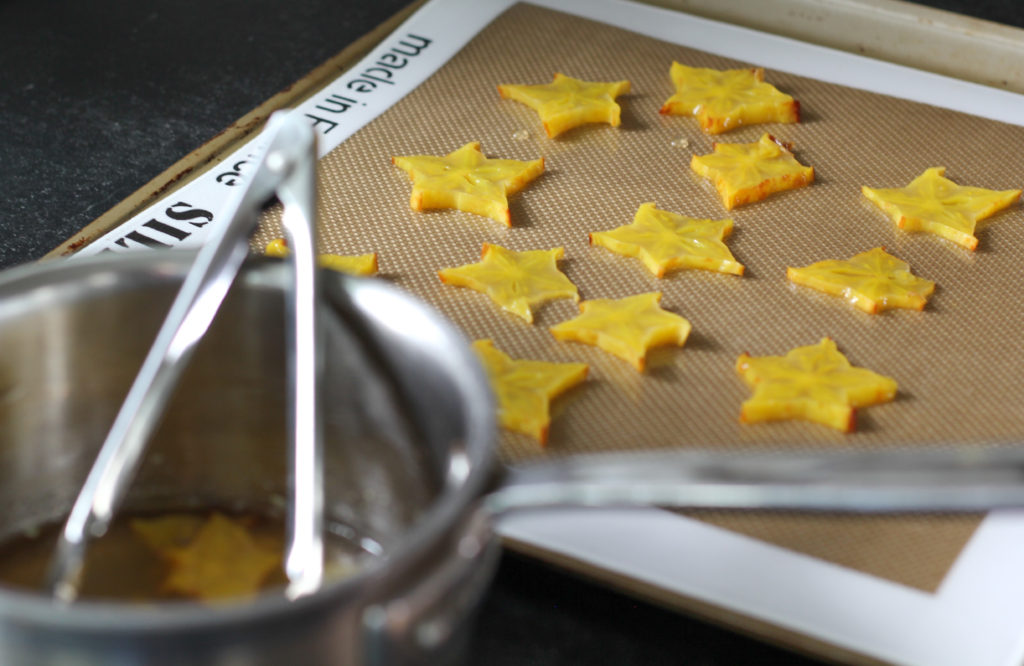 Generally I think fruit is better raw, so I was pretty surprised after I tried these cooked. They're delicious! I felt like I unlocked the secret of star fruit. Not only do they taste better, but cooking helps use up even more of them.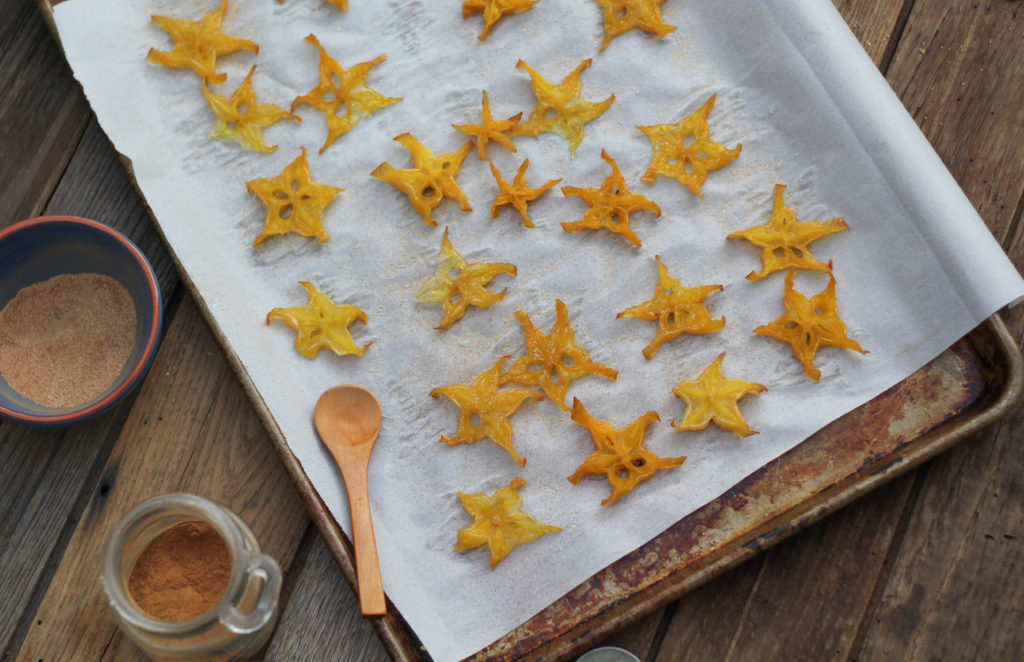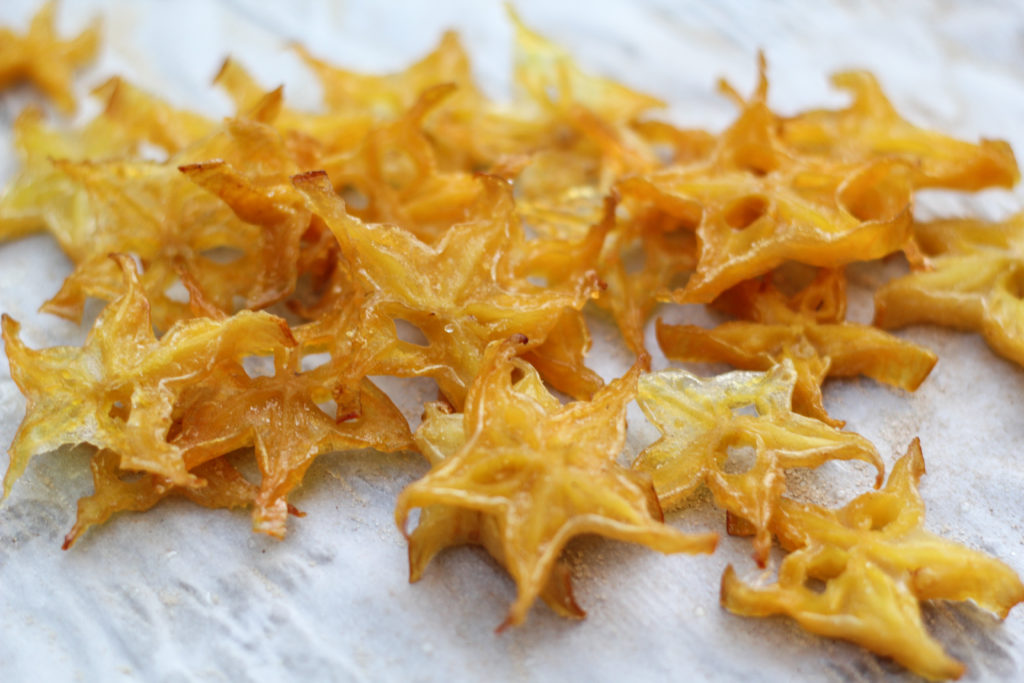 These chips are a great place to start. I call them chips, but they lie somewhere in a gray area between dehydrated fruit and candy. They've got crispy edges and slightly chewy centers and the flavor is sweet-tart and spiked with a little hint of ginger. They're perfect for snacking. You can make batch after batch, and I promise they'll disappear. As an added bonus, you end up with starfruit syrup, which makes amazing cocktails and lemonade.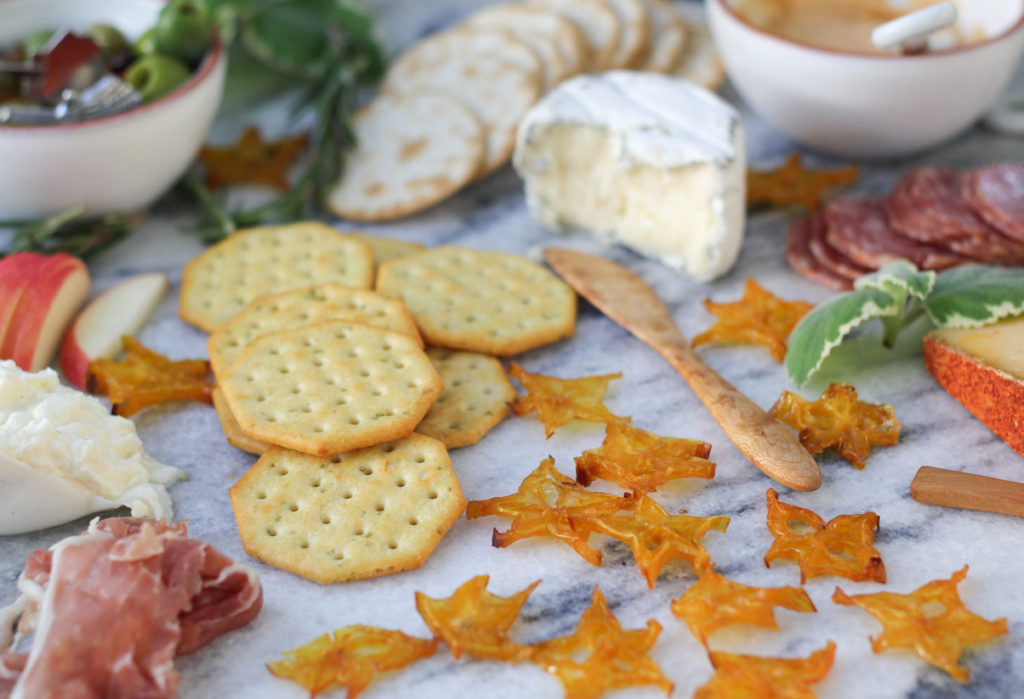 My friend Paula came over with a huge wheel of brie after I'd just pulled a batch out of the oven. We put them together and it was magic. I've been scattering them on cheese boards ever since.
If you're looking for more ways to use up star fruit, try this cinnamon starfruit tart, or mix a batch of star fruit palomas!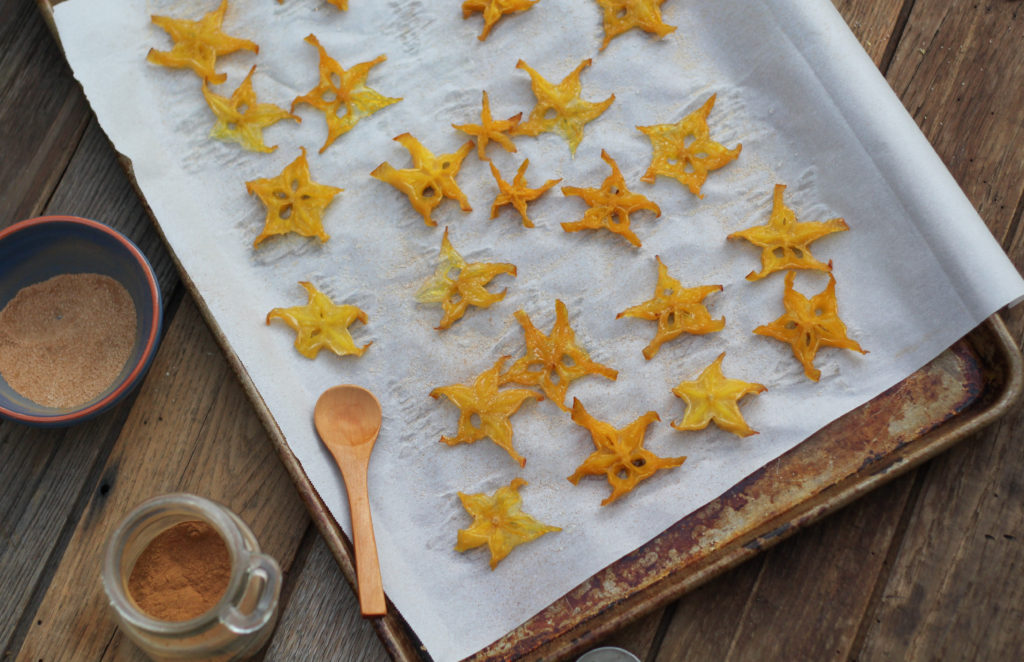 Star Fruit Chips
2016-12-01 11:39:05
Ingredients
2 medium to large star fruit
2 cups water
1 1/2 cups sugar
1-inch piece of ginger, sliced (optional)
cinnamon sugar or sea salt, for sprinkling
Instructions
Heat the oven to 200 F.
Line a baking sheet with a silicone baking mat or parchment.
Slice the star fruit into thin, even slices, about 1/4" thick or less.
In a saucepan over medium-high, dissolve the sugar in water and add the ginger, if using. Bring it to a boil. Reduce the heat, add the star fruit, and simmer for a few minutes, then remove it from the heat and allow it to sit for 20 minutes.
Using tongs, transfer each slice to the lined baking sheet, allowing the excess syrup to drip off.*
Bake the slices for at least an hour, or until they're dry and crisp.
Sprinkle with a bit of cinnamon sugar or a pinch of sea salt if you like.
Store in an airtight container. They're best used within a few days.
Notes
*Reserve the leftover starfruit-ginger syrup for cocktails or lemonade.
Suwannee Rose https://suwanneerose.com/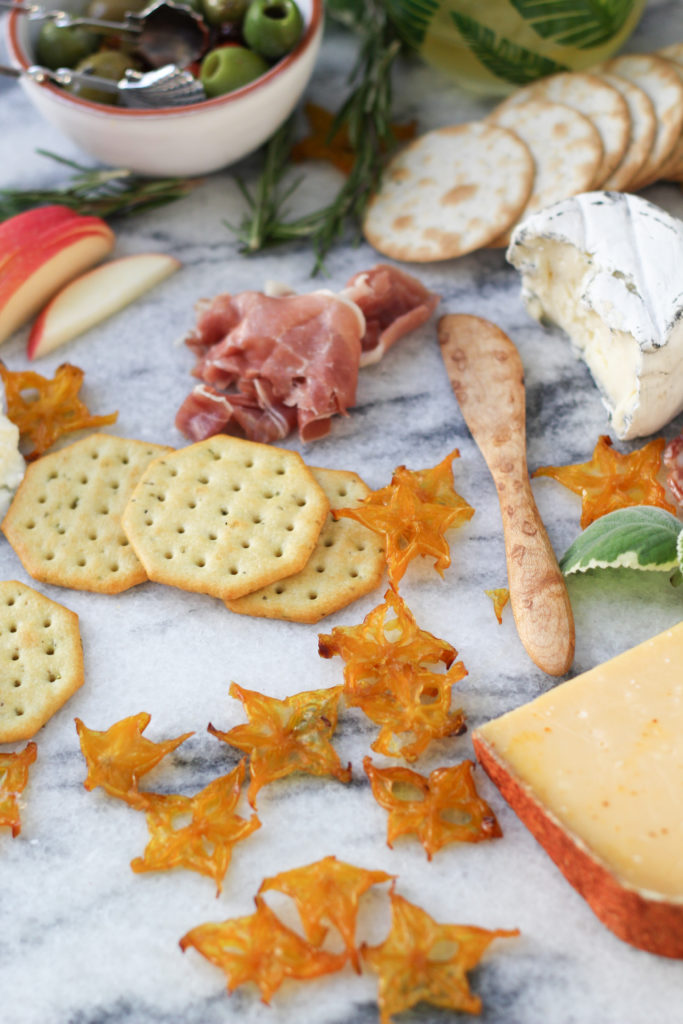 I should probably call them star fruit candy. 😉
SaveSave
SaveSave