We're celebrating Mango Mania today…
Covid-style. A giant mango potluck just couldn't happen safely this year, but my friend Lynne, the Mango Queen of St. Petersburg, is keeping the spirit alive. We're making dishes, sharing photos, and looking back on the good ol' days.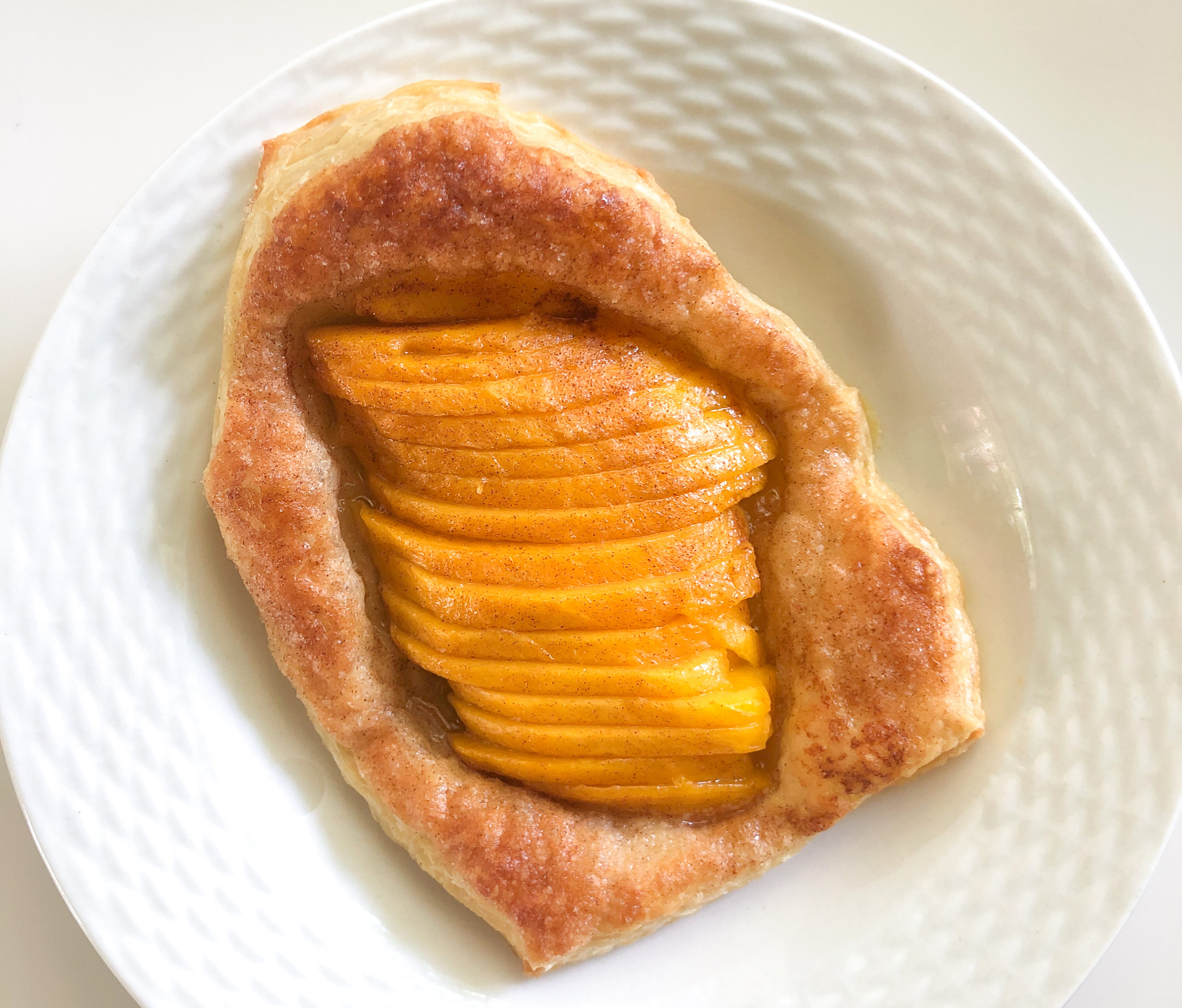 I dream of what I'm going to make for this party all year. I have a file on my desktop of ideas. I kicked this one around for a while. It's probably the easiest of the bunch, and it only requires a few ingredients: mango, puff pastry, butter, and a sprinkle of cinnamon sugar. Ice cream is somewhat optional. Besides being a great recipe for celebrating Mango Mania at home, it's also such a great Father's Day recipe. I'm sharing these with my stepdad, who will identify exactly what variety of mango is in each boat and rate them accordingly.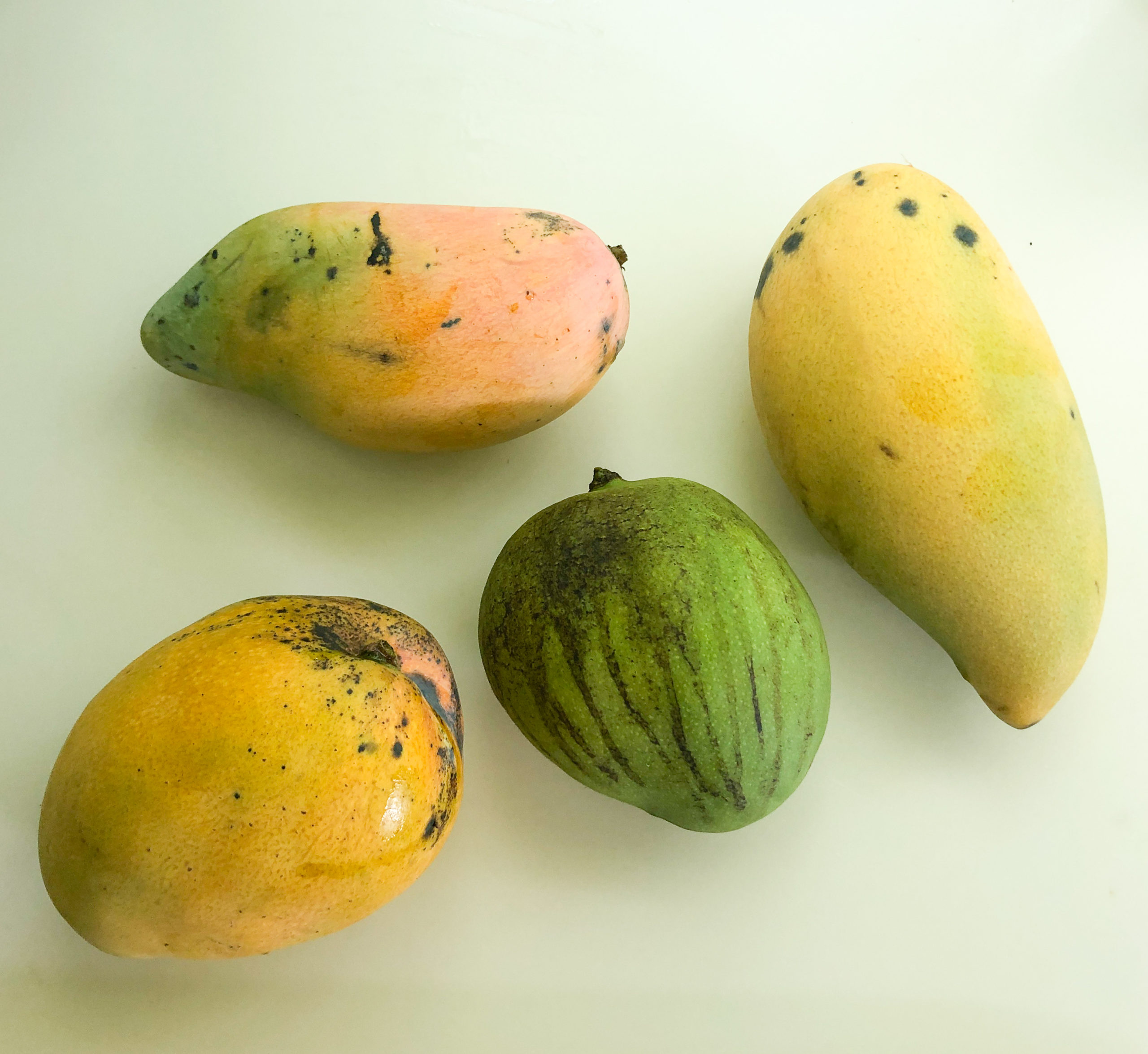 These babies have blemishes, but they're all ripe today. The long tapered ones are Nam Doc Mai, so smooth and lemony; the bright yellow round one is Glenn, which is super coconutty; and the green one is Ice Cream. You can't judge a mango by its color. That Ice Cream mango is soft when pressed and perfectly ripe today, and let me tell you, they chose a perfect name for it. Creamy with an amazing vanilla flavor.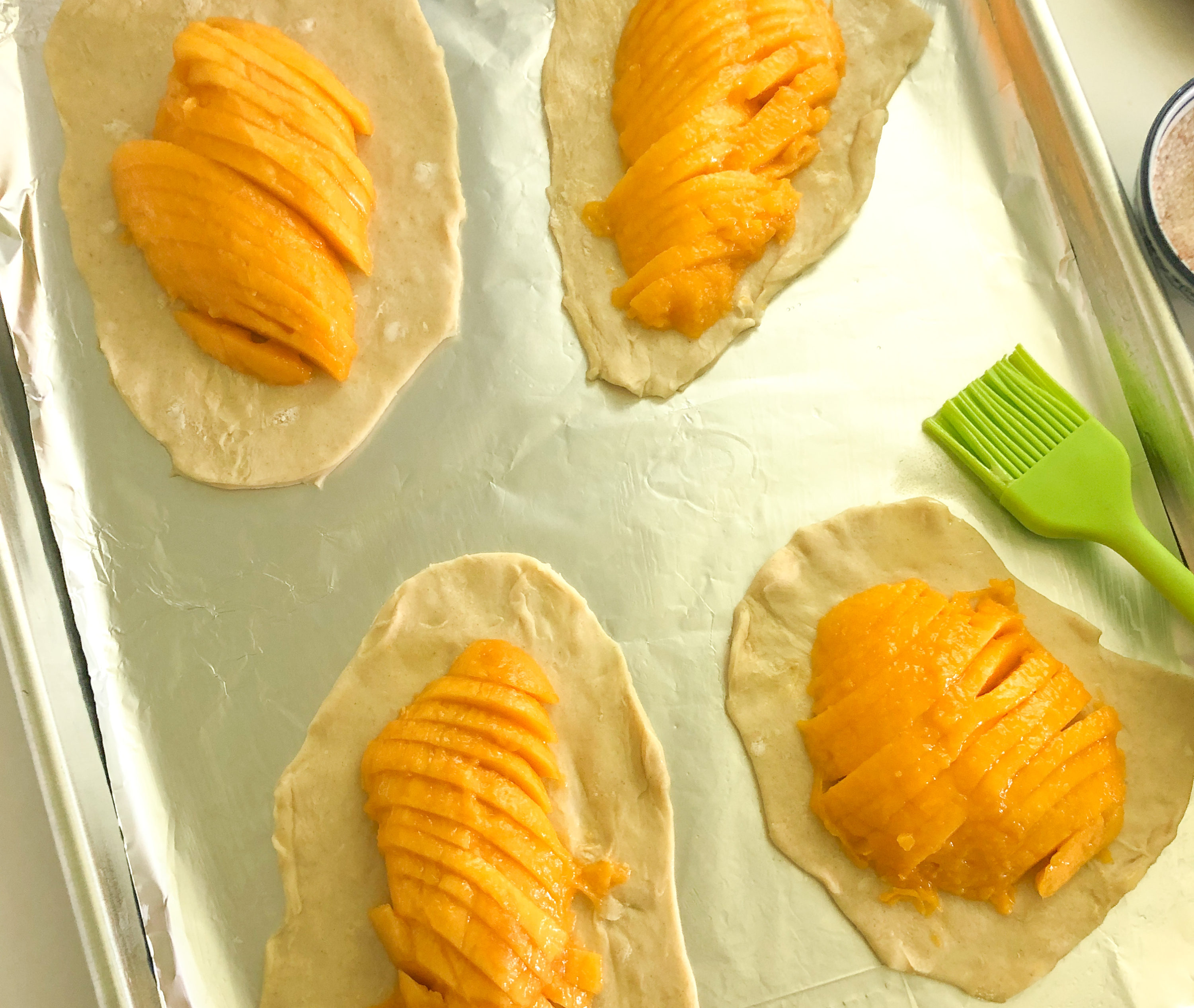 Any mango will work here. All you have to do is slice off the two "cheeks" on either side of the pit, carefully scoop out the flesh, and thinly slice it while holding it together. Using a spatula, move the mango on top of the puff pastry boats. Brush the edges with melted butter, sprinkle with cinnamon sugar, and bake. I love watching layers of puff pastry rise and brown. So pretty.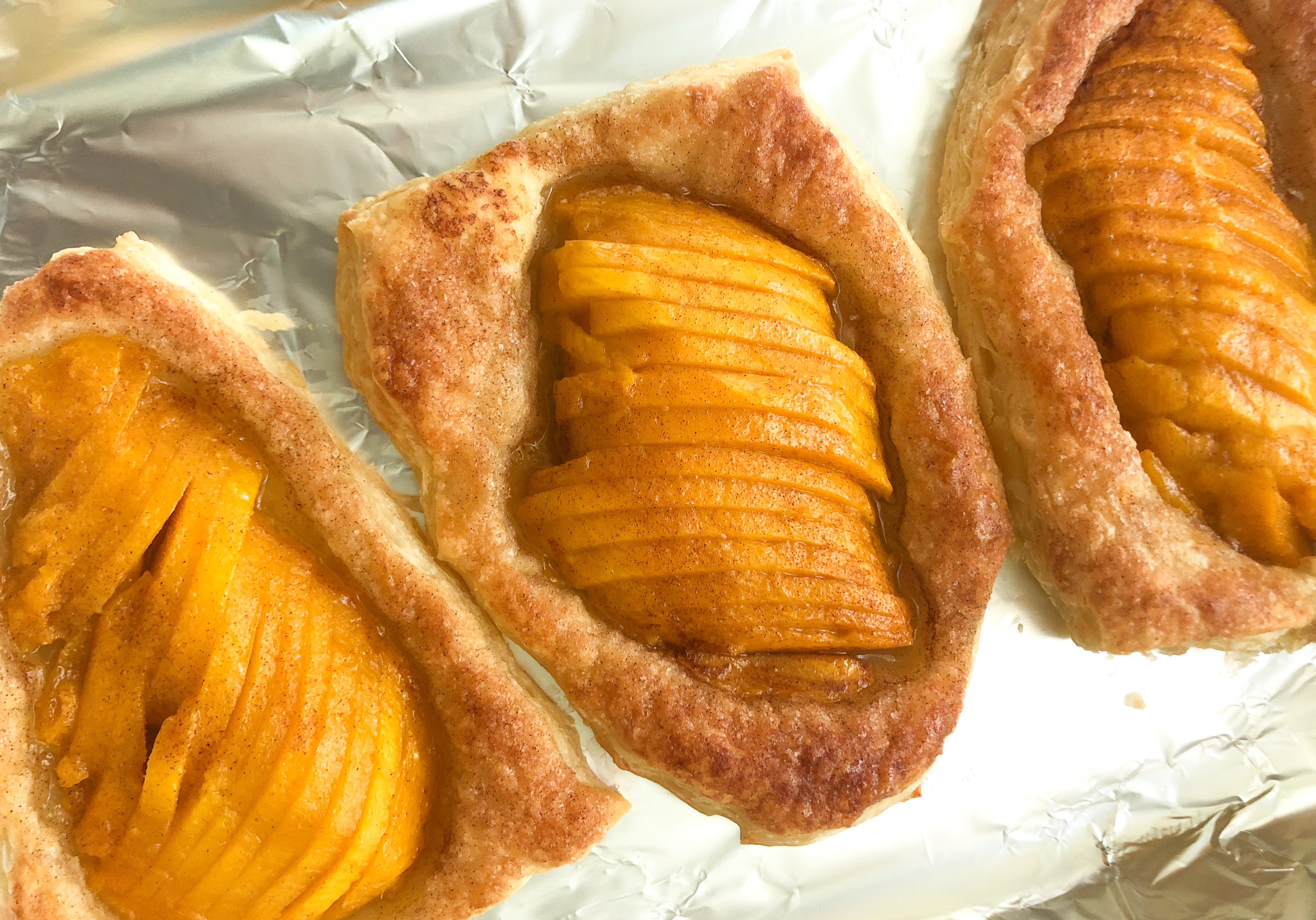 Serve with a scoop of ice cream if it floats your boat.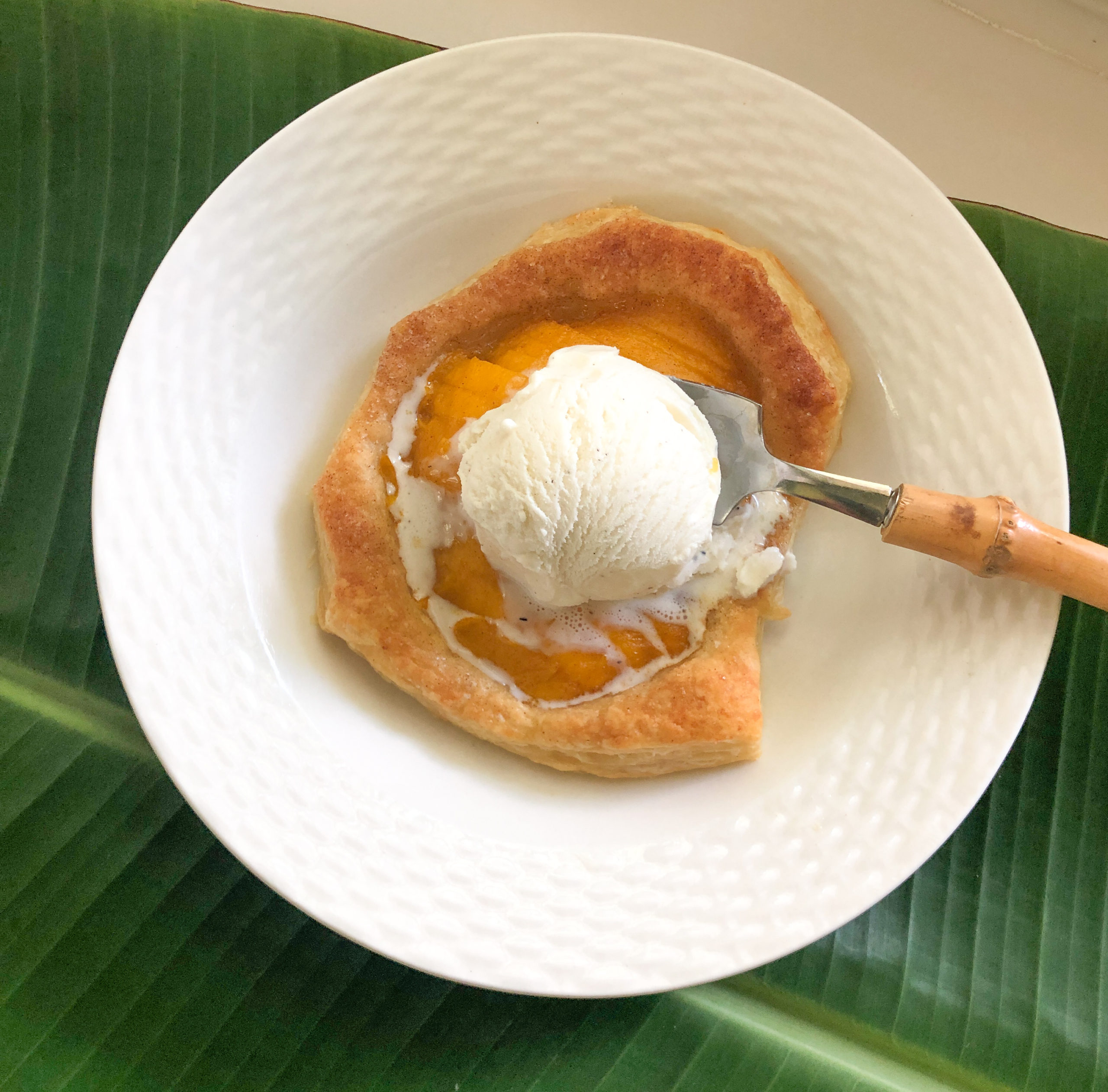 Happy Mango Mania to all of you mango maniacs out there. Keep calm and mango on.
Mango Boats
(makes 4 boats)
1 sheet puff pastry
2 mangos
1 tablespoons melted butter
1 tablespoons sugar
1/4 teaspoon cinnamon
Preheat the oven to 400.
Line a baking sheet with parchment or foil lightly brushed with oil.
Cut the sheet of puff pastry into fourths. Round off two corners to taper into a boat shape, if you like (any shape is fine). Arrange them on the baking sheet.
Slice the cheeks off each mango and scoop out the flesh. Thinly score the cheeks. Use a spatula to place them on top of the puff pastry boats. Ideally, you want a 1/2-1 inch border of puff pastry surrounding the mango.
Brush the edges of the puff pastry with melted butter.
Mix the sugar and cinnamon and sprinkle generously over the top.
Bake 11-15 minutes, rotating the pan halfway through cooking. Watch them close! They're done with they're puffed and beautifully golden brown.
Serve warm, with ice cream if you like.