This holiday season is flying by way too fast.
I wish I had time to bake all the cookies I did last year. Instead, I'm prioritizing my crowd favorites. Meyer lemon and pistachio shortbread cookies have become my most-requested cookie the past couple years. Our Meyer lemon tree is dripping with fruit, begging to be included in holiday baking.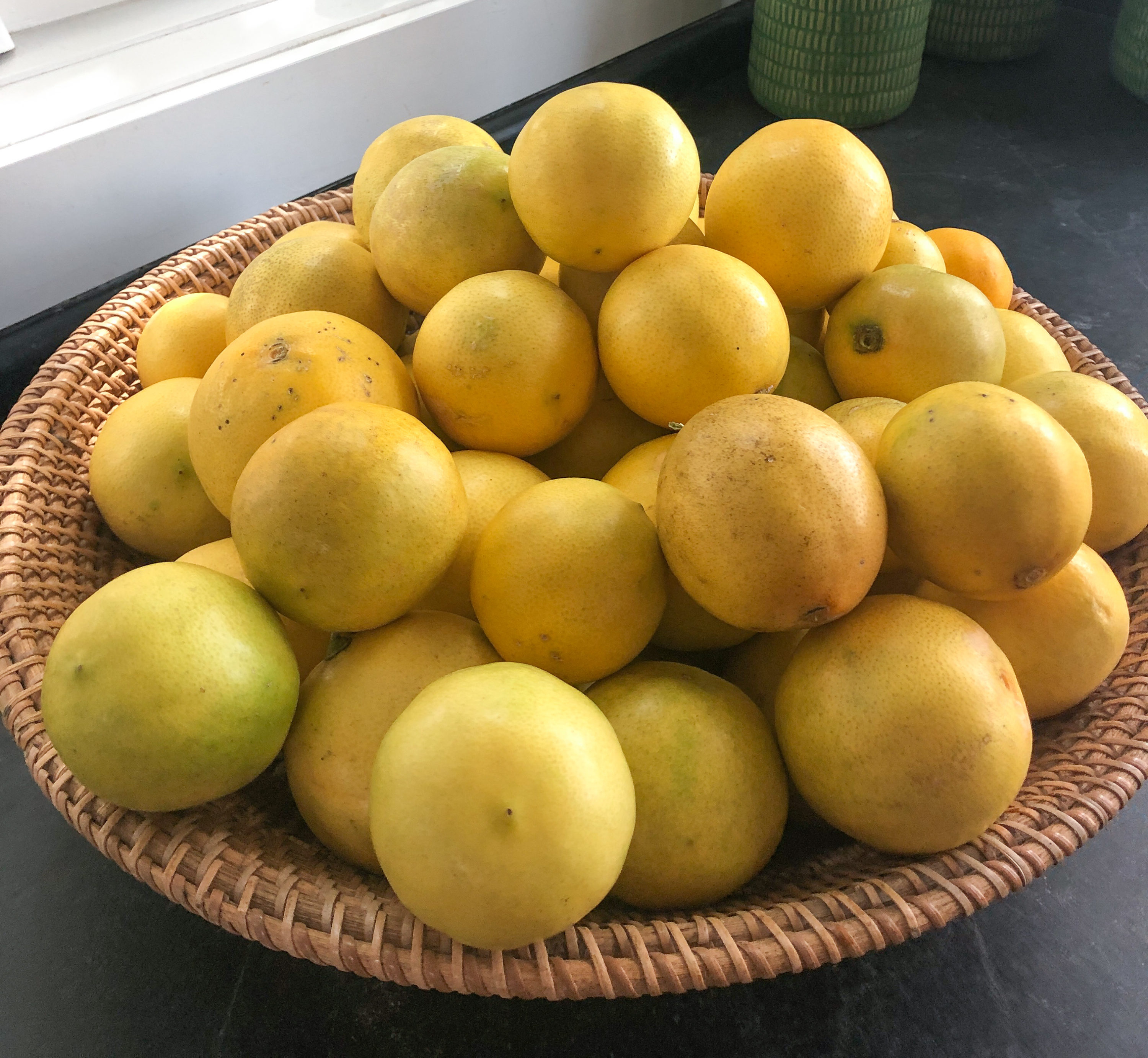 I first started baking these according to my friend Coley's recipe, which makes a delicate sandwich cookie kissed with cardamom. They're so sophisticated they outshine all the others in the tin.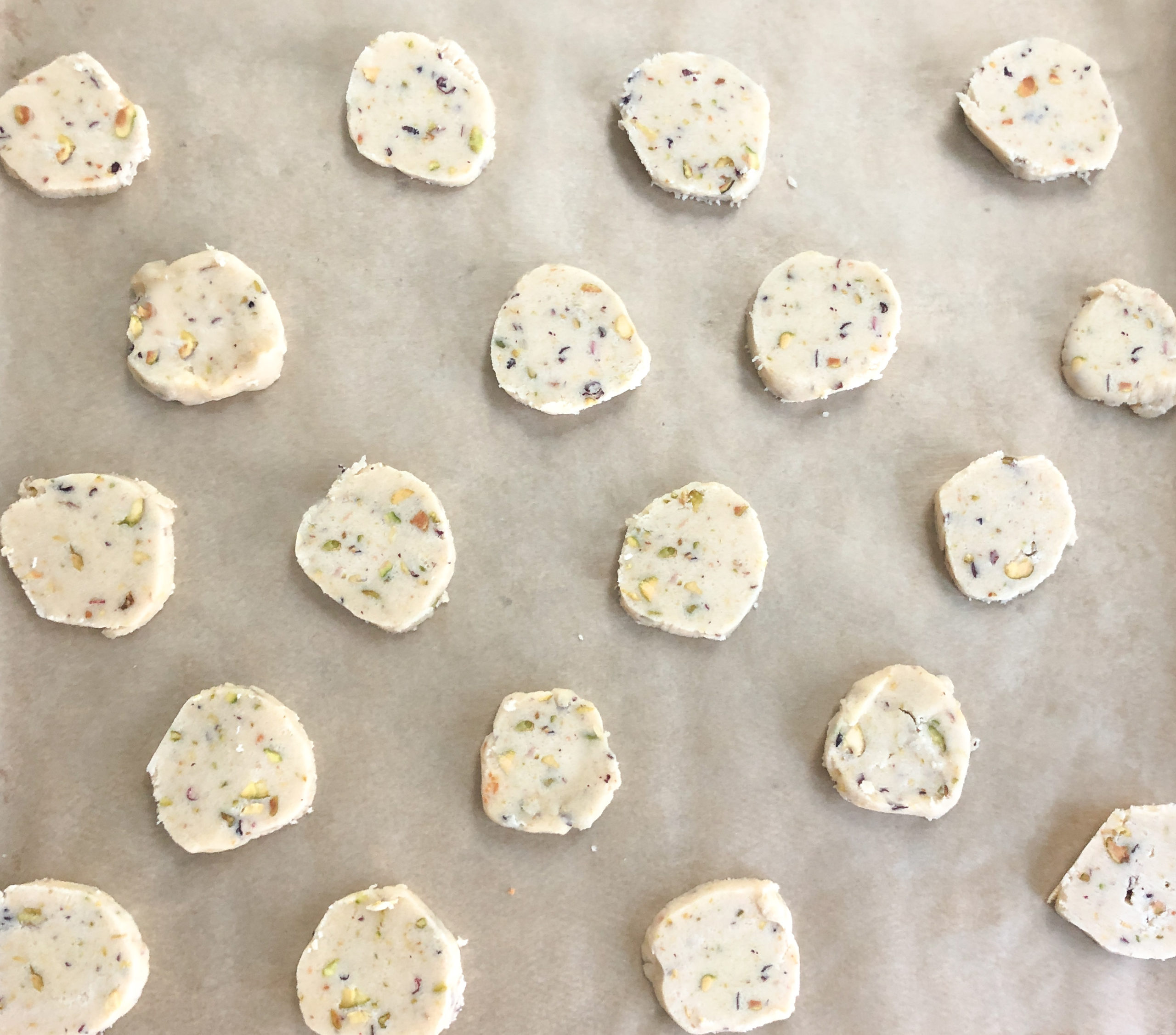 I'm sorry Coley, but each year I get lazier with this recipe. They now look much less elegant, but your lovely Meyer lemon and pistachio shortbread is still under there. This year I jazzed them up with hibiscus, which has become a gimmick around here. I couldn't help myself. It was supposed to be a red, white, and green thing. They turned out more Lisa Frank.
My favorite way to bake cookies goes like this: I spend one day mixing all the dough. I let it chill in the fridge until I'm ready to bake, and that might be several days later. There's proof this improves the flavor of your cookies. When I'm ready to bake, I heat up the oven and bake dozen after dozen, allowing them to cool on every surface in my kitchen and dining room. A house filled with fresh-baked cookies is my happy place.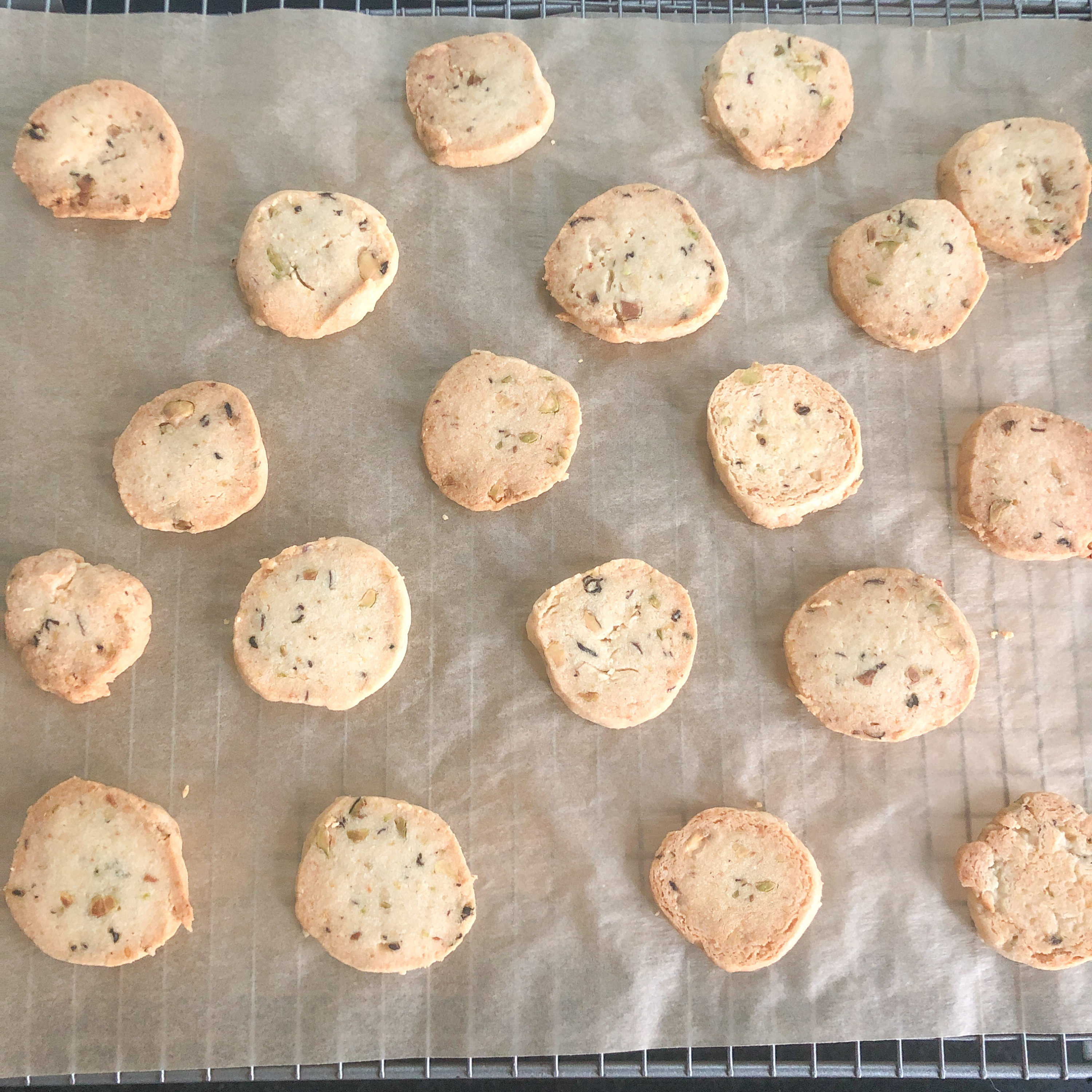 Rolling and cutting out dough really slows down the process for me, so I adapted this as a "slice-and-bake" cookie. I roll the dough into two logs wrapped in plastic. You can place the logs in a cardboard paper towel roll, or wrapping paper rolls, or two glasses. This helps hold the round shape. They still get a little wonky, but having one flat side on every cookie looks too amateur even for me.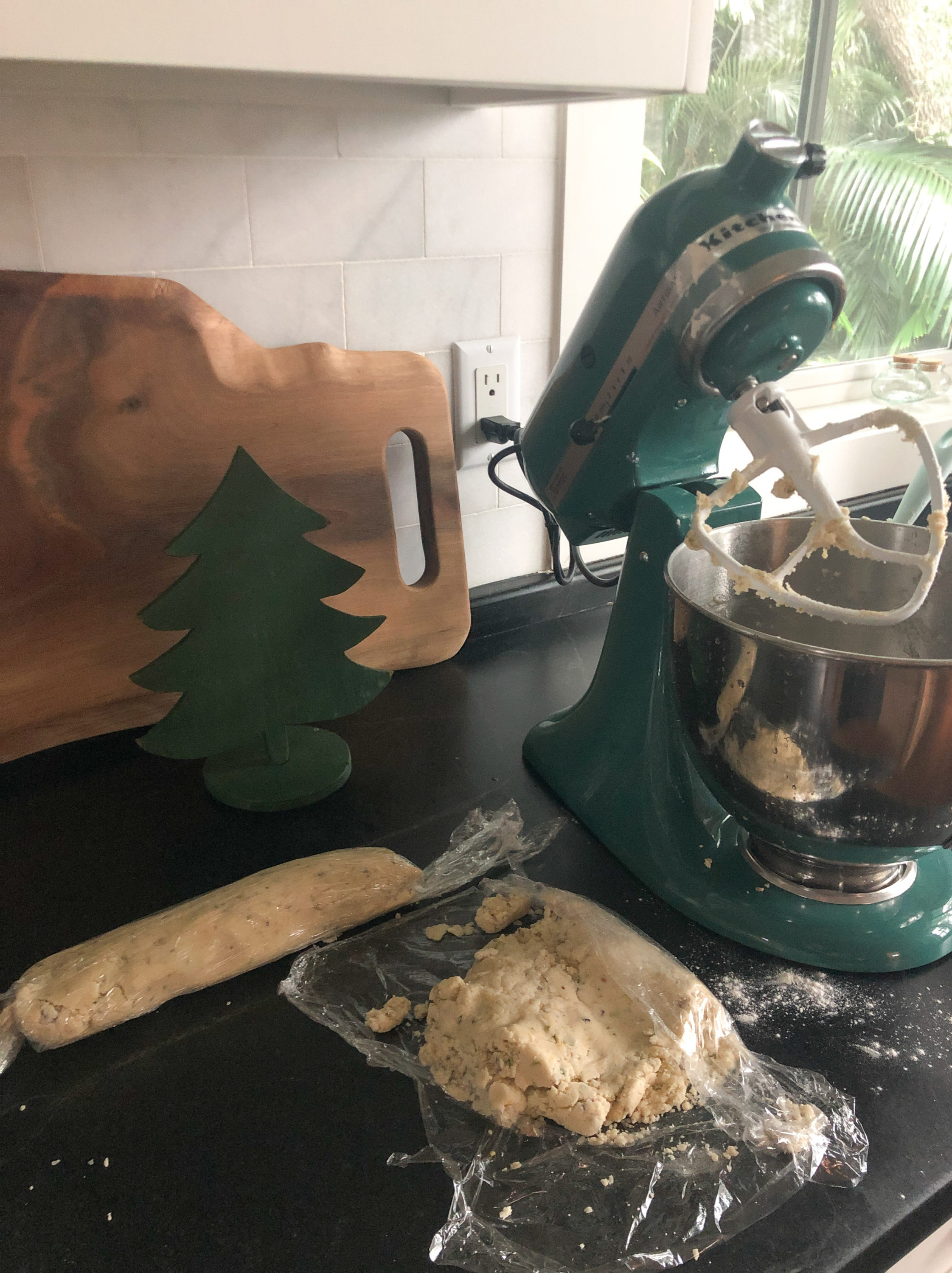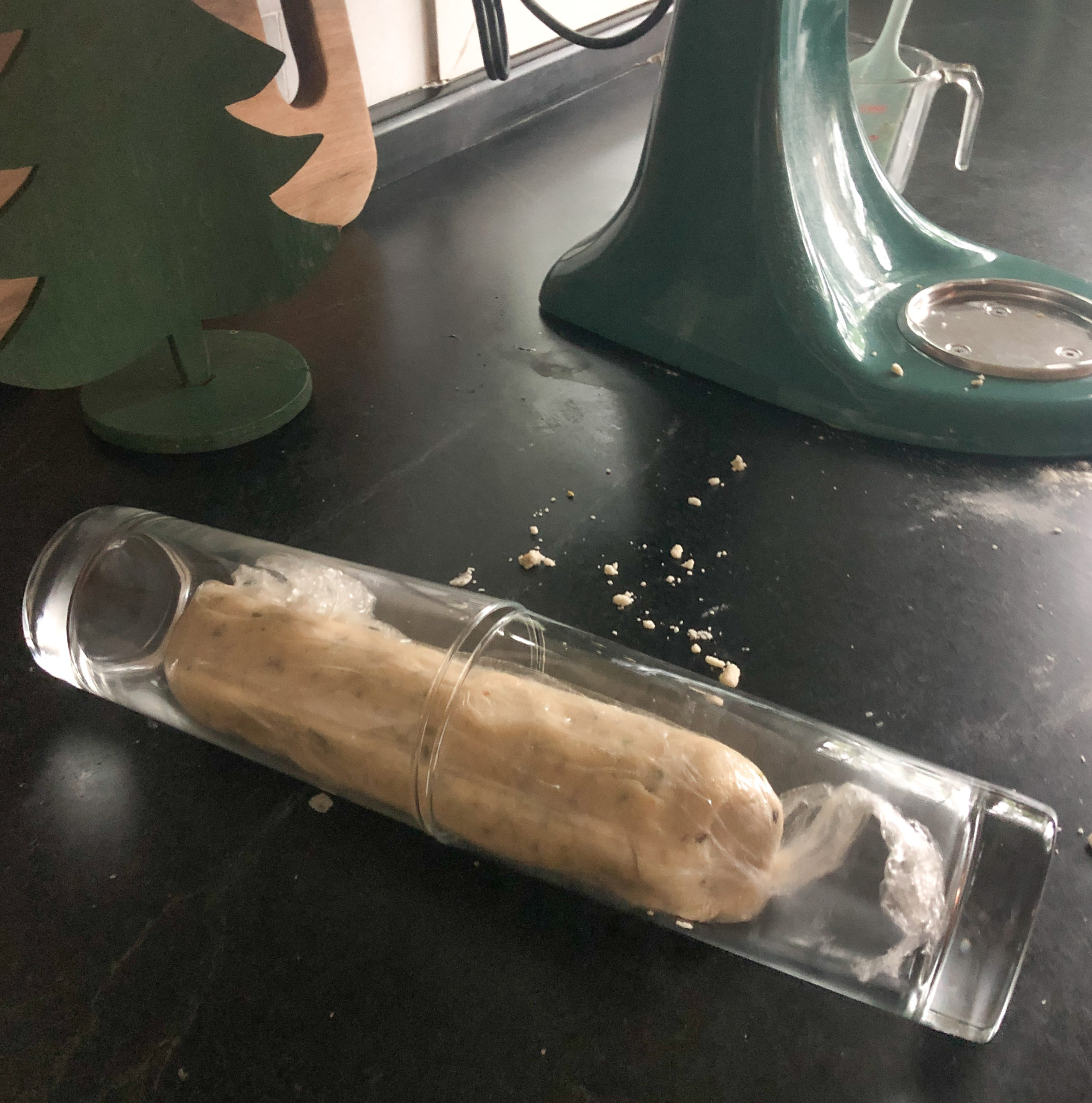 Now all you have to do is slice them 1/4-inch thick and bake. Decorating is optional. Maybe they look better without the icing, but come on, let's get festive. For the red (okay, pink) icing, it's dried hibiscus steeped in hot water. For the white, it's a little fresh Meyer lemon juice for flavor. The easiest way, especially if you have little elves helping, is to dip the tops of the cookies in the icing. Spread with a teaspoon or spatula if you prefer. Sprinkle on some finely chopped pistachios. Drizzle on the contrasting icing for fun. The icing dries well enough to be packed in tins between parchment or wax paper.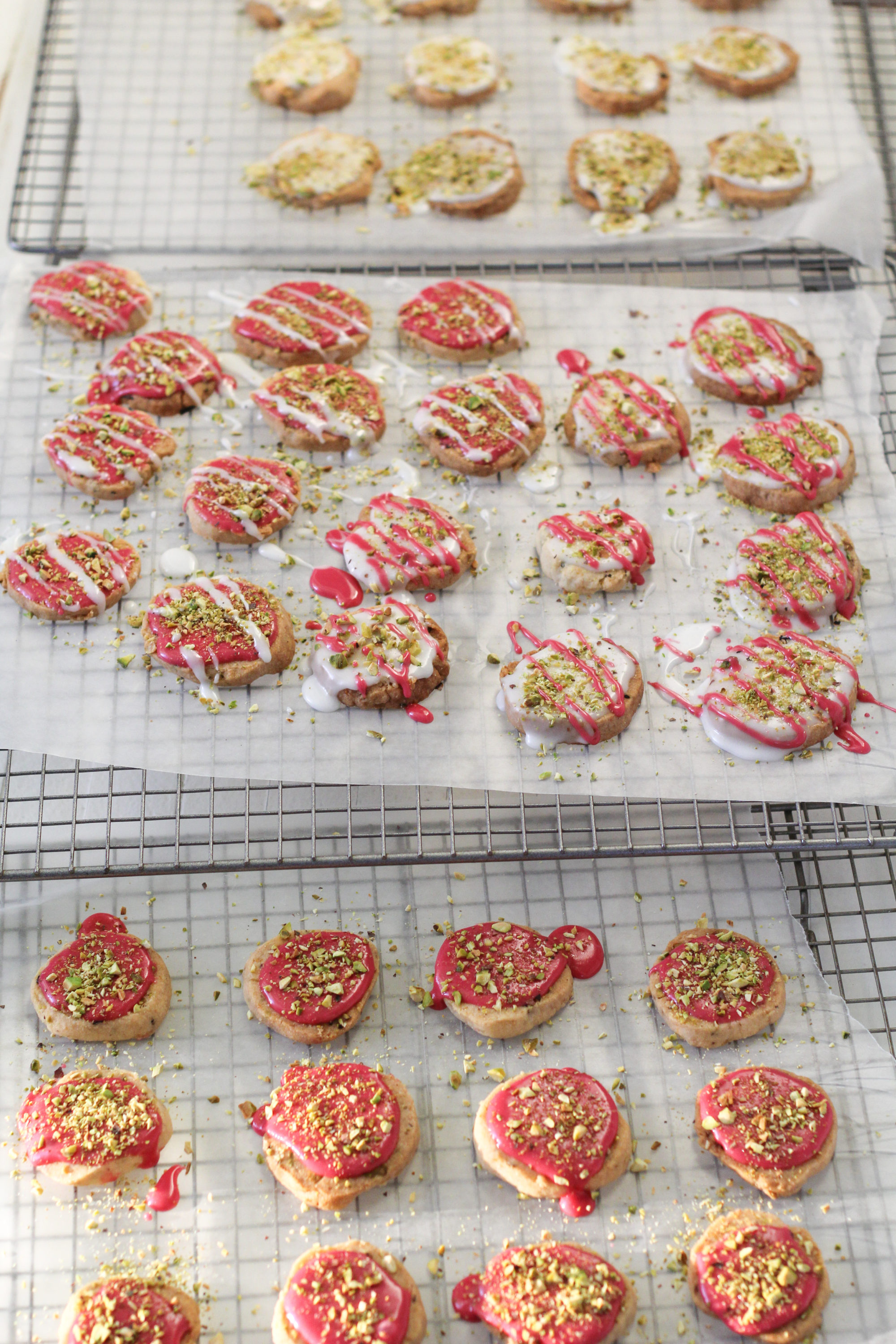 Merry Meyer lemon cookies, for lazy bakers and happy cookie eaters.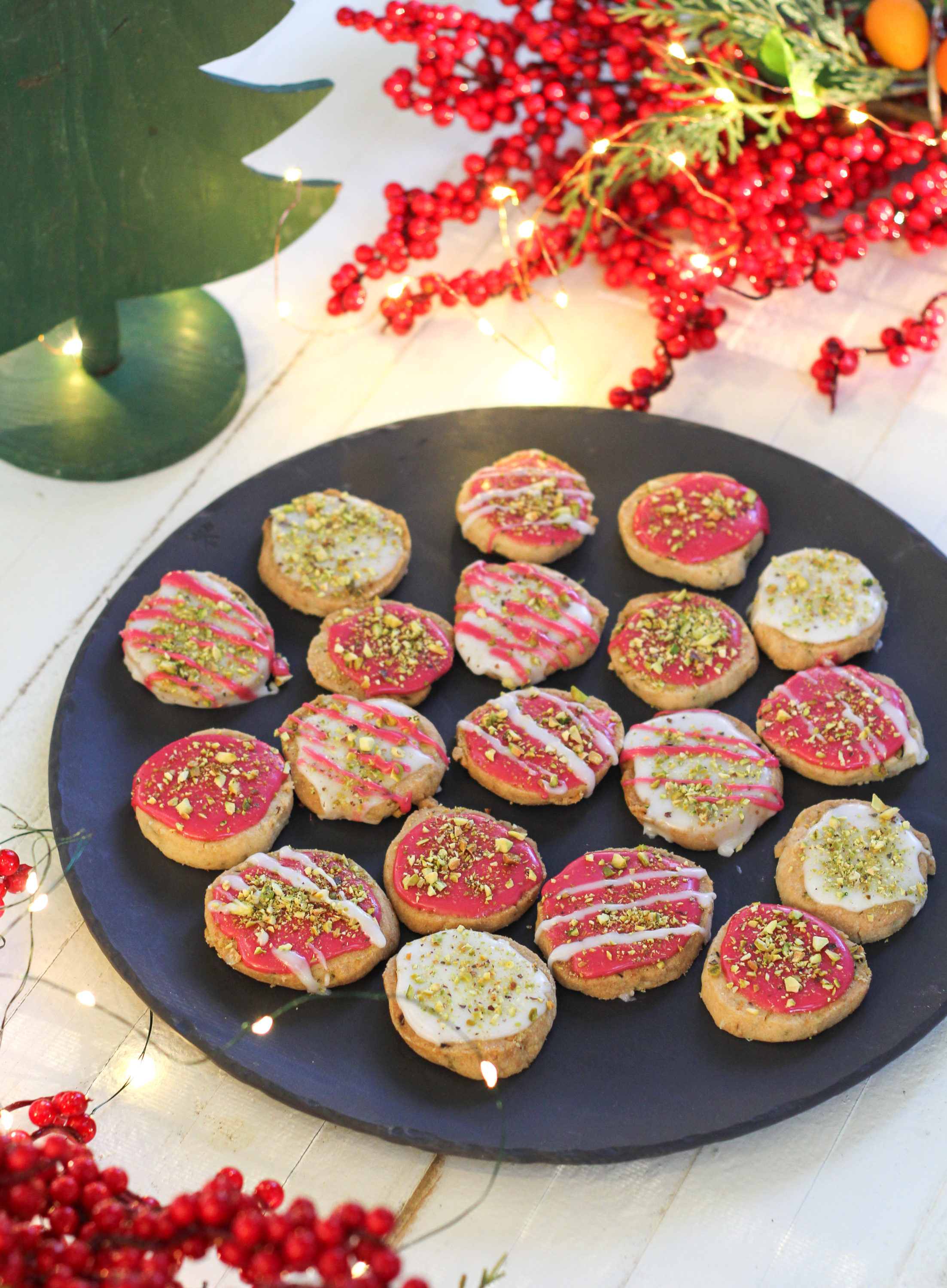 Merry Meyer Lemon Cookies
2019-12-15 10:05:42
For the Cookies
1 cup unsalted butter, room temperature
1/3 cup sugar
3/4 teaspoon salt
1 tablespoon Meyer lemon zest
1 teaspoon Meyer lemon juice
1 tablespoon very finely chopped dried hibiscus petals
1/3 cup shelled pistachios, very finely chopped
2 1/2 cups flour
For the Hibiscus Icing
1/3 cup dried hibiscus petals
1 (+/-) cup powdered sugar
2 teaspoons corn syrup
For the Meyer Lemon icing
1 cup (+/-) powdered sugar
2 teaspoons corn syrup
1 tablespoon (+/-) fresh Meyer lemon juice
Sprinkles
1/3 cup shelled pistachios, very finely chopped
Make the Cookie Dough
Cream the butter and sugar together until light and fluffy. Add the salt, Meyer lemon zest, and Meyer lemon juice, then beat until incorporated. Add pistachios and dried hibiscus. Blend, then slowly add the flour and mix on low speed until just incorporated.
Divide dough in half. Place each half on a sheet of plastic wrap. Roll each into a log, about 9 inches long and 1 1/2 inches thick. Tie the ends. Place each log inside a paper towel roll, wrapping paper roll (cut in half if needed) or inside two drinking glasses. Chill in the fridge overnight or up to a few days.
Bake the Cookies
Preheat the oven to 325 degrees and line two sheet pans with parchment.
Slice dough 1/4-inch thick. Place on parchment, leaving at least a half inch between each cookie.
Bake cookies for about 15-20 minutes, rotating pans halfway. Once they're lightly golden, remove and transfer to racks to cool.
Make the icing and decorate
Hibiscus Icing.
Place the hibiscus petals in a measuring cup. Pour boiling water over just to cover. Allow to cool completely.
Once cooled, mix one tablespoon of the steeped hibiscus tea, strained, into the powdered sugar, along with corn syrup. Mix until smooth. Add more hibiscus tea to thin it, or powdered sugar to thicken, according to your preference and icing technique.
Meyer Lemon icing.
Mix the lemon juice, powdered sugar, and corn syrup in a bowl until smooth. Add more lemon juice to thin it, or more powdered sugar to thicken it, according to your preference or icing technique.
Either spread on top of each cookie with a spoon or dip the cookie tops in the icing.
Sprinkle on pistachios immediately before the icing sets.
Use a spoon to drizzle contrasting icing over the tops if you like.
Allow the cookies to cool on racks completely and make sure the icing is dry before packing in tins between wax paper or parchment.
Suwannee Rose https://suwanneerose.com/