This is the height of Florida tomato season. Our state is the nation's top tomato producer, shipping more than 1.1 billion pounds of them every year. That doesn't even count what we grow in our own backyards. Even if you're not growing them, you can find a place to pick your own perfectly ripe tomatoes right here.

I didn't plan on growing tomatoes this year. I tend to miss out on the ripe ones when we leave town. Then I came across neglected tomato plants at two nurseries. They had outgrown their containers and they needed a home. I caved. As much as I love all the green veggies, nothing compares to homegrown tomatoes. I even love the smell of the vines. I've been harvesting them for the past couple weeks, and so far, so good.
Even if I only had enough to make one tomato pie, I'd say it was worth it. Tomato pie is a traditional Southern recipe dating as far back as 1877. I think of it as the South's white pizza. It's a pie crust filled with tomatoes, herbs, and a white cheese mixture. It's always delicious.
Mine has a simple cornmeal crust, which is why it's my favorite. I like the added crunch and flavor from the cornmeal. See the recipe notes if you avoid gluten. If you, like Toby, prefer a regular pastry crust, just swap it out.
Any way you slice it… this pie is tomato heaven.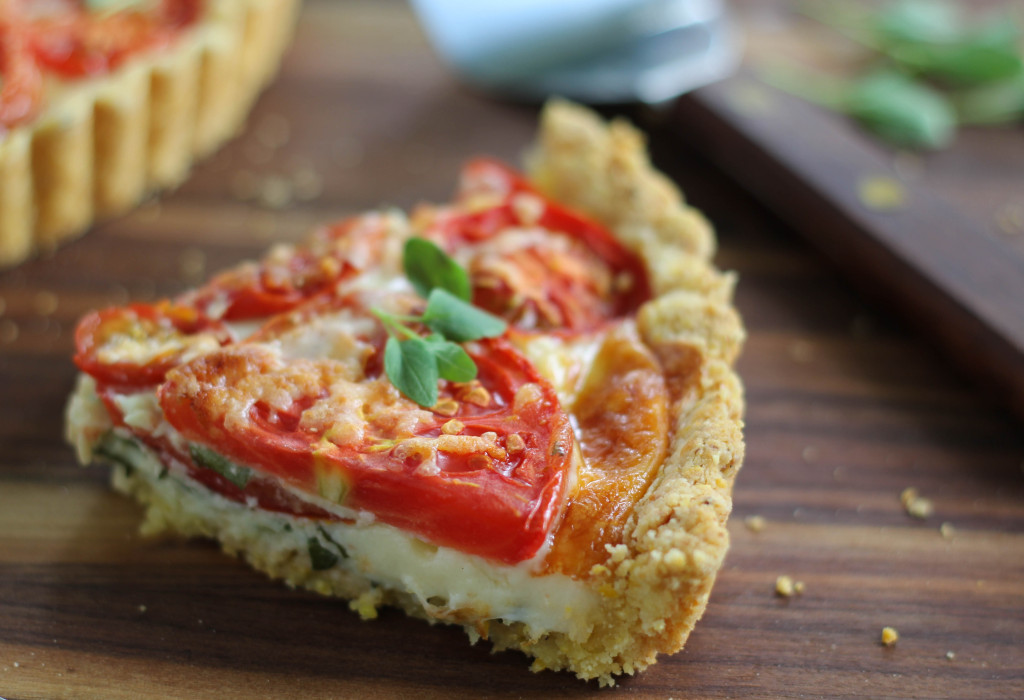 Southern Tomato Pie
2016-03-21 11:03:38
For the Crust
1 cup flour*
3/4 cup finely ground cornmeal
1/2 teaspoon salt
1 stick cold, unsalted butter, cut in 8 pieces
3 tablespoons ice water
For the Pie Filling
3/4 pound assorted tomatoes, sliced 1/4" thick
1 1/4 cups shredded white cheddar cheese (substitute firm fresh mozzarella), divided
1 cup freshly grated parmesan, divided
1/2 cup mayonnaise
1 egg
1 garlic clove, minced
salt and pepper
1/2 cup chopped fresh herbs (Italian parsley, basil, oregano, whatever you like)
Make the Crust
In the bowl of a food processor, pulse the flour, cornmeal, and salt. Add the butter and pulse to combine, then run the machine and drizzle in the ice water through the top chute. Once the dough forms a ball, turn it off.
Press the dough evenly in the bottom of a tart or pie pan.
Refrigerate it at least 30 minutes, or overnight.
Make the Pie
Preheat the oven to 375.
In a large bowl, stir together 3/4 cup cheddar, 1/2 cup parmesan, mayonnaise, egg, garlic, salt, and pepper. Fold in the herbs.
Sprinkle the bottom of the chilled pie crust with remaining 1/2 cup parmesan. Arrange half of the tomatoes over the cheese. Spread the cheese/mayo mixture over the tomatoes. Top with the rest of the tomatoes, then sprinkle the remaining 1/2 cup cheddar over the top.
Bake for 35-45 minutes, or until the cheese on top is golden brown.
Allow to cool at least 15 minutes before slicing.
Notes
*substitute a gluten-free, all-purpose flour blend such as Bob's Red Mill 1-to-1 Baking Flour or King Arthur's gluten-free multi-purpose flour.
Suwannee Rose https://suwanneerose.com/