Here are a couple things that might come in handy for you this weekend: some hard-boiled egg tips and some seriously good deviled eggs.
Why is it so hard to hard-boil eggs? All too often the shells are tricky to peel without damaging the white, or the yolks are chalky and greenish-gray.
First, farm-fresh eggs are notoriously difficult to peel. It's better to refrigerate them for about 10 days before hard-boiling them. Supermarket eggs are plenty old enough, which is a good thing in this case.
If they're a few days to a week old, you can try this: stick a straight pin into the bottom (larger end) of the egg. Only enough to pierce the shell. Turn them upside-down in the carton for more control. This helps release the albumen from the membrane. It's only a tiny hole, so nothing comes out.
And here's how I cook them: Put the eggs in a pot. Add just enough water to cover the eggs. Set the pot over high heat. As soon as the water comes to a boil, turn off the heat and put a lid on the pot. Set a timer for 10 minutes. At this point get a big bowl of ice water ready. As soon as that timer dings, move the eggs from the hot water to the ice water using a slotted spoon. After 5-10 minutes, reach in the water bath and crack the eggs on the side of the bowl while they're submerged. Peel each of the eggs starting from the bottom. You'll notice a little hollow space there which makes it easier to get started.
Now it's time to make some deviled eggs and guacamole.
It sounds like a crazy, mixed-up combination, but you'll see. The deviled eggs get more flavor and more filling. The guacamole gets a little egg cup for a vessel. In the end, it's greater than the sum of its parts.
Sprinkle on some bacon, Sam-I-Am.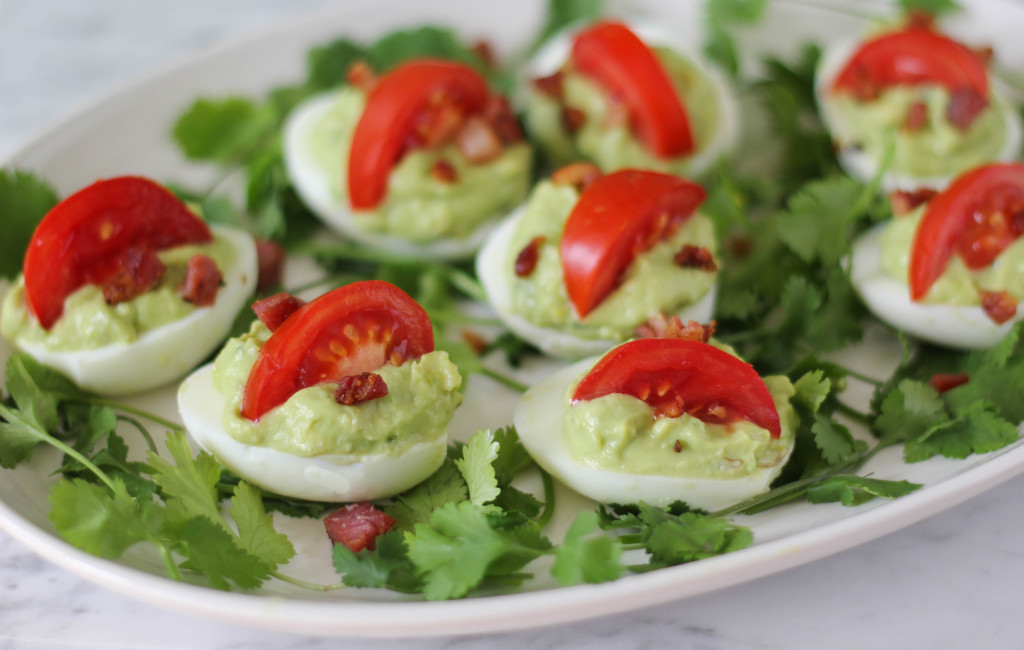 Guacamole Deviled Eggs
2016-03-25 12:23:23
Ingredients
6 hard-boiled eggs
1 small avocado
2 tablespoons sour cream
1 tablespoon lime juice
1 teaspoon minced green onion
1 teaspoon minced cilantro
1 jalapeno, minced (remove seeds and ribs for less heat)
1 clove garlic, minced
salt, to taste
optional garnishes: crumbled bacon, sliced tomatoes, more cilantro
Instructions
Peel the eggs and slice them in half. Pop out the yolks and put them in a medium bowl. Mash with a fork. Scoop out the flesh of the avocado and add it to the egg yolks. Mix in the sour cream, lime juice, cilantro, green onions, jalapeño, garlic, and salt.
Spoon the mixture into the egg whites. Top with bacon, tomatoes, or cilantro.
Notes
It's best to make these right before you serve them. The filling will turn an ugly color if they sit in your fridge overnight. You can make the filling a few hours ahead, press plastic wrap directly on top of it, and refrigerate, then scoop it onto the egg whites and garnish just before serving.
Suwannee Rose https://suwanneerose.com/