I'm finally dropping another recipe for my collard green friends. I know you're out there. And for the rest of you, come along and let me make you a believer.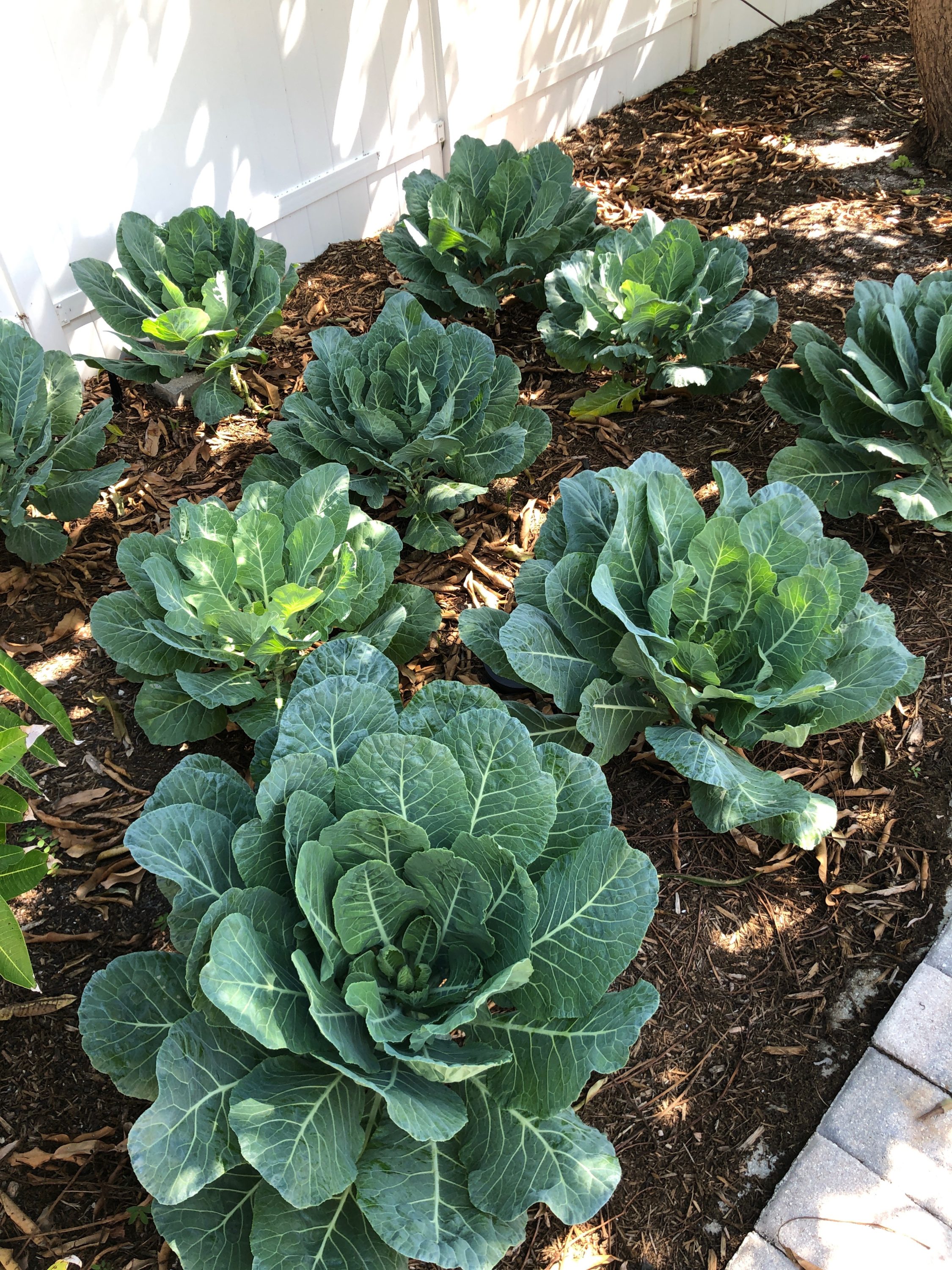 Our garden is in transition this year, so I had my mom plant a bunch of collards in her garden. She reminds me regularly that she doesn't like collards that much, but she takes such good care of them. Just look at these gorgeous plants.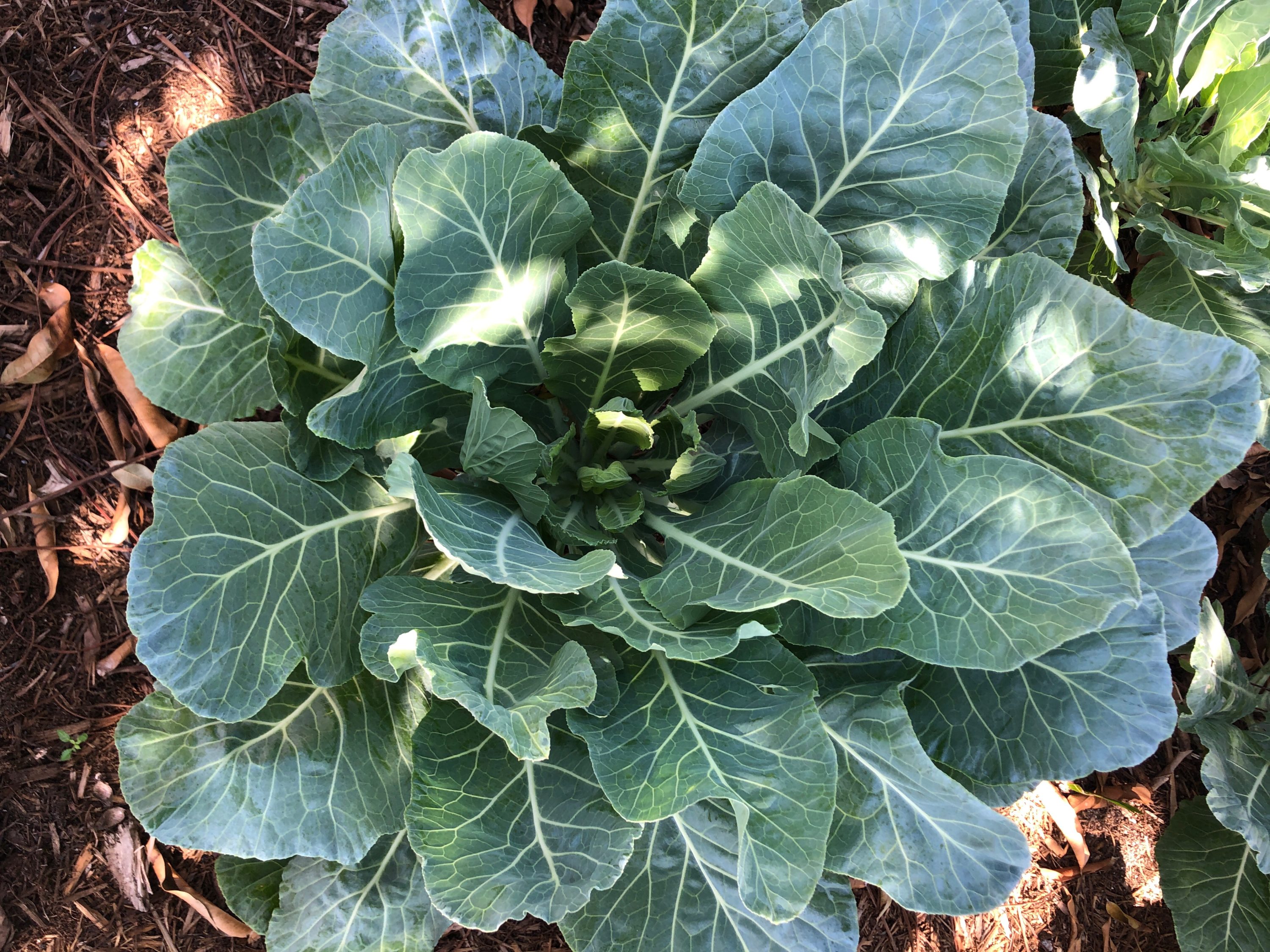 Collards are perfectly suited for Southern gardens. They continually grow giant leaves up their stalks, providing tons of food. I've had plants last over a year, even through our brutal summer heat. They are the number one thing I recommend everyone plant in their garden. But… I'm always surprised how many people, especially Southerners, say they do not like collard greens. Some people just can't get beyond the overcooked vegetables of their youth. Eating them raw? Almost unheard of around here. It feels like kale suddenly went mainstream and collards were left behind. They're just kale without the frills; every bit as versatile, healthy, and delicious. Here is my contender for a collard salad that's every bit as good as the infamous kale Caesar.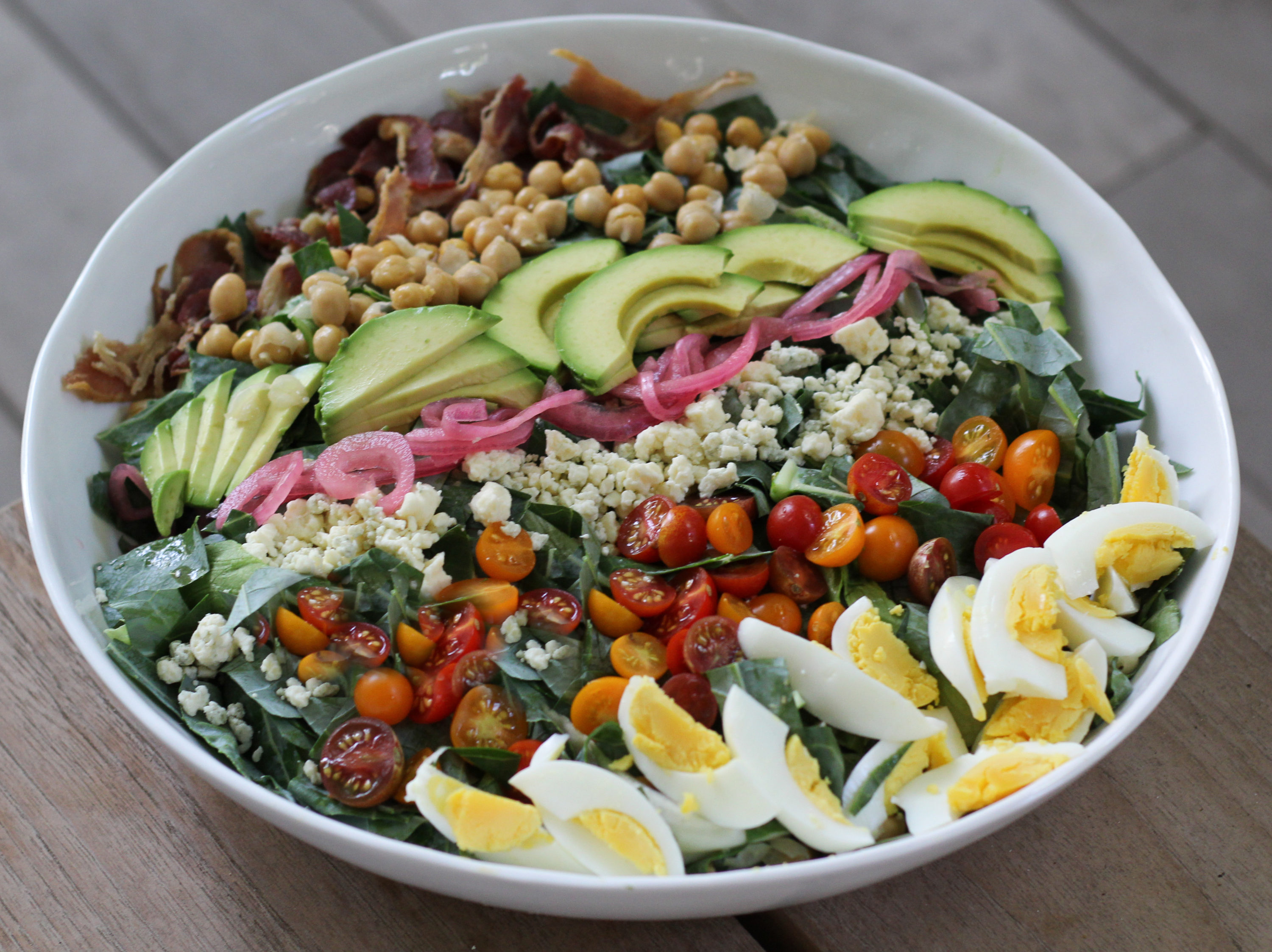 Here are my tricks: The longer the collard leaves sit in the dressing, the more tender they become. But, if you need to ease into it, try mixing chopped collards with basic lettuce, like romaine or iceberg. They're great together. I like mostly collards with a little iceberg, but you could flip that around. It's just like when you transition your pet to a new food, you just up the ratio of collards every time. Over time you find the perfect balance for your house, for your pets.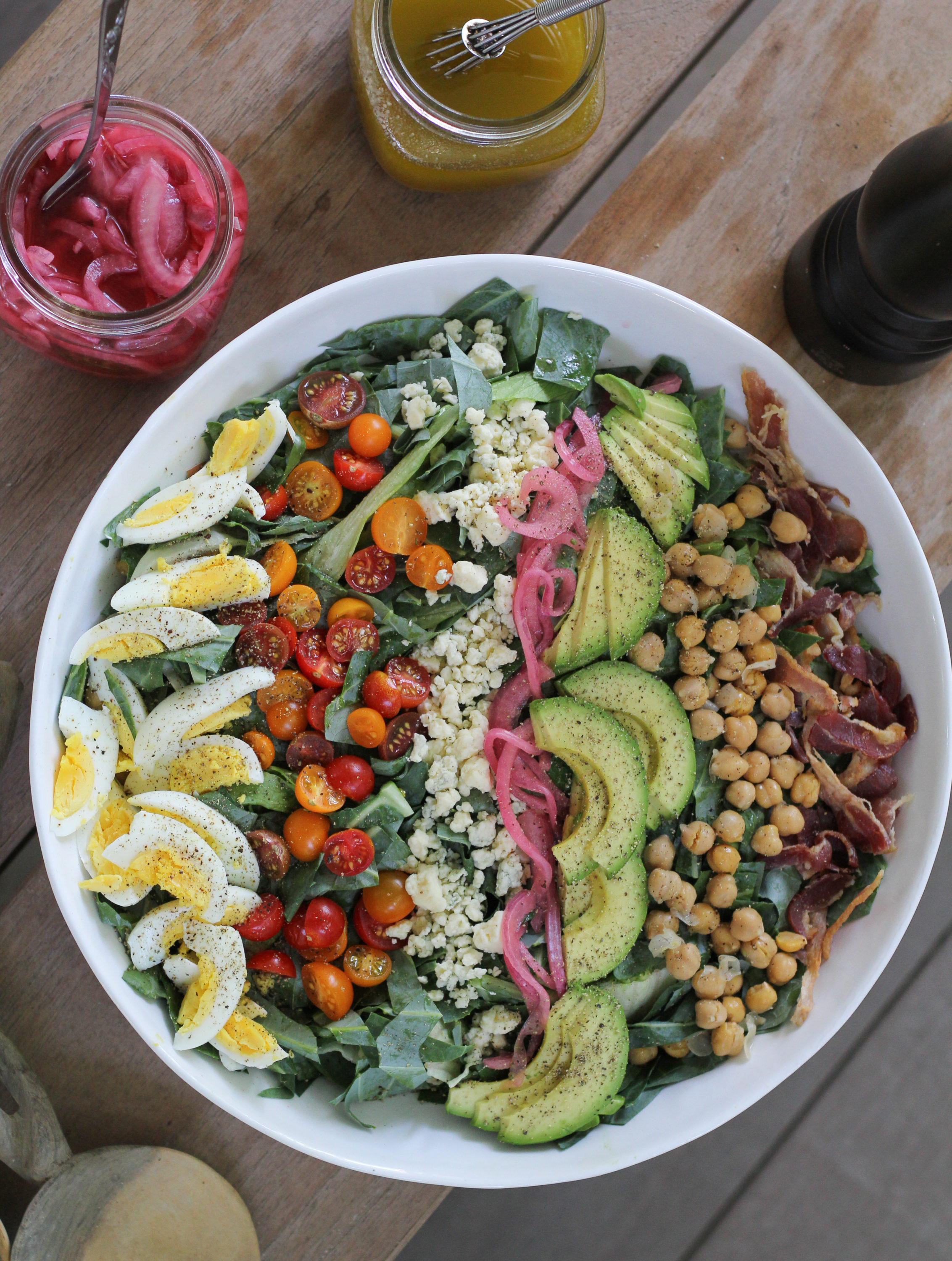 The dressing is a honey mustard vinaigrette, and that flavor with fresh collard leaves is just divine to me. It's topped with a rainbow of traditional Cobb salad fixins, along with a few extras: chickpeas, eggs, blue cheese, tomatoes, avocado, pickled red onions, and bacon. Every bite is a new and wonderful combination of textures and flavors. These are all suggestions, of course. Omit the bacon if you're vegetarian, swap out the type of cheese, or throw in some toasted pepitas for extra crunch. Cucumber and radishes are always welcome to the party.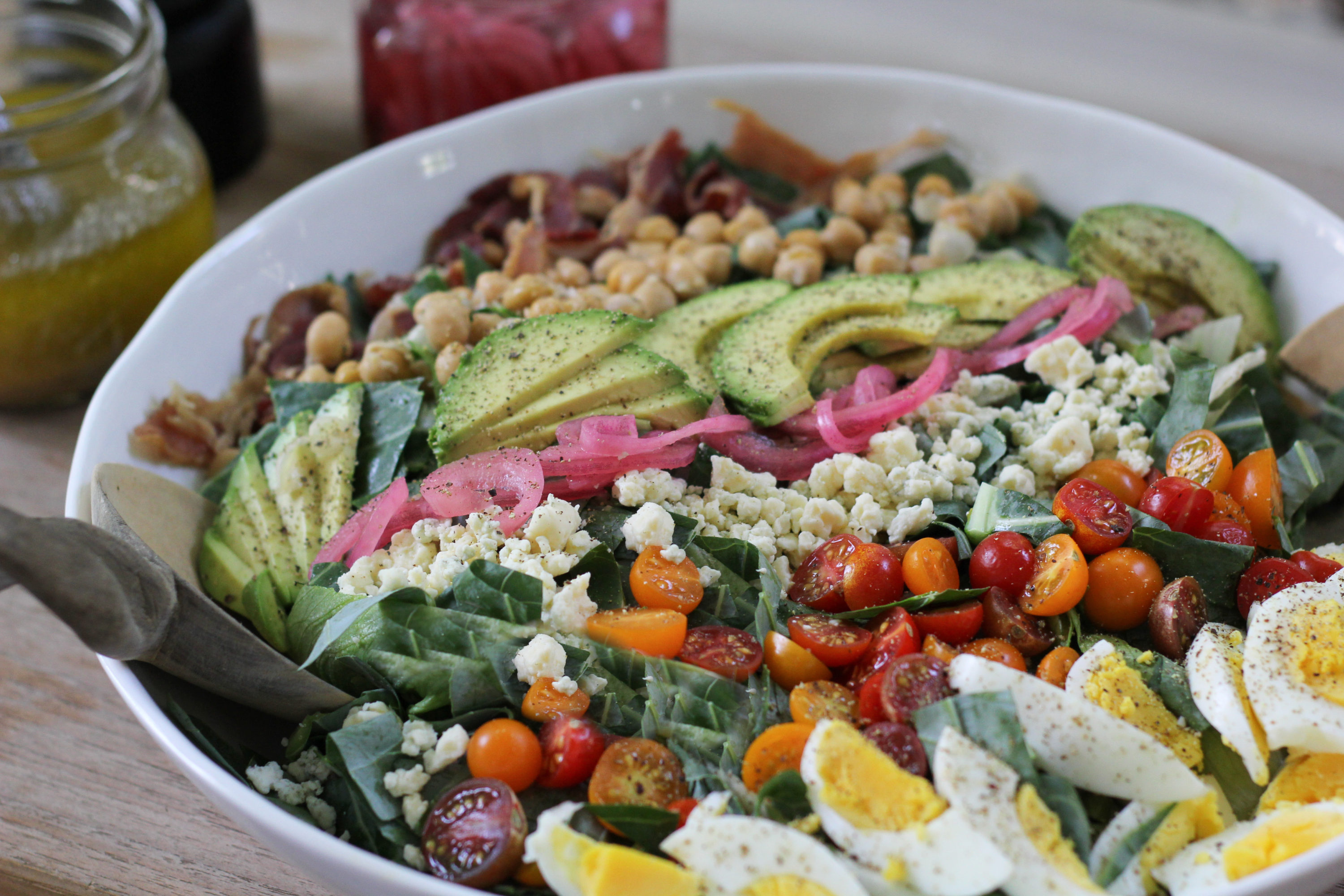 Make it your own, and hopefully make it your new house salad.
Collard Cobb Salad
Ingredients
Salad
10

cups

chopped collard leaves

or a combination with iceberg or romaine

2

hard boiled eggs, sliced

4

sliced

cooked bacon, crumbled

2

cups

sliced cherry tomatoes

3/4

cup

crumbled blue cheese

1/3

cup

pickled red onions

recipe follows

1

avocado, thinly sliced

1

cup

chickpeas

salt and pepper
Vinaigrette
1

clove

garlic, minced

1/2

tsp

salt

1/2

tsp

black pepper

1

tbsp

Dijon mustard

1/2

cup

red wine vinegar

1

cup

olive oil
Pickled Red Onions
3/4

cup

apple cider vinegar

2

tbsp

honey

1

tsp

salt

1

red onion, thinly sliced
Instructions
Honey Mustard Vinaigrette
Combine the garlic, salt, pepper, mustard, and vinegar in a bowl. Slowly whisk in the olive oil until emulsified.
For the Salad
Arrange the collard and lettuce in a large salad bowl. Drizzle with about half a cup of vinagrette and toss to coat. Arrange all the toppings on top, in rows if you like, and sprinkle salt and pepper over the eggs, avocado, and tomatoes. Drizzle a little extra vinaigrette on top, if you like, and serve the rest on the side to add to taste.
Pickled Red Onions
Whisk the cider, honey, and salt in a pint-sized jar or glass container. Add the sliced onion, and make sure it's completely submerged. If not, you can add a little more vinegar to cover.

Allow to sit at least an hour before using. Keeps for a couple weeks in the fridge.