… with Baileys buttercream. I don't like long-winded recipe titles, but you should know what you're getting into here. This is a St. Patrick's Day celebration cake!
My recipes usually feature seasonal Florida fruit, vegetables, or seafood. This one does not, unless you count the weeds I used to decorate the cake. Those faux shamrocks are really wood sorrel, and they're available to Florida gardeners year-round whether we want them or not. Let's make the best of them for St. Paddy's Day decor. (I've read you can eat them, but I don't recommend it.)
I look forward to this boozy cake every year. Once I served some inferior chocolate muffins as a kid-friendly alternative at a party. It did not go over well. Burke: I promise not to make muffins and tell you they're cupcakes ever again. I'm sorry.
This recipe was given to me 12 years ago by a fellow Guinness-loving librarian. If you've never heard of putting beer in cake, you're probably skeptical. I'm always game for a kitchen experiment, so I gave it a go. As it baked, the house smelled amazing, beyond the usual wonderful smell of cake. It smelled like chocolate doughnuts. ?
It tastes like chocolate doughnuts, too. The beer is very faint and only enhances the deep, dark, not-too-sweet chocolate. This is definitely a grown-up chocolate cake.
The icing is a more recent addition. It's a simple buttercream spiked with as much Baileys Irish cream as possible. It's divine. Pile it on thick. It makes the cake look like a pint of frothy Irish stout.
May your hearts be light and happy,
May your smile be big and wide,
And may your pockets always have a coin for a pint inside!
I hope you all have a happy St. Paddy's Day!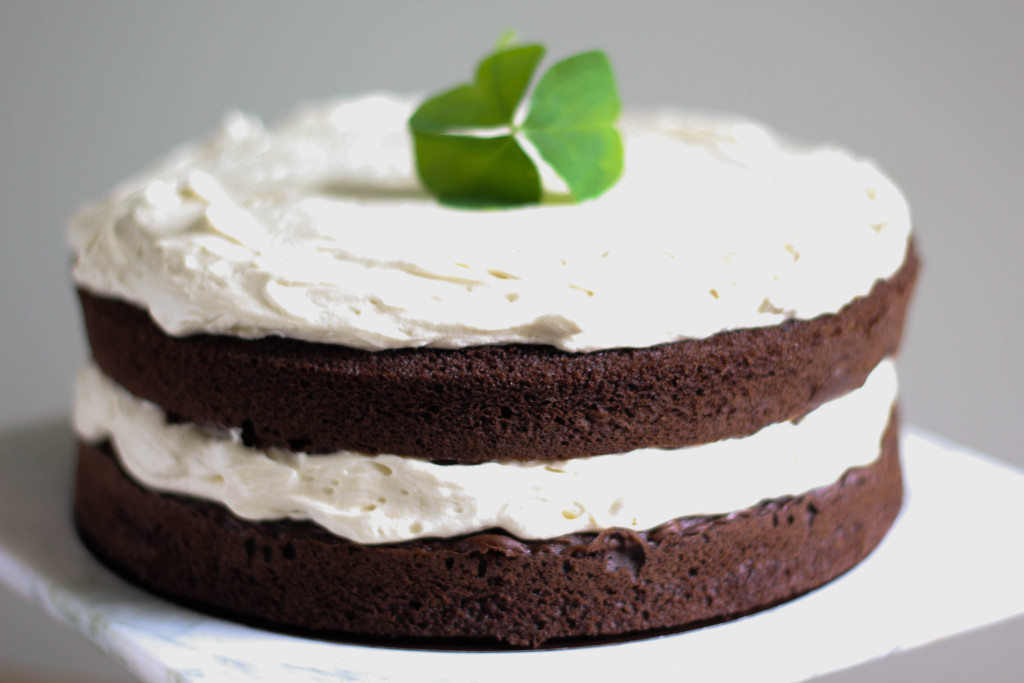 Double Chocolate Stout Cake with Baileys Buttercream
2016-03-15 11:50:08
For the Cake
1 cup stout beer
3/4 cup unsalted butter (plus more to grease the pans)
3 ounces bittersweet chocolate, chopped
3/4 cup cocoa powder
2 cups flour
2 cups sugar
1 1/2 teaspoons baking soda
3/4 teaspoon salt
2 large eggs
2/3 cup sour cream
For the Baileys Buttercream Icing
1 cup butter, softened
3 cups powdered sugar
6 tablespoons Baileys Irish cream
clovers, shamrocks, or weeds that resemble them
Make the Cake
Preheat oven to 350°F.
Grease two 8- or 9-inch cake pans* with oil or butter. Cut circles of parchment paper to fit in the bottom of the pans and grease those as well.
Add the stout and butter to a saucepan over medium heat. Once the butter is melted, stir in the chocolate. Once that melts, stir in the cocoa powder. Remove from heat and set aside to cool.
Whisk flour, sugar, baking soda, and salt in a large bowl.
In another large bowl, beat eggs and sour cream. Slowly add in the cooled butter/beer mixture and beat until combined.
Slowly add the dry ingredients into the wet ingredients and fold them together until combined.
Divide the mixture evenly between the cake pans. Bake until a toothpick inserted into center comes out clean, about 30 minutes. Allow the cakes to cool completely in the pan.
Make the Icing
Beat the butter for a few minutes until it's light and fluffy. Slowly add the powdered sugar about a cup at a time, scraping down the sides of the bowl as needed. Add the Baileys about a tablespoon at a time.
Assemble the cake
Don't attempt to turn the cakes out of the cake pans until they're completely cool.
Gently turn the cakes out and peel away the parchment. Place one cake on a plate or cake stand. Pile half of the icing in the middle of the cake and smooth it out to about 1/2-inch from the edge. Place the other cake upside-down on top of the icing, and very gently press them together. Smooth the rest of the icing over the top.
Add a few clovers or shamrocks.
Cheers!
Notes
*Makes about 24 cupcakes. Use paper liners.
**Cake recipe adapted from Bon Appetit.
Suwannee Rose https://suwanneerose.com/