Have you tried pineberries?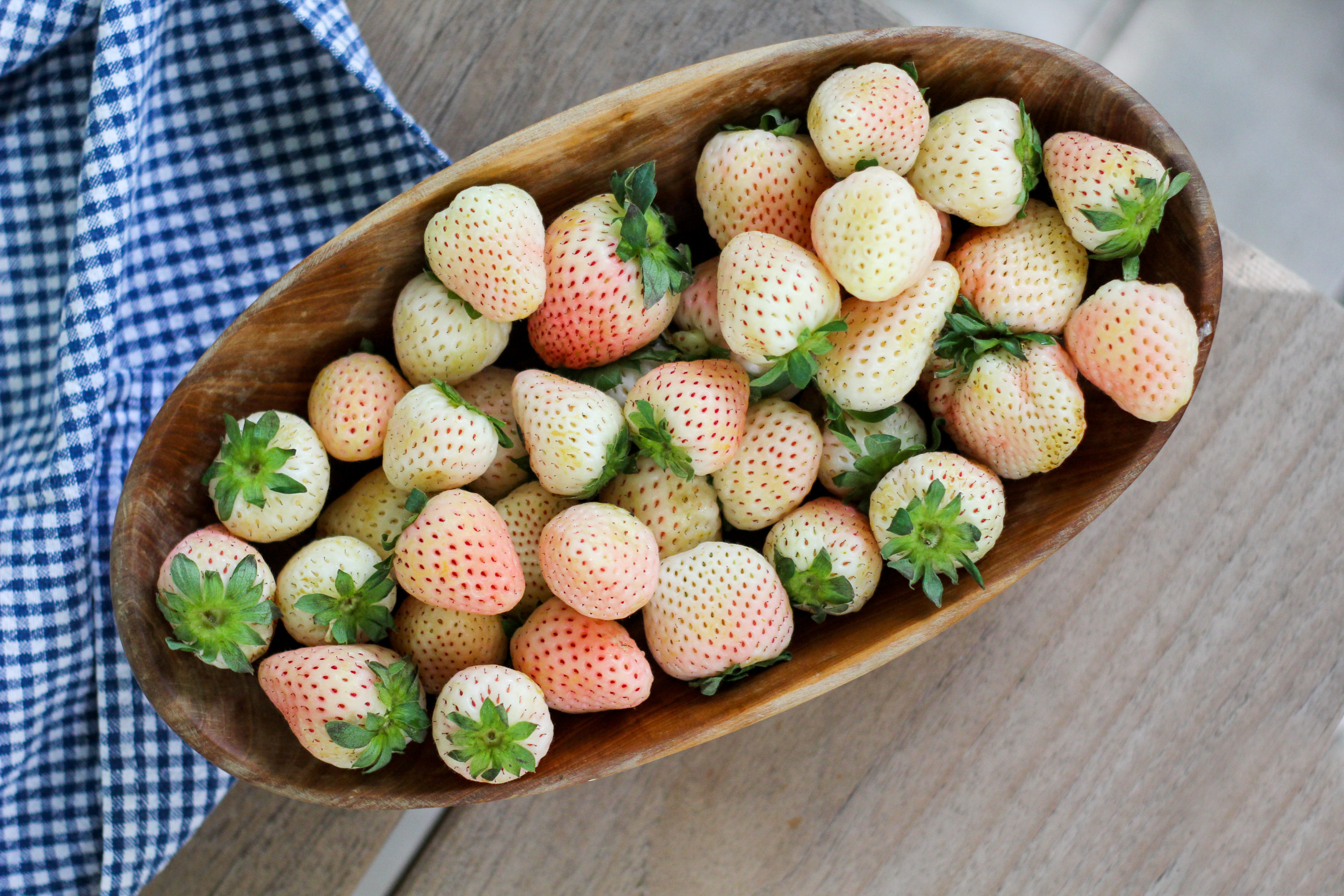 I have to admit, when I first saw these advertised, I thought we were being fooled into buying unripe strawberries. Not so. These berries are a white strawberry cultivar with red seeds. They have a subtle pineapple flavor, hence the name. I think they're pretty and delicious.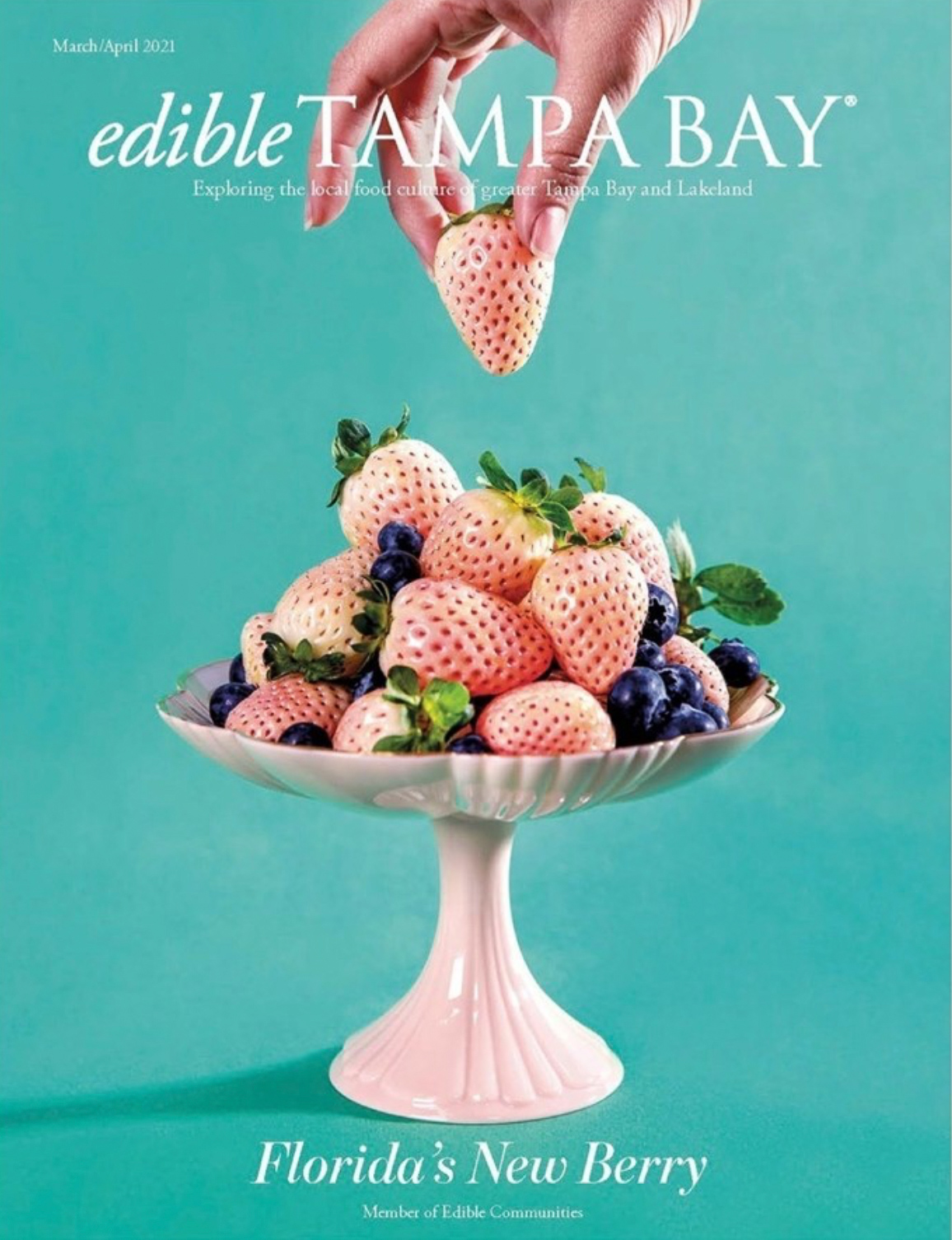 They're the cover models of the latest issue of Edible Tampa Bay. Pick up a copy if you see one, or you can subscribe here. I have a couple recipes, photos, and a story about stone crabbing in there.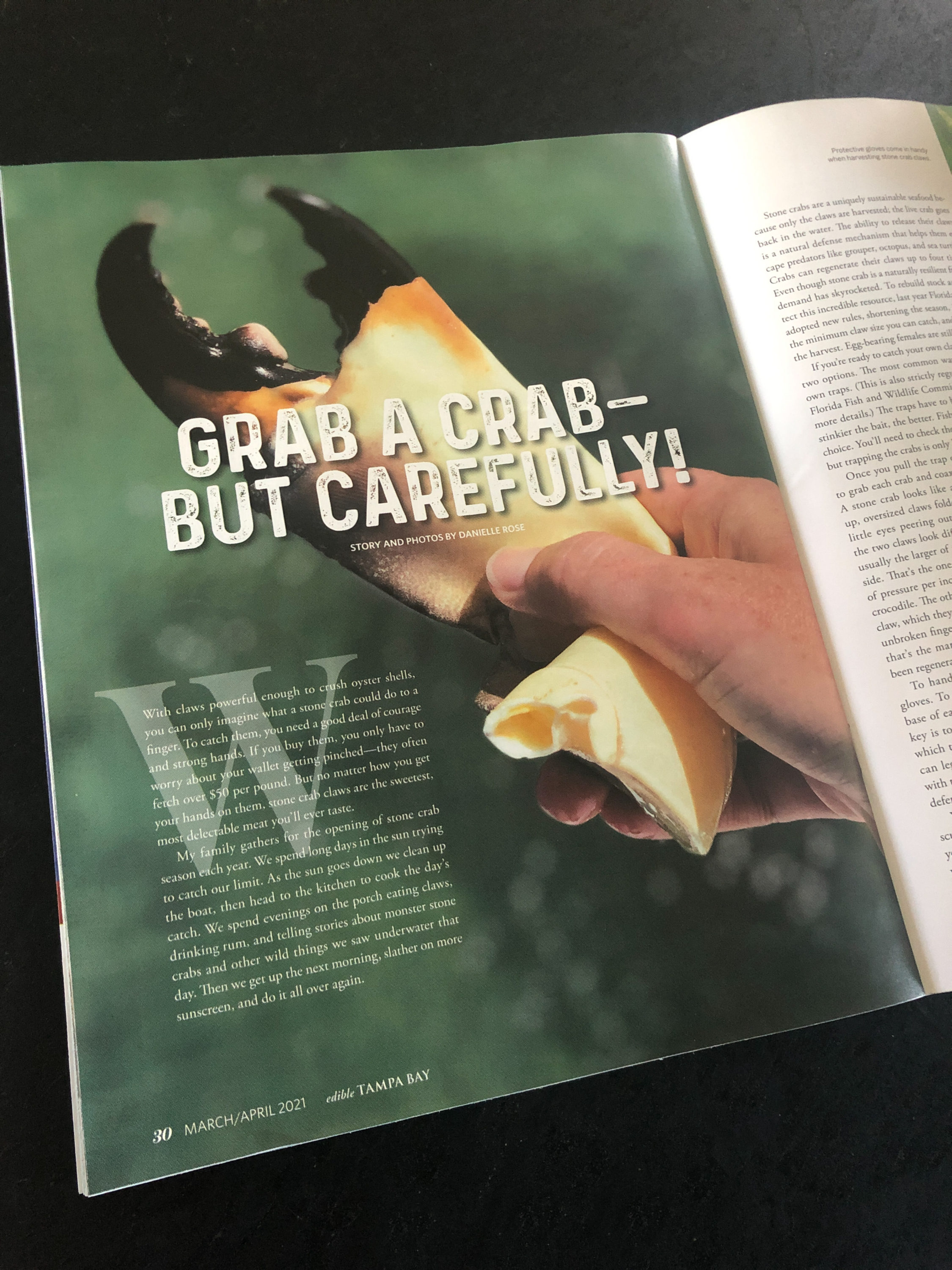 You can find the magazine at local coffee shops, markets, and restaurants around Tampa Bay. I found it, along with these beautiful pineberries, at Parkesdale in Plant City.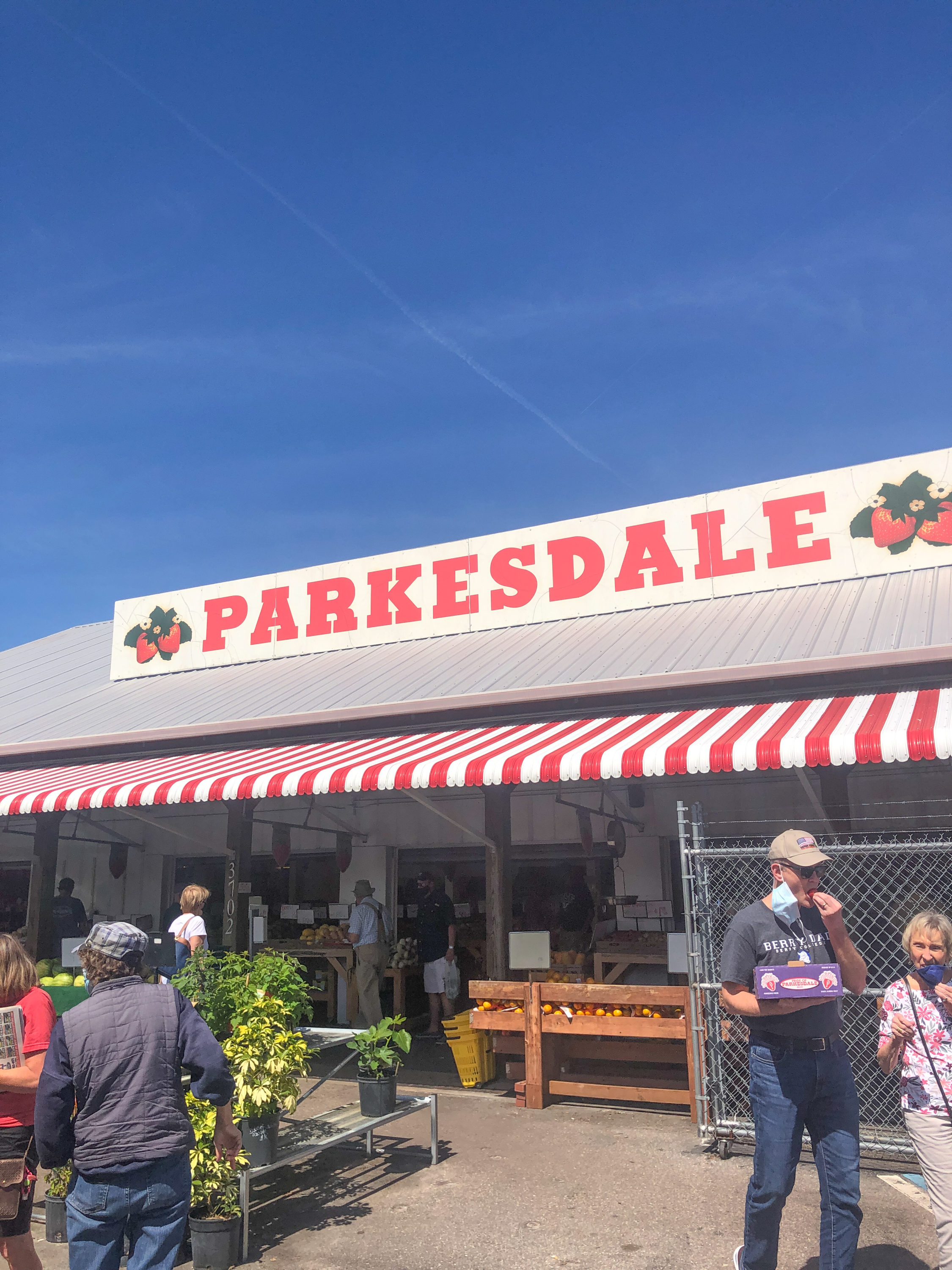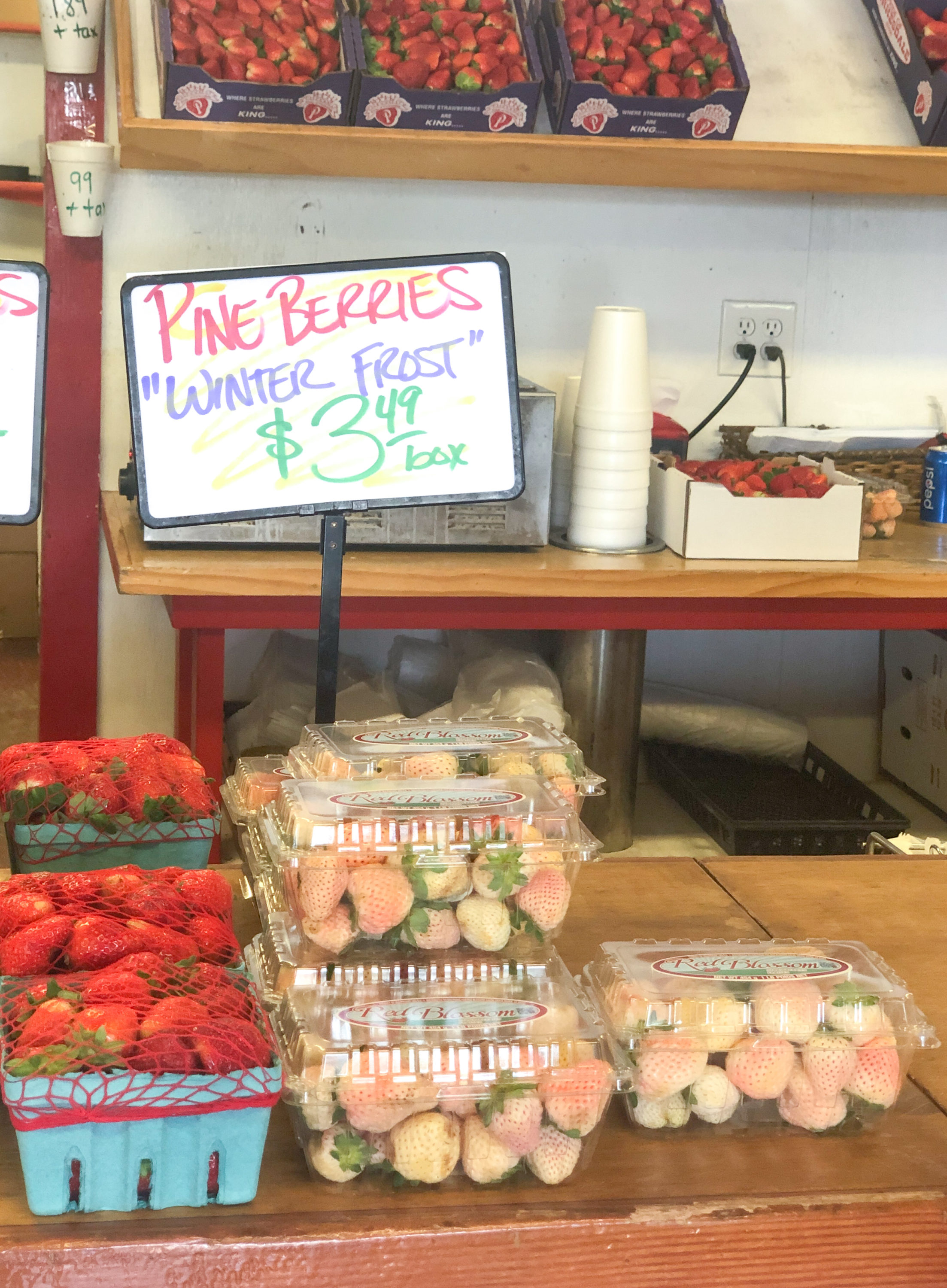 I normally make this tart with strawberries, but I think it's even more elegant with pineberries. I love how it's all white with just hints of pinks and yellows, just like the edges of clouds at sunset.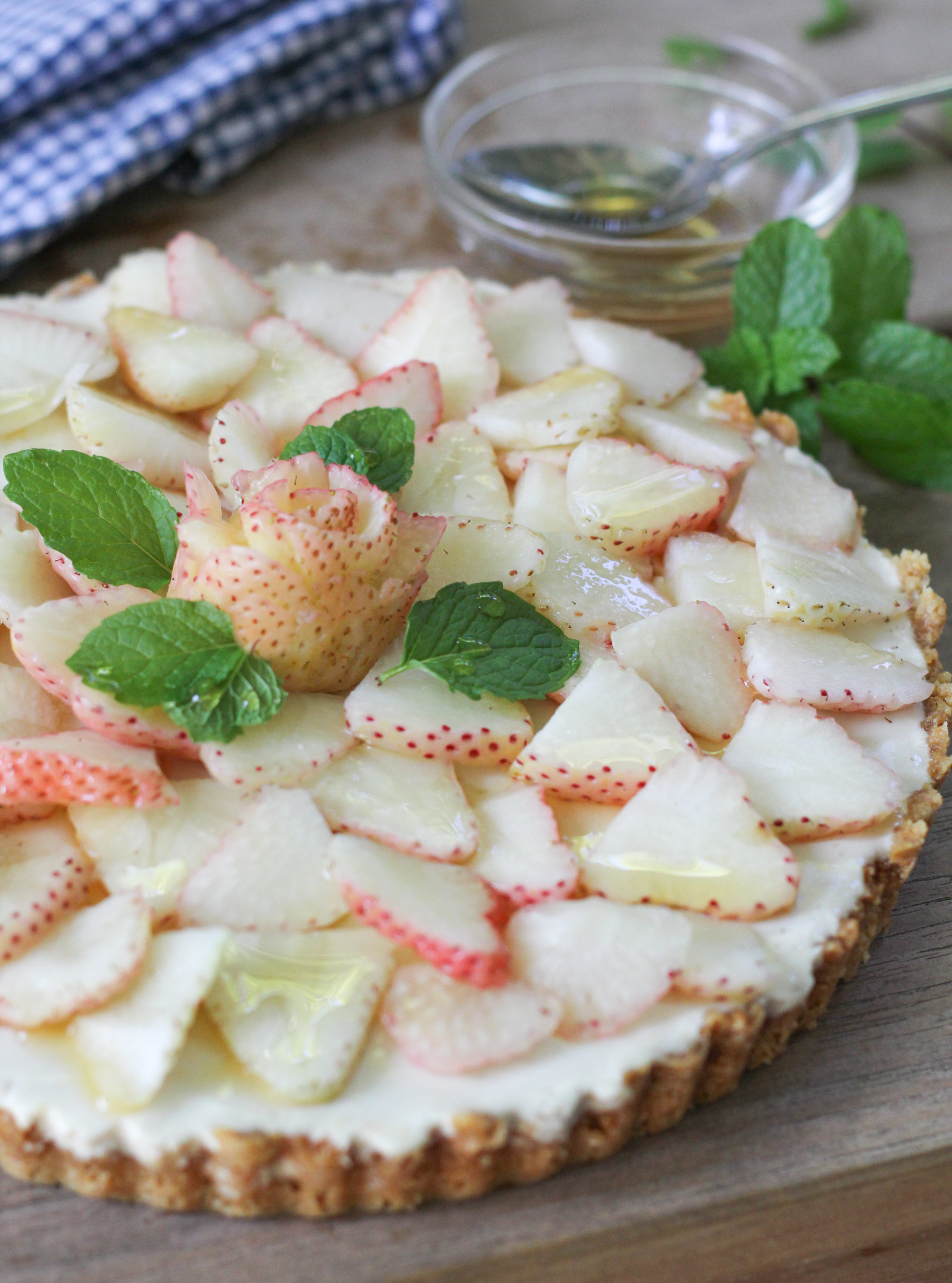 The filling is Greek yogurt sweetened with brown sugar and flecked with lemon zest. It's so light and creamy and it goes so well with pineberries. I use a tiny bit of gelatin mixed with milk to allow it to firm up just enough to get a neat slice. It's a tiny extra step. Super simple and worth it.
I'm including instructions for a gluten-free almond crust, but a graham cracker crust works just as well. If you don't have a tart pan, an old-fashioned, shallow pie plate will work just fine. You'll have to bulk up the ingredients to fill one of the modern deep-dish pie pans.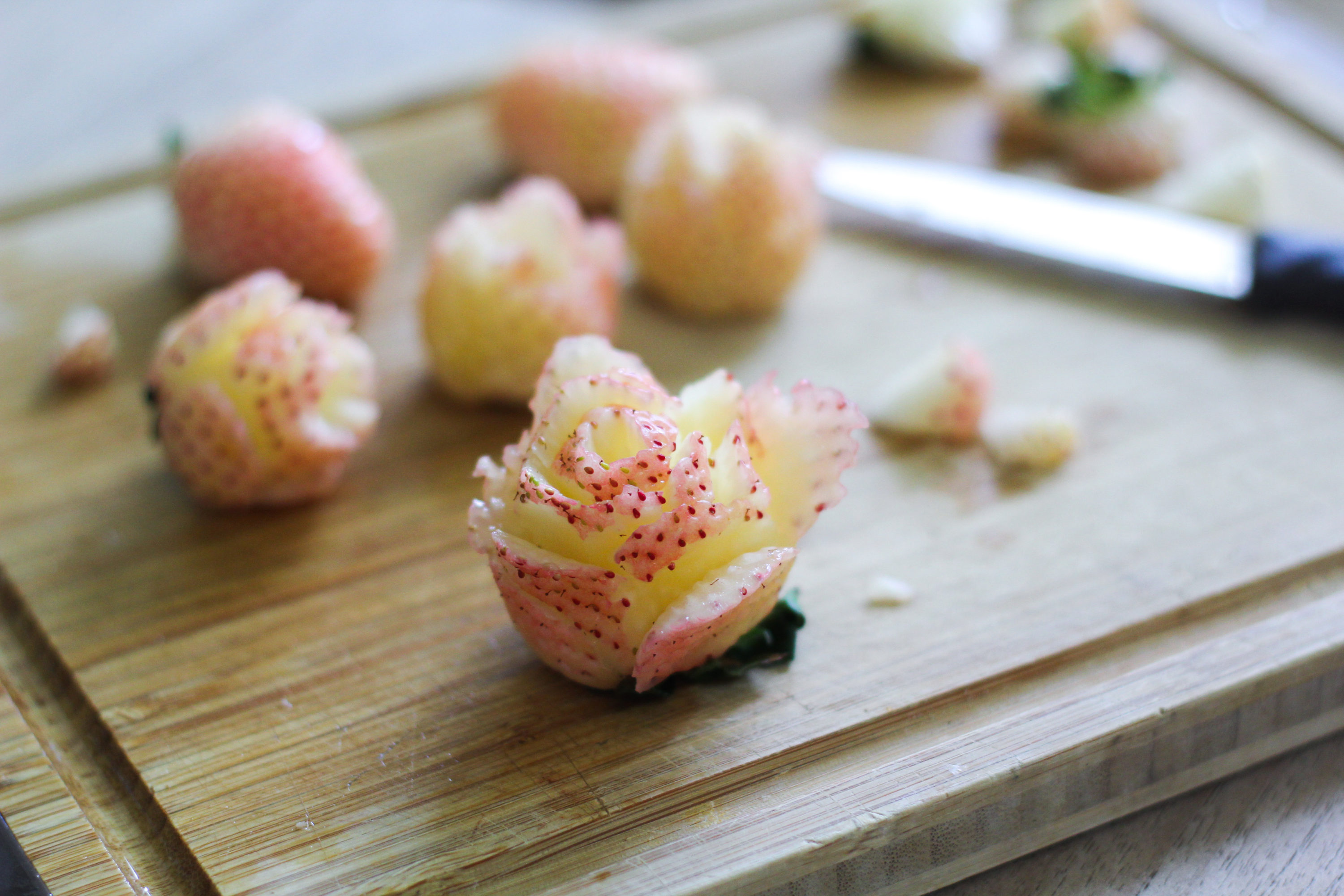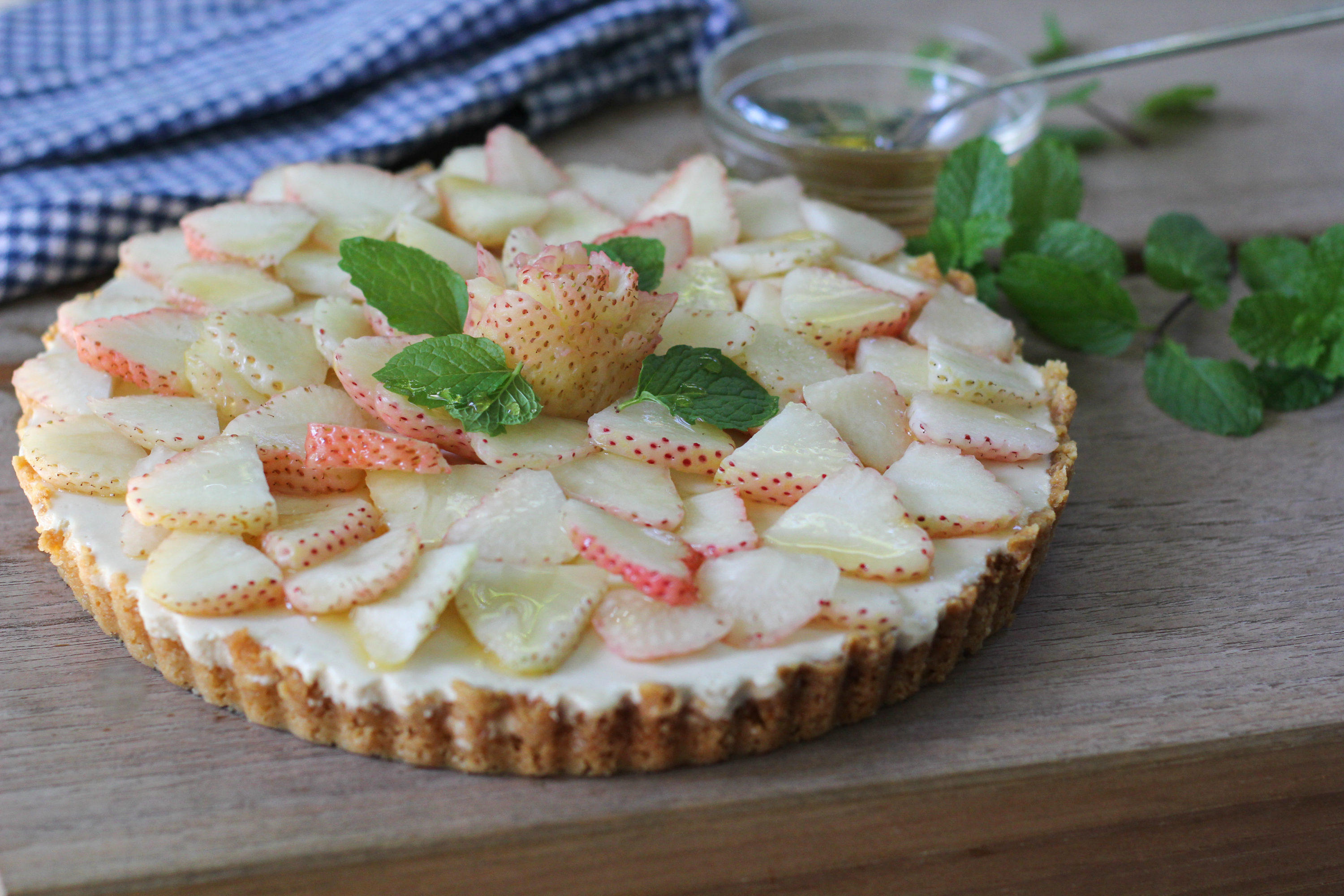 The pineberries are thinly sliced and arranged over the top. I cut one pineberry into a rose for the center. I learned that on Youtube. I also like a little lemon-honey drizzle over the top, and some mint leaves because it makes the rose pop… but I'll admit the rose, the drizzle, and the mint is all fussy and totally unnecessary, so if you'd rather get to the eating part, skip all that, use a pre-made crust, and scatter those pineberries on all willy-nilly. It's still gonna taste great!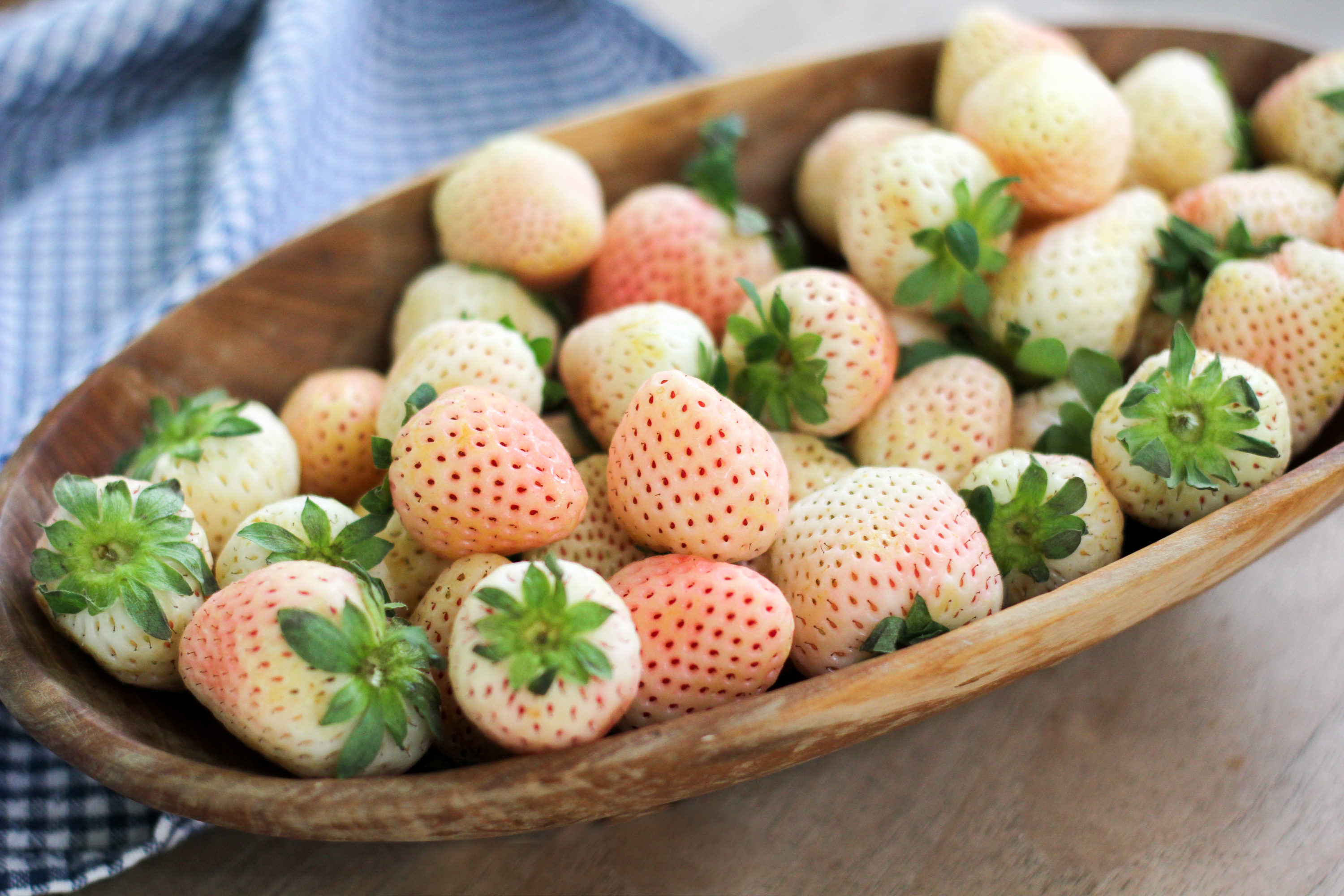 Pineberry Cloud Tart
Ingredients
1

pound

pineberries, thinly sliced (one sliced as a rose)
Almond Crust
1

cup

almond flour

1/2

cup

cornstarch

1/3

cup

sugar

1/2

teaspoon

salt

6

tbsp

melted butter, cooled
Filling
2

tsp

unflavored powdered gelatin

2

tbsp

whole milk

1/2

cup

whole milk

1/2

cup

light brown sugar (packed

2

cups

whole milk Greek yogurt

zest of 1 lemon
optional:
1

tbsp

honey

1

tsp

lemon juice

mint leaves
Instructions
FOR THE CRUST: Adjust oven rack to middle position and heat oven to 350 degrees. Whisk flour, cornstarch, sugar, and salt in bowl until well combined. Add melted butter and vanilla extract and stir with wooden spoon until uniform dough forms. Crumble two-thirds of mixture over bottom of 9-inch tart pan with removable bottom. Press dough to even thickness in bottom of pan. Crumble remaining dough and scatter evenly around edge of pan. Press crumbled dough into sides of pan. Press edges to even thickness. Place pan on rimmed baking sheet and bake until crust is golden brown, about 15 minutes, rotating pan halfway through baking. Allow to cool while you prepare the filling. FOR THE FILLING: Place gelatin and 2 Tbsp. milk in a small bowl and let stand 5 minutes. Warm remaining ½ cup milk in a small saucepan over medium heat until steaming, about 3 minutes. Remove from heat, add gelatin mixture, and whisk until smooth. Whisk in yogurt, brown sugar, and lemon zest and pour into pie crust, right to the top (pour any excess in a bowl for yourself) smooth the top with a spatula. Chill until the filling is set, about 2 hours.FINISH IT OFF: Arrange sliced pineberries in overlapping concentric circles over the top of the tart. Use a rose pineberry in the center. If you like, drizzle the top with honey and lemon, and garnish with a few mint leaves. Chill until ready to serve.