The last hurrah of mango season.
Last week I went back on The Zest to share a mango recipe. They asked me for something simple, with few ingredients so listeners could easily follow along. We settled on my no-churn mango vanilla bean ice cream. You can hear me describe slicing a mango, struggling to chisel frozen mango off a baking sheet, professing my love of vanilla beans, and laughing a lot. It was fun.
Now I'm back with another easy frozen mango dessert, because I think we can all agree you can never have too many. I've been dreaming about this one for a couple years, and I actually held off on sharing it because I thought it might be a contender for the Mango Mania recipe contest. I thought better of it because keeping anything frozen at an outdoor event in Florida summer is next to impossible. Just photographing these pops was enough of a challenge. But I did make you a gif.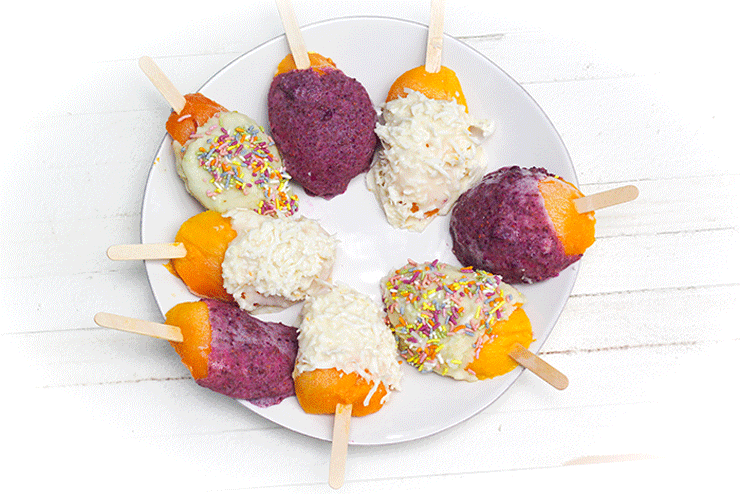 Chunks of frozen mango are pretty great straight from the freezer. Why not skewer frozen mango cheeks onto popsicle sticks? Why not dip them in magic shell? How about fun flavor combinations? Sprinkles?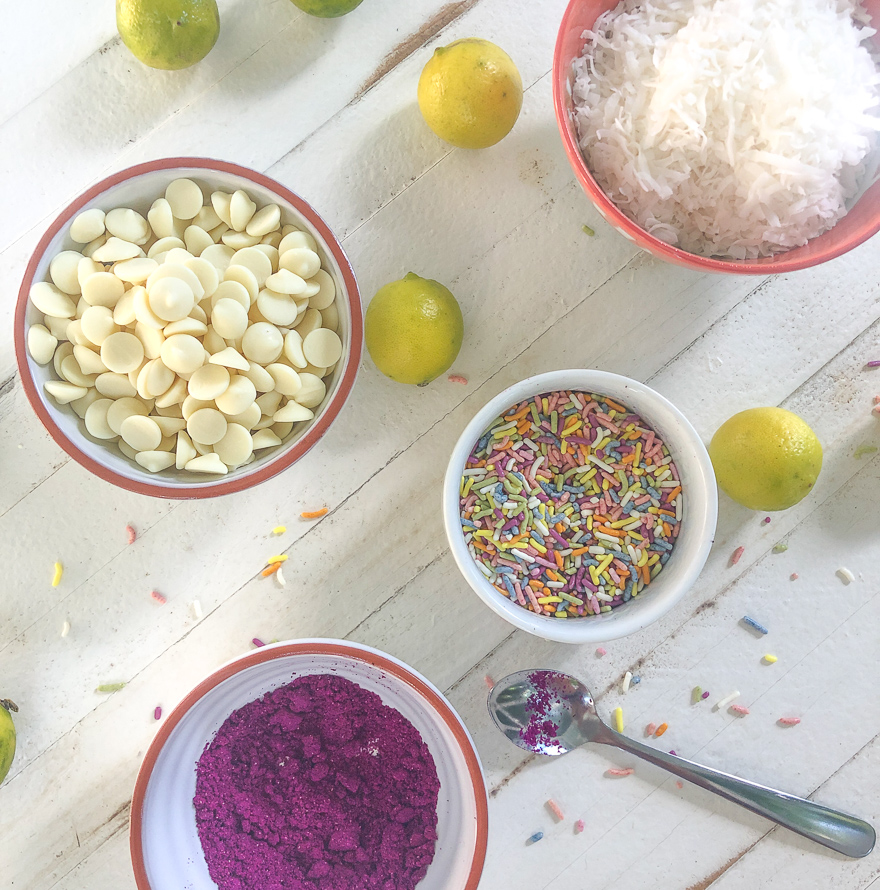 yes. yes. yes.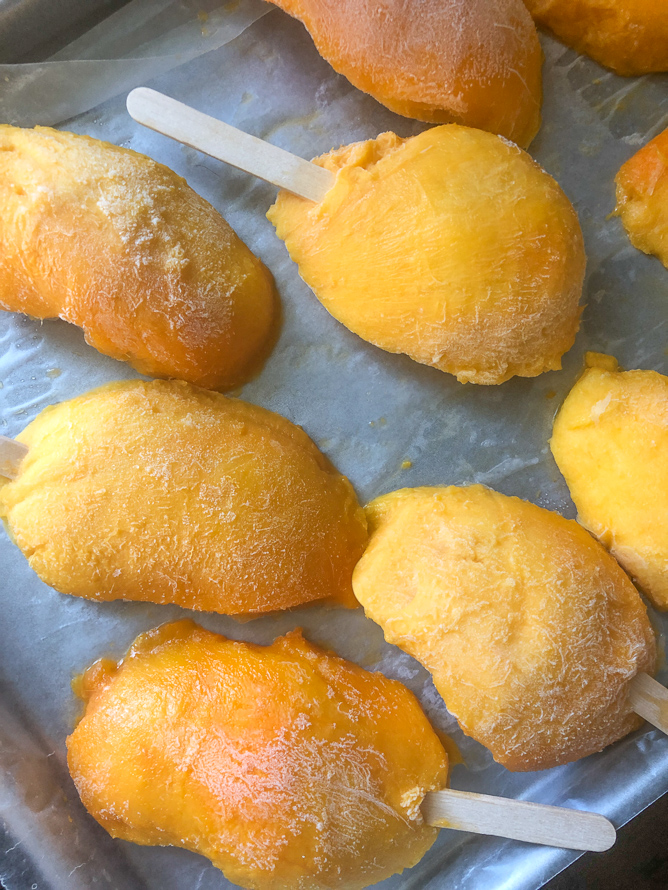 Let's talk about magic shell, the sauce that hardens on contact when poured over ice cream. The secret is coconut oil. As you've probably observed at home, coconut oil goes from liquid to solid at 76 degrees, like magic. The creative possibilities are endless. My friend Coley's cookbook, The Art of the Smoothie Bowl, has a recipe for super healthy magic shell to pour over smoothie bowls or to dip banana slices in. If you want to eat these mango pops for breakfast, and I respect that, I think you should go with Coley's version.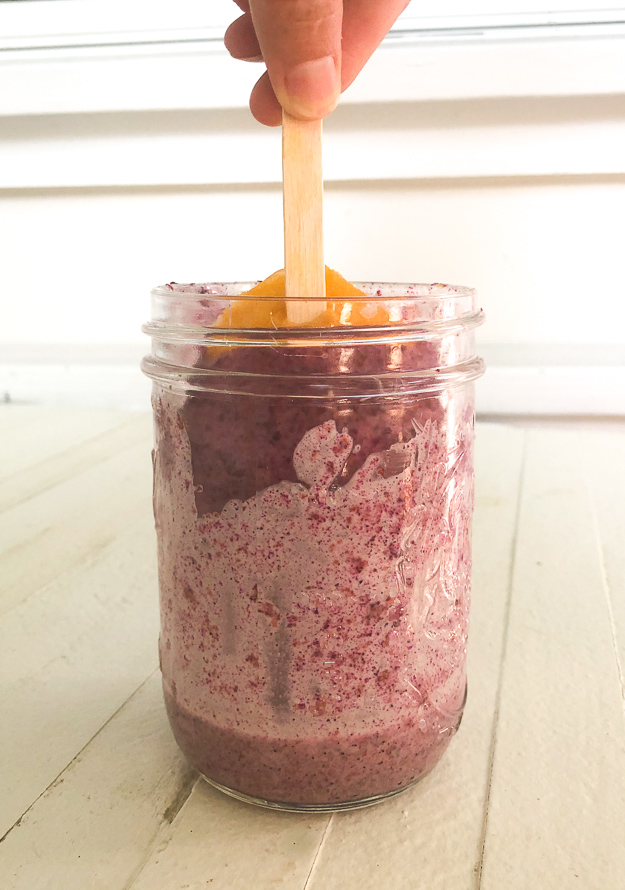 Here I admit I trashed up the magic shell. I'm sure it's healthier than DQ, but it's not breakfast fare. I was dreaming up a swoon-worthy contender for Mango Mania. Something decadent. So I melted white chocolate chips with the coconut oil. I have no regrets. It's so delicious you'll be licking the spoon. It's great on its own or as a base. Once you melt everything together, pour it in a jar just wide enough for the mango cheek, which works much better than a shallow bowl to get a nice coating over the whole thing. I mixed the shredded coconut right into the magic shell, but you could use shredded coconut or sprinkles to top any flavor, just be sure to add them immediately after dipping each one, before they harden. I used these natural sprinkles on the key lime pops.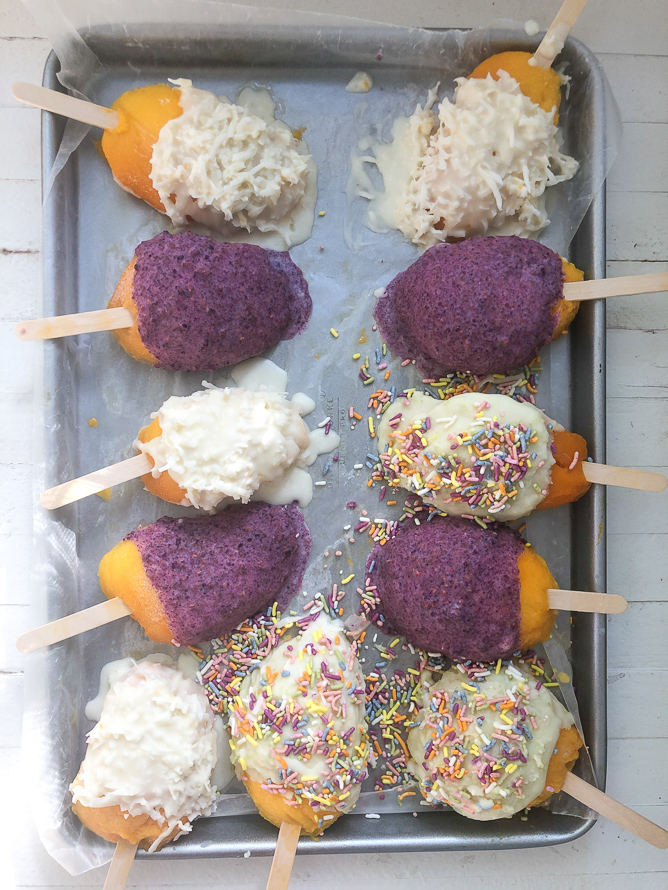 I'm offering up my favorites so far: coconut, key lime, and dragonfruit. I can't pick a favorite. I hope you'll get creative with them and send me pics.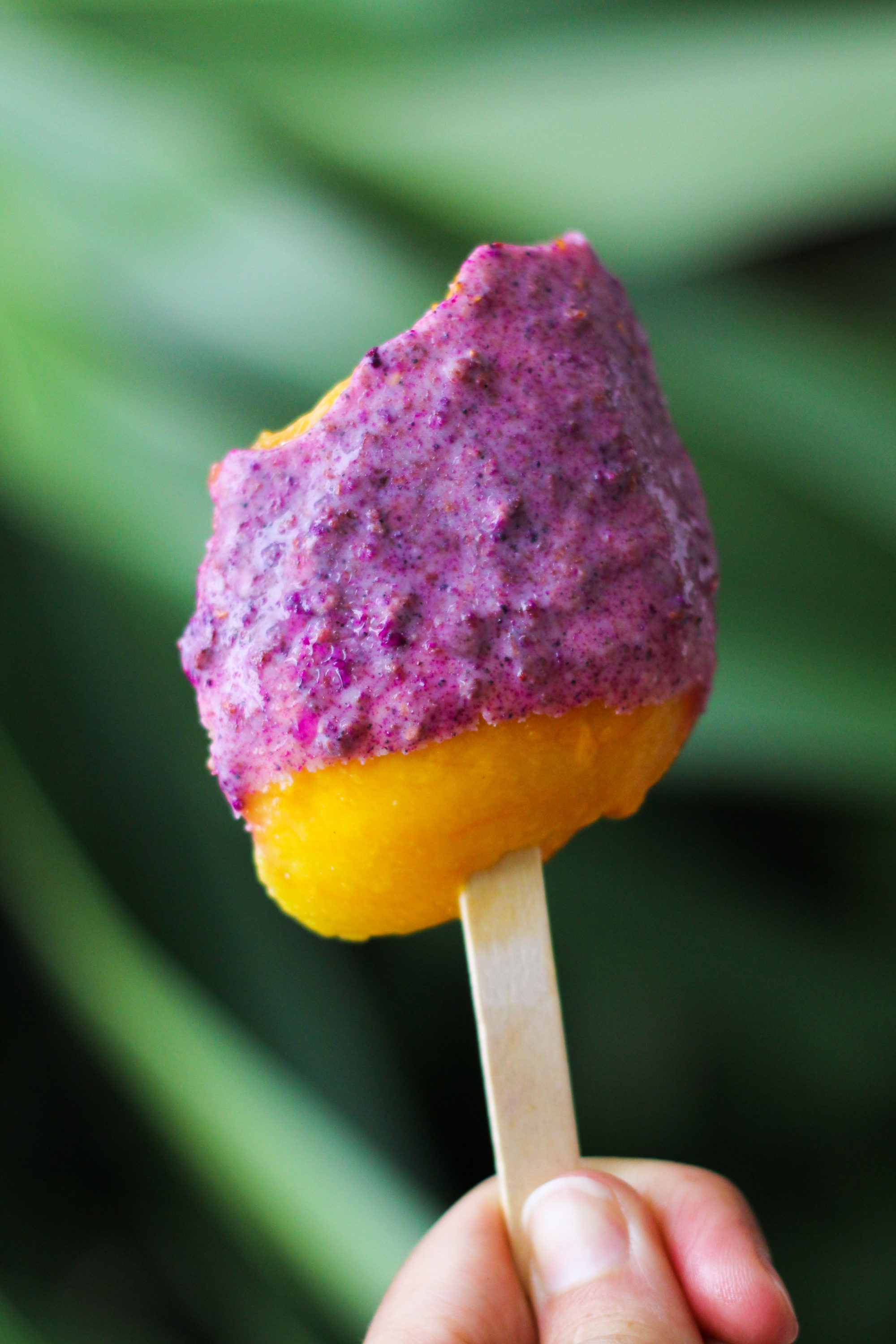 Enjoy the last of the mangos.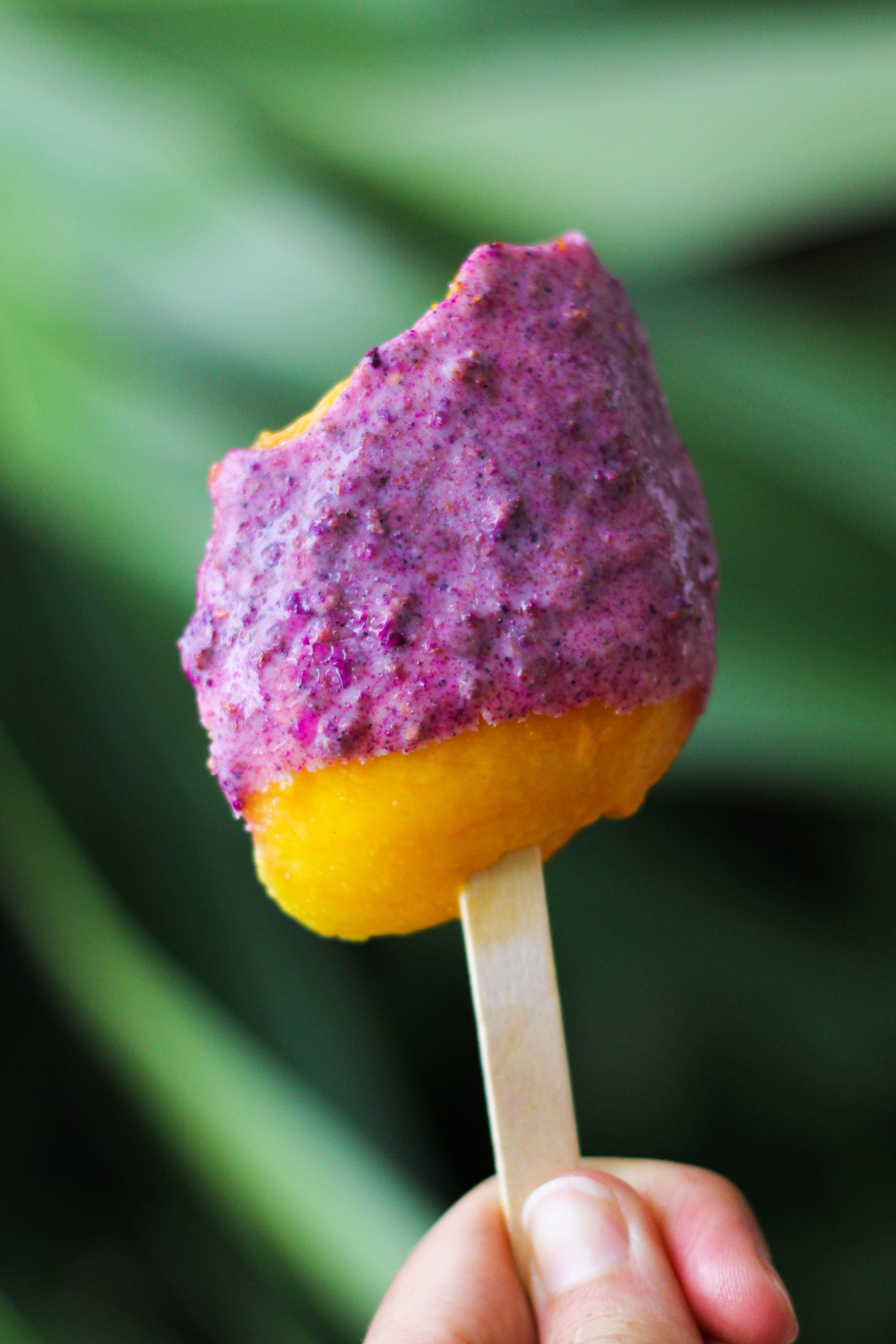 Cheeky Mango Pops
2019-09-22 08:31:22
Ingredients
2 small to medium mangos
1 cup white chocolate chips
1/2 cup coconut oil
pinch of sea salt
4 popsicle sticks
Key Lime
1 tablespoon key lime zest
2 teaspoons key lime juice
Coconut
1/2 cup unsweetened shredded coconut
1 teaspoon vanilla extract
Dragonfruit
1/3 cup freeze-dried dragonfruit (pitaya) powder (or freeze dried fruit blended into powder)
1 teaspoon lemon or lime juice
optional: sprinkles, coconut flakes
Instructions
Every mango has two cheeks on either side of a flat pit. Stand the mango up vertically and slice just off center along the pit. Repeat on the other side. Now use a spoon to scoop the flesh away from the skin of each cheek in one swoop. Place the cheeks on a baking sheet lined with wax paper. Insert a popsicle stick into each one, about 3/4 of the way in. Freeze for several hours.
Melt the white chocolate chips, coconut oil, and salt over low heat. Pour into a jar and stir in your choice of flavor combination.
Dip the frozen mango cheeks into the jar, tipping and turning to coat. Return to a baking sheet lined with wax paper. Add sprinkles or coconut immediately after dipping each one.
Once you've dipped them all, freeze on the baking sheet.
For longer storage, once completely frozen, wrap them individually in wax paper or plastic wrap and place them in a freezer bag.
Suwannee Rose https://suwanneerose.com/