Fried rice is something that happens when I scavenge through the fridge to use up leftover rice.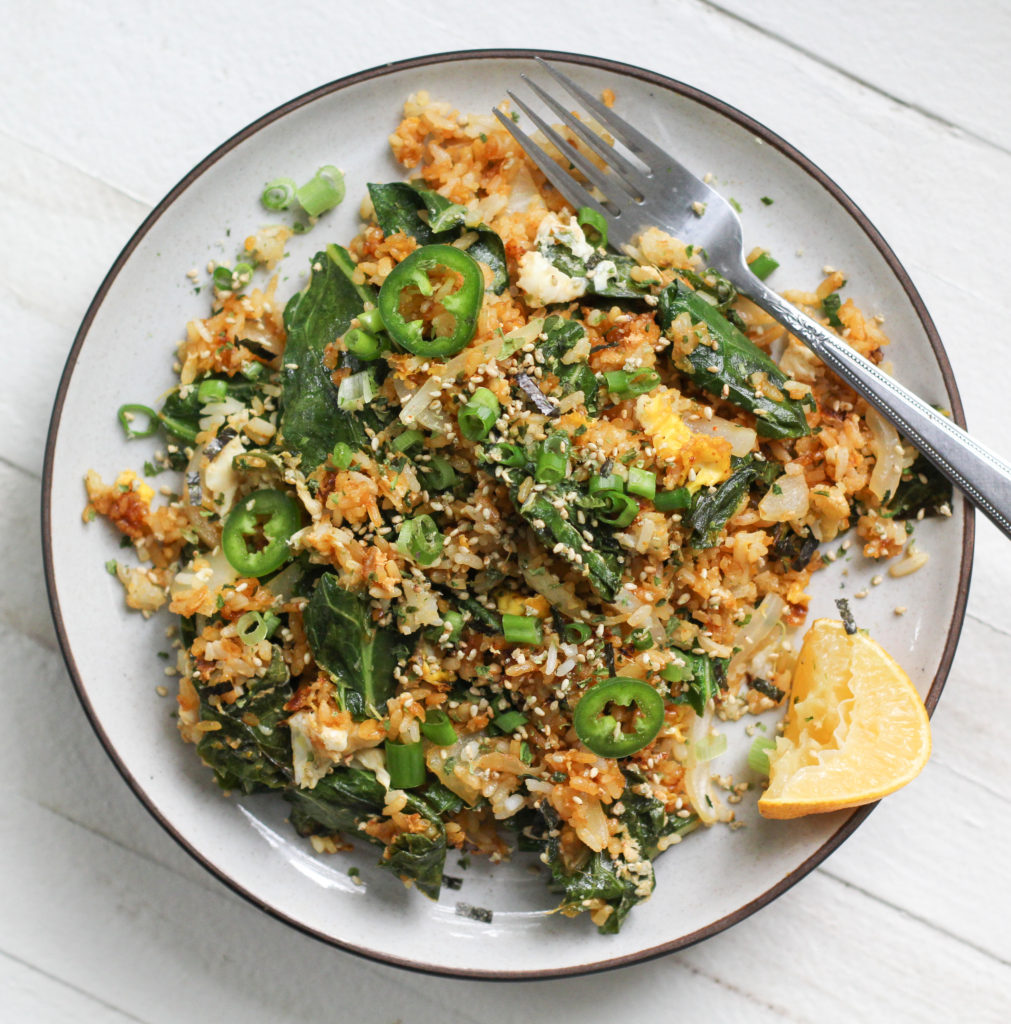 It's nothing fancy, and Toby is happy to eat it any time. He asked if I've ever posted it here. I haven't, which is funny considering how often we eat it. Thanks to my stepdad's Balinese connections, my fried rice is nasi goreng, Indonesian-style fried rice. It's made with two Indonesian condiments: sambal and kecap manis (pronounced ketchup mah-nees). Kecap manis is a sweet soy sauce made with palm sugar that resembles molasses. Sambal looks like ketchup, but it's a hot sauce with complex, tropical flavor. These two sauces are staples in my family. They can be hard to find, but thanks to Oceanic Market here in Tampa, I make sure my entire family is always stocked up. It's much easier than shipping it from Bali, which was the only way Mark could get it many years ago. I'll give you substitutes in the recipe below, but if you can get your hands on either of these sauces, lucky you.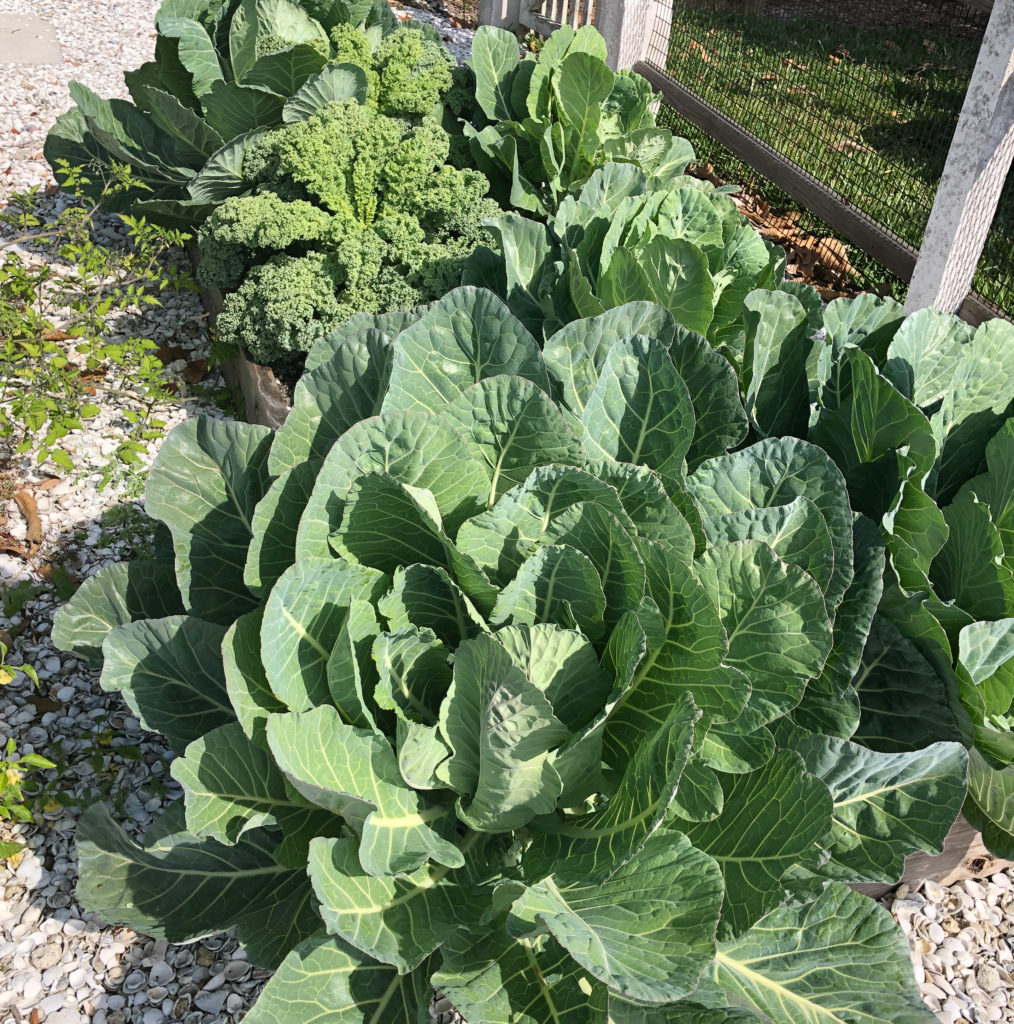 Fresh greens are so good in fried rice. They get a little crispy and stuck together with all the egg and rice and seasoning. Any will do, but collards are my favorite. Use mustard or radish greens if you love a kick. And of course there's kale. Whatever you need to use up, that'll do just fine.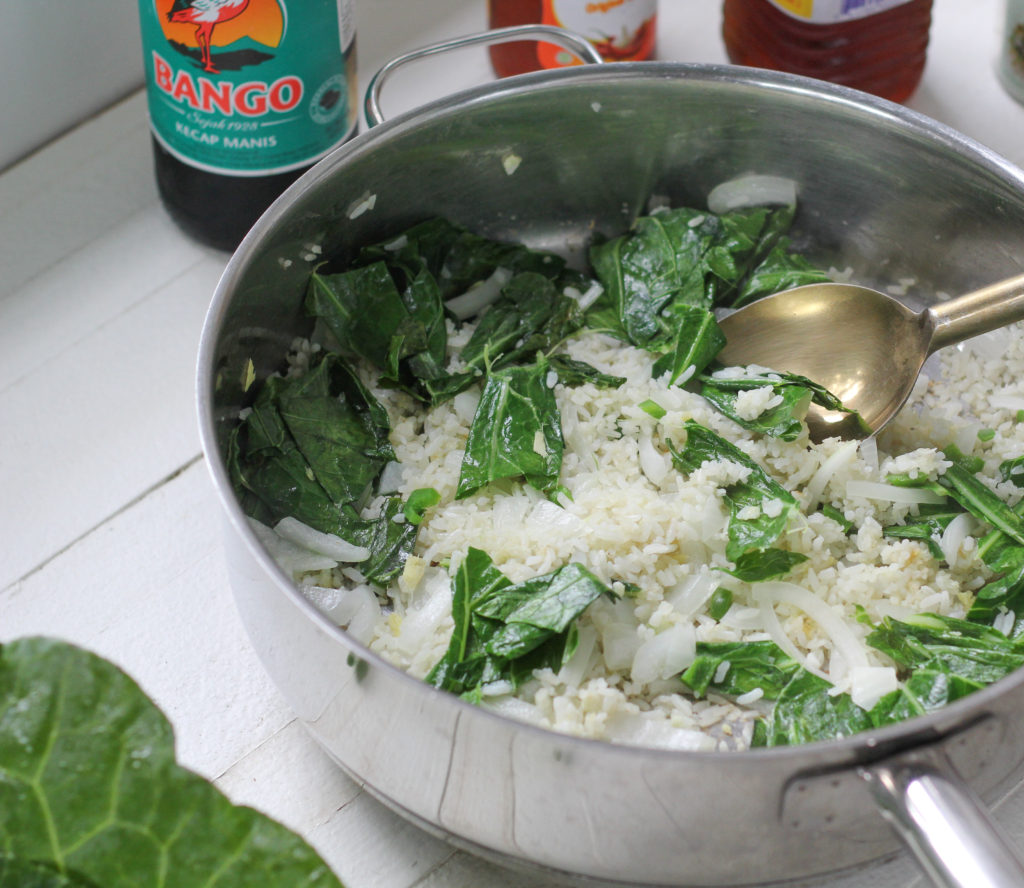 I always use leftover rice because it holds up so much better than fresh in the skillet. Don't be afraid to let the rice sit for a beat without stirring. Yes, it's going to stick, but if you let it sit a certain amount, that part crisps up (key), and you'll find it actually lifts off the pan easier once that happens. This is more method than recipe, so keep tasting as you go.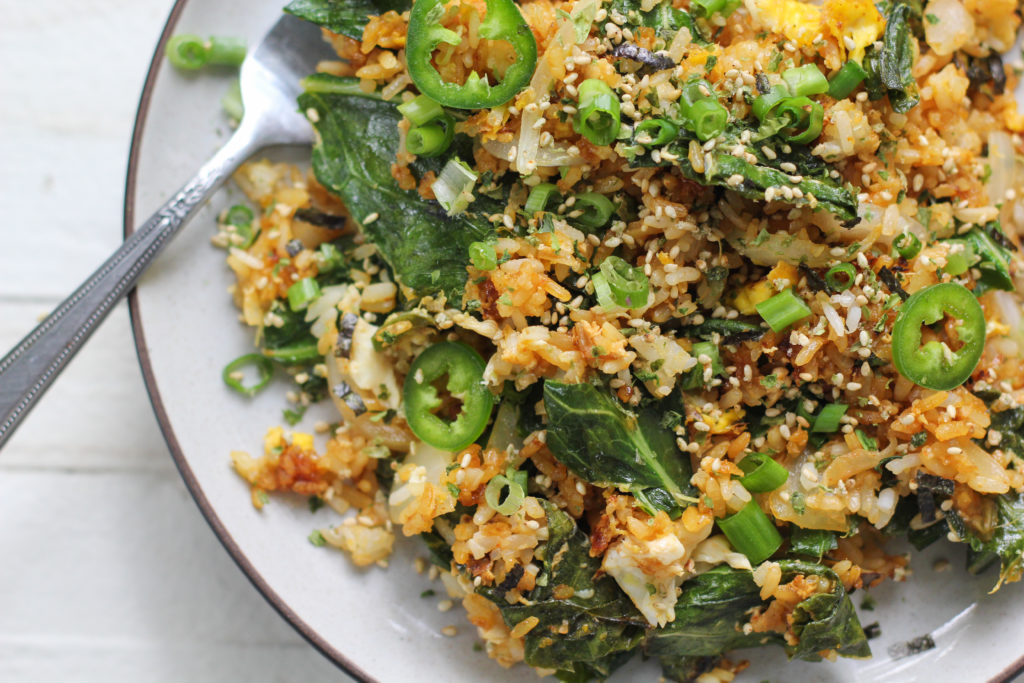 You'll know when it's just right. Devour immediately.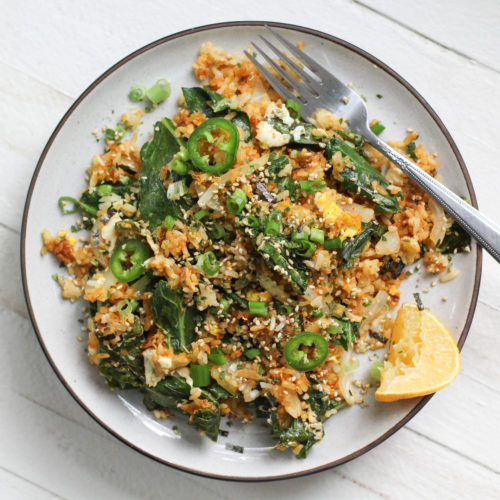 Fried Rice & Southern Greens
Ingredients
2

tablespoons

oil

1

Vidalia onion, diced

4

cups

torn greens

2

teaspoons

minced fresh ginger

1

clove

garlic, minced

2

cups

leftover white rice

1

teaspoon

sesame oil

1-2

tablespoons

sambal

*

1-2

tablespoons

kecap manis

*

1-2

tablespoons

fish sauce

optional

2

eggs

2

tablespoons

lemon juice

1

jalapeño, sliced

(optional topping)

furikake or toasted sesame seeds

(optional topping)

sliced green onions

(optional topping)

lemon wedges

(optional)
Instructions
Heat the oil in a heavy-bottom skillet over medium high. Add the onion, stirring often, until translucent. Add the greens. Stir until the greens are completely wilted and start to get a little toasty on the edges, about 6 minutes. Add the ginger and garlic and stir for a minute before adding the rice. Add a tablespoon each of sambal and kecap manis. Stir occasionally, but give it long enough to allow the rice to stick a bit, and lower the heat as needed. Drizzle fish sauce over the rice, if using. Move the rice to the sides of the pan. Pour the sesame oil in the center. Add the eggs and give them a stir. Once they start to cook, slowly start stirring the rice in. Add the lemon juice. Once everything is incorporated and eggs are set, start tasting. If it needs more heat, add sambal. If it needs more funk & salt, add fish sauce. If it needs more sweet & salty, add more kecap manis.

Once perfect, transfer to plates and top with anything you like. We go for jalapeños, furikake, and sliced green onions.
Notes
Sriracha or Cholula can work in place of sambal. Add to taste. If you can't find kecap manis, use a combination of soy sauce and brown sugar, added to taste.