I came home from our trip armed with plenty of fish and Laughing Raven recipes. I also bought this cookbook at Old Harbor Books in Sitka, which I read cover to cover before I got home.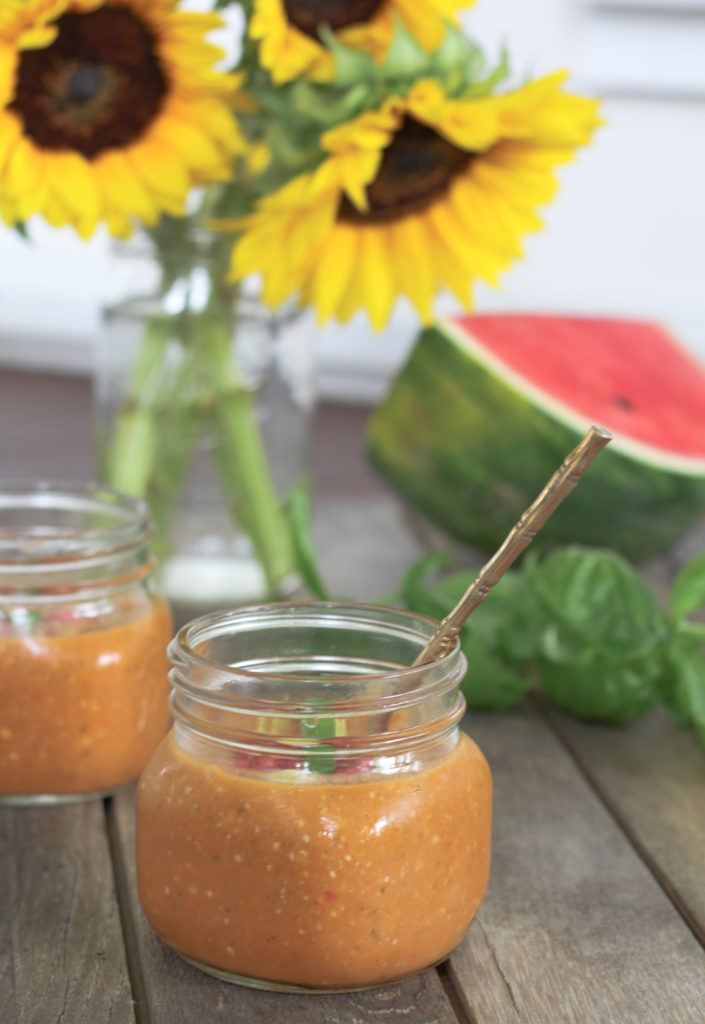 It seems like I should be cooking up a storm right now. But I have to be honest with you; I'm dragging. There's nothing like a trip to Alaska to fully appreciate Florida summer in all its swampy glory. Was it this hot before I left?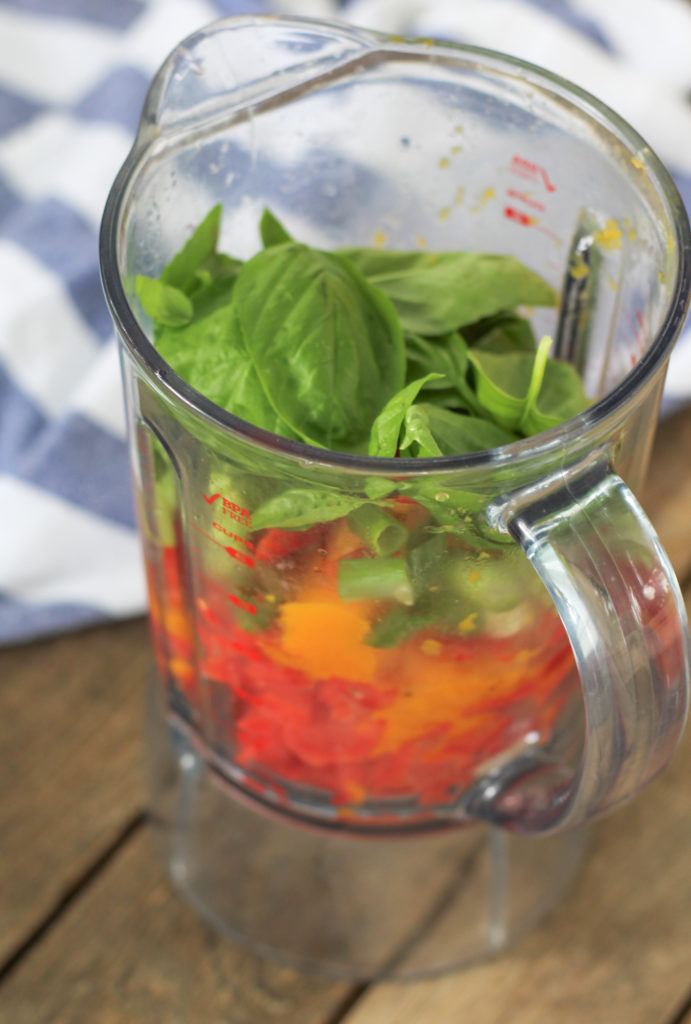 This is the perfect recipe to ease back in. My friend Julie, an artist and gardener from my hometown, posted a photo of her watermelon gazpacho on Instagram. I loved all the vibrant colors. She said she added some mango that evening on a whim and raved over the results. I was intrigued, so I put it at the top of my list of recipes to try once I got back.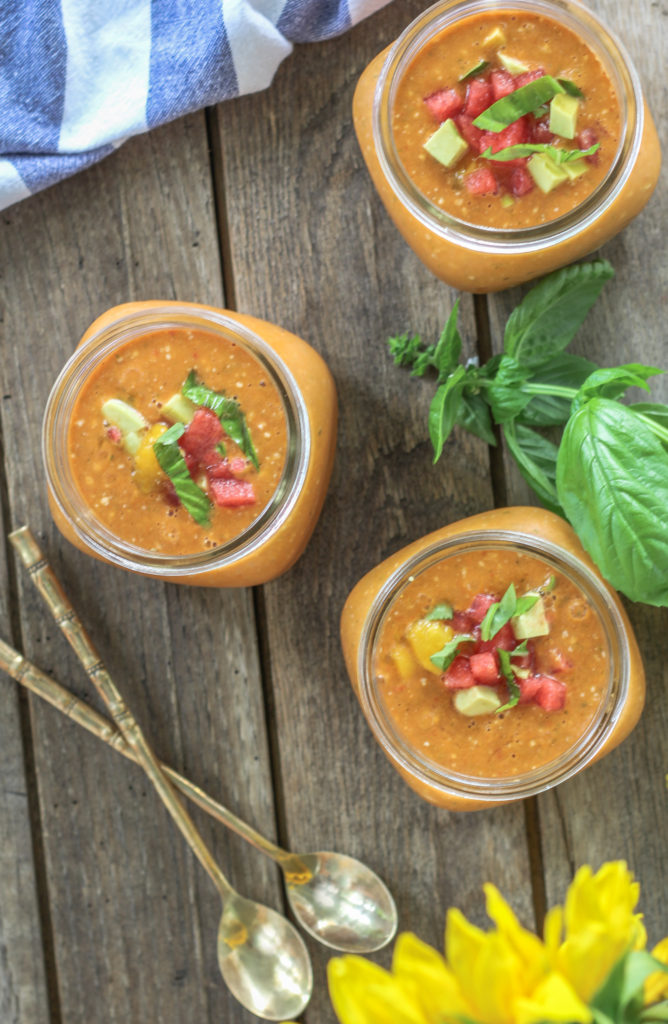 She gave me a few pointers, and it came out amazing. It's now my favorite gazpacho ever. I know it sounds sweet and fruity, but I can assure you this is no smoothie bowl. Far from it. In a blind taste-test, you'd probably be surprised there's no tomato. That's because all the other savory and spicy elements balance out the mango and watermelon perfectly. It's velvety smooth and definitely filling. One day I'll try it with some grilled shrimp or garlic toast, but for now I'm enjoying this ridiculously easy, refreshing gazpacho all by itself.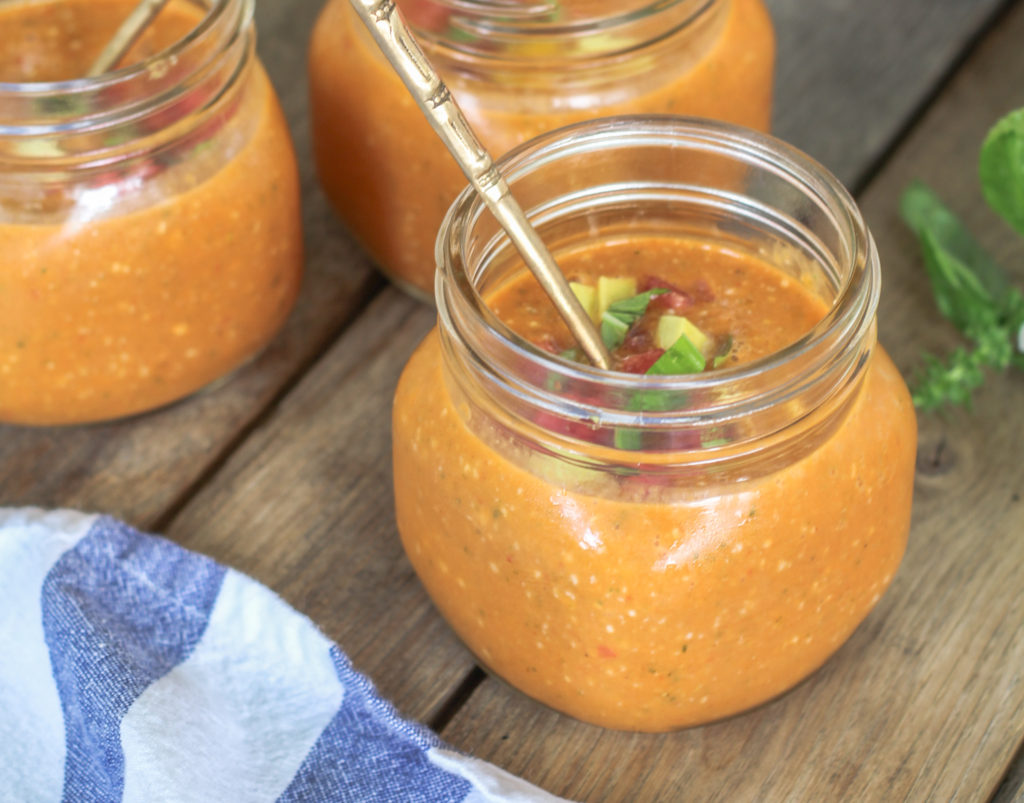 I'll post some Alaska-inspired recipes as soon as I nail them down, so check back with me soon.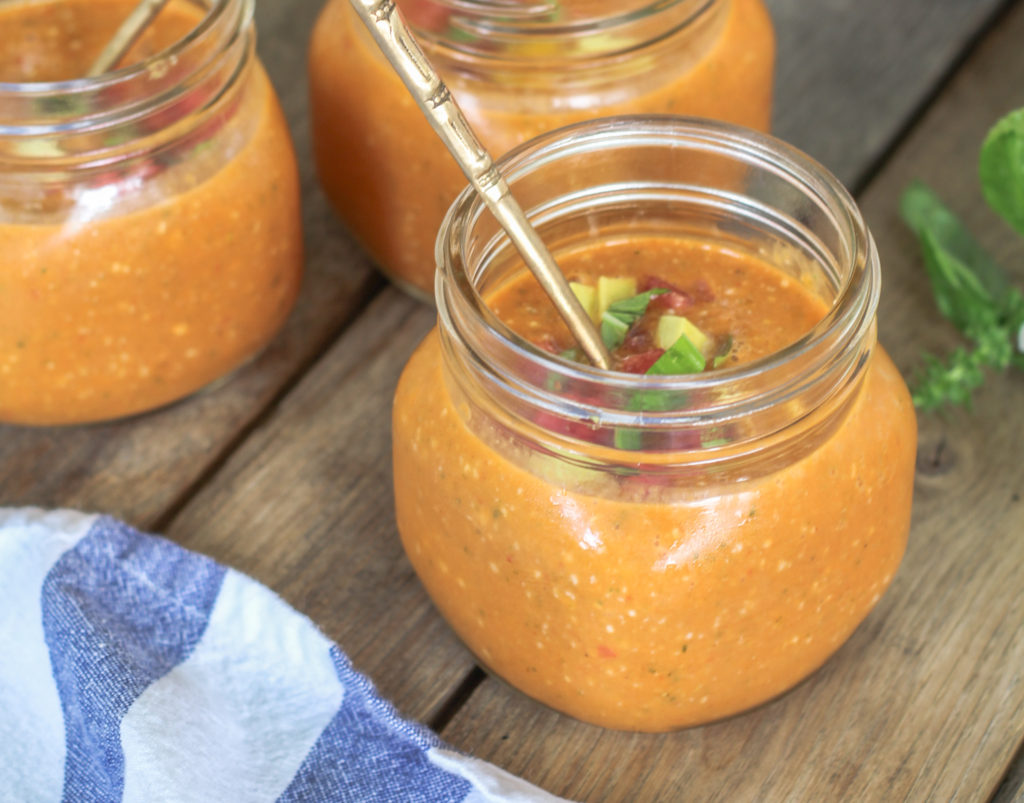 Watermelon Mango Gazpacho
2017-07-22 19:28:42
Ingredients
4 cups diced watermelon
3 cups diced mango
1 cup diced cucumber
1 cup torn bread (or 1/2 cup breadcrumbs or panko)*
1/2 cup sliced green onions
1/2 cup diced red pepper
1 jalapeno, sliced (optional)
1-2 cloves garlic
1 cup basil leaves
1 tablespoon lime juice
1 tablespoon red wine vinegar
1/4 teaspoon smoked paprika
1/4 teaspoon ground cumin
1/4 teaspoon ground coriander
salt and pepper, to taste
3/4 cup olive oil
garnishes
diced avocado, watermelon, and mango
basil
fresh lime juice
toasted pepitas (if you like a bit of crunch)
Instructions
Add the watermelon, mango, cucumber, bread or crumbs, green onions, red pepper, jalapeño, garlic, basil, lime juice, vinegar, and spices to the jar of a blender. Blend well. While the machine is running, slowly drizzle in the olive oil.
Refrigerate until ready to serve.
Top with diced avocado, watermelon, mango, basil leaves, and a squeeze of fresh lime juice.
Notes
*gluten free is fine
Suwannee Rose https://suwanneerose.com/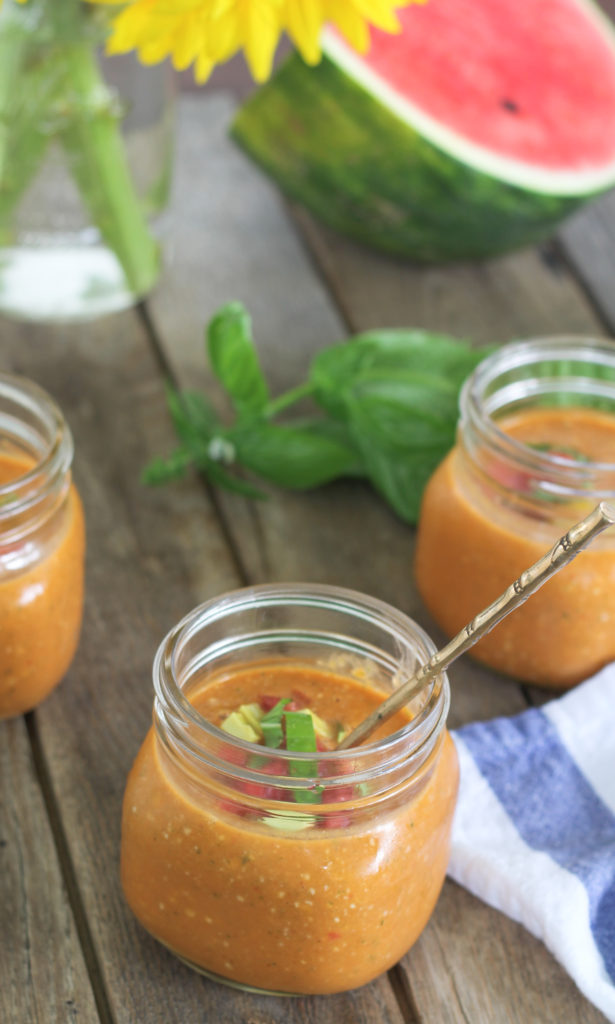 SaveSave
SaveSave
SaveSave
SaveSave
SaveSave
SaveSave
SaveSave
SaveSave
SaveSave
SaveSave
SaveSave
SaveSaveSaveSave
SaveSave
SaveSave