For The Classic American Summer, look no further than coastal New England. It's like a postcard come to life in red, white, and blue.
While Floridians brace themselves for heavy heat and thunderstorms, New Englanders are outside celebrating. Farmer's markets are stacked with photogenic produce and the beaches look straight out of of Where's Waldo?.
Even the ice cream from a beach-side stand looks like a cartoon version of America's favorite summertime treat.
But once you step inside the kitchen of Lanes Cove House, the stereotype fades away, and you'll find a more modern version of American summer food. The pitcher of tea is made with hibiscus flowers, not Lipton. The dish of cucumbers look cool but the chiles they're mingling with are definitely not. There's a pile of mangos waiting in the wings for dessert, along with some homemade chocolates spiked with ginger. There's lobster fresh off the docks, and tonight it's destined for something other than melted butter.
We all contribute to this hodgepodge, and it comes together deliciously.
One of my favorite mashups happens when Sathima comes to town. I've told you about her before, a family friend I've bonded with over our passion for cooking with tropical ingredients. When her native Thai cuisine meets Gloucester's bounty we end up with some seriously good food.
Thai cuisine has long been a part of this family, even before Sathima (or I) became a part of it. Toby's grandmother had a Thai friend who introduced her to it when she lived abroad. The recipes she returned with are Toby's favorite.
Big Mum didn't use tamarind water in her pad thai, probably because it used to be hard to find. Sathima showed me how to make it. It's easier and faster than squeezing fresh lemons, and I love the sour yet fruity flavor.
She also showed me how to properly crush peanuts into small, uniform pieces, never any whole ones left. It takes longer than my usual quick chop, but I like how they're more evenly distributed in the dish.

With a few tweaks to a family favorite recipe and a big pile of fresh lobster meat, this is the quintessential dish of our New England summer.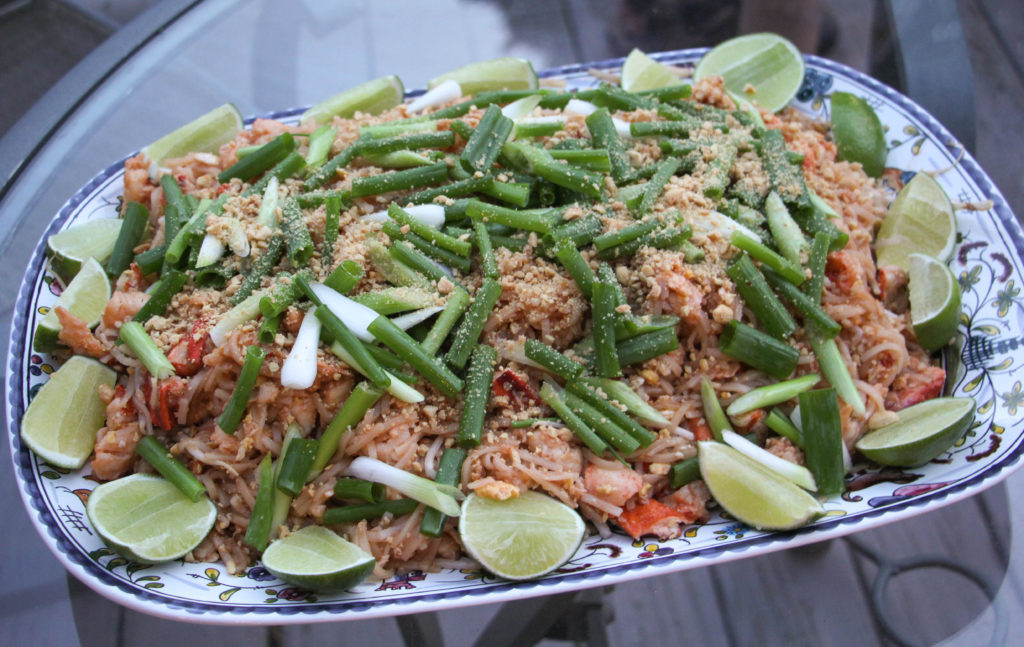 Lanes Cove Lobster Pad Thai
2016-08-01 18:56:27
Ingredients
1 14 oz package flat, medium-width rice noodles*
6 cups bean sprouts
1/4 cup tamarind pulp**
1/4 cup high-heat oil (peanut, canola, or grapeseed)
5 cloves garlic, chopped
4 eggs
1 1/2-2 pounds cooked lobster meat chunks
1/2-1 cup broth (whatever you have on hand)
1-2 tablespoons raw sugar or coconut sugar
3-4 tablespoons fish sauce
3-4 tablespoons oyster sauce
2 cups dry-roasted peanuts (or cashews) finely crushed***
2 cups green onions, sliced about 2" long
6 limes, cut in cheeks
red pepper flakes
Instructions
Put the rice noodles in a big bowl of room temperature water to soak while you prep the other ingredients.
Put the bean sprouts in a bowl of cold water.
Mix the tamarind pulp with 1/2 cup hot water in a small bowl. Allow it to soften for 15 minutes. Squeeze the tamarind pulp in your fist, then discard all the membranes and seeds left in your hand. Repeat until you're left with only liquid in the bowl.
Bring 2 quarts of water to a boil.
In a wok or a large pan, heat the oil over medium. Add the garlic and stir-fry for a minute or so until fragrant. Add the eggs, scrambling them in the pan. Next add the lobster meat. Stir and saute for about 5 minutes.
Meanwhile, strain the rice noodles and return them to the bowl. Once the water comes to a boil, pour it over the noodles, then immediately strain them again and rinse. Transfer the noodles to a separate pan or pot. Saute them over medium-low, adding 1/4 cup of broth at a time, stirring often to make sure they never stick together. Once the noodles are tender, add them to the pan with the lobster and egg.
Stir in a tablespoon of sugar, 3 tablespoons tamarind water, 3 tablespoons of fish sauce, and 3 tablespoons of oyster sauce.
Drain the bean sprouts and toss them with the noodles.
Stir in half the peanuts.
At this point you're going to have to taste and adjust the seasoning to find the right balance of sugar, tamarind water, fish sauce, and oyster sauce.
Once you've got it just right, transfer the pad thai to a platter. Sprinkle the remaining peanuts and all the green onions on top. Place the lime cheeks around the platter.
Serve with a small bowl of red pepper flakes on the side.
Notes
* labeled "Phat Thai" or "Rice Stick"
**tamarind pulp comes in a block. See link below for what to look for.
***to crush the peanuts, seal them in a gallon ziplock freezer bag. Lay them on a flat surface so the peanuts are spread in an even layer. Using whatever blunt instrument you find in your kitchen, pound them until every peanut has been pulverized, no whole pieces left. Check out the photo in the post for reference.
Suwannee Rose https://suwanneerose.com/
****
Find out more about tamarind pulp here
.****