This salad was inspired by all those grilled peach salads I've envied on Pinterest and Instagram lately. I finally tried one at Row 34 in Boston, and it was every bit as good as I imagined. Thick slices of firm-ripe peaches, char-grilled, served over arugula with some other tasty stuff mixed in. As I finished it off, I vowed to recreate it as soon as I got home.
But once I got home, I realized I'd be insane to go buy so much as a single peach right now, even though I love them. It's the height of our fruit season, and mangos are just the beginning. The pineapples and sapodillas are ripe, too, and a friend just dropped off a few dozen wax apples. My kitchen looks like a roadside fruit stand. I can't bring home peaches.
It occurred to me that mangos might be a good substitute for peaches in any given recipe, as long as you choose the right mango.
Not all mangos work on the grill. Some varieties, like the so-called "dessert" varieties Glenn and Nam Doc Mai, are too delicate. Their custard-like flesh will melt away on hot grill grates. Look for a large variety with some structure to the flesh, like Valencia Pride or Keitt. I suspect my friend Lynn's mega Lancetilla mangos would be ideal.
No matter what type you use, you want them firm-ripe. If you can imprint your thumb in the side, it's probably too ripe for this. It will get ugly. Trust me.
Once you've got the right mango for the job, the grilling part is easy, and the rest of the salad is even easier. The creamy tahini-lime dressing is super simple. I like to quick-pickle the red onions, but if you like raw onions, you can go that route instead.
Last but not least, some marcona almonds and feta cheese, because the extra tidbits of flavor and texture balance it out.
It's a perfect summer salad in Mangoland.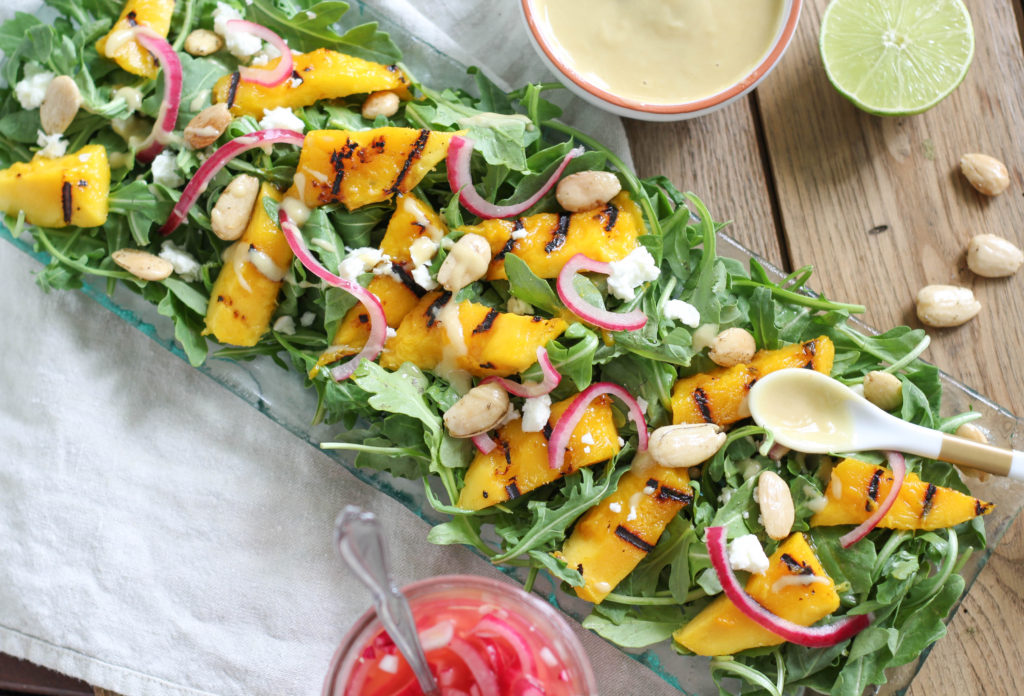 Grilled Mango & Arugula Salad
2016-08-05 05:31:56
For the Pickled Red Onions
1 red onion
1 cup apple cider vinegar
2 tablespoons sugar
1 tablespoon salt
For the Tahini-Lime Dressing
juice of 1/2 a lime
3 tablespoons tahini
1 garlic clove, minced
1 tablespoon maple syrup
1 tablespoon olive oil
a good pinch of kosher salt, to taste
And the rest
2 large, firm-ripe mangos
2 tablespoons grapeseed or other high-heat oil
6 cups arugula
1/2 cup crumbled feta
a handful of Marcona almonds
freshly ground black pepper
Make the Pickled Red Onions
Thinly slice the onion. Combine the apple cider vinegar with sugar and salt in a 16-ounce mason jar. Submerge the onion, seal it, and give it a good shake. Let it sit for at least 20 minutes before using. You'll have more than enough for this recipe, but it keeps indefinitely in the fridge.
Make the Tahini-Lime Dressing
Combine all the ingredients in a bowl with a whisk. Taste and adjust the seasonings as you like.
Grill the Mangos
Preheat a very hot grill.
Holding the mango vertically, slice the two cheeks off each side, away from the center pit. Using a large spoon, carefully scoop the cheek out of the peel in one piece. Alternatively, you can use a paring knife to peel it. You should end up with 4 cheeks.
Pour the oil in a small dish. Fold a paper towel into a 2-inch square. Using tongs, dip the paper towel square into the oil. Rub over the grill grates and repeat several times until the grates are well-seasoned.
Place the mangos on the grill, flat-side down. Grill for about 6-8 minutes, or until they smell caramelized and get some nice grill marks. Carefully use a thin metal spatula (or even a long bread knife) and scrape carefully under the mango to release it. Transfer the mango to a plate to cool.
Assemble the salad
Spread the arugula on a platter. Slice the grilled mango cheeks into thirds and arrange them over the arugula. Add slices of pickled red onion, however much you like. Sprinkle on the feta and Marcona almonds. Drizzle some dressing over the top, saving the rest to serve on the side. Top it off with freshly ground black pepper.
Suwannee Rose https://suwanneerose.com/