I missed the best party of the year. It's a mango-lover's dream hidden in a grove of mango trees. There's tropical music, happy mango maniacs, and all the food is made with our favorite fruit.
After tasting all these delicious, creative mango dishes, you have to vote on your favorite. There are categories for best entree, best dessert, and the coveted best overall. The winner is crowned at the end of the night and everyone goes home in a mango coma.
Even though I missed out on the party, I scored the winner's recipe. Congratulations to Jennifer Parramore for the best overall dish at Mango Mania 2016! She made a black rice salad with mango and peanuts from a recipe she clipped from Bon Appétit magazine years ago.
Black rice used to be grown in very small amounts and reserved exclusively for the emperors of China, hence the name "forbidden rice." Like brown rice, black rice is unpolished, meaning that the hull of the grain is still intact. Unlike any other rice, black rice contains anthocyanins, the same antioxidant compounds in blueberries and blackberries, and that's also where it gets its deep purple color. It's nutty and a bit earthy, and it holds its texture well, which makes it a nice grain for salads like this one.
With perfectly balanced flavors, vibrant colors, and a sexy name like "Forbidden Rice," this dish was destined for the mango hall of fame.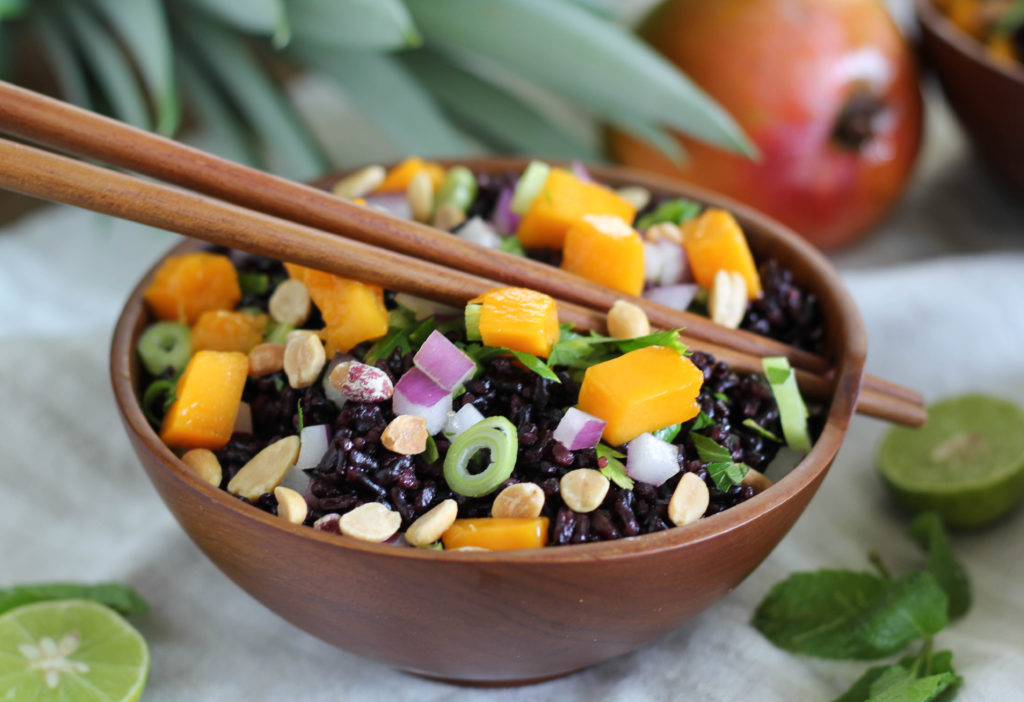 The Forbidden Rice of Mango Mania: Black Rice Salad with Mango and Peanuts
2016-07-07 08:16:00
Ingredients
2 oranges
1/4 cup (or more) fresh lime juice
2 tablespoons vegetable oil
1 tablespoon fish sauce
2 cups black rice (look for Lotus Brand)
Kosher salt
2 just-ripe mangoes, peeled, pitted, cut into 1/2" dice
1 cup fresh cilantro leaves
1 cup finely chopped red onion (about 1/2 large onion)
1/2 cup unsalted, dry-roasted peanuts
6 scallions, thinly sliced
2 jalapeños, seeded, minced
Instructions
Remove peel and white pith from oranges. Working over a medium bowl to catch juices and using a small sharp knife, cut between membranes to release orange segments into bowl. Squeeze membranes over bowl to release any juices. Strain juices through a fine-mesh sieve into a small bowl; reserve orange segments.
Add 1/4 cup lime juice, oil, and fish sauce to bowl with orange juice; whisk to blend. Set dressing aside.
Rinse and strain the rice twice. Bring rice and 2 3/4 cups water to a boil in a large saucepan. Season lightly with salt. Cover, reduce heat to low, and simmer until all liquid is absorbed and rice is tender, about 25 minutes. Remove pan from heat and let stand, covered, for 15 minutes. Spread out rice on a rimmed baking sheet, drizzle with dressing, and season lightly with salt; let cool.
Place mangoes and remaining ingredients in a large bowl. Add rice and toss gently to combine. Season lightly with salt and more lime juice, if desired.
Notes
From Bon Appetit, June 2012
Suwannee Rose https://suwanneerose.com/