Blackened redfish is one of the most delicious fish recipes of all time. It's so good that when New Orleans chef Paul Prudhomme popularized it in the 1980s the redfish population in the Gulf of Mexico was annihilated.
Gulf coast states established emergency closures and commercial fishing for redfish ended. Since then the fishery has been monitored and regulated with great success. Florida has a hatchery in Port Manatee where scientists have raised and released 6 million juvenile redfish into Florida waters. Populations have rebounded, and often exceed the FWC's goals. For more information about redfish and regulations, visit myfwc.com.
Florida fishermen will attest to the abundance of redfish in Florida waters. The limit is one per person per day for most of the state. Even on a bad day of fishing you can probably come home with a redfish.
This recipe has the flavor of blackened redfish, but in burger form. It's perfect for a summer cookout. Trust me, no one will miss the red meat.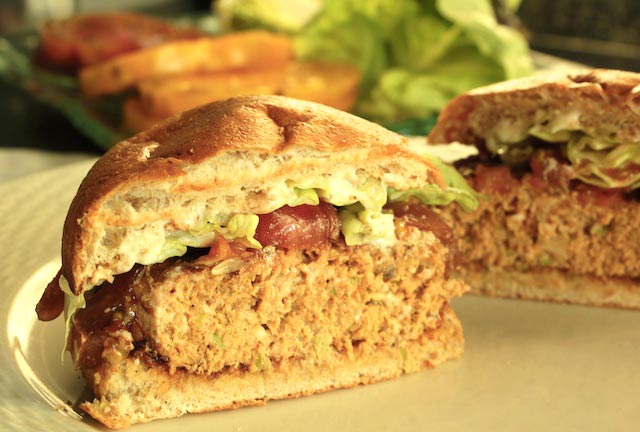 ---
Blackened Redfish Burgers
Makes 4 burgers
Ingredients:
1 lb redfish fillets (or other firm white fish)
4 green onions
2 1/2 tablespoons blackening seasoning (recipe follows)
2 tablespoons ghee or clarified butter
1 tablespoon olive oil
Directions:
Pat the fish dry. Cut in 2-inch chunks.
Slice the green onions in thirds. Place in the food processor and pulse until finely chopped. Add the fish, blackening seasoning, and drizzle the olive oil over the top. Pulse 10 times. Scrape down the bowl with a spatula and turn the mixture up from the bottom. Pulse another 10 times, or until the mixture begins to form a ball.
Form 4 patties from the mixture. Cover with plastic wrap and refrigerate until ready to cook.
Heat a cast iron skillet over medium-high heat over a grill or gas burner. Add the ghee. Once melted and hot, add each patty. Cook 2/3 on one side, until the outside edges become opaque and white, about 8 minutes. Flip and continue to cook completely, another 3-4 minutes.
Serve with toasted buns and your favorite burger toppings.
---
Blackening Seasoning
2 tablespoons paprika
1 tablespoon garlic powder
1 teaspoon salt
1 teaspoon black pepper
1 teaspoon cayenne
1/2 teaspoon onion powder
1/2 teaspoon thyme
1/2 teaspoon oregano
Blend all the spices and store in an airtight jar.