Today is the first day of stone crab season! We've gathered on Big Pine Key for our annual family stone crab extravaganza, which didn't happen last year thanks to the hurricane. Before we hop on the boat, here's a fantastic grilled fish recipe I've been working on for you.
Grilling fish is tricky. It's delicate, it sticks to the grates, and flipping is always dicey. I have served my share of roughed up grilled fish filets. I always strive to make like Julia, no apologizing for the food I serve, but it's not my nature. I'm a sad puppy when my food doesn't come out pretty. I've tried plenty of hacks to help like grilling baskets, non-stick grill spray, cedar planks, even slices of lemon to cover the grates. Some of those do work, and I'll do them all again, with the exception of the fish grilling basket which after several uses and extensive soaking and scrubbing is destined for the trash.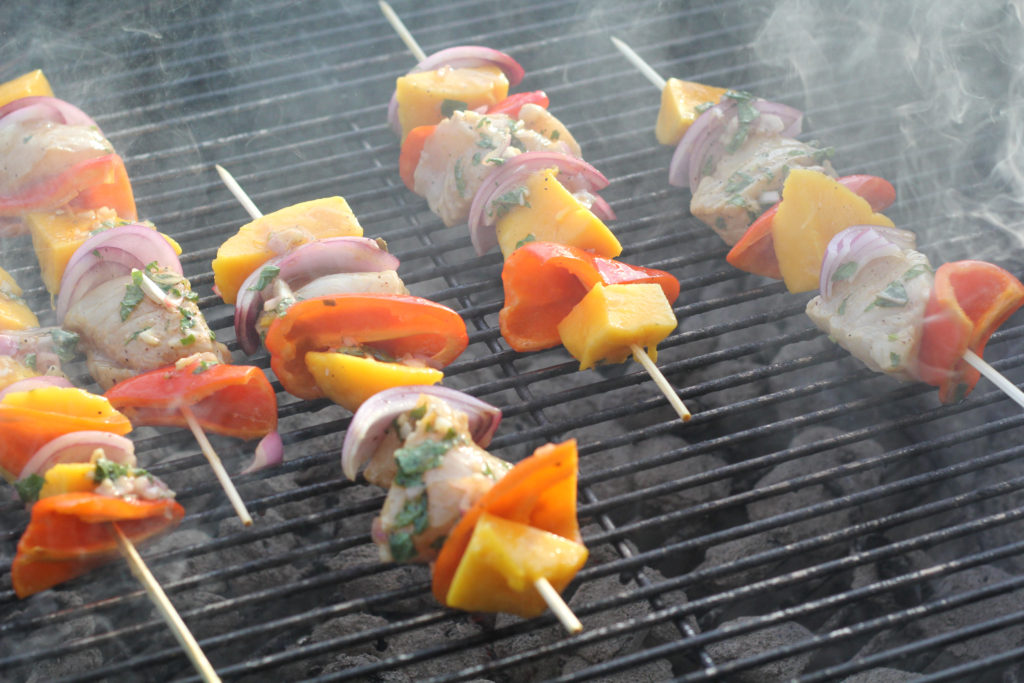 But sometimes it seems the hack is built into the recipe, and I dare say this is one. I'm not even certain of the magic behind it. Maybe it's the mojito marinade. Maybe it's the skewers. Maybe it's the way I oil the grates. Whatever it is, it's working for me and I'm sticking (but the fish is not sticking?) to it.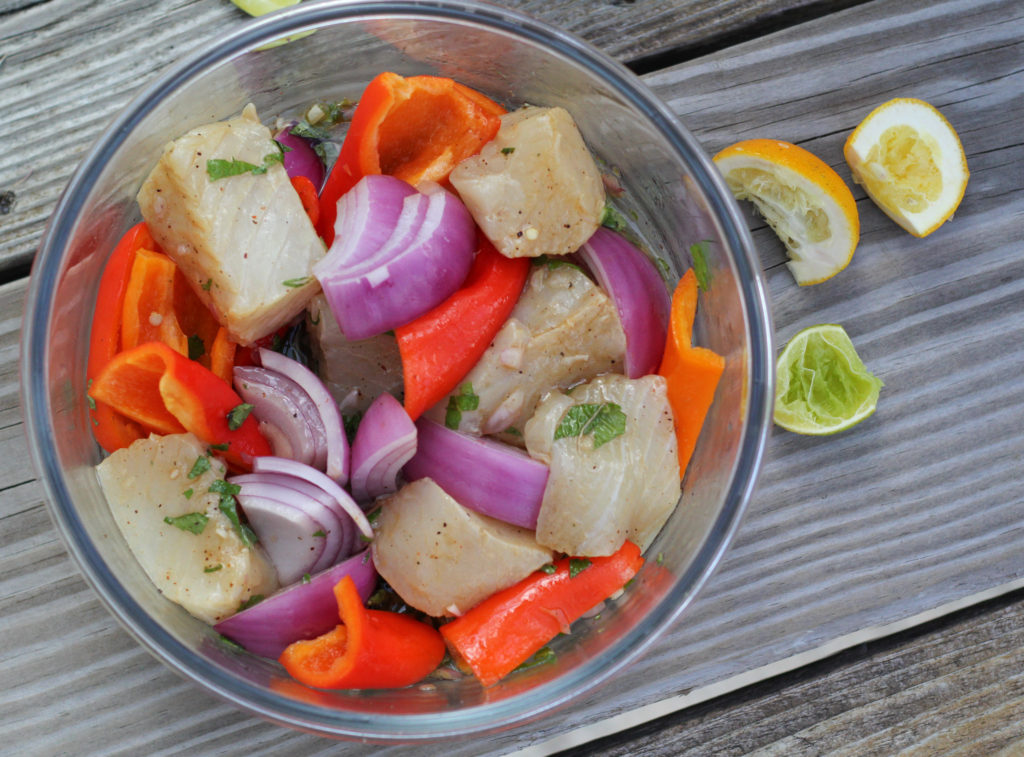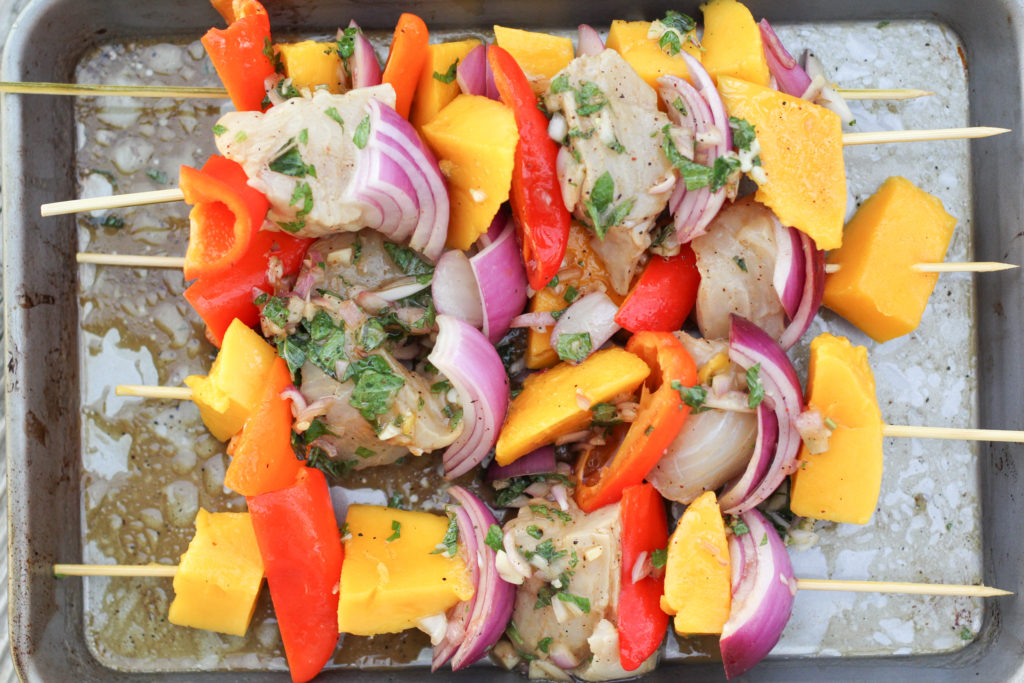 Besides big fat chunks of fish, we've got juicy mango (yep, still got a few homegrown mangos in October, hallelujah, but we've also used pineapple), those sweet little rainbow peppers, and some red onion. The mint in my garden gets out of control in the rainy season, and that's when this mojito marinade was born. I love the bright, zippy freshness with this mix of grilled fruit, veggies and fish.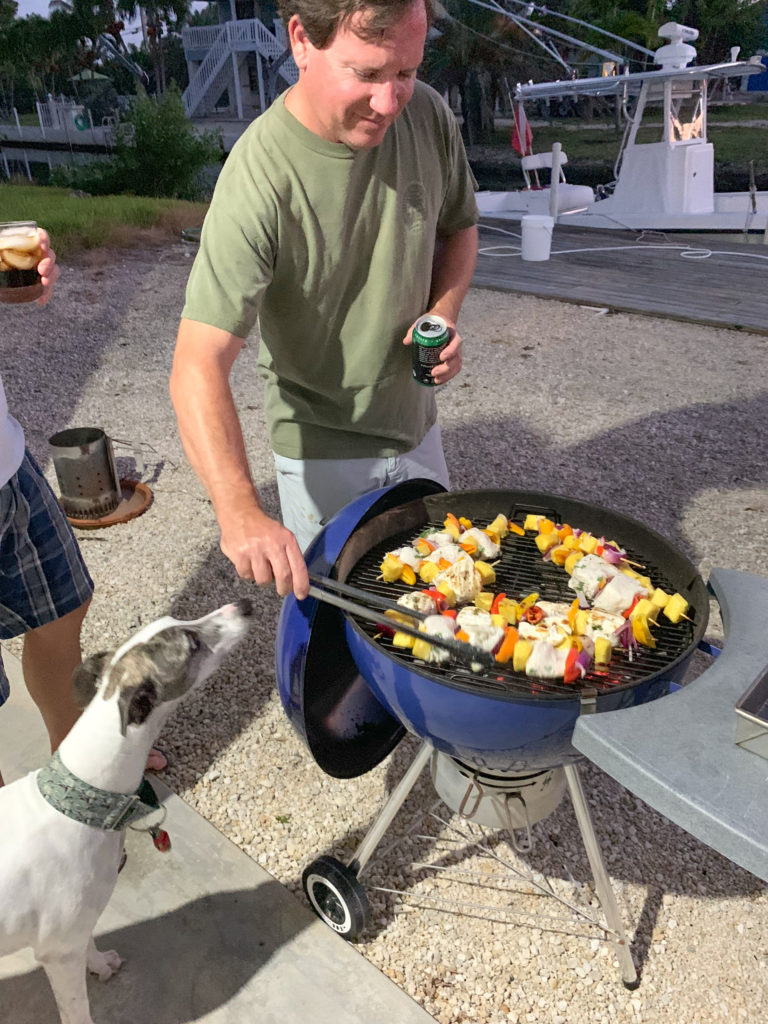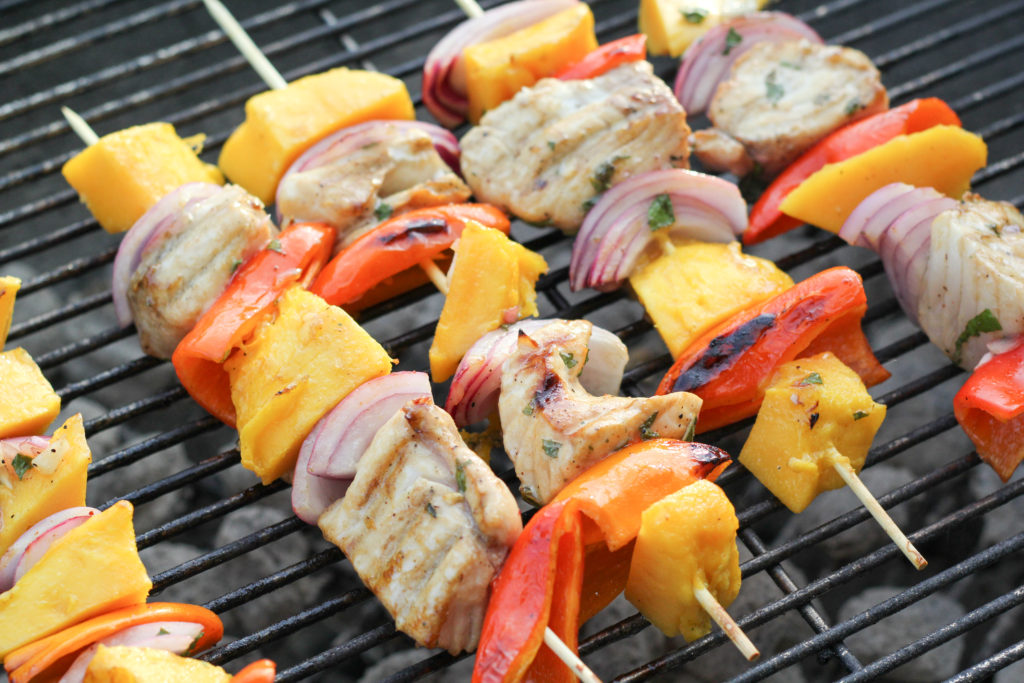 Grill over a hot fire, and flip without fear.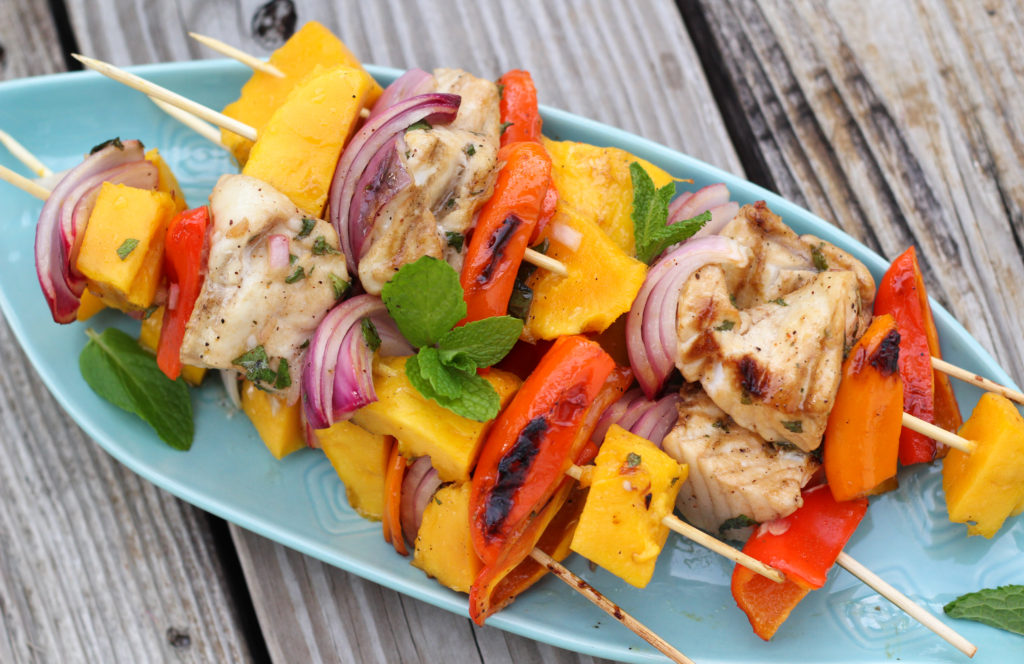 Mojito Grilled Fish Skewers
2018-10-11 12:21:38
Ingredients
1/2 cup your favorite fresh sour citrus juice (key lime, Meyer lemon, sour orange, calamondin)
2 tablespoons light rum
1/2 cup finely chopped fresh mint
3 tablespoons agave nectar
1 tablespoon minced shallots
1/4 cup vegetable oil
salt and pepper
pinch of red pepper flakes (optional)
1 pound thick, firm-fleshed white fish (grouper, mutton snapper, halibut) cut in 2-inch chunks
3 cups small peppers, sliced lengthwise and seeded
3 cups mango or pineapple, sliced in 2-inch chunks
2 cups red onions, sliced in 2-inch chunks
2 tablespoons vegetable oil (for oiling the grill)
fresh mint, for garnish
Instructions
Preheat the grill over high heat. Once heated, scrape the grates clean with a brush or balled up aluminum foil.
In a small bowl, whisk the citrus, rum, mint, agave, 1/4 cup oil, and season generously with salt and pepper and red pepper flakes to your liking.
Arrange the fish, peppers, mango, and onions in a shallow dish and cover with the marinade. Cover and refrigerate 20-30 minutes, then thread onto skewers (makes about 6 skewers).
Once the grill is hot, give it another good scrape to make sure the grates are really clean. Fold a paper towel into a square and use tongs to dip in the oil. Go over the grates several times with the oil.
Place the skewers on the hot grill and grill on each side for 2-3 minutes, or until the fish is opaque and cooked through.
Transfer to a platter and garnish with fresh mint.
Suwannee Rose https://suwanneerose.com/
We love this recipe with black beans and rice.