Yes, fish burgers! If you've never had one, you're in for a treat.
Not only are these made with fresh fish, but fresh coconut, too! I'll admit, it's an adventurous combination, but the coconut has an important role. It serves as a binder, gives the burgers a hearty texture, and keeps them from drying out. It also makes them gluten-free, unlike your typical fish cake or crab cake. You can easily make them Paleo if you so choose.
Lots of Caribbean flavors tie the fish and coconut together. This spicy mango sauce is screaming with sweet tropical heat (unless you choose to tone it down, of course). This time around I used a mix of mystery peppers my friend Coley sent me from her backyard in New Jersey. They added a kick and tons of flavor, and they're magic with mangos. Use your favorite peppers, hot or not!

I recommend making a big batch of these. I actually look forward to them as leftovers. Unlike a cooked fillet of fish, these re-heat quite well thanks to the coconut. They're great for an appetizer. I love them with an arugula salad and the mango sauce as a dressing. Or, treat them like real burgers with buns and toppings.

No matter how you eat them, don't forget that spicy mango sauce! It's good stuff.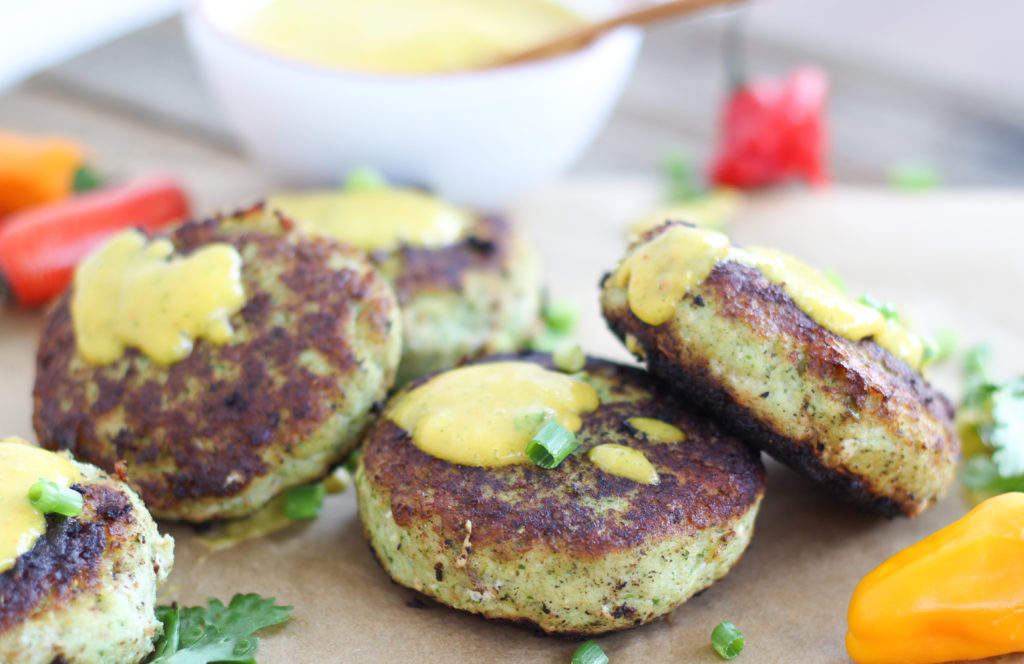 Caribbean Fish Burgers with Spicy Mango Sauce
2016-10-02 06:36:50
For the Spicy Mango Sauce
1 1/2 cups diced mango
a few of your favorite hot chilis, sliced (remove the seeds for less heat)
2 tablespoons mayo*
1 tablespoon fresh lime juice
1 tablespoon minced cilantro
1 1/2 teaspoons Pickapeppa sauce (or Worcestershire)
1 teaspoon honey
1 teaspoon minced ginger
pinch of allspice
pinch of salt
For the Burgers
1 1/2 cups fresh coconut meat chunks
2 green onions
1 pound firm white fish (snapper, redfish, dolphin, trout), cut in chunks
2 1/2 tablespoons Spicy Mango Sauce
2 teaspoons Pickapeppa sauce (or Worcestershire)
pinch of salt
3 tablespoons high-heat oil, plus more to form the patties
Make the Spicy Mango Sauce
Add all the ingredients to the bowl of a food processor and blend until smooth. Pour the sauce into a small serving bowl.
Make the Burgers
Pulse the coconut and green onions in the bowl of a food processor until finely chopped. Move to a large bowl.
Next, pulse the fish until it's chopped but some chunks remain (don't over-process). Transfer the fish to the bowl with the coconut and green onions. Add two tablespoons of the Spicy Mango Sauce, Pickapeppa, and salt. Using a spatula or your hands, gently mix all the ingredients together.
With oiled hands, form the fish mixture into patties about 3/4-inch thick patties.
Heat a skillet over moderately high heat and add the oil. Fry the patties 2-4 minutes on each side, or until they're brown and cooked through.
Serve with Spicy Mango Sauce on top, or on a bun with your favorite toppings, or serve on a bed of arugula drizzled with Spicy Mango Sauce.
Notes
*for Paleo, omit or substitute with coconut oil.
Suwannee Rose https://suwanneerose.com/