Hermine was only a tropical storm when it was heading toward us on Wednesday, so I spent the day making my grandma's guava jam. Our house smelled like tropical paradise and I was canning the last batch when something went POOOW!
It scared the bejeezus out of me, and it even woke up the cat.
And then all the lights went out.
At first I thought I blew up a few mason jars, but this time it wasn't my fault. A transformer exploded outside our house. We were only beginning to feel the effects of Hermine, which turned into a hurricane as it passed by us two days later.
Our power was restored that evening, thanks to these guys who work on our electricity in the middle of storms. They got a big bag of mangos.

While the next two days were dark and stormy, the guava jam definitely helped. I don't think there's anything like the smell of guavas. They're strong, intensely tropical, and slightly musky. Since they're filled with lots of tiny, hard seeds, they're not a fruit you typically eat out of hand. Jam is their destiny.
This was originally my great-grandma Sara Summerlin's recipe, and it became a staple for every generation since. Our pb&j's are made with it. We spread it on toast or crackers with cream cheese. We swirl it with cream or yogurt. You've seen me drizzle it on grilled mangos and icebox cakes. I love it so much.
Guava trees are ripening right now, and as soon as I collected enough I called my grandma for tips.
First, you simmer sliced guavas to get them nice and soft. Next, you use what she calls a "pestler." If you want to get fancy, you can call it a chinois.
Either way, you strain the softened guavas through it and end up with a beautiful salmon pink puree, and you're ready to make some jam.
I use natural cane sugar and Pomona's pectin. This type of pectin allows you to choose the amount and type of sweetener you like, be it honey or even stevia. You can order it online or buy it at Whole Foods or a kitchen store.
Can the jars and you'll be all set for the next hurricane.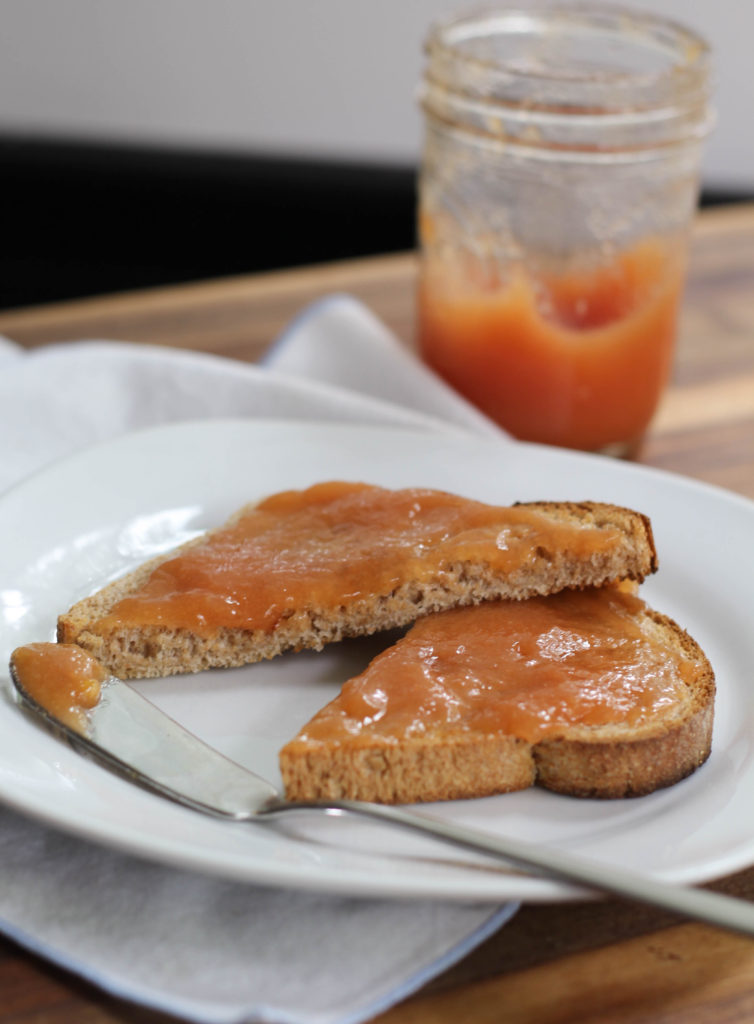 Grandma's Guava Jam
2016-09-03 13:47:56
Ingredients
about 20 ripe guavas
6 teaspoons calcium water*
1/3 cup lime juice
3 cups natural cane sugar***
4 1/2 teaspoons Pomona's pectin*
Instructions
Trim off the stem and blossom ends of the guavas. Quarter them. Place them in a pot with enough water to cover. Simmer for about 15 minutes, or until the guavas are softened.
Transfer the guavas in batches to the pestler or chinois positioned over a bowl and work them through until you've got seeds and fairly dry pulp left. Alternatively, you can pulse them in a blender and strain them through a mesh sieve with a rubber spatula. Discard the seedy pulp.
Measure out 6 cups guava puree into a large pot over medium heat (reserve any leftovers for smoothies).
If using Pomona's pectin*, prepare calcium water and add 6 teaspoons to the guava puree. Stir in the lime juice. Raise the heat and bring it to a boil.
Combine the sugar and pectin and stir it into the boiling puree. Continue stirring it while it returns to a boil. Remove it from the heat. Follow canning instructions** or transfer to clean jars. Allow it to cool, then refrigerate.
Notes
*Pomona's pectin comes with a packet of calcium powder to mix with water according to the directions. Feel free to use other pectins such as Sure-Jell or Ball Classic, which don't have this added step, but you'll have to use the full amount of sugar.
**To can, pour jam into hot, sterilized jars. Wipe rims with a clean cloth. Cover with new, sterilized lids and screw on rings. Boil in a hot water bath for 10 minutes. Remove from water. You should hear the lids pop, and each one should be sucked down. This preserves for 1 year.
***Refer to the Pomona's box for directions for other sweeteners.
Suwannee Rose https://suwanneerose.com/