Happy Friday & Fourth of July weekend! Any cookout plans?
We're firing up the grill, but forgoing the burgers because we've got a freezer full of fish. I know, fish is not classic 4th fare, but I'll dress it up in red, white, and blue and make it look festive.

I think a thick fillet of grilled grouper is better than a burger anyway, especially with a big dollop of this coconut mint chutney. The base is shredded coconut and fresh herbs, all kicked up with some hot chiles.
I adapted this from a classic Indian chutney. Now it tastes like a Thai condiment made in a Florida girl's kitchen. Go figure.
I love coconut and mint, and they're surprisingly delicious together. This year I remembered to give the mint its own container, but it's still growing wild and trying to hop over into my garden beds. I'm trying to use as much as I can before it completely takes over. This is a good way to use a few big sprigs, or more if you like.
For this recipe I use part of the chutney mixed with oil to marinate the fish.
I save the rest to spoon over the top once it's hot off the grill. It's also delicious mixed with warm rice. You can make the chutney a day or two ahead, just give it a good stir before you serve it.
I hope you all have a great weekend with your family and friends and lots of great food! Happy 4th of July!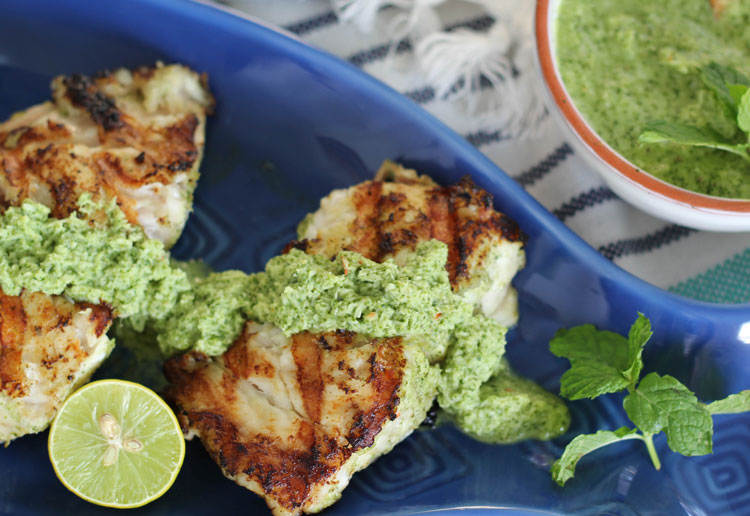 Grilled Grouper with Coconut Mint Chutney
2016-07-01 06:00:32
For the Fish
1 1/2 pounds grouper fillets, rinsed and patted dry
salt and pepper
1/4 cup coconut mint chutney
1/4 cup grapeseed oil, plus more for the grill
For the Coconut Mint Chutney
1 cup packed mint leaves
1/2 cup packed cilantro or basil leaves
1/2 cup unsweetened shredded coconut
1 1/2 tablespoons key lime juice
2 teaspoons coconut oil
1 teaspoon honey
1 teaspoon coarse kosher salt
2 cloves garlic
1/2 teaspoon minced ginger
1-2 Thai chile peppers
1/4 teaspoon ground cumin
1/4 teaspoon ground coriander
zest of 1 key lime
Make the Chutney
Combine all the chutney ingredients in a food processor and blend. While the machine is running, drizzle in 1/3-1/2 cup water, creating a smooth, even mixture. Scrape down the sides if necessary.
Taste and adjust the seasonings- more salt, lime juice, or honey... according to your taste.
Grill the fish
Prepare a medium-hot grill.
Sprinkle the fish with salt and pepper. Combine 1/4 cup grapeseed oil and 1/4 cup chutney in a dish. Using a spatula or brush, coat the fish fillets in the mixture.
Place a couple tablespoons of grapeseed oil in a small bowl. Fold a paper towel into a 2" square. Using tongs, dip the paper towel into the oil and rub it over the grill grates several times to season them. Alternatively, you can use a grill basket, but you'll need to season that well, too.
Grill the fish 3-5 minutes on the first side, depending on the thickness of the fillet. Once the edges are opaque, gently flip the fish and grill it for a couple minutes on the other side, or just until it's done.
Serve with coconut mint chutney, extra key limes, and a big bowl of warm jasmine rice.
Suwannee Rose https://suwanneerose.com/