Kale gets all the love, but I think it's time collards got their share. They're the Southern cousin of kale, and they're equally nutritious and delicious. Unlike kale, collards grow year-round below the Mason-Dixon line. When it gets too hot for all the other greens in the garden, the collards are still going strong.
Who doesn't want an endless supply of big, beautiful greens in their backyard?
If someone asks me what to do with collards, I turn into Bubba Gump: Caldo verde. Rainbow Collard Rolls. Puttanesca with Greens. Spicy Nacho Collard Chips. Collard Kraut. Black-eyed Peas and Greens. Colcannon. You get the idea.
It should come as no surprise that collards are perfect with grits. Typically you find them side-by-side, but here I'm combining them to make one tasty main dish, be it for breakfast, lunch, or dinner. Sauté the greens in a cast-iron skillet, then smother them in cheese grits and bake until the top is golden and crisp. Top it off with creamy, old-fashioned tomato gravy.
It's a perfect tribute to the kale of the South, and I hope it makes you love these humble greens.
Maybe 2016 could be the year of collard greens.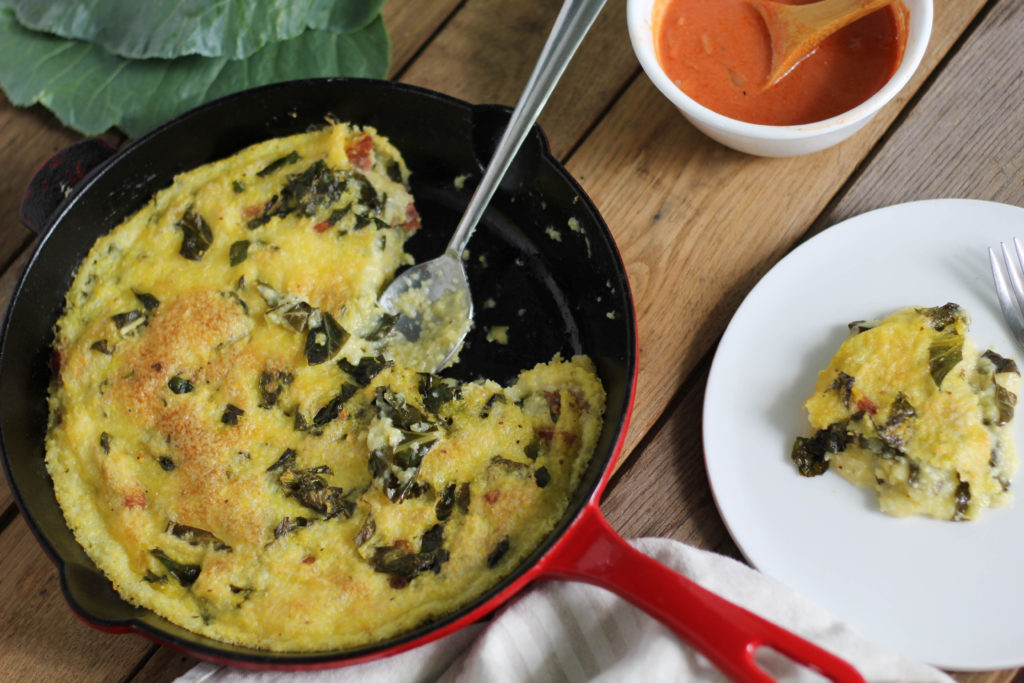 Skillet Grits & Greens with Tomato Gravy
2016-04-16 13:13:42
For the Grits
1 cup stone-ground quick grits
1 cup shredded monterey jack or cheddar cheese
salt & pepper
For the Greens
2 tablespoons olive oil
1/2 Vidalia onion, diced
1 1/2 cups sliced mushrooms (optional)
1 cup diced sausage (optional)
8-10 collard leaves (6-8 cups chopped)
2 cloves garlic, minced
For the Tomato Gravy
1 tablespoon butter
1/2 Vidalia onion, diced
1 tablespoon flour
1 cup strained tomatoes
salt & pepper
1/4 cup half & half
Instructions
Preheat the oven to 375.
Make the Grits
In a medium saucepan, slowly stir grits into 4 cups boiling water and reduce heat to low and cover it with a lid. After 5 minutes, add a pinch of salt and pepper, give it a a good stir, and replace the lid. After another 5 minutes, stir in the cheese, replace the lid, and remove it from the heat.
Make the Greens
Heat the olive oil in a cast-iron skillet over medium-low. Saute the onion for a few minutes until soft. If using mushrooms or sausage, add them now. Once the mushrooms have released juice and start to brown, or the sausage is cooked, stir in the collards. When the collards are all bright green and wilted, add the garlic.
Pour the grits into the skillet and fold them into the greens. Transfer the skillet to the oven and bake for 25-30 minutes, or until the top begins to brown.
Make the Tomato Gravy
Melt the butter in a non-reactive skillet over medium-low. Saute the onion until soft but not brown, about 5 minutes.
Sprinkle flour over the onions and stir well for about a minute. Add tomatoes and a pinch of salt and pepper. Simmer for 5 minutes. Turn off heat and stir in the half & half.
Serve grits & greens piping hot with a big spoon, or wait for it to cool a bit for neat slices. Top each serving with tomato gravy.
Suwannee Rose https://suwanneerose.com/