We always have black-eyed peas on New Year's Day. If you want any luck in the coming year, you better have some. The more you eat, the luckier you'll be.
I never knew why these would make or break the whole year. I figured it was how my family used the leftover Christmas ham hock, and that luck business was a way to convince us to eat it.
While that was probably the case, it's also a Southern tradition going back to the Civil War. The black-eyed peas represent coins (luck), and the greens represent cash (wealth).

I'm only a little superstitious, but I think it's a good idea to eat a big mess of black-eyed peas and collard greens on New Year's even if you're not at all. It's a fresh start. It's also the time of year when the collards are really going off.
The greens are traditionally simmered, but I sauté them so they stay bright green and al dente. The "vegetarian" version of this Southern dish is when the cook hides the ham hock at the end, but I have a true vegetarian option here that still has lots of smoky flavor. I hope this starts your year off right! Happy 2016!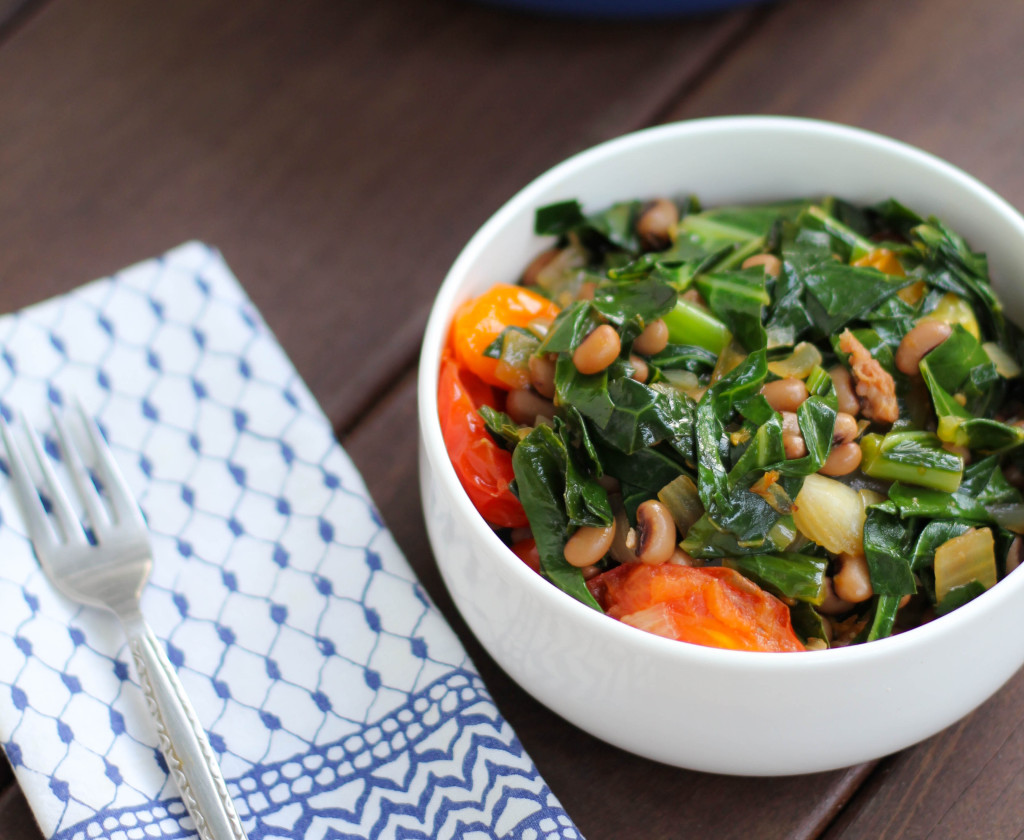 Black-Eyed Peas and Collard Greens
2015-12-28 11:52:56
Ingredients
1/2 cup dry black-eyed peas, soaked overnight
1 ham hock (see notes for vegetarian options)
salt and pepper
1 tablespoon olive oil
1 Vidalia onion, diced
1/2 pound pork sausage, sliced (omit for vegetarians)
2 cloves garlic, minced
1 1/2 cups sliced cherry or roma tomatoes
10-12 leaves collard greens sliced into 2-3" pieces
1/8 teaspoon liquid smoke
2 teaspoons Crystal hot sauce, or more to taste
Instructions
Drain the beans and cover with fresh water. Add the ham hock and a pinch of salt and pepper. Bring to a boil and simmer for about 45 minutes, or until the beans are tender and most of the water has evaporated.
Meanwhile, heat a large Dutch oven over medium. Add the olive oil. Saute the onion, stirring often, lowering the heat if it starts to brown. Cook until the onion is very soft and translucent. Add the sausage and cook until it all begins to caramelize. Stir in the garlic and tomatoes. Allow this to cook for a few minutes, then add the collard greens. Once the greens begin to wilt, add salt and pepper, Crystal, and liquid smoke. Reduce the heat to low.
Once the black-eyed peas are cooked, remove the ham bone and pour them into the collards, including any liquid in the bottom of the pot. Give it a big stir, then taste and adjust the seasonings.
Serve with cheese grits, cornbread, or rice.
Notes
Vegetarian option 1: leave out the meat, drizzle an additional two teaspoons olive oil over the cooked beans and add a few more drops of liquid smoke.
Vegetarian option 2: hide the ham hock.
Suwannee Rose https://suwanneerose.com/