This is the quintessential dinner for many generations of families living along the Indian River. It remains my family's favorite. My grandma loves snook, which she pronounces 'snewk'. During season my cousin brings her a bag on his way home from fishing. She says there's only one way to cook it: deep fry it. She always serves it with cheese grits (thick and yellow cheese grits are for dinner, white and runny plain grits are for breakfast) and sliced tomatoes.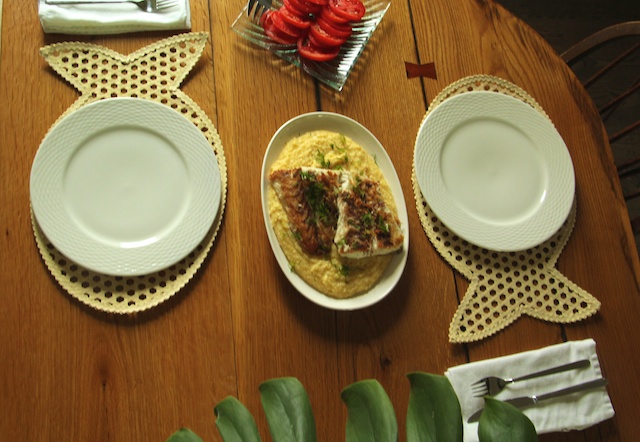 We went snook-hungry in my house for a few years. Even before 2010, snook were strictly protected in Florida waters. You have to have a special permit added to your fishing license to keep one. But after the severe cold of 2010 drastically reduced the population, catching snook was not permitted in Gulf waters until August of 2013. Now the season is closed from Dec. 1 through the end of February and May 1 through Aug. 31. The bag limit is one fish per person, per day; the slot size limit is 28 to 33 inches. See the Florida Fish and Wildlife Conservation Commission for more information on snook and other fishing regulations.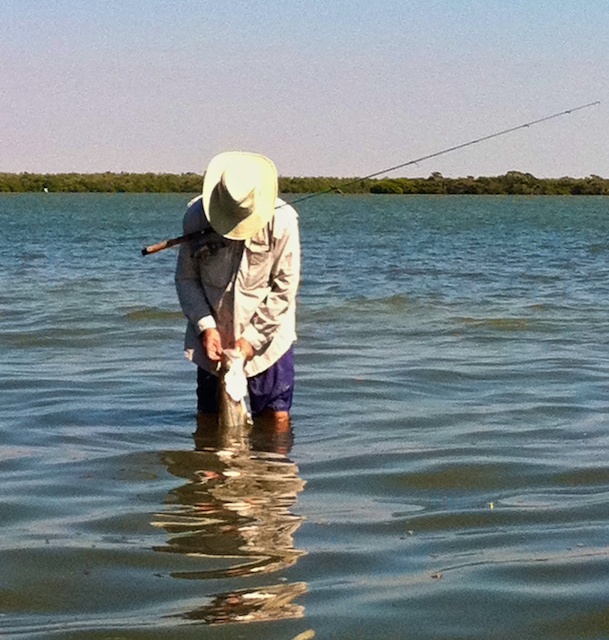 My husband caught a few during season this year. We saved some fillets in the freezer for a special occasion. After going without it for so long, we appreciate it when we have it. We don't deep-fry the way grandma does. We cook it mostly on one side so it gets a golden, crispy top crust, then we flip it over to finish it only for a minute or two. And, of course, we always eat it with cheese grits and sliced tomatoes.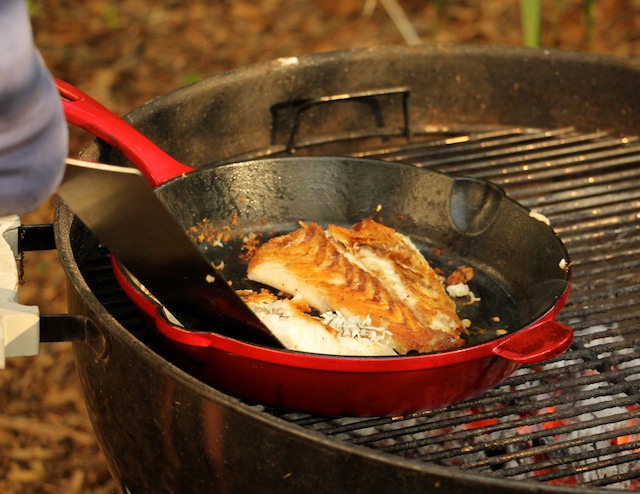 ---
Snook and Grits
Ingredients for the grits:
3 cups water
3/4 cup stone-ground grits
1/2 cup grated cheddar cheese
1 1/2 tablespoons butter
1/2 teaspoon garlic powder
1/2 teaspoon salt
Directions for the grits:
In a medium pot with a lid, bring the water to a boil. Slowly stir in the grits, salt, and garlic powder. Reduce the heat to medium-low, put a lid on it, and cook for 3 minutes. Take off the lid and add the butter. Give it a good stir and scrape what might be stuck to the bottom. Add the cheese. Reduce the heat to low and replace the lid. Turn off the heat after 3 minutes. Keep the lid on until it's time to serve it.
Ingredients for the fish:
2 fillets of snook
2 tablespoons ghee (clarified butter)
salt and pepper
Directions for the fish:
Pat the fish dry with paper towels. Sprinkle it with a bit of salt and pepper. Heat a cast-iron skillet over medium-high. Add the ghee. Fry the fish on one side until it's opaque on the edges and almost cooked through, about 4-7 minutes, depending on the thickness of the fillet. Flip the fish and finish cooking for 1-2 minutes.
The grits can be served on a platter with the fish on top or in a separate bowl. Garnish with a little fresh parsley or dill. Serve with a plate of sliced tomatoes sprinkled with salt and pepper.