The signs of fall in Florida are subtle.
I see it first in the angle of the sunlight through my kitchen windows. I think all longtime Floridians have something like that, a little signal the heat will let up soon. What do you notice first?
As soon as it maybe feels a little bit cooler in the mornings, we all start asking each other, "did you notice it, too?" because by 9am it's gone, along with our hope.
That doesn't stop anyone from celebrating the season, or lack thereof. Come October, my neighbors break out all the decorations. There are skeletons sitting on porches and giant spiders and ghosts hanging from the oak trees along my street. I love the Halloween stuff, but all the pumpkins and the wreaths made of "fall leaves" always seem out of place. We need more transitional Florida-style fall decor. I don't know what exactly that is, but here is a start.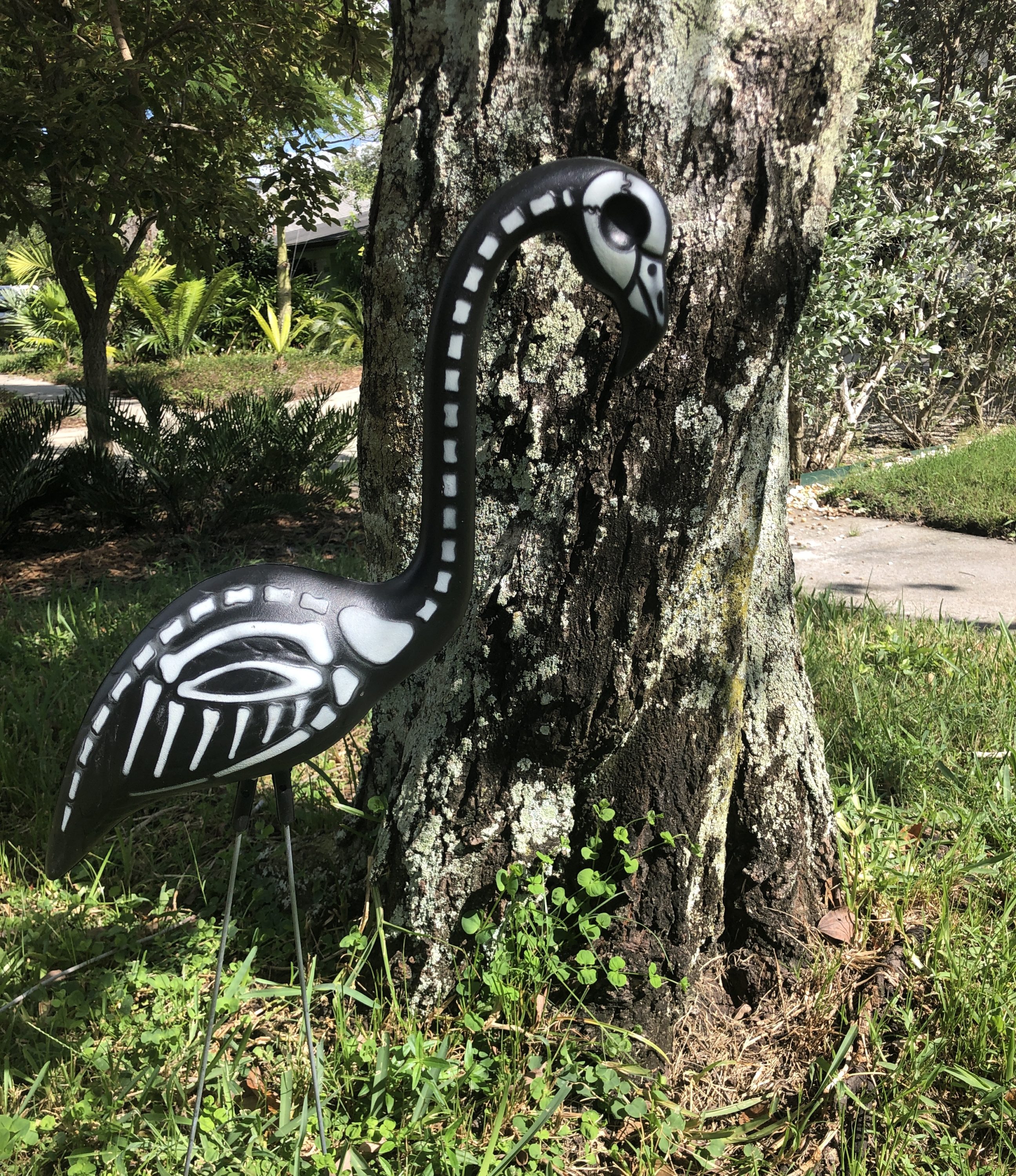 My friend Cindi's zombie flamingos.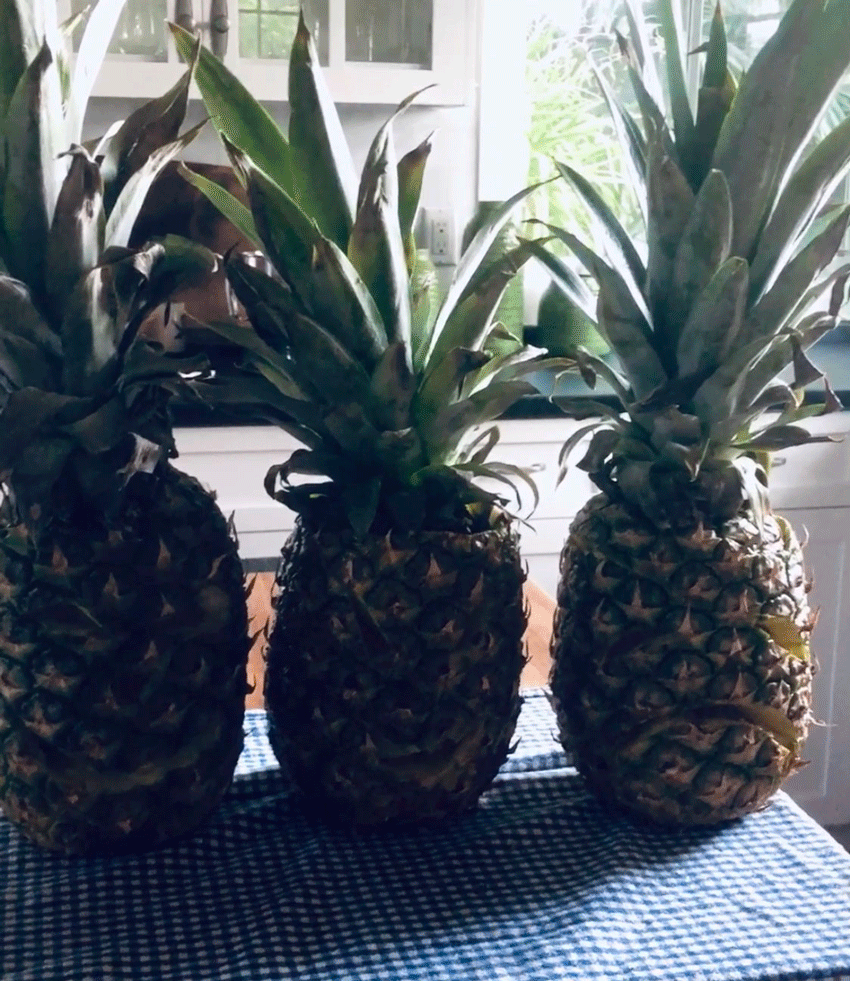 And pineapples carved like jack-o'-lanterns.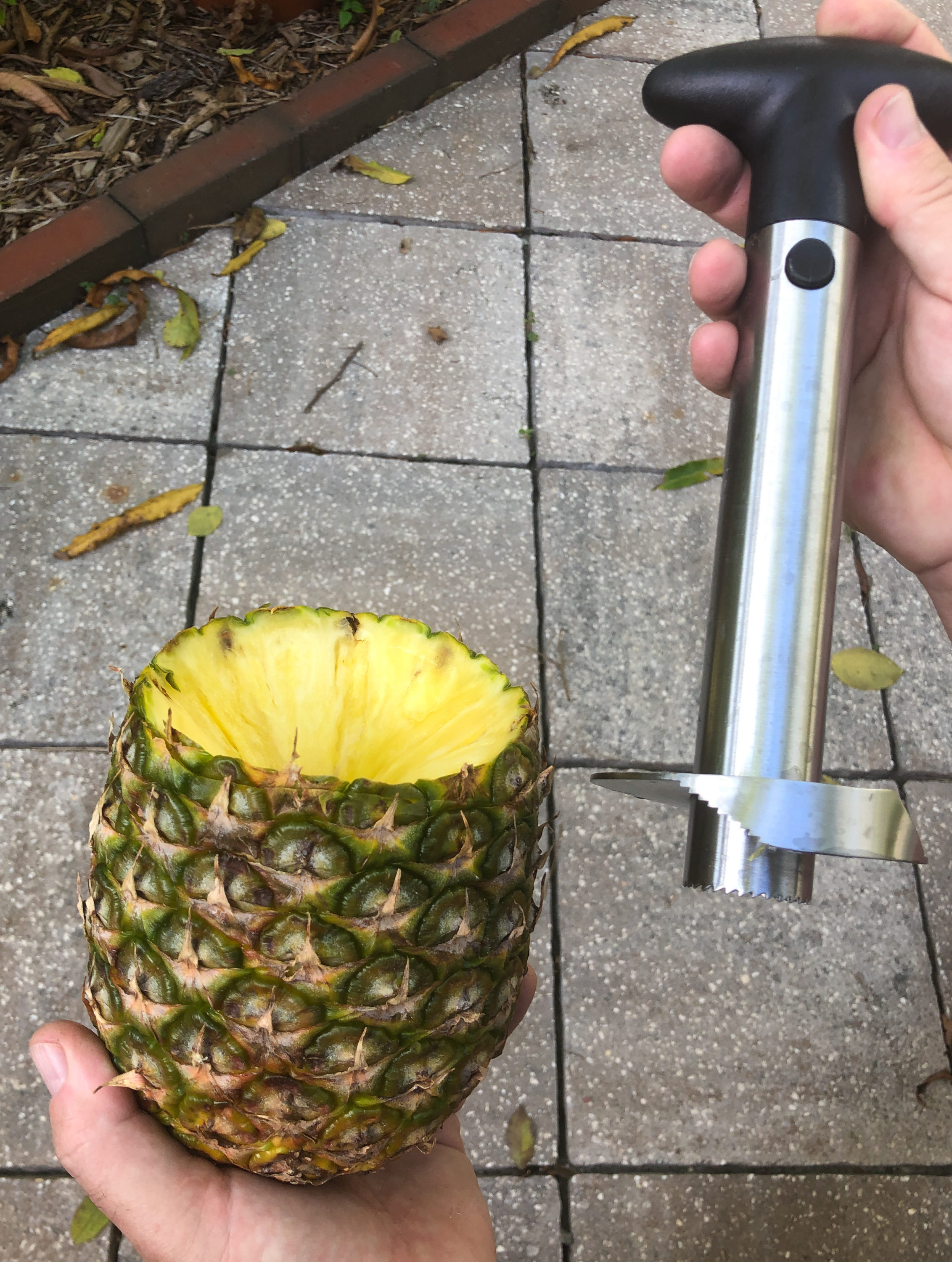 I saw them in the newspaper a while back and had to try them out. It turns out, pineapples are even easier to carve than a pumpkin, and this tool makes them a breeze.
I normally don't like dedicated kitchen tools. Mango and avocado slicers are worthless. But a pineapple corer is awesome. The only downside is you need a pretty big pineapple (homegrowns are usually too small). This easily whips them into a spiral of fresh fruit to eat and a beautiful pineapple shell for carving.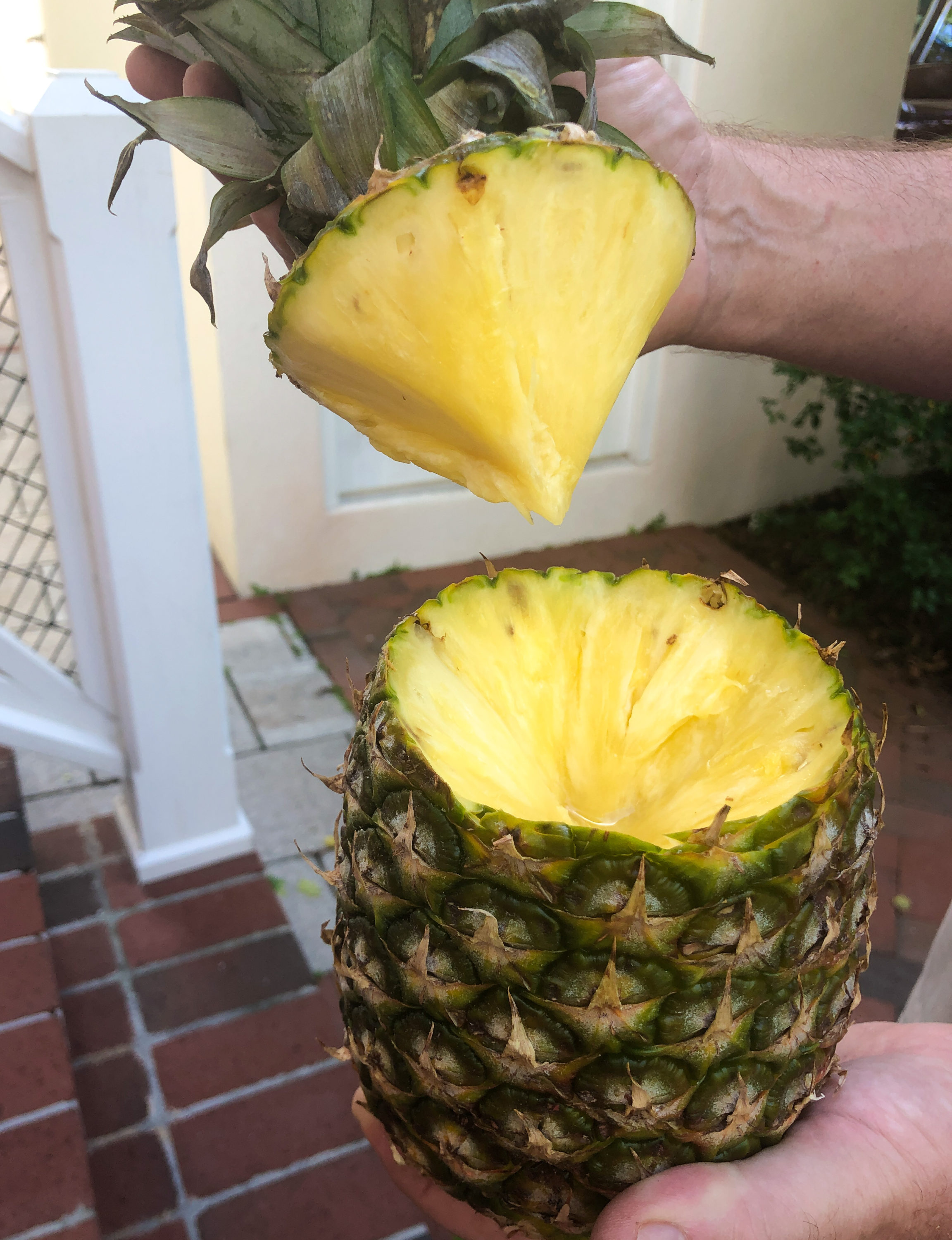 Also worth noting, don't just slice the top straight across, go at a 45-degree angle so it fits snugly back on top. Bonus: you can plant that part later.
I used these LED votives that came with a little remote control. They even flicker!
But let's be real. It's hot and sticky and our insects are ravenous, so this (or a carved pumpkin) is not going to last all that long outside. You can make a water well to keep the ants away. Just fill a plate or shallow dish with water, and put the pineapple on a smaller plate in the center. If you really want to make it last, some time in the fridge every now and then will help.
I also speared them on bamboo stakes to make tiki torches. I call them pineapple freaky torches. They're a work in progress. ha.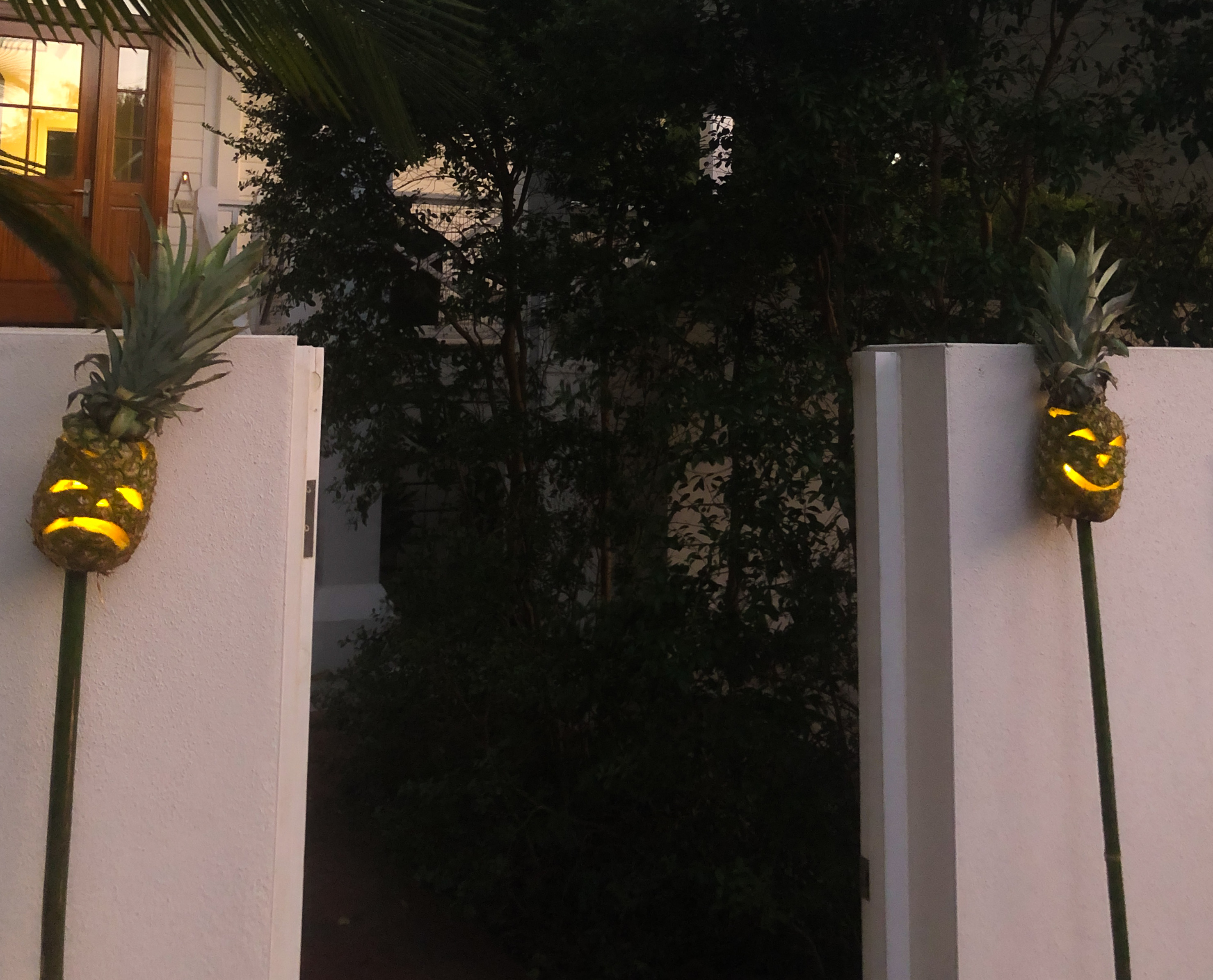 I've got plenty of pineapple recipes on here to use up all that fruit, and more coming at you soon.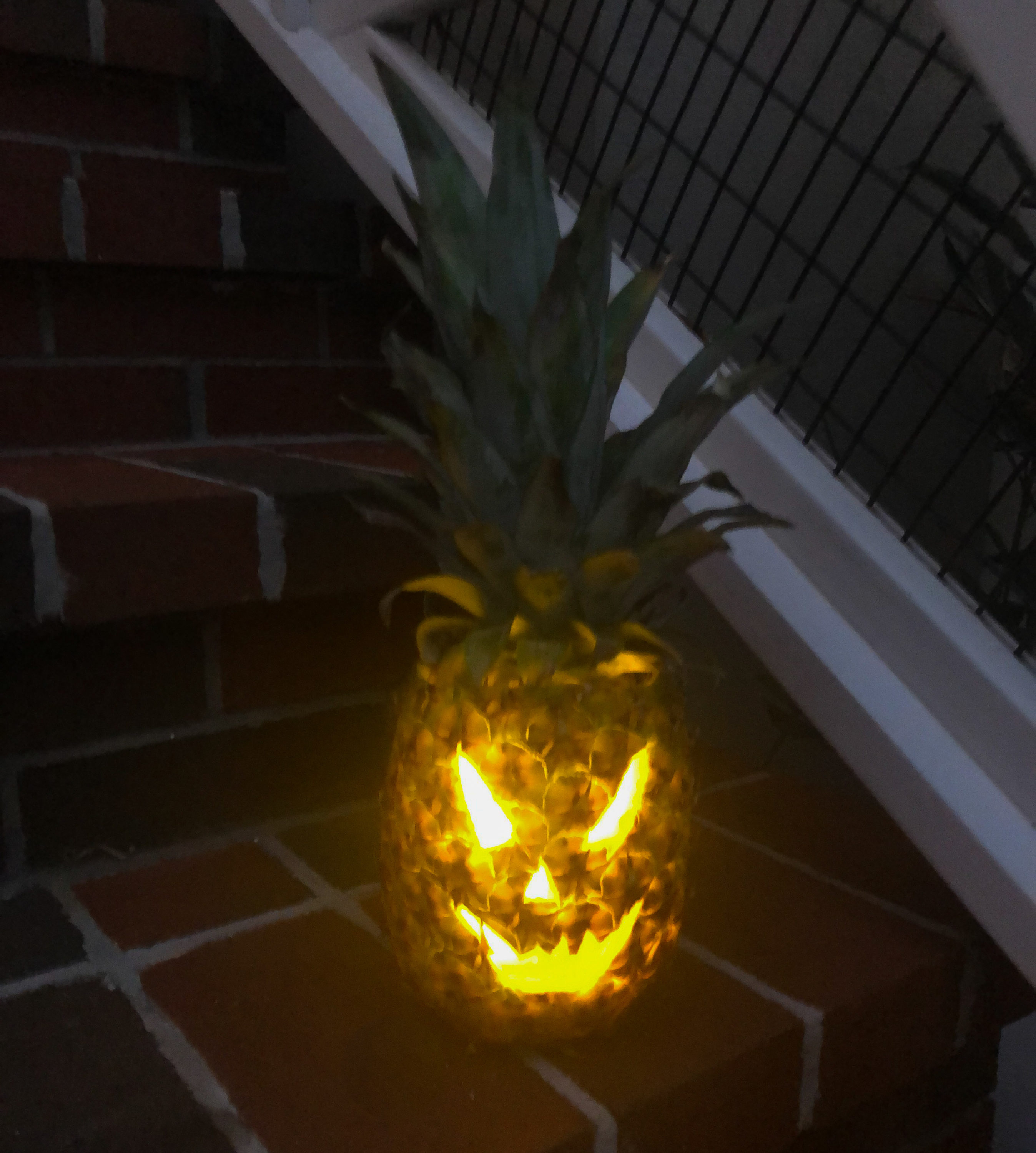 Enjoy all the little hints of fall, and happy Halloween!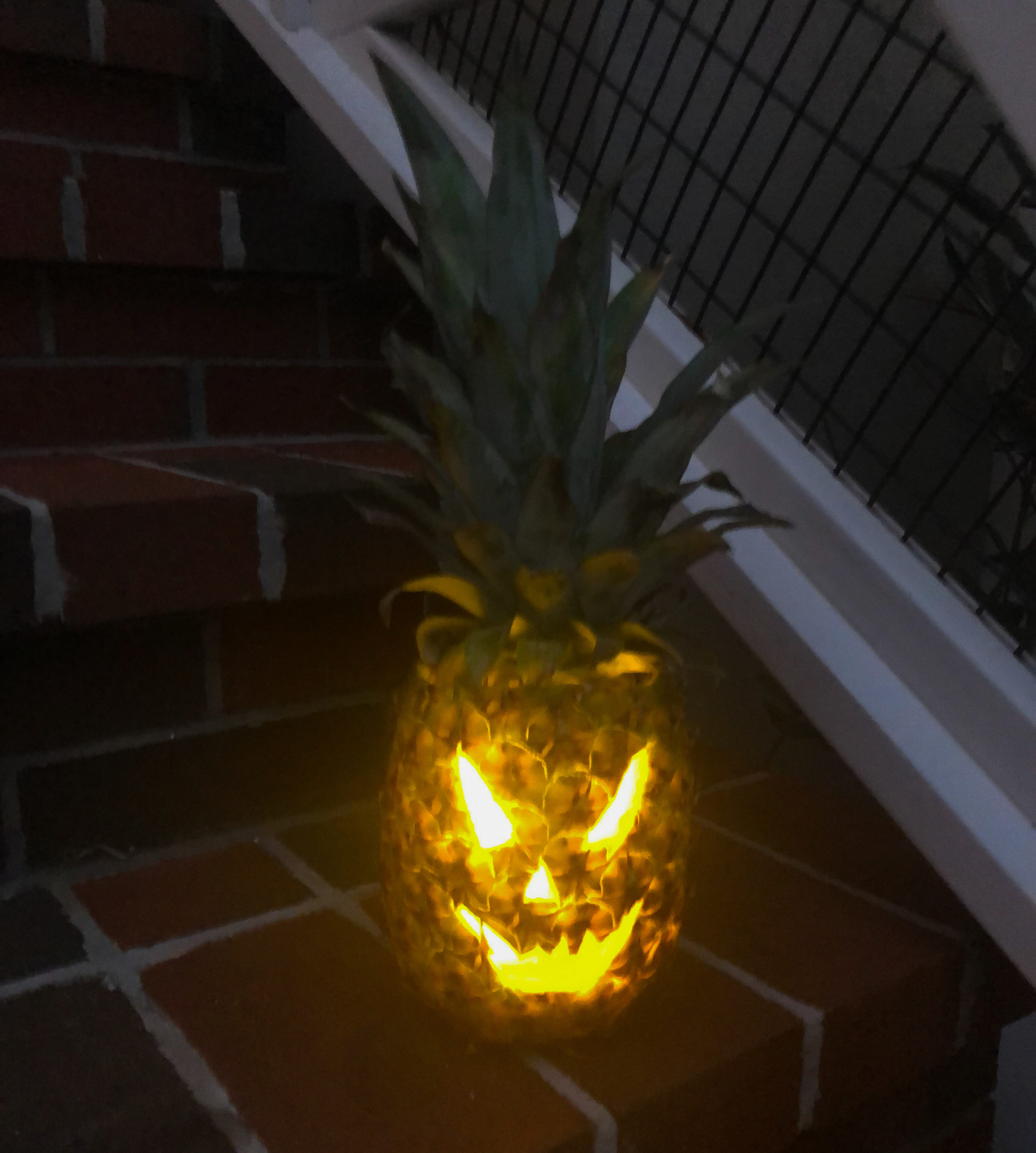 Pineapp-o'-lanterns and freaky torches
2019-10-11 12:49:38
Ingredients
1 large pineapple
1 LED votive
optional: bamboo stake
Instructions
Slice the top of the pineapple off at a 45-degree downward angle so the top will fit back back on the pineapple base without sliding off.
If you've got a pineapple corer, insert the blade into the flesh and twist the handle. When you feel you're almost to the bottom of the pineapple, wiggle the handle and slowly pull the tool out to reveal spiraled pineapple fruit. Slice off the remaining core inside.
If you don't have a corer, use a spoon to carve out the flesh in layers, and cut the core with a paring knife as necessary, leaving a half-inch of the outer shell. Repeat until you get about 2 inches from the bottom.
Carve out your jack-o'-lantern face.
Place the votive inside and pop the top back on.
Keep your pineapp-o'-lantern on a plate on top of a larger shallow dish of water to keep ants away.
For freaky torches, cut a bamboo stake with angles at the top and bottom, whatever height you would like. It helps if you slice it where the natural ridge of the bamboo is about a couple inches from the top, which gives the pineapple a ridge to sit on. Twist the pineapple onto the bamboo, then stake it in the ground.
Suwannee Rose https://suwanneerose.com/