I'm going to admit right now that title is a little misleading. Possibly clickbait.
There are no tacos today. It's a salad. And a kale salad, no less. But wait!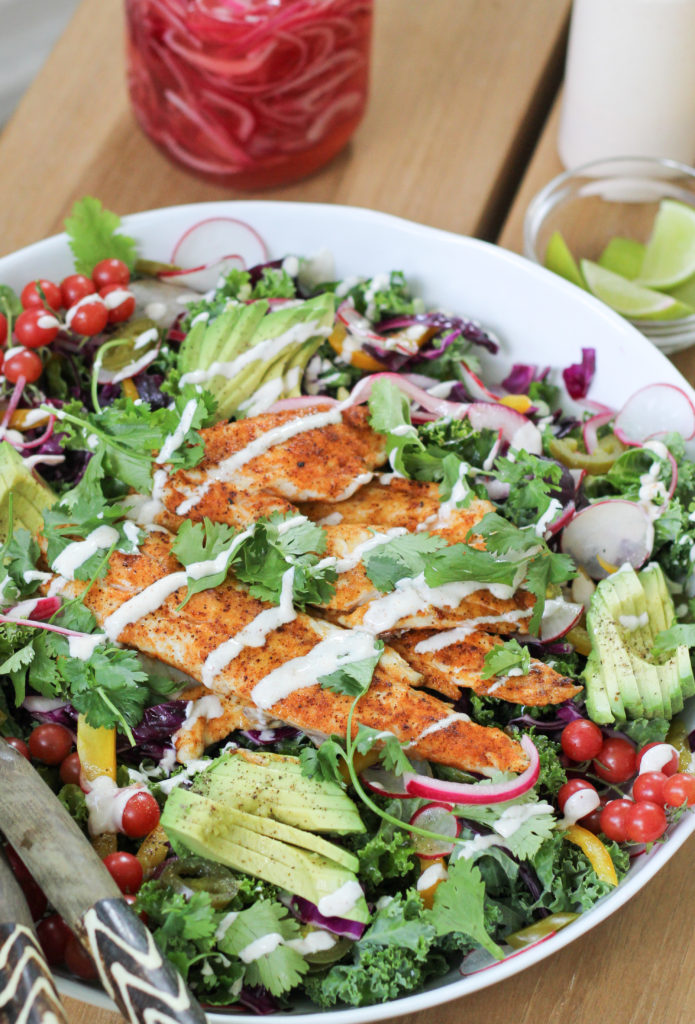 I have my reasons! This is an exceptional kale salad that incorporates all your favorite fish taco fixins. I would like to point out a bonus of eating fish taco ingredients as a salad: you are not limited to what you can fit inside a tortilla (or 3). Instead, you dive straight into a bowl of good stuff. There's color, crunch, and loads of flavor. The kale is dressed with key lime vinagrette, the fish is seasoned with pepper and cumin, and there's even a key lime chipotle crema to drizzle over the top. Top it off with a rainbow of fresh and pickled vegetables, and maybe… just maybe… you can get by without the tacos. Think of it as a healthy weeknight thing with zero sacrifice in flavor.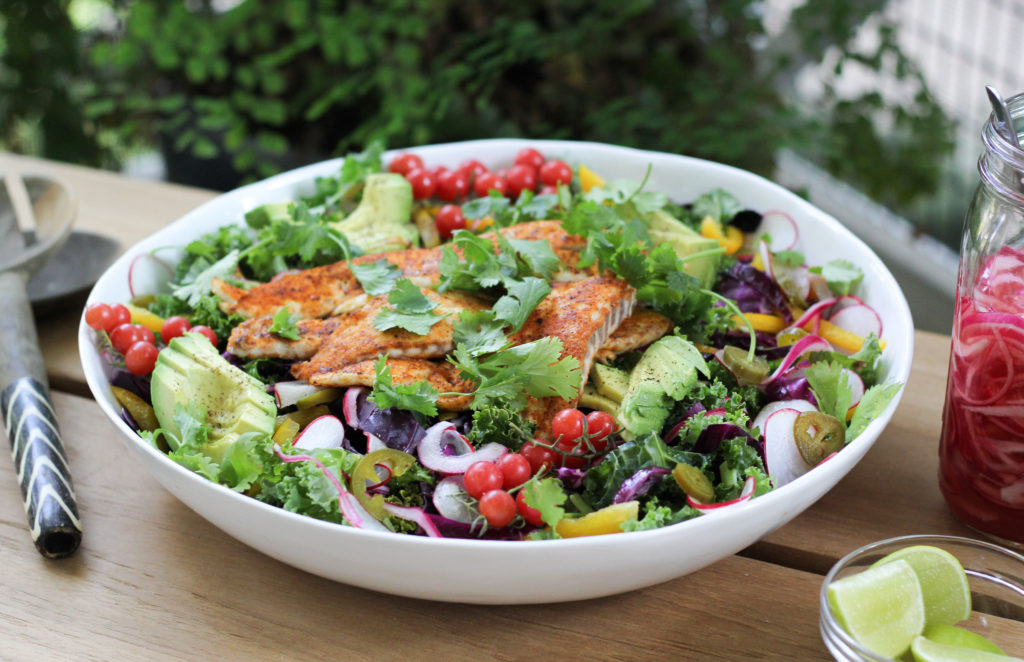 Now if you were coming to my house for dinner, I would make homemade tortillas to go along with this, or even fry up some tortilla strips to top the salad. I'm nice like that.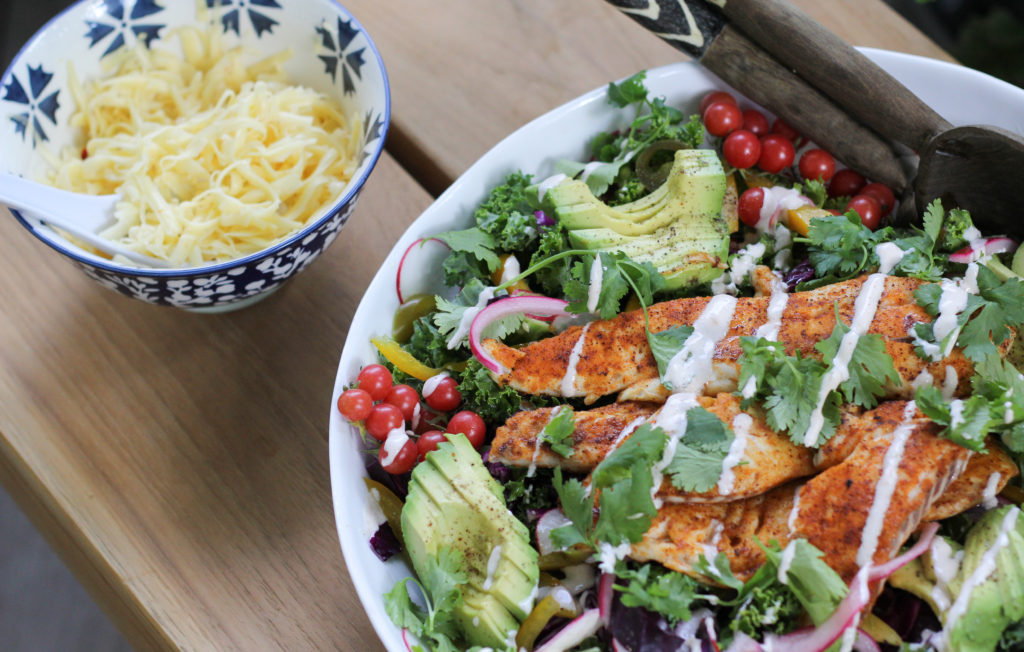 I'm also nice enough to grate cheese on the side, because some people think a faux-taco salad would not be complete without cheese.
The list of salad ingredients is long, but it's just a suggestion. Use whatever you like or whatever you've got on hand. With a flavorful dressing and well-seasoned fish, you can't go wrong.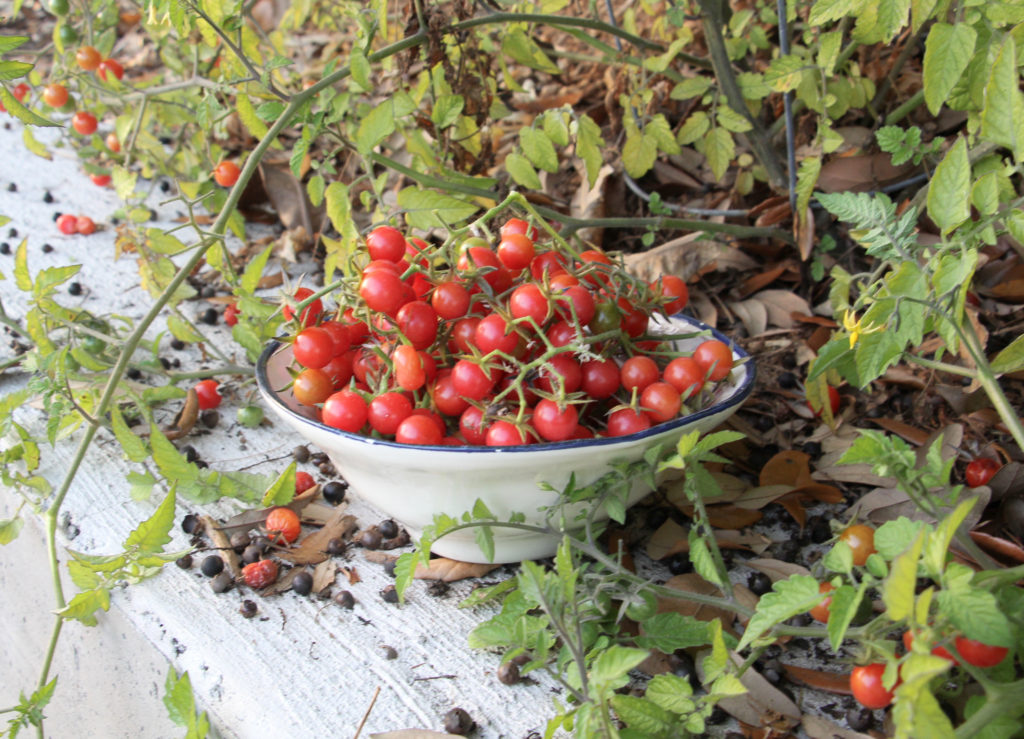 Garden update: After I picked the last of the wilting garden greens and a few scrawny radishes last week , I threw in the trowel. I don't bother with summer vegetables. There are very few things that can withstand this heat, and the bugs get out of control. Besides that, we've got tons of mangos to contend with. For the summer months, we cover the vegetable beds in plastic and allow them to rejuvenate. We still have all these tiny Everglades tomatoes, which have become the dominant "weed" in our yard. Not complaining. I top our salads with clusters of them so they don't disappear in the bottom of the bowl.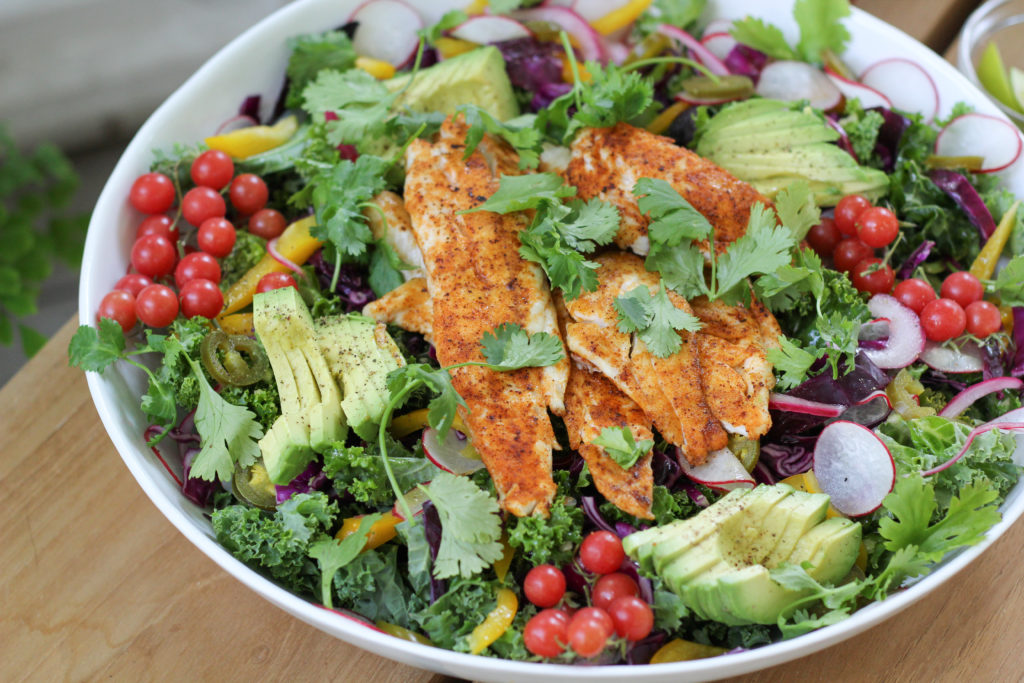 Giant salads with fish make the best summer dinner. I hope you'll try this one.
Key Lime Fish Taco Kale Salad
Ingredients
1

pound

snapper or other white fish fillets

2

tablespoons

high-heat, neutral oil
Fish Seasoning
1

tsp

ground cumin

1

tsp

chili powder

1

tsp

smoked paprika

1/4

tsp

onion powder

1/4

tsp

garlic powder

1/2

tsp

kosher salt

1/4

tsp

black pepper
Key Lime Chipotle Crema
2/3

cup

Mexican crema or sour cream

2

chipotles in adobo, plus sauce to taste

juice of 1 key lime
Key Lime Vinaigrette
2

tbsp

key lime juice

2

tbsp

apple cider vinegar

1

tbsp

honey

1

tsp

Dijon mustard

1-2

minced garlic cloves

1

tsp

Fish seasoning

1/3

cup

olive oil
For the Salad
1

bunch

kale, chopped (approx. 5 cups)

2

cups

shredded red cabbage

1 1/2

cups

chopped red or yellow bell peppers

1/2

cup

thinly sliced radishes

1/2

cup

thinly sliced jicama
Optional Toppers and Garnishes:
cilantro

cherry tomatoes

thinly sliced avocado

pickled red onions

pickled jalapeños

crumbled queso, shredded pepperjack or cheddar
Instructions
Clean and pat the fish fillets dry with a paper towel. Pour the oil in the skillet. Mix up the fish seasoning in a small bowl and set aside. We'll get back to that.

Add the crema, chipotles and adobo sauce (to taste) and the juice of a key lime to a blender and blend on high power until smooth. Pour into a small bowl or squeeze bottle and refrigerate until ready to use.

Whisk up all the ingredients for the vinaigrette except the oil. Slowly drizzle in the oil while whisking. Set aside.

In a large salad bowl, toss the kale, cabbage, peppers, radishes, and jicama. Pour the vinaigrette over the top and toss well to coat.

Heat the oil in the skillet over medium-high. Sprinkle the fish seasoning evenly over all sides of the fillets. Once the oil is hot, arrange the fish in an even layer in the skillet without touching. If necessary, cook two batches. Once the fish is cooked about two-thirds of the way through on one side, turn and finish cooking on the other side. This can take anywhere from 2-5 minutes per side. Test doneness by inserting a skewer into the thickest part of the fillet. As soon as it slips through easily, it's done.

Transfer the fish to the top of the salad. Sprinkle with cilantro. Arrange cherry tomatoes, avocados, pickled red onions and jalapeños, and cheese over the top. Drizzle with key lime chipotle crema.