The collards have grown so big and healthy this year.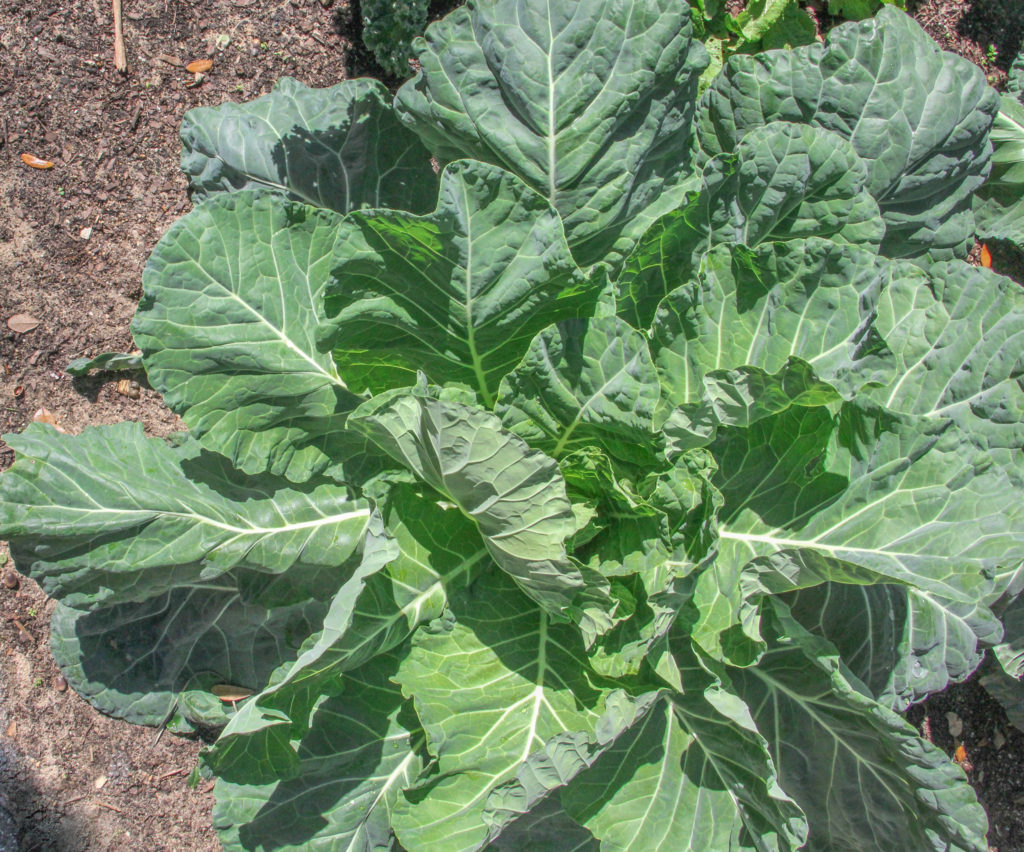 But I know how this story ends. As the days get balmier, the bugs get buggier. Pretty soon they'll find my beautiful collards, and my arsenal of soap and water won't hold back the swarms. Only one question remains: how many collards can we eat before the whiteflies and the cabbage loopers take over?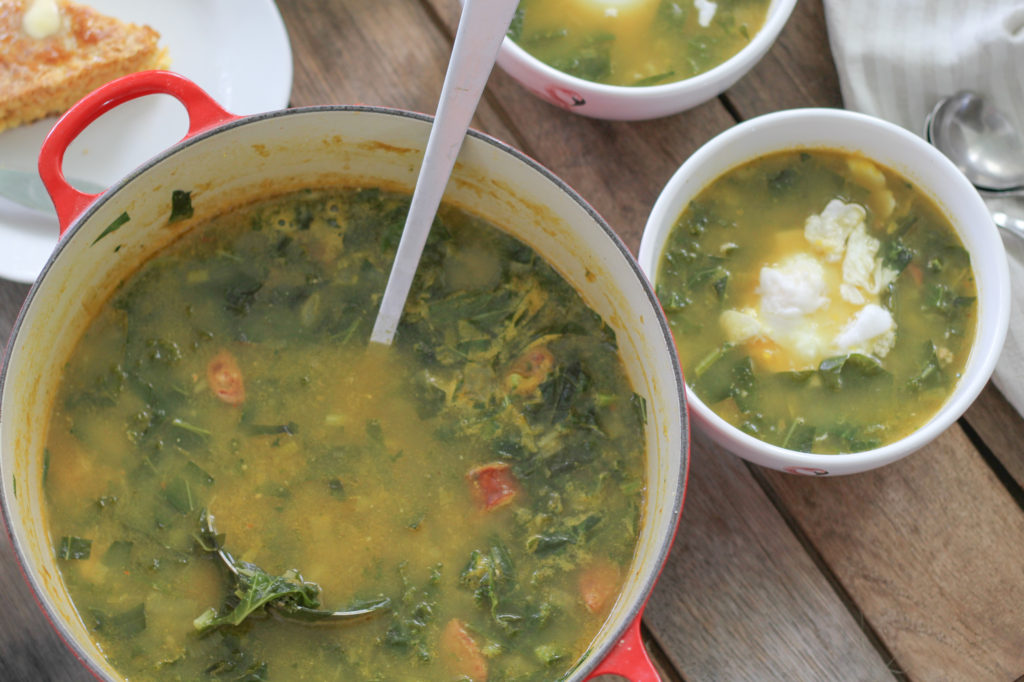 I was on the brink of collard burnout when my mom sent me this recipe. It's inspiring me to power through these greens 'til the bitter end. It's a big giant pot of soup, and yeah, I've made lots of collard soups before, but this one is unique. It's made with smoky sausage and toasty cornmeal and poached eggs that come together in this rich, velvety broth. I believe you can add as many collards as you like, but I may have gone overboard on a few batches. We're thinking 20 leaves might be the cut-off.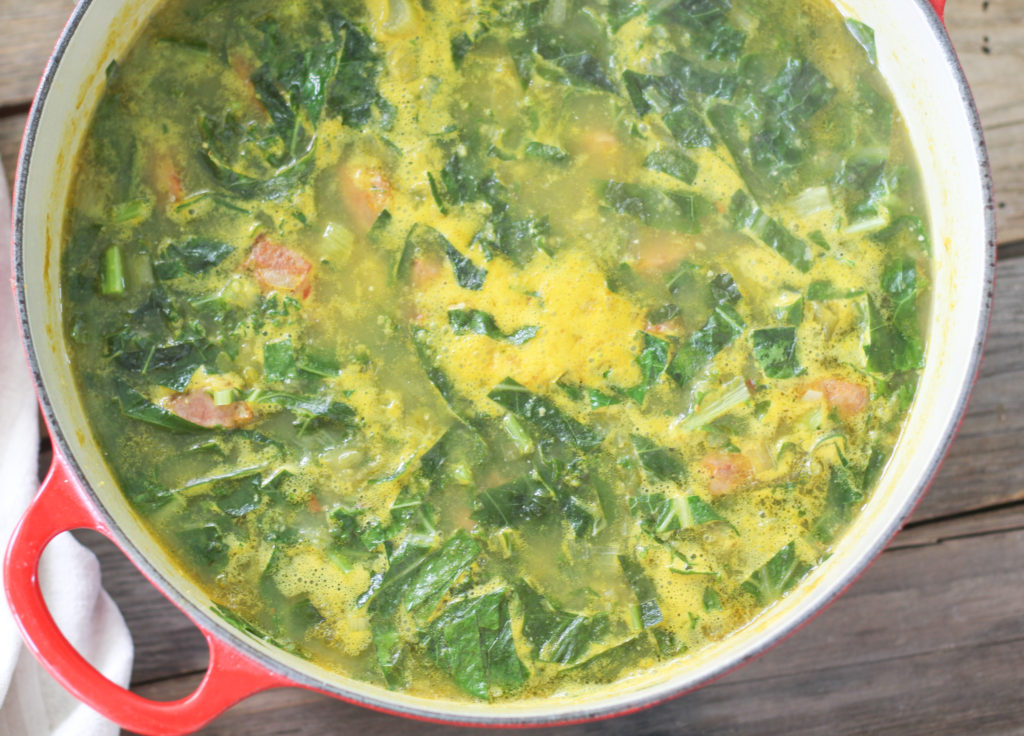 I'm sure you can make this vegetarian or vegan. As a matter of fact, I've been wanting to try it with smoky-flavored tempeh. If you go that route, be prepared to use a generous amount of oil so the cornmeal doesn't stick to the bottom of the pot. I'll add a note to the end of the recipe after I give it a shot, and if you (Ali?) try it , let me know!
For the omnivores out there, you're going to start with some sausage, preferably andouille. Get it nice and brown, and then layer in your onions and garlic.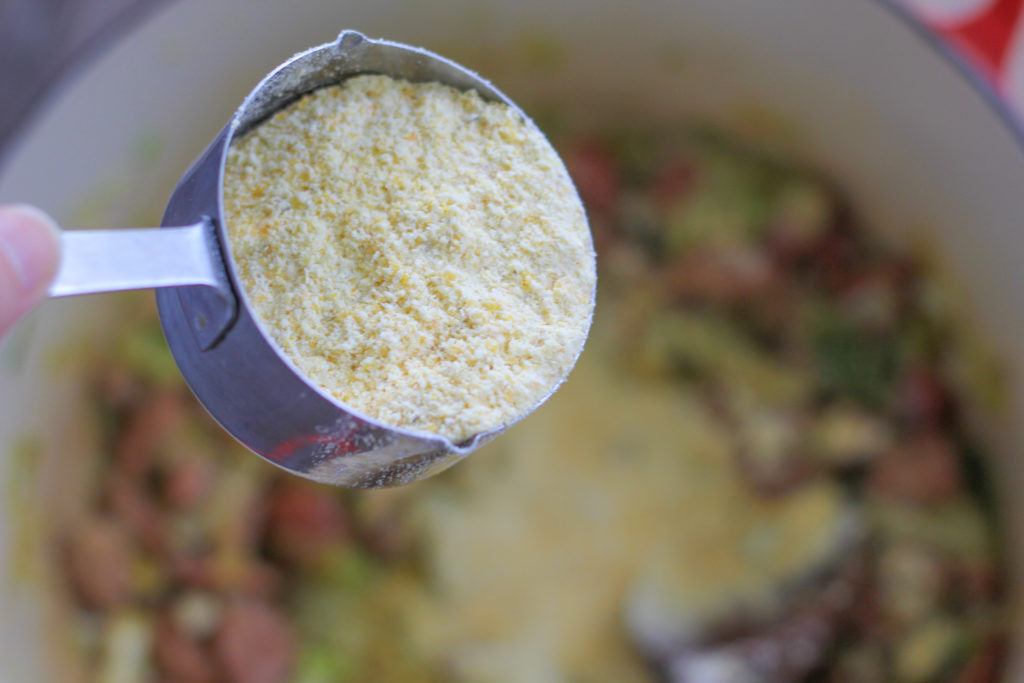 Slowly stir in the cornmeal, getting it as toasty as possible without totally sticking. Then add your liquids and a big heaping pile of chopped collards. Simmer until the collards are cooked just how you like them, then poach an egg for each person.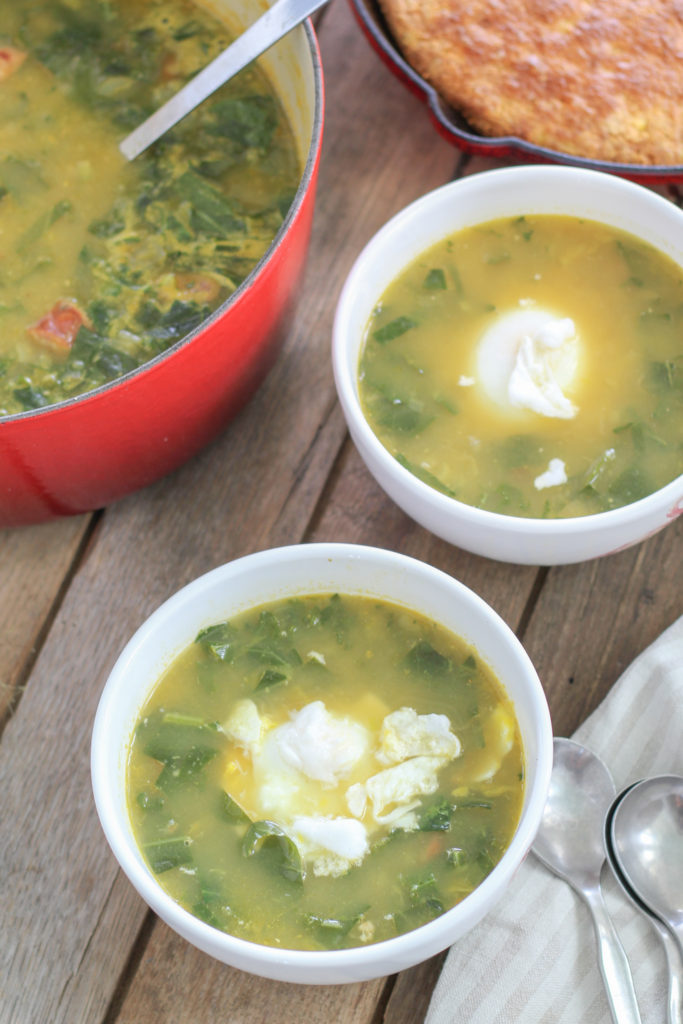 Ladle into bowls and serve with a thick slice of cornbread.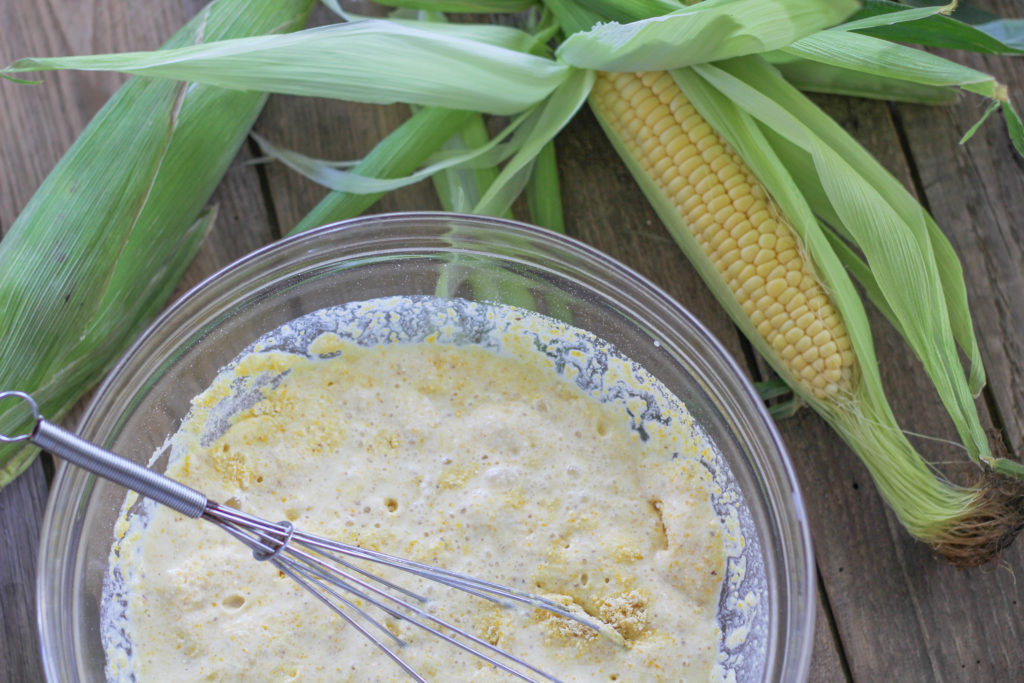 You've already got the cornmeal out, so you may as well make it homemade. Here's my all-time favorite cornbread recipe. If your idea of cornbread is sweet, fluffy muffins, this likely won't be your thing. But if you love old-fashioned, southern-style skillet cornbread, you've come to the right place. There's no flour or sugar, but some bacon fat and an ear of corn won't hurt. My brother requires a chopped jalapeño or two. The top is golden, the inside is soft and crumbly, and then there's all those crispy edges.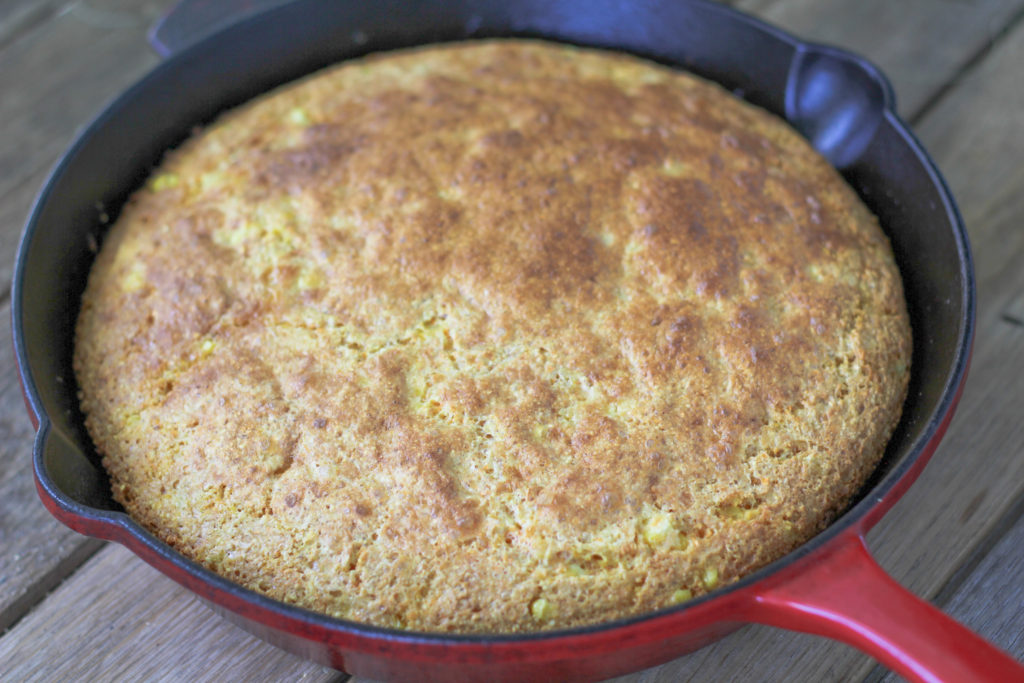 Each warm slice is a little bit of heaven slathered with butter.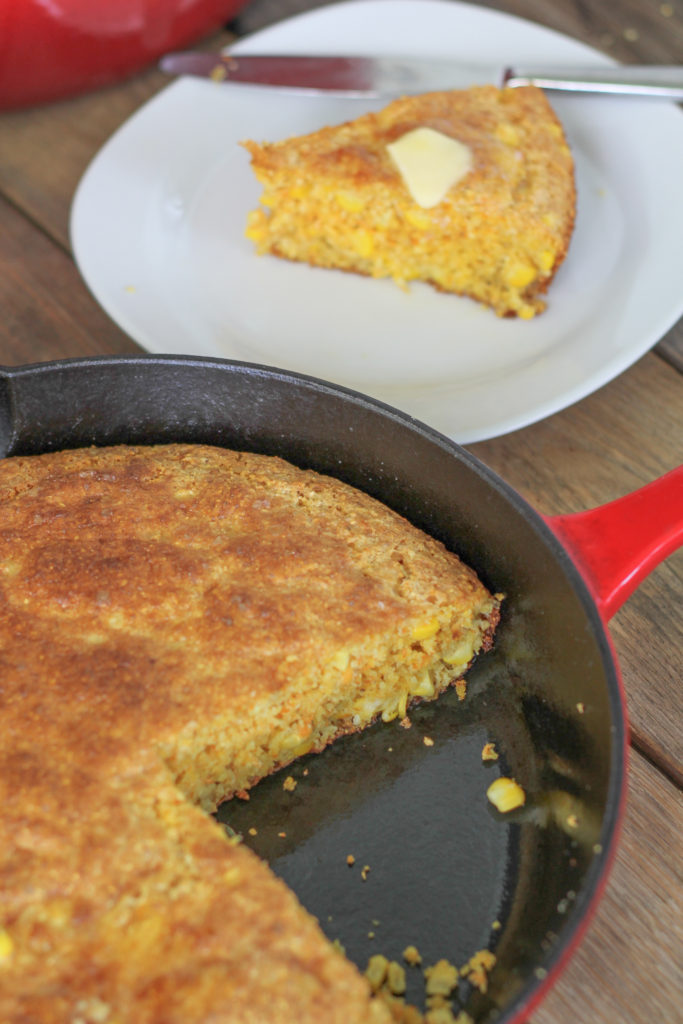 I hope this inspires you to power through some greens, too.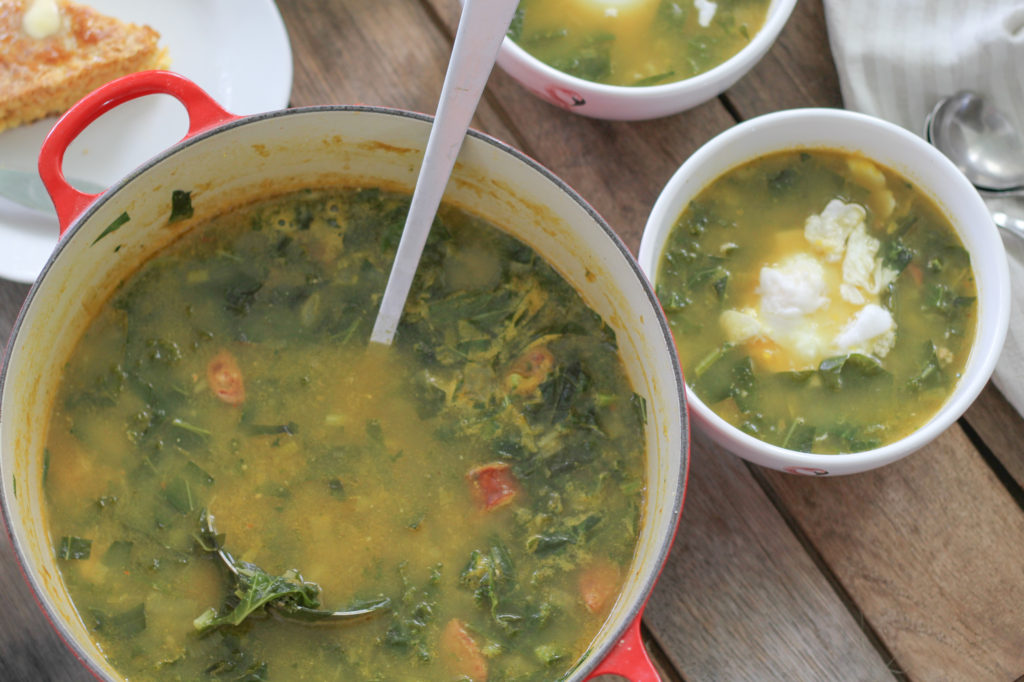 Smoky Collard Soup with Cornmeal
2017-04-21 10:32:32
Ingredients
3 tablespoons olive oil
8 ounces andouille sausage, sliced in half lengthwise, then crosswise ½ inch thick
1 Vidalia onion, chopped
6 garlic cloves, minced
½ teaspoon crushed red pepper flakes
½ cup cornmeal*
4 cups broth or stock (homemade or store-bought, any type)
12-20 large collard leaves, ribs and tough stems removed, chopped
2 teaspoons fresh lemon juice
1/2 teaspoon hot sauce, plus more for serving
2 teaspoons distilled white vinegar
an egg for each person
Instructions
Heat 3 Tbsp. oil in a large Dutch oven or other heavy pot over medium-high. Cook andouille, stirring often, until browned all over, 5–8 minutes. Add onion and garlic and cook, stirring often, until onion is translucent, 5–7 minutes. Stir in ½ tsp. red pepper flakes, then, stirring constantly, gradually add cornmeal. Cook, stirring often, until cornmeal is slightly darkened in color and toasty smelling, about 5 minutes. Stirring constantly, gradually add broth and bring to a simmer. Add collard greens, hot sauce, and lemon juice, plus additional water to cover the greens. Cover the pot part-way. Reduce heat and gently simmer, stirring occasionally, until collards are tender and soup is thick, 35–45 minutes. Thin soup with a little broth if needed; taste and season with salt and pepper.
Meanwhile, pour water into a large saucepan to come 3" up sides and bring to a boil. Reduce heat to a gentle simmer and add vinegar. Crack an egg into a small bowl, then gently slide egg into water. Repeat with remaining eggs, waiting until whites are opaque before adding the next one (about 30 seconds apart). Poach until whites are set but yolks are still runny, about 3 minutes. Using a slotted spoon, transfer eggs to a platter.
Ladle soup into bowls. Top with poached eggs and serve with hot sauce and cornbread.
Notes
I used Bob's Red Mill organic medium-grind cornmeal
Adapted from Bon Appetit
Suwannee Rose https://suwanneerose.com/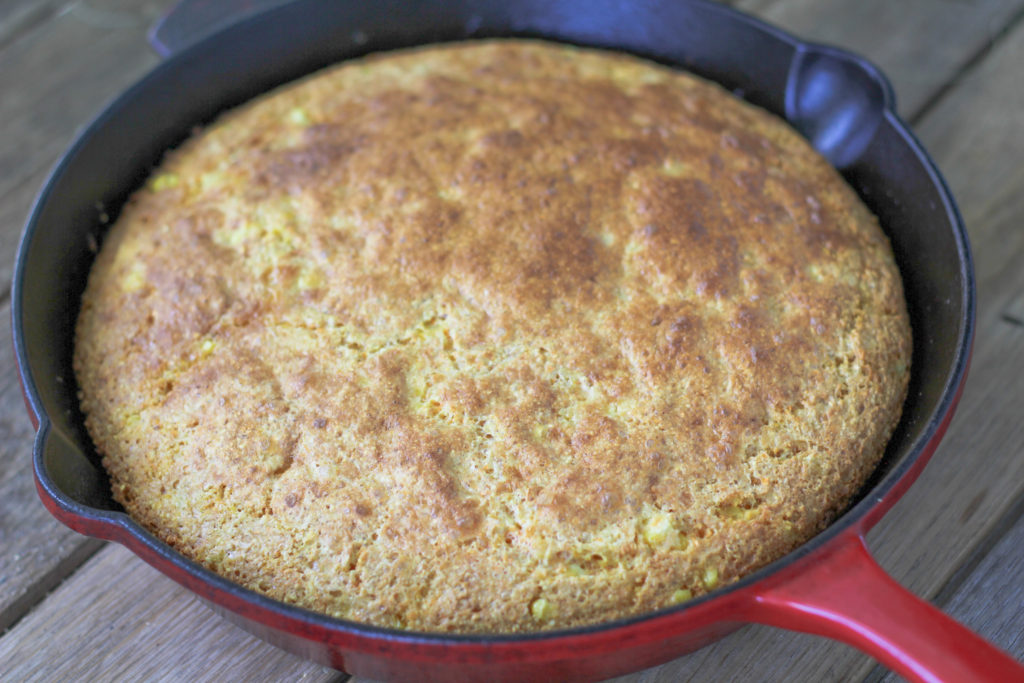 Southern-style Skillet Cornbread
2017-04-21 10:37:14
Ingredients
4 tablespoons bacon fat (or sub refined coconut oil)
2 cups cornmeal*
1 teaspoon baking powder
1 teaspoon baking soda
1 teaspoon kosher salt
2 large eggs
1 1/2 cups buttermilk (or a combination of plain yogurt and milk)
2 ears of fresh corn, cut from cob (optional)
1-2 minced jalapeños (optional)
Instructions
Preheat the oven to 400°F.
Put 2 tablespoons bacon fat in a 10-inch cast-iron skillet. Put the skillet in the oven to preheat.
In a large bowl, combine the cornmeal, baking powder, baking soda, and salt. In a separate bowl or liquid measuring cup, whisk the eggs, buttermilk, and the remaining 2 tablespoons bacon fat together, mixing well to combine. Pour the liquid ingredients into the dry ingredients, along with the fresh corn and/or jalapeños, stirring just until incorporated. Do not overmix.
Carefully remove the hot skillet from the oven and swirl the melted fat to coat the bottom and sides. Pour the batter into the pan and return it to the oven to bake for 20 to 25 minutes, until the bread is golden on top and has pulled away from sides of the pan slightly. (A toothpick inserted in the center should come out clean.)
Serve with warm with butter.
Notes
* I use Bob's Red Mill medium-grind cornmeal
Suwannee Rose https://suwanneerose.com/